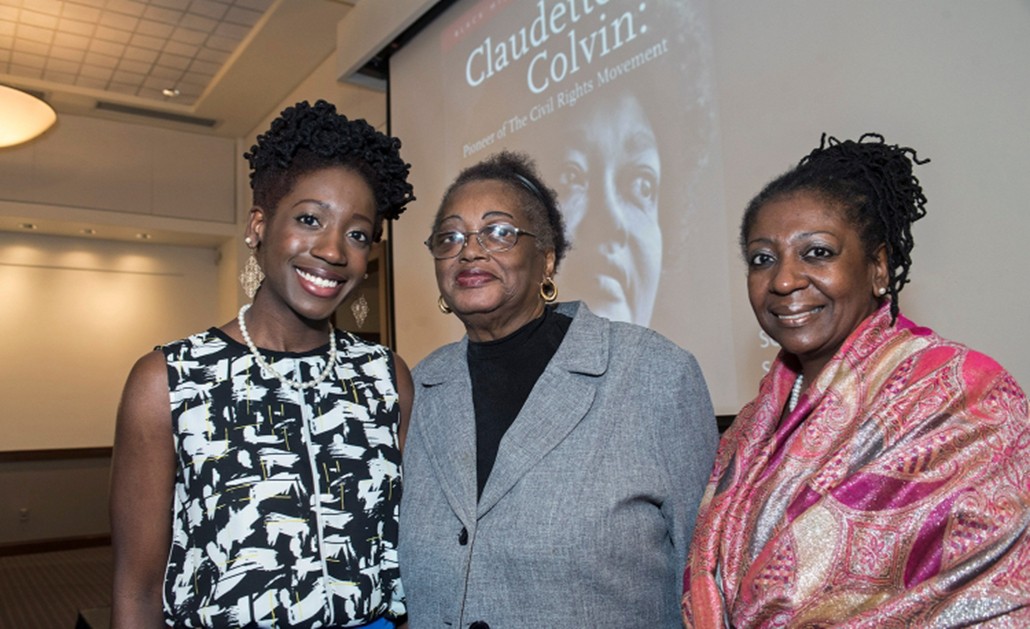 Jenn Colvin, an immigration policy writer in Washington, D.C., says that her life may have gone in a different direction if not for a heroic act of defiance by her paternal grandmother nearly 70 years ago. 
Claudette Colvin, Jenn's grandmother, was arrested and jailed for refusing to give up her seat to a white person on a bus in Montgomery, Alabama, in March 1955—nine months before Rosa Parks made a similar stand against segregation. At just 15, Claudette was charged with violating Montgomery's segregation ordinance, disturbing the peace, and assaulting a police officer and was sentenced to probation. A year later, she became a plaintiff in Browder v. Gayle, the court case that successfully overturned bus segregation laws in Alabama.
"My grandmother fought for me so that I could fight for other people," says Jenn, who graduated from the Boston College School of Social Work in 2016. "That's what I've given my life to—really helping other people."
Although the charges against Claudette for disturbing the peace and breaking the segregation law were dropped, the charge for assaulting a police officer stuck with her for 66 years. Then, in December, Claudette had her juvenile court records expunged by a judge, some 24,000 days after she was initially arrested and placed on probation. One month later, Hollywood star Anthony Mackie announced that he would direct a biopic of the unsung civil rights pioneer, who is now 82.
Jenn hopes the film will encourage young people to fight for civil rights and human dignity, a commitment that her grandmother instilled in her. "Black people, Latino people, gay people—we still need to be accurately represented," she says.
Claudette agrees. "Sixty-seven years ago, when history glued me to the seat of that bus in Montgomery, I could never have imagined that standing up for my rights could spark a movement that would change the course of history," she told Deadline. "It is really an honor to have my story retold, by Mr. Mackie, for future generations to learn about our past so they can move forward knowing that progress is possible and things do get better."
Jenn credits Claudette with helping her find her path—and paving the way for her to improve the lives of marginalized people around the world. As part of her job, she works with a team of lawyers to ensure that the immigration policies she writes are fair, legal, and devoid of racism. "Because of my grandmother and other civil rights leaders, we, People of Color, can work to shape America," she says. "Is America perfect? No. But it is our home and I am proud to be an African American." 
Her grandmother's story has always been at the forefront of her mind, she says, giving her the confidence to "make it to where I am now and push through the racism." She grew up in Atlanta, where, she says, she was often told she was "too smart to be Black." But she didn't let the misguided opinions of others get in her way, earning a bachelor's degree in international studies from Georgia State University in 2013 and a master's degree in social work from BC in 2016.
"

Because of my grandmother and other civil rights leaders, we, People of Color, can work to shape America.

"
Her experiences at BC dovetailed with her interest in social justice and equality—both in the U.S. and abroad. As a member of the global practice program, she spoke at a forum on race and justice and co-led a student group called the Global Forum on Social Issues. She conducted a census of homeless people in Boston during an internship with the city's Office of Fair Housing and Equity, and then moved 8,600 miles away to organize programs for the West Africa Aids Foundation in Ghana in the middle of the Ebola crisis.

"Because my family is so attached to American history, I wanted to see what else is out there," she told BC News in 2015. "I'll never give up going to civil rights events and will always be interested in American civil rights issues—but what happens in the U.S. is not always what's happening in the rest of the world."
Jenn's ability to accept—and embrace—nuanced perspectives was on full display when she found out that Claudette's juvenile court records had been expunged. She felt happy for her grandmother. How could she not? But that feeling of joy was tinged with sadness, too, and pain. After all, it wasn't too long ago that it was legal for Claudette to be thrown in jail for refusing to give up her seat to a white person on an Alabama bus. "It's bittersweet," says Jenn. "It's good, but we're rejoicing as a result of something that should not have happened." 
She wants the biopic to remind people that the fight to combat racism is far from over, citing unjust killings of Black people at the hands of police as a prime example of its continued prevalence. "I just hope that her story brings justice and light to the other problems that are still going on," she says.