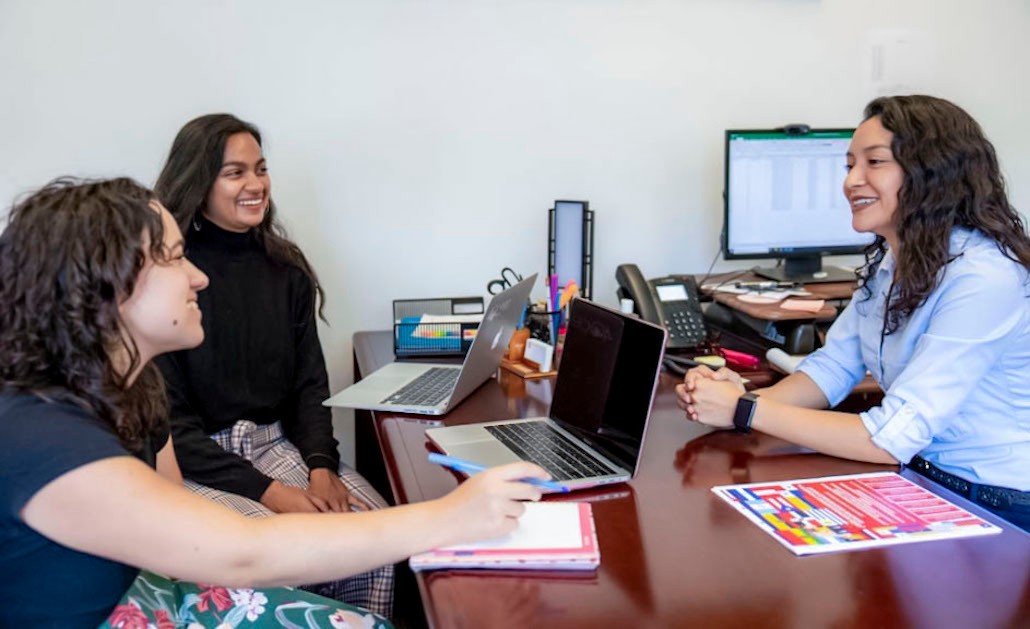 It was March 2020, a week before the COVID-19 pandemic shut down the world, and Aroub Yousuf was taking notes at community meetings in Bogotá, Colombia. Violence among armed groups in the South American nation had forced thousands of people to flee rural villages for the safety of bigger cities, and Yousuf was documenting the stories she was hearing. 
"The first thing I did was listen. I didn't say anything," says Yousuf, now a senior philosophy major at Boston College. "I just wanted to hear what they were saying and the problems they were facing."
The exercise marked the start of a research project led by María Piñeros-Leaño, an assistant professor in the School of Social Work. With initial support from Yousuf, she is tailoring an intervention used in West Africa to help Colombians cope with the trauma of being forced to leave home.
"We want to focus on teaching people who have been displaced by conflict how to regulate their emotions," says Piñeros-Leaño. "The hope is that the intervention will lead to a reduction in anxiety and an improvement in their relationships."
Yousuf describes her time in Colombia as the "peak" of her research experience with Piñeros-Leaño, which began in 2019. Over the past two years, she has conducted literature reviews of domestic violence in Colombian families, interviewed social workers who treat Latinx immigrants in Boston, and co-authored a paper that looks at the mental health of mothers in Latin America who leave their children to work in other countries. Along the way, she has honed her Spanish language skills, learned how to apply for grants, and analyzed interview transcripts to find common themes.
"I always had this concept of research as analysis of abstract data without any real world applications," says Yousuf, a member of the Gabelli Presidential Scholars Program, which awards full-tuition scholarships to 18 incoming students each year. "But in the School of Social Work, the purpose of the research is very tangible."
"

I always had this concept of research as analysis of abstract data without any real world applications. But in the School of Social Work, the purpose of the research is very tangible.

"
Yousuf is one of dozens of undergrads at BC who have connected with faculty in the School of Social Work over the past several years to conduct research that aims to improve the lives of vulnerable people around the world. It is hard to pin down a profile of the young researchers, because their academic interests and professional ambitions are so diverse. But they all share a desire to address some of the most pressing social problems in innovative and effective ways. 
Eddy Jiang and Halina Tittmann, for example, partnered with assistant professor Maggi Price to create a virtual training program to teach therapists how to best serve transgender kids. Natalie Dryja teamed up with assistant professor Praveen Kumar to write her thesis on the impact of COVID-19 on access to food in the U.S. And Alex Pastrana connected with associate professor Summer Sherburne Hawkins to study the relationship between statewide policies on electronic cigarettes and the access youth have to the devices.  
Students say that conducting research has given them a leg up in the classroom and reconfigured their career paths. Faculty liken the undergrads to "engines that keep our labs going." They note that students shape research questions, bring fresh perspectives to complex problems, and speed up the publication process. 
"I have received a lot of different perspectives on how to do an analysis and how to formulate a questionnaire," says Kumar, who has worked with eight undergrads since he joined BC in 2017. "I share my ideas for proposals with them and they say, 'Hey, you can ask a different kind of research question here based on what you shared.' So here you go. You have this very fresh, nice, different perspective that could hold a lot of traction."
In some cases, undergrads drive the publication process. Haley Grieco-Page, one undergrad in Theresa Betancourt's Research Program on Children and Adversity, is the first author on a new paper that describes the need to expand telehealth services to reach more underserved people in the United States. The paper underscores the contributions that over 20 young students have made to the lab, which launched in 2017 to develop programs to improve the mental health of kids and families in Rwanda, Sierra Leone, and the United States who have been displaced from their homes, traumatized by war, or affected by HIV.
"Undergraduate interns have been very engaging and helpful," says Betancourt, the Salem Professor in Global Practice. "These students have helped head-start paper proposals, run important meetings and events, and develop technological efforts to help our programs run."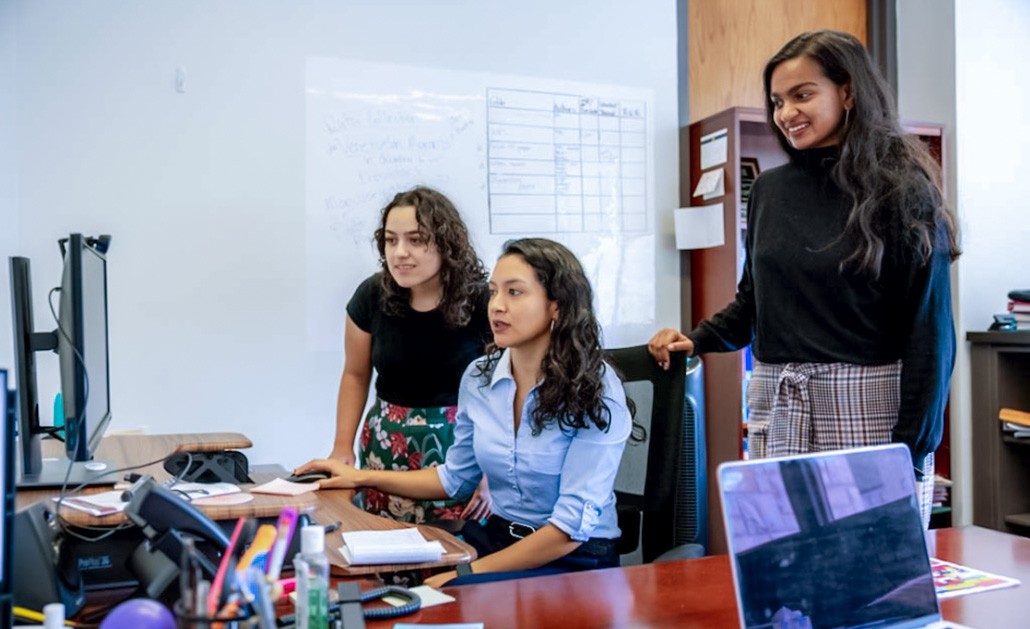 The partnership between undergrads and BCSSW aligns with the University's 10-year strategic plan to respond to the needs of the day. It focuses squarely on two strategic directions—expanding support for research that contributes to the common good and increasing BC's impact in Boston and beyond. 
Many students, including Yousuf, are funded by the school's Center for Social Innovation, which supports the development of novel solutions to complex social problems. Dean Gautam N. Yadama says undergrads who conduct research in the school grow to understand how the principles of social work can be applied to their discipline, whether it's biology, management, or something in between.
"That is important," he says. "Otherwise, students will have a very narrow understanding of how to create social and behavioral changes that lead to improved health and well-being."
Yadama notes that the School of Social Work helps undergrads connect what they learn in class to the real world. "Undergraduate students become transformed in these research projects as the ideas from their classes, whether in biology, environmental science, or computer science, meet the messy reality of this world," he says. "From talking to many of them, this is a consistent appeal for working on research projects in social work."
Take Samuel Yoon for example. Yoon says he developed a "human-centric approach to work" in the Lynch School of Education and Human Development and then connected with the Research Program on Children and Adversity to help improve the health and well-being of refugees who have resettled in the U.S. 
"This experience is awesome," says Yoon, who is studying transformative education and cyberstrategy and design. "I enjoy helping people and I get a taste of what it's like to work on a real team." 
Over the past three months, Yoon has worked to create an app to promote resilience among families in the Somali Bantu and Bhutanese refugee communities in New England. The goal of the project, supported by CSI and Sunand Bhattacharya, associate vice provost for design and innovation strategies, is to digitize an intervention developed by RPCA to help caregivers and their kids in these communities manage stress, improve communication, and navigate the education system in the U.S. 
A study published in the Journal of Adolescent Health found that families that took part in the intervention argued less compared to families that did not participate. Children in the program showed fewer signs of depression, reported reduced reactions to traumatic stress, and behaved better than their peers who did not receive help. 
Yoon plans to continue working on the app until he graduates in 2022. He says the project has taught him how to collaborate across disciplines and translate complex coding language into lay terms. "I learned how to adapt and process information that I wasn't necessarily familiar with," he says. "I feel very invested in this process, and I hope I can contribute as much as I can to making RPCA's dream come to fruition."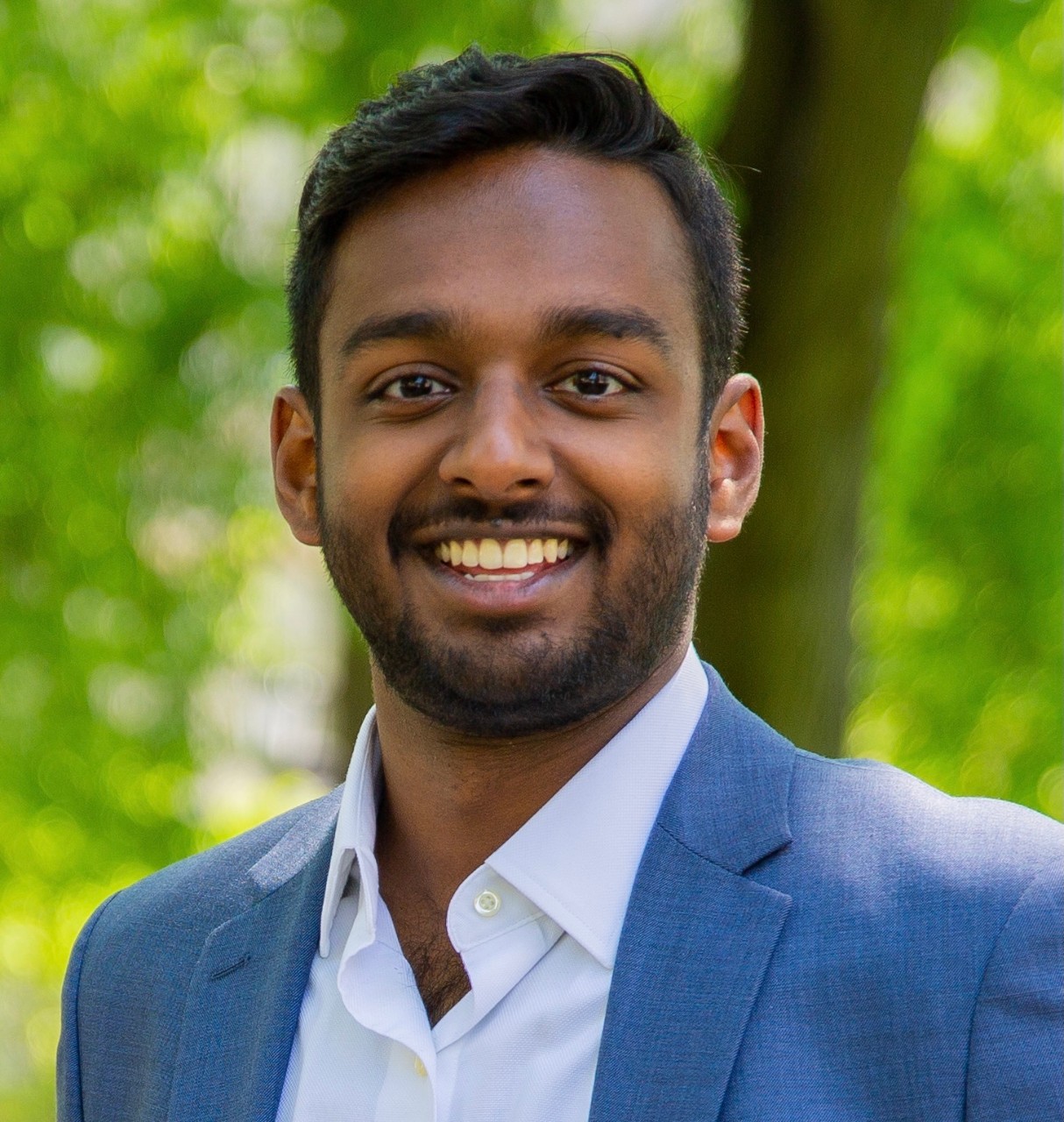 One of Harry Shanmugam's long-awaited dreams—publishing a paper as a lead author—may soon come true. As an undergraduate research fellow for Hawkins, Shanmugam analyzed data from the Youth Risk Behavior Survey to determine how statewide pharmaceutical regulations affect adolescent drug use.
With help from Hawkins, he conducted a literature review, created a hypothesis, analyzed data using a statistical software program called Stata, and wrote a manuscript that is currently out for review. He started working on the project in the spring of his first year in 2018 and hasn't stopped even though he graduated from the Carroll School of Management in May.
As he chipped away at the three-year task, Shanmugam began to consider his future plans. He is now applying to medical school and hopes to become a doctor who shapes the health policies of tomorrow.  
"What is the change I want to create? What is the role I want to play in the world? And what role do I see research playing within that?" thought Shanmugam, a graduate of the Gabelli Presidential Scholars program who received the Edward H. Finnegan Award this year for best exemplifying BC's motto "Ever to Excel."
"I view clinical work, policy work, and research work as three vertices of the same triangle," he says. "I think there's a lot of interface between all three. And I think that research plays an important part because it provides the data that underpins what you're trying to do."
Hawkins says that Shanmugam is one of eight undergrads who have worked with her since she joined the faculty in 2012. As a social epidemiologist who studies the impact of policies on health disparities in parents and children, she is a popular researcher among students in biology and economics who crave real world experience before they leave BC. Nicoline Bach, an economics major who graduated in 2015, teamed up with her to co-author two papers that looked at the impact of tobacco control policies on adolescent smoking. 
"We're asking questions that are often very topical," Hawkins says of faculty in the School of Social Work. "They have a lot of relevance and we're doing a huge amount of different types of research."
Hawkins tries to make her students realize that the real world is a lot messier than it seems in the classroom. That to become an expert in anything they must expand their knowledge beyond the books they read in their dorm room. 
"I really want them to understand what the research process is like from the beginning to the end," she says. "I'm trying to push them along through this journey and get them to learn by doing."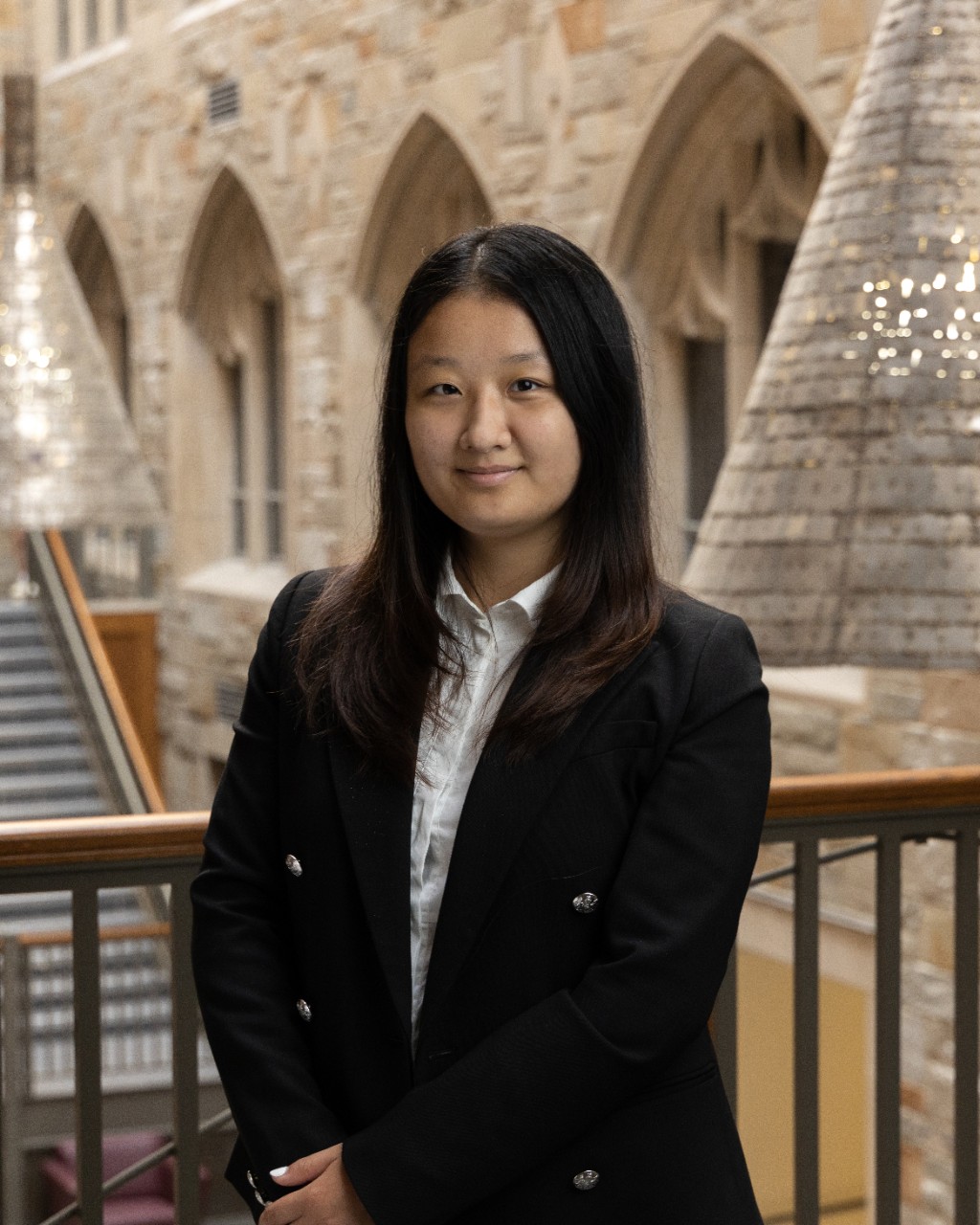 Under the tutelage of Kumar, Cynthia Ma has learned how to write research papers and analyze data using the R programming language. The junior environmental studies major recently co-authored a forthcoming paper that looks at the social factors that drive the use of clean cooking fuel in India, writing the introduction, conclusion, and limitations of the study.
Ma asked Kumar if she could join his research team after she took his class in "Environment and Public Health" and found out that he studies the relationship between the uptake of clean energy solutions, household air pollution, and the well-being of the poor in India. She grew up in Shanghai, China, where she developed an interest in the city's high levels of outdoor air pollution, and figured Kumar could help sharpen her grasp of the issue. 
Working with him for the past nine months has made her realize that she wants to focus on public health and the environment. And her long-term goal, she says, is to work for an international organization like the United Nations. But now she is applying to master's programs in public health and writing her thesis on the impact of household air pollution on women and children in India. Kumar, her thesis advisor, provided the data for the project, but he is giving her the freedom to do the work and practice her coding skills.
"This experience has definitely helped me determine where I want to be after graduation," says Ma, whose research is funded by CSI. "I knew that I wanted to do something about the environment. I knew that I was more interested in people rather than climate science or the ecosystem. But I had a very hard time narrowing down my interest. After doing research with professor Kumar, I realized I really enjoy doing environmental health-related research." 
Ma says Kumar has encouraged her to speak up for herself—and pursue her true interests. "As an undergrad, I was a little bit intimidated to talk to professors and say, 'Oh, I'm actually interested in this, this, and that,'" she says. "But professor Kumar has given me his advice and he is genuine about it. So I feel comfortable talking to him about my goals and my research interests."
Kumar says that Ma's experience typifies his approach to working with undergrads, which focuses on honing their statistical, analytical, and critical thinking skills. He praises undergrads at BC for their intellect, curiosity, and motivation to pursue research at such an early stage in their lives. 
"They are curious to understand the kind of work that we do and how it impacts different populations of the world," says Kumar. "Gone are the days when we had this clear line of demarcation that graduate students are research assistants and undergraduate students should just sit in class and take courses and graduate."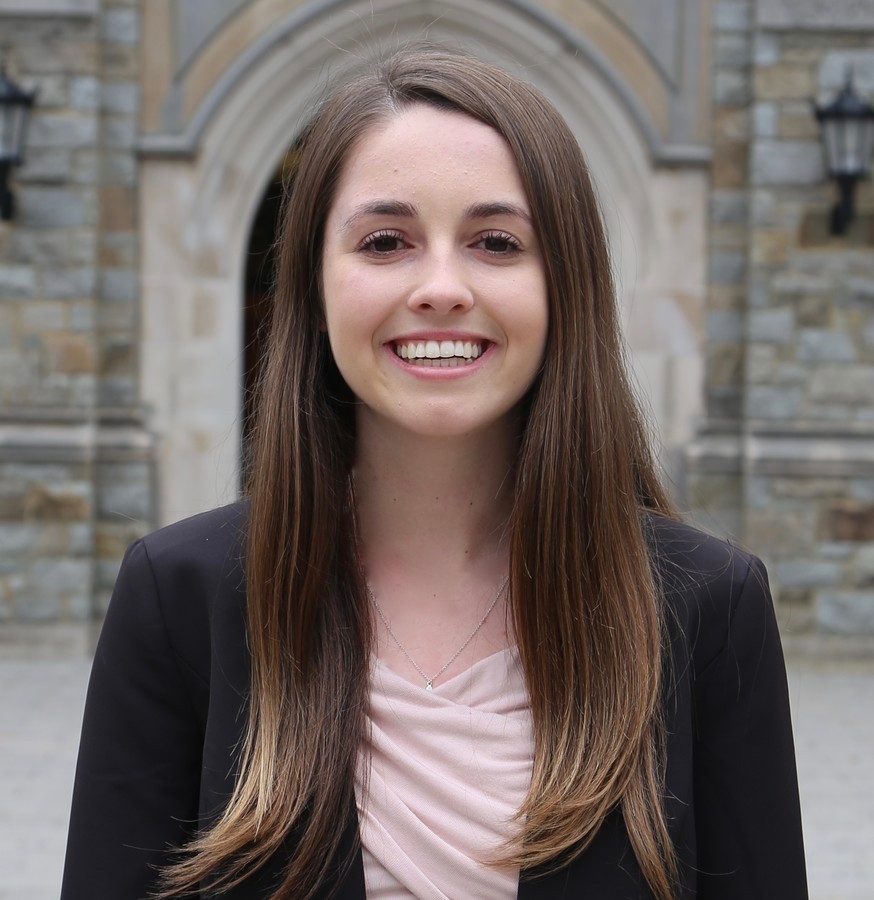 Elizabeth McColloch says the thought of doing research "intimidated" her at first. But then she took a course led by Kelsey Werner, where she learned how to model complex problems with frequently excluded stakeholders, and asked to join Werner's research team.
"Kelsey was incredible," recalls McColloch, who studied operations management and graduated in May. "She was like, 'Yeah, of course, let's come up with some different ways you can help me out.'"
Last summer, McColloch learned how to create causal loop diagrams to visualize the links between issues like housing, education, and childhood well-being. For one project, she trained a group of researchers, professors, and formerly incarcerated individuals to visualize the factors that contribute to providing STEM education in prisons and reentry programs. 
McColloch says her experience served as a springboard for her future. After graduating, she enrolled in two online courses in design thinking and started looking for a consulting job.
"I learned that I love collaborating with other people to try to address complex problems and come up with solutions," says McColloch, who plans to return to school for an M.B.A. or M.P.H. degree. "I loved learning from others and then thinking about how we can move forward with those ideas."
Werner says that McColloch is one of 30 undergrads who have worked with her over the past five years. Many of them have taken her courses, which harness the power of system dynamics, design thinking, and community partnerships to address social problems. Last fall, for example, she taught a class that helped more than a dozen undergrads refine a startup to support the homeless. 
"I think a lot of undergrads are really invested in social change and systems change," says Werner, who directs social and community-based systems modeling in the School of Social Work. "Part of what I bring to the table are tangible tools to do that and to think differently about social problems. That's something that the school is championing, and it's hard to get that in other places."
She describes student researchers as "hungry" to make a difference in the world. "I think it's inspiring to see how excited they get about being able to hit the ground running once they graduate," she says. "That's my favorite part—their enthusiasm to get out there and do it."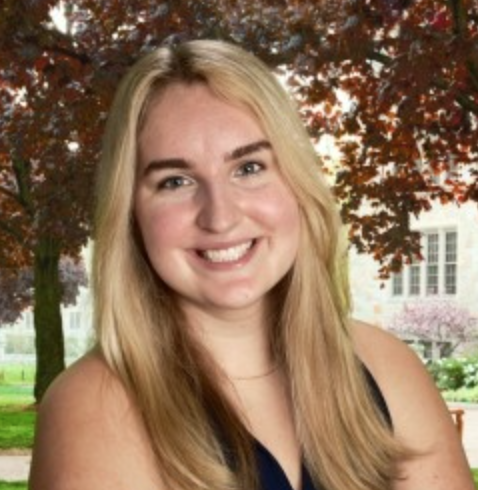 Hannah Chapdelaine says the research skills she honed at BC laid the "foundation" for her work as a clinical research coordinator at Massachusetts General Hospital.   
Under the direction of professor Kirsten Davison, Chapdelaine helped run an obesity prevention program for low-income families in Boston from fall 2019 to spring 2021. She says she learned how to analyze data, design interventions, and collaborate with key partners at Head Start, a school readiness program. She also presented some of the intervention's findings at a virtual research fair at BC, showing that screen time, physical activity, and sleep increased for preschoolers during the pandemic.
"My basic research skills are the real foundation for my current job, where I have less instruction," says Chapdelaine, who majored in biology and graduated in May. "My boss will be like, 'How did you learn how to be so detail-oriented?' I'm like, 'Well, my old boss made us document everything that we did."
Chapdelaine found that her research experience put her "a few steps ahead" of her peers in public health courses, which she took for her minor in the field. Thanks to her work on Davison's team, she now she plans to pursue an advanced degree in epidemiology. As she puts it, "I know that I want to do research."
Davison says that Chapdelaine's experience likely "played a big role in her getting her current job." She notes that undergrads who work with her team perform a range of crucial tasks, from building websites and organizing meetings to cleaning data and collaborating with community partners. 
"We find that students are very enthusiastic to get involved in research," says Davison, the Donahue and DiFelice Endowed Professor, who has trained four undergrads since she joined BC in 2019. "They're developing a skill set that can be used in many different settings." 
"

Undergraduate students become transformed in these research projects as the ideas from their classes, whether in biology, environmental science, or computer science, meet the messy reality of this world.

"
As the associate dean for research, Davison and her team are creating a database to track research opportunities for undergrads in the School of Social Work. Kelli Rodrigues, a Gabelli Presidential Scholar who received funding from CSI to work with Piñeros-Leaño for the past two years, advises all undergrads to take advantage of the chance to conduct research at BC.
Her experience—writing literature reviews, analyzing data, and co-authoring a forthcoming paper on the mental health of Latinx immigrants in the U.S.—has compelled her to consider a master's degree in social work. But no matter what field students want to enter, she says, doing research will equip them with the writing and critical thinking skills to excel.
"Find a project that you're really interested in," says Rodrigues, a junior sociology major. "No matter what path you take, you're going to use the skills you learned."
Her mentor, Piñeros-Leaño, compares young researchers to sponges that "soak up all this knowledge." She describes her work with students in psychology, sociology, and philosophy as one of the highlights of her professional life so far. "The contribution from undergrads has been amazing," she says. "The fact that they're so eager to learn has been one of the most amazing experiences for me at BC."