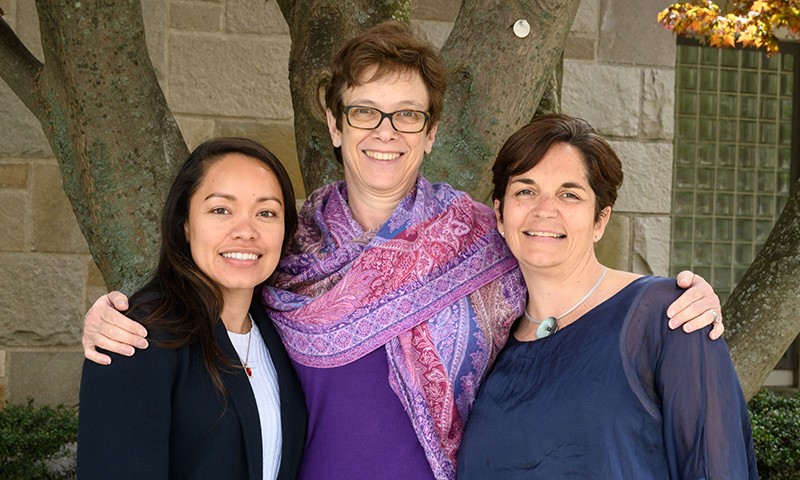 At the Council on Social Work Education's (CSWE) Annual Program Meeting this October, Associate Professor of Clinical Practice Susan Tohn and her team introduced a set of videos designed to help social workers adapt Solution-Focused Therapy (SFT) for Latinx clients. The four videos, which show model therapy sessions with clients from different parts of the Spanish-speaking world, illustrate an innovative 10-step adaptation model that Tohn developed with alumna Suelen Yancor, MSW '05, and Ximena Soto, MSW '98, the assistant director of BCSSW's Latinx Leadership Initiative (LLI).
Three years ago, Tohn was teaching her BCSSW class on Solution-Focused Therapy when one of her students, Yvonne Castaneda, MSW '18, raised her hand. Castaneda had doubts about how the "miracle question"—an SFT method in which the therapist asks the client to imagine what it would feel like if a miracle transformed their life—might sound to her Latinx clients. For reasons both religious and cultural, the well-meaning question could come off as insensitive. "Yvonne said, 'I can't say that to the women I work with,'" Tohn recalls.
Tohn, a national SFT trainer, began to think about how the approach might be adapted for Latinx communities. She reached out to Soto and Yancor, a social worker with extensive experience integrating SFT with Latinx clients, to begin conversations about creating a Latinx-focused SFT model. Their preliminary work involved selecting a therapy approach (SFT), identifying a community to adapt it for (Latinx), and designing a model that would lend itself to easy adaptation for any population. The trio then sought out social workers who identify as Latinx for advice.
"You must engage the people who are working in the community you're adapting it for," Tohn says, "and especially those who also identify with that community."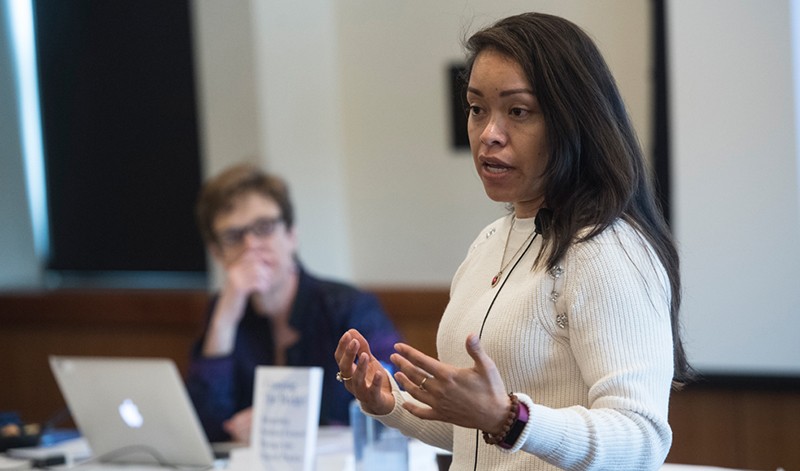 After developing their Latinx-adapted SFT model, Tohn and Yancor offered a free, two-day training in March 2018 to LLI members and community stakeholders. They expected 50 attendees, but demand was so high that they expanded the training to accommodate 100 social workers, field education partners, and alumni, most of whom were members of Latinx communities who worked with Spanish-speaking clients. The conversations that ensued helped them develop an adaptation that considers not only Latinx culture broadly speaking but also differences among Latinx communities in the U.S.
"The approach looks different for someone from the Caribbean than [it does for] someone from Central America," Soto says, "and it looks different for someone with citizenship than someone who is undocumented."
The training also informed the videos that would show the adaptation in action, Soto says. "We came up with the idea of the videos because people really needed to see it done with someone that looked like them, sounded like them, and was working directly with these populations in order to believe it."
The videos feature two BCSSW faculty members and six alumnae, including Yancor and Castaneda, who perform roles as clinicians and clients in mock therapy sessions. Some of the adaptations they demonstrate are linguistic—in one session, for instance, Castaneda moves between English and Spanish to draw in both a mother from the Caribbean and her daughter, who is more comfortable speaking English. In another, Yancor switches from Spanish's formal "you," pronounced usted, to the informal and familiar tú when a client opens up about a trauma.
For Yancor, this shift into a more personal register was intuitive and unscripted, but for non-native Spanish speakers, it represents a competency that can be learned. Through the adaptation process, she says, "We're identifying some of the things Latinx practitioners do naturally as tools that non-Latinx clinicians can learn and use."
Other SFT modifications reflect cultural differences. In the videos, the clinicians spend more time building relationships with their clients and asking about their families than the goal-oriented framework of SFT would typically advise. When working with Latinx clients, Yancor notes, "there is often a strong tie to a community and family piece" that can differ from the experience of "working with clients who are members of a community that's more individualized and self-focused." When speaking with a client from Guatemala in the videos, Yancor repeatedly acknowledges the strain of being away from one's parents and children and checks in about the client's relationship with her sister and her mother.
This trust-building process is particularly relevant in light of the additional pressures on immigrants in the U.S. "There are systemic barriers that people in the Latinx community face that aren't faced by white-identified populations," Yancor says. "You have to keep these challenges in mind and ask about resiliency in a way that does not overlook them."
The SFT approach typically advises practitioners to spend one session building rapport before turning toward solutions, but after receiving feedback from Latinx practitioners at the 2018 training, Tohn and her team expanded that to three sessions in the adaptation. "We can't just focus on solutions when people's problems are deportation or that they might never see their families again," Soto explains.
Tohn and her colleagues plan to make the adaptation model and the videos available to BCSSW faculty and students in January, but before making them available to the general public, they will collaborate with BCSSW faculty members including Associate Professor and LLI Founding Director Rocío Calvo to conduct two final research steps on the model's efficacy. They also plan to launch a website where practitioners and BCSSW students can share their experiences with the adaptation—a kind of "learning community," Tohn says, where "students can see and hear what this might be like and engage in a practice community."
Tohn hopes the videos will help answer a lack of training materials for social workers preparing to practice in Spanish, and that the Latinx adaptation will serve as a model for those adapting SFT for other populations. At the CSWE conference, she says, "Person after person kept saying that nothing like this existed yet. It is a critical piece that we need as a field, so I am proud of our school for being a leader in taking this on."