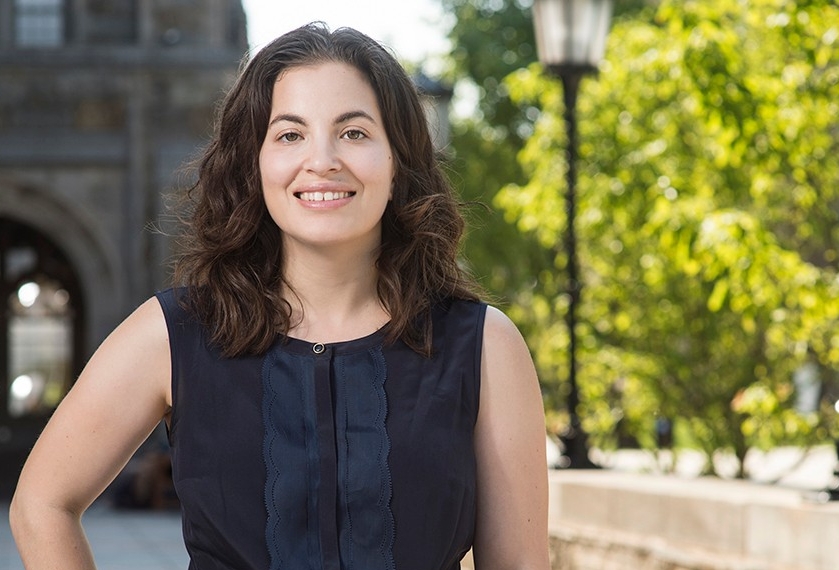 Boston College School of Social Work (BCSSW) Assistant Professor Erika Sabbath is the 2019 recipient of the Early Career Achievement Award given by the American Psychological Association at their annual conference Work, Stress and Health 2019 (WSH). The award honors "young researchers and practitioners who have made exceptional early career contributions to the science and/or practice of occupational health psychology." The 2019 conference was held November 6–9 in Philadelphia, Pennsylvania, with approximately 500 academics and practitioners in attendance.
Sabbath, a social and occupational epidemiologist who teaches in BCSSW's Older Adults & Families, Health, and Mental Health fields of practice, says she is grateful for the recognition. She was especially honored to be recognized at what she calls her "favorite conference," attended by an interdisciplinary community she considers to be "her people," and from a mentor she values deeply. "Over the past seven years, WSH has become my intellectual home," explains Sabbath. "I always come away from this conference with tons of new ideas and collaborators. Most of all, it has pushed the boundaries of my own work and thinking."
Glorian Sorensen, professor of social and behavioral sciences at the Harvard T.H. Chan School of Public Health, and director of the Center for Community-Based Research at the Dana-Farber Cancer Institute, nominated Sabbath for the award. The two have deep experience working together. Sorensen was Sabbath's mentor for her K01 career development grant, a Mentored Research Scientist Development Award from the National Institute of Occupational Safety and Health (NIOSH), part of the Centers for Disease Control and Prevention. And they are currently collaborating on the Boston Hospital Workers Health Study (BHWHS) at the NIOSH-funded Center for Work, Health & Well-Being at the T.H. Chan School of Public Health.
The BHWHS is a longitudinal cohort study of 15,000 Partners HealthCare hospital-based patient care workers—nurses and nursing assistants—for which Sabbath is the principal investigator. She has had a long-term interest in this population. "My training as an epidemiologist makes me think about how my work can have the biggest impact on the largest population. Protecting the health of health care professionals is instrumental to the health of our entire population," she says.
At the WSH award ceremony, Sorensen praised Sabbath for her creativity, analytical savvy, and vision, saying, "Erika takes a problem and turns it a little bit differently, so the questions we've been asking from a traditional angle get reshaped. Through this creative lens [that] she brings to her research, she pushes boundaries . . . . She brings different analytic methods to understand the epidemiology of occupational health." Sorensen concluded the award ceremony by acknowledging the mark Sabbath has already made on the field and her confidence in Sabbath's continued leadership.
In addition to her interest in occupational health, workplace stress, work-related trauma, and worker health outcomes, Sabbath's work also explores employer-relevant economic outcomes particularly among low-wage workers and single mothers. She also studies the impact of organization and public policies on worker health and well-being. While Sabbath's research to date has focused on traditional jobs, she recognizes that profound shifts occurring in the workplace—such as the prevalence of the gig economy and contract workers—will necessitate new investigations on the stressors for these populations. She also recognizes the need for different investigative partners, aside from traditional employers, to obtain representative data samples.
Sabbath earned her Sc.D. from Harvard University and the Université Paris XI-Sud, her M.Sc. from Harvard, and her B.A. from Washington University in St. Louis.