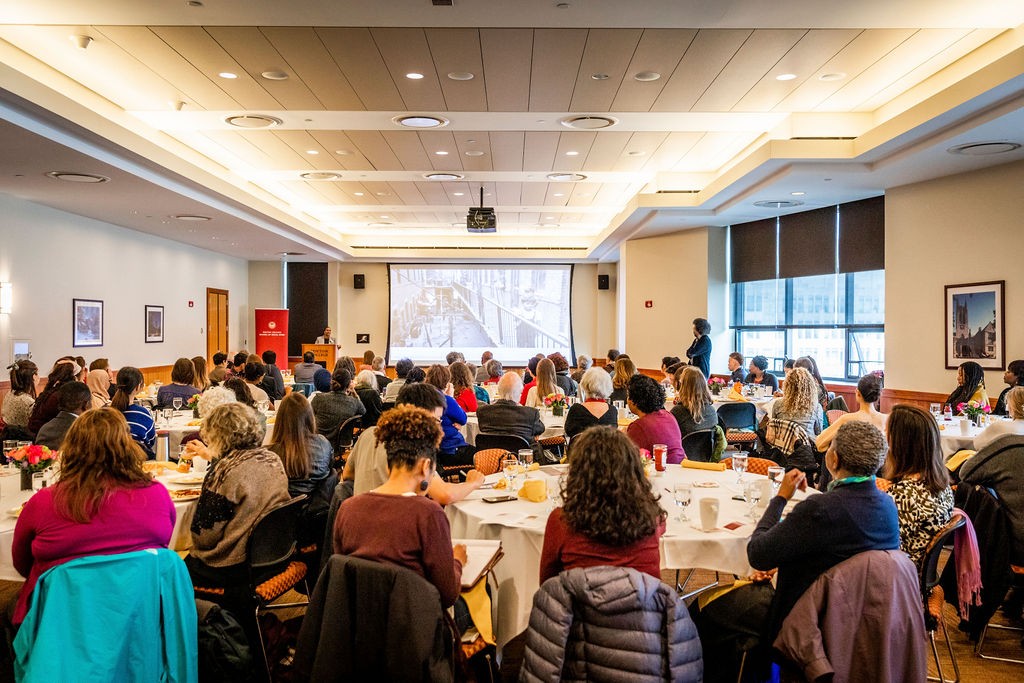 On April 26, BCSSW hosted the 13th annual Pinderhughes Diversity Lecture, featuring pediatrician and social epidemiologist Dr. Renée Boynton-Jarrett, associate professor of pediatrics at Boston University School of Medicine and founding director of the Vital Village Network.
The Pinderhughes Diversity Lecture Series honors BCSSW Professor Emerita Elaine Pinderhughes for her inspiring vision, mentorship, and contributions to the field of social work. Her groundbreaking 1989 textbook, Understanding Race, Ethnicity, & Power: The Key to Efficacy in Clinical Practice, is credited by the Council of Social Work Education with "providing the rubric for culturally competent practice across the human services disciplines."
Presented in partnership with YW Boston, the lecture was held in the Murray Room at the Yawkey Athletics Center. Dean Gautam N. Yadama welcomed the nearly 100 attendees by recalling this year's series theme: "The Challenge and Promise of Equity, Justice, and Inclusion: Prophetic Voices," noting that it directly aligns with one of the school's core values.
Yadama also thanked YW Boston for their partnership before introducing their public policy and advocacy manager, Morgan Cowie-Haskell, who noted that the lecture was a natural fit with the organization's mission to "eliminate racism, empower women, and promote peace, freedom, justice, and dignity for all."
Elaine Pinderhughes's daughter, Tufts University Professor Ellen Pinderhughes, introduced Boynton-Jarrett. "My mother was inspired to understand the power disparity in the segregated world in which she grew up," said Pinderhughes. "So, too, was our speaker, who has always held a deeply seated conviction that all children can succeed and thrive if given the appropriate investment of time, support, and care."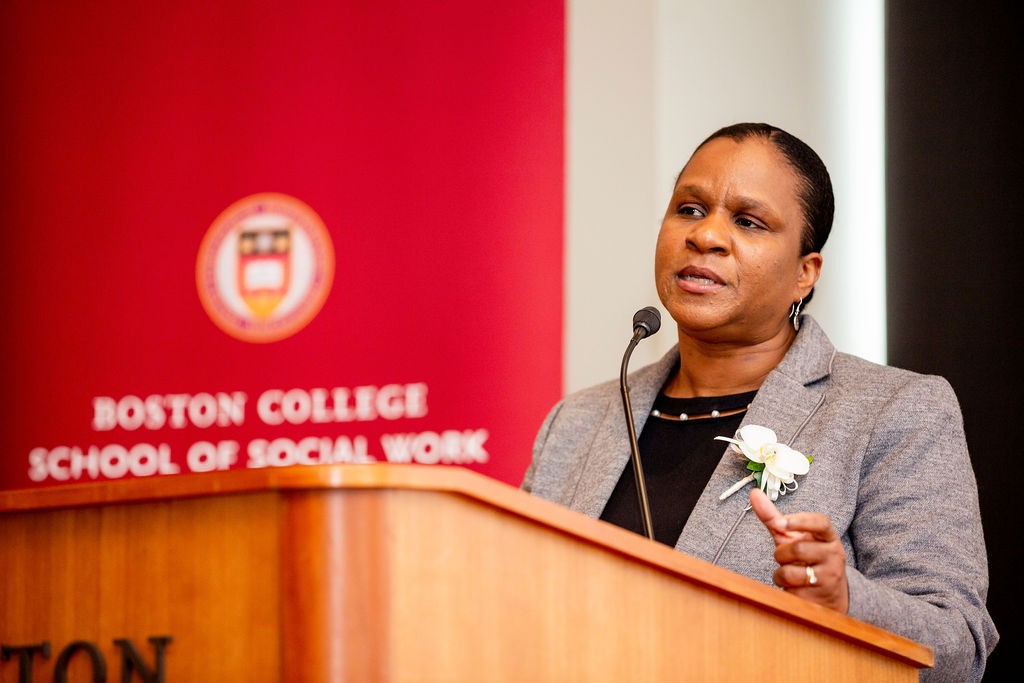 Boynton-Jarrett opened her keynote, "An Ounce of Prevention: Building Communities of Opportunity to Mitigate Structural Inequities and Childhood Adversities," by warmly acknowledging Pinderhughes's legacy and groundbreaking work. "Thank you for paving a pathway for so many of us," she said.
In her keynote, Boynton-Jarrett discussed how social stress acts as a driver of inequities in health and educational outcomes, the systemic forces that promote disparities in healthcare and educational opportunities, and the need for collective responsibility to foster each child's potential.
"We know that the growth and development of children's brains is happening at an unprecedented and foundational way in early childhood," said Boynton-Jarrett. "The absence of an enriched environment or appropriate investments during this time is catastrophic because it fails to expose the potential that each child is born with. This vulnerability is enhanced by material hardships and socio-economic deprivation."
She decried the effects of intergenerational exposure to adversity and the "double jeopardy" experienced by mothers. "If a child's caregiver has faced major stressors," said Boynton-Jarrett, "their ability to provide responsive, nurturing support may be impacted. How does that exposure impact a woman's ability to become pregnant, to experience a healthy pregnancy carried to term?"
Boynton-Jarrett sees clinical solutions as a means of righting the scale—solutions that cleave to Pinderhughes's philosophy. "We can do things on the small level that protect and promote the dignity of those sitting in front of us. Make our screenings patient and family centered; a comprehensive process that screens not just for risk but also strengths and protective factors. A lot of this gets back to the foundations of the therapeutic alliance that Dr. Pinderhughes spoke about: openness, flexibility, warmth, and empathy. There is always something to offer," she said.
She emphasized the need for strong and intentional collaborations, the importance of community-based solutions, and how a sense of collective responsibility for all children can guide growth and change. "If we truly want to design a healthier society that protects and promotes opportunities for every child, we have to identify the underlying structural conditions that are driving the patterns and trends. This requires a coordinated effort."
Elaine Pinderhughes closed her namesake lecture by thanking Boynton-Jarrett for her talk, noting how it drew upon her own work on the dynamics of power, race, and ethnicity in clinical social work. She introduced four of her five children present at the lecture, and reminded the audience that "Privilege doesn't know. And it doesn't know that it doesn't know."