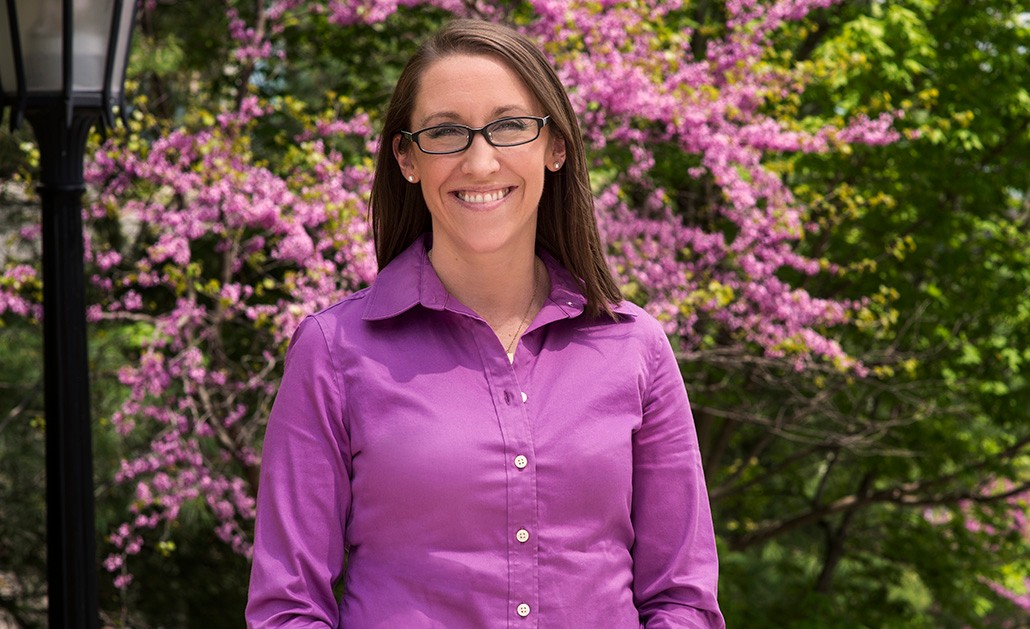 "When we think of aging, we think of all of the Ds: death, disability, decline," says Associate Professor Christina Matz. But as chair of the older adults and families concentration and a research faculty member of the Center on Aging & Work, Matz aims to "flip that script by looking at the tremendous capabilities, expertise, and talents that come with an aging population." BCSSW recently spoke to her about her strengths-based approach to aging research, her new investigations into both volunteering and mobile phone effects on older adult loneliness, and her methods to engage both undergraduate and graduate students.
Q: Say you were designing a utopia. Knowing what you know from your research, how would you structure the society to maximize engagement of its older citizens?
A: Our institutions, infrastructures, and policies and programs were designed when human lives were a great deal shorter and roles were more singular and sequential rather than multiple and less age specific. For example, we created pathways that were segmented by age—young people go to school, adults work and raise families, and older adults step back and engage in leisure during their retirement years. Arguably, this pathway was never universal, but with much larger numbers of people living 20 to 30 years past their 60th birthday, the lack of fit of this presumed life course pattern becomes much more obvious—as have the barriers for productive, meaningful, healthful engagement.
If I could create a utopia, it would be a world in which age is not seen as a liability but as an asset, where our institutions, infrastructures, and policies and programs are able to adapt quickly to the changing needs and demands of our modern society. A world where work environments and employment policies enabled all people to obtain good, quality work across the lifespan and to work longer, if needed or desired. Where caregiving and other forms of care work are properly supported across the lifespan and in later life particularly, so that individuals and families have increased control and choice and reduced stress. Where diverse opportunities exist across the lifespan for individuals to give back to others and their communities and to engage socially.
Q: What inspired you to work with the older adult population?
A: There was a confluence of experiences that led to my interest in older adults, but my personal experience played a large role. I grew up in a blue-collar family—my father owns a landscaping business and at age 62 continues to outwork employees half his age in the field, six days a week, from April to November. My mother largely stayed home to raise me and my four siblings. Given the precarious nature of self-employment, not to mention lack of access to employer-sponsored health insurance and 401k plans, and being a single-income household, my father's retirement plan is to "work until he dies." After all, my grandfather had worked until he died, as a greenhouse owner and wholesale plant and flower distributor.
I remember being home from college the summer after my grandfather died. I would come to visit my grandmother on my lunch break at least once a week. After my grandfather had passed, it was as if she had given her body permission to give out, and I watched as she became increasingly sedentary and insular that year. Less than a year later passed herself. I wanted there to be a better way. There had to be a better way!
I became interested in healthy aging and the complex pathways between health, well-being, and engagement during later life, with a focus on social and productive activity—work, volunteerism, caregiving. In my opinion, this is a fascinating area that taps some of life's most powerful questions around purpose, meaning, and legacy in life.
Q: You recently won an Academic Technology Innovation Grant to utilize ecological momentary assessment (EMA) to further engage graduate students. What is EMA, and how will it affect the learning experience?
A: We're aiming to increase research skill literacy for MSW students. Students often are not that engaged in the research methods/statistics courses we offer, and don't understand why they need to take them. Trying to get them more directly involved in hands-on data collection can really help them connect the dots between the concepts that they're learning in class. Ecological momentary assessment (EMA) is collecting data in real time and in natural settings. Over the course of the semester, students use an app that reminds them to collect data via surveys that ask, for example, Where are you? Who are you with? How do you feel? We can then analyze that data and demonstrate to students certain concepts—around measuring happiness, for example, What are the things you need to think about to measure that?
We've also recruited a cohort of student ambassadors. We meet regularly to discuss different research topics more deeply and also to talk about the hands-on data collection process with the rest of the students.
Q: You, and your colleagues, also won a 2018 Mather Lifeways Institute on Aging Award for your research on volunteering. What did you find, and what would you like to further explore?
A: We tested whether starting a new volunteer role can help to mitigate loneliness among recently widowed adults. And we found that volunteering can really make a difference—those widows who took up as little as two hours per week of volunteering after losing their spouse or partner looked similar in terms of their loneliness levels as non-widows. Encouraging volunteerism could be a low-cost but effective intervention.
In this study, we looked at formal volunteering for organizations. But a lot of people do more informal volunteering, like helping neighbors or watching grandkids. It would be really interesting to look at informal helping and caregiving and whether these types of activities also help in mitigating loneliness in different ways.
Q: What else are you currently investigating?
A: Some colleagues and I recently published a paper on the effects mobile phone uses have on older adults in terms of face-to-face interaction and loneliness. We worked with a colleague who collected data in Japan, where there's an intense mobile phone culture. We found that it depends on how you use your phone. If you're using it for entertainment purposes or to pass time, it seems as though that is detracting from face-to-face social interaction and therefore exacerbating loneliness. But if you're using it for sociability purposes—texting, for example—in those cases it seems to increase face-to-face social interaction, and decrease loneliness.
Q: And you're now trying to inspire interest in the aging population among undergraduates?
A: Exactly. As the new chair of the Older Adults and Family Concentration, I'm looking into how I can drum up interest from undergrads. Last year, Nancy Yone '20 approached me. She was interested in studying caregiving within the Chinese immigrant older adult population. I supervised her as she ran focus groups in Chinatown. She also worked with a doctoral student who helped translate for this population. We've stayed in touch and she's really interested in pursuing a career in aging eventually.
It's not always attractive to work with older adults. Many students want to work with kids or young adults. They don't necessarily think of older adults as a potentially vibrant, interesting, meaningful population to work with. We really need to think about how we can change that thinking and provide structures and change our institutions to make sure people are supported in the later stages of life.