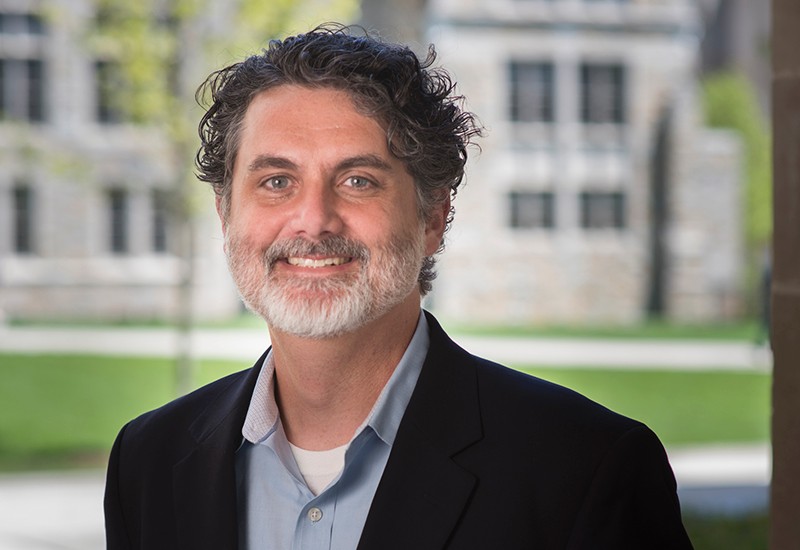 The 2013–16 Ebola outbreak infected nearly 6,000 children under the age of 16 and left 16,000 without one or both of their parents. In August 2018, Associate Professor Thomas Crea received a five-year, $2.6 million grant from the National Institutes of Health to conduct a first-of-its-kind study of the long-term social, physical, and mental health effects of children exposed to Ebola in Sierra Leone. Crea, who is assistant dean of global programs at the School of Social Work, is also currently leading studies on children in Honduras, Guatemala, Kenya, and Burkina Faso.
BCSSW recently caught up with the globetrotting Georgia native for a wide-ranging conversation about his current projects, new research methods, and his far-flung journey to the field of social work.
What prompted the Sierra Leone study, and how will the research begin?
Theresa Betancourt, the Salem Professor in Global Practice, has spent more than 15 years studying the effects of war on Sierra Leone's youth. Soon after she joined the School of Social Work last year, she approached me, knowing my background working with children overseas who are facing adverse situations, and asked if I'd be interested in looking into Sierra Leone. It seemed like a perfect fit for me.
I'm collaborating with Theresa; with John Schieffelin, an infectious disease investigator at Tulane University's School of Medicine; two psychiatrists, including one of only two in all of Sierra Leone; and Fr. Joseph Bangura and his team at Caritas Freetown. The cross-disciplinary approach is really exciting.
Our goals are to understand Ebola's lasting effects on children's physical health and cognitive and emotional development, and ultimately to develop interventions that will help those affected by this disease, and by other acute infectious diseases, to live healthy and productive lives. One of the first steps is going out into the community, talking to key stakeholders, and interviewing between 750 and 1,000 children aged seven to 17 total: one cohort of Ebola-infected children, one of Ebola-affected children, and a control group of children.
In a recent interview with Phoenix's NPR member station, you discussed the trauma that thousands of children have experienced amid the Trump administration's family separation policy, and the challenges social workers face, both in terms of young children's ability to articulate their trauma, and in inadvertently triggering their trauma when interviewing them. Many children in your Ebola study will have experienced severe trauma. How do you navigate those challenges?
It's a complicated balance. On the one hand, you have to ask these questions, through standard measures that are locally validated, to get a sense of what the prevalence of mental health issues is, but then there are the treatment issues. So you have to be really careful. In some of our pilot work in other places, we're seeing a lot of trauma with these kids, so even asking the questions can be upsetting. In these situations, we're going to have social workers on our teams to provide immediate support if a child gets upset. If it's an acute case—if the child is suicidal or extremely upset—we have a protocol developed where we stop the questions and the person asking them will immediately provide support. We will be able to provide some limited resources, and in some cases transportation, to make sure kids get the support they need.
What other research projects are you working on?
With Jesuit Refugee Service, I'm looking into barriers and facilitators of educational inclusion for special needs children at the Kakuma Refugee Camp in Kenya. Since we don't exactly know yet what the barriers and facilitators are, we're using community-based system dynamics (CBSD) [an increasingly popular method of engaging local stakeholders to analyze a system issue that the School of Social Work held a workshop on last spring]. CBSD has proven to be a really nice methodology to get the perspectives of people on the ground, and to help them design a set of recommendations that could then be used to get kids into mainstream classrooms.
I've also been working with Catholic Relief Services since 2015 in analyzing the effects of the USDA-funded McGovern-Dole Food for Education and Child Nutrition Program on improving literacy in rural, poor, highly food-insecure areas of Guatemala and Honduras. We just finished data collection for the Honduras midterm evaluation, surveying children, teachers, principals, and parents at about 180 schools. We're also starting a four-year project in Burkina Faso looking at the sustainability of the same program in this region, using community-based system dynamics.
In the US, I've had an ongoing partnership with Lutheran Immigration and Refugee Service (LIRS) since 2014 to document outcomes and establish best practices for unaccompanied immigrant children. We're currently seeking funding for a study to gather information on kids' mental health that can be used to develop programs to support them.
What piqued your interest in international research?
It hasn't exactly been a linear course. I was an anthropology major as an undergraduate [at the University of Georgia]. I initially wanted to be an ethnomusicologist, studying the music of different cultures. I ended up being a drummer in a rock band after college, so that took me in a different direction. I eventually became a social worker, working in northeast Georgia for several years in the field of children's mental health, and then in foster care and special needs adoption. When I went to graduate school, I was interested in evidence-based practice, but it was really focused on child welfare systems and services in the US. It wasn't until around 2007, when I got to the School of Social Work, which had just started its global program, that I looped back to my original interest in anthropology and different cultures . . . . I still always bring a recorder to document music or sounds from wherever I go.
How has the global program evolved in the four years since you've become chair?
We've developed a range of new electives and strengthened our core courses. They're increasingly focused on building methodological skills in research and evaluation and policy analysis, and also in broadening content expertise in a variety of areas. "Services to Migrants: A Border Perspective," "Immigrant and Refugee Issues in the United States," "Global Child Protection," "Frameworks and Tools for Global Practice," "Global Policy Issues and Implications"—these and other courses are designed so that students will have a toolkit when they graduate and start working overseas with an NGO, or in whatever context they find themselves. We're continually trying to figure out how to make the content we're teaching immediately relevant and practical for somebody who's working in the field, whether in the US or overseas.