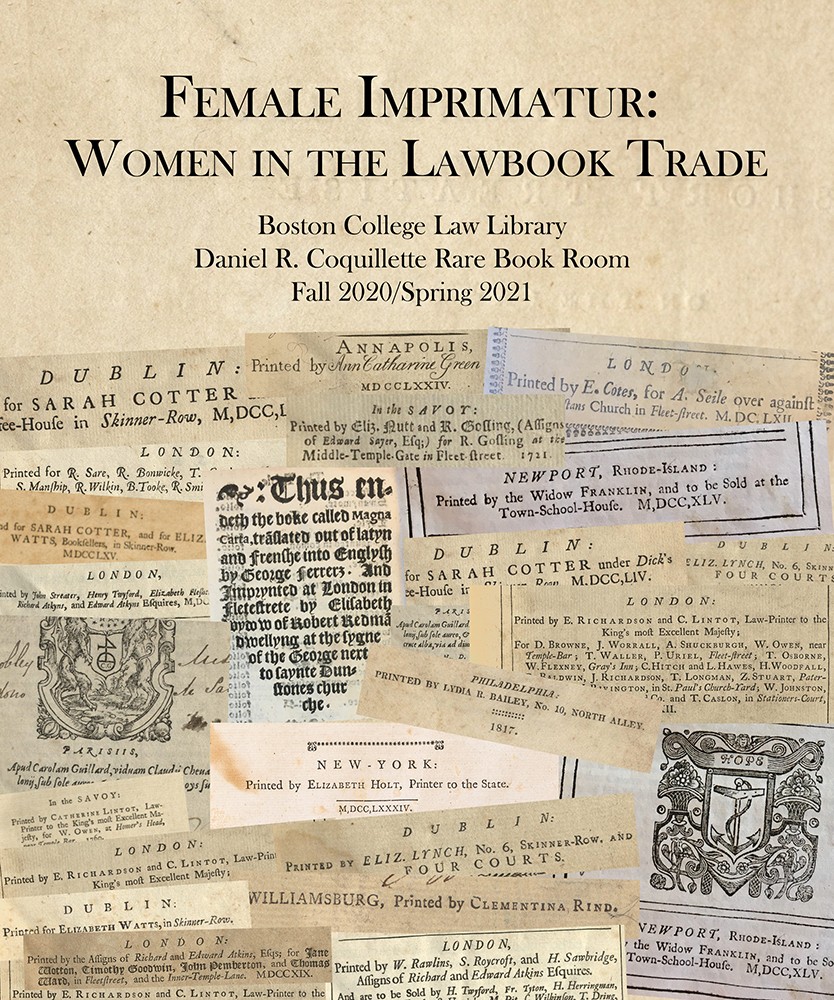 This exhibit was inspired by the 100th anniversary in August 2020 of the ratification of the 19th Amendment, which granted suffrage to some—though certainly not all—American women. In the summer before the anniversary, Rare Books Curator Laurel Davis, Professor Mary Bilder, and Associate Law Librarian Helen Lacouture went digging into our special collections to find lawbooks with imprints featuring women printers and booksellers.
Historian Maureen Bell writes that "the existence of the man effectively blots out any record of activity by the woman" regardless of her involvement. Therefore, it typically was only after the death or incapacity of a printer or bookseller husband (or other male relative) that women's names appeared on title pages. Additionally, book imprints often just use initials, making it difficult to identify traditionally female names. Despite these challenges, we were overwhelmed by our findings!
The exhibit covers around 20 female printers and booksellers and reaches back 500 years. Through dozens of books in our collection, we explore this fascinating industry where some women were able to gain a foothold and thrive professionally, even as far back as the early 16th century. You'll learn about entrepreneurial widows, women in printing families, the law patent, the Stationers' Company, the great law printer Elizabeth Nutt, and more.
The exhibit was curated by Laurel Davis and Professor Mary Bilder and will remain on view through Spring 2021. Due to COVID-19 restrictions, the Rare Book Room is generally open only to members of the law school community and visitors who go through the university's clearance protocols. Current hours are Monday through Friday from 9:00 a.m. - 5:00 p.m, though they are subject to change. Contact Laurel Davis with any inquiries. Please enjoy the images below, along with the exhibit catalog. Keep an eye out for the videos on the Law Library's Instagram, @bclawlibrary.
Decretales of Gregory IX. Paris: At the shop of Charlotte Guillard, widow of Claude Chevallon . . . 1550.


The printers guilds in Paris and London allowed a woman to take over a printing business after her husband's death. The widow could register the right to print books, hire apprentices, print under law patents, and generally run the business just as her husband had. These rules allowed women a path into a profession that typically would be off-limits. Charlotte Guillard is the first woman known to have printed a law book, a 1519 edition of Justinian's Institutes. She was the widow of two printer-booksellers, Berthold Rembolt (d. 1518-19) and Claude Chevallon (d. 1537). Guillard eventually blended their printing devices to create her own device, shown here, with "C.G." near the center.


Gift of Michael H. Hoeflich

 

William Rastell, A Collection of Entrees. [London]: In aedibus Iane Yetsweirt relictae Caroli Yetsweirt [1596].


Typically in the English book trade, members of the Stationers' Company (the printers' guild) would register their "copy" (i.e. their right to print a work). Law printing worked differently. The King or Queen's Printer held the exclusive right to print statutes. And the Crown would grant a monopoly to specific printers in the form of a patent to print the common law. The Latin phrase in this imprint means "in the shop of Jane Yetsweirt, widow of the late Charles Yetsweirt." Jane's late husband had been granted the common law printing patent in 1593. Jane's name appears on a dozen imprints between Charles's 1595 death and her surrender of the law patent in 1597.

 

Edward Coke, The Fourth Part of the Institutes of the Laws of England, Concerning the Jurisdiction of Courts. London: Printed by John Streater, Henry Twyford, Elizabeth Flesher . . . 1671.

This beautifully printed book came from a partnership involving Elizabeth Flesher, widow of James Flesher (d. 1670). Like many women printers, Elizabeth took over the shop after her husband's death. She ran the business until 1688. Elizabeth grew up around the book trade, as her father was a London bookseller. Two of her other imprints are also featured in this exhibit - a 1673 printing of Glanville's Tractatus de Legibus and a 1676 volume of case reports.

Gift of Frank Williams Oliver

Michael Dalton, The Countrey Justice. London: Printed by H. Sawbridge, S. Roycroft, and W. Rawlins . . . 1682.

This large folio actually isn't featured in the exhibit due its size, but other works printed by Hannah Sawbridge are. Between her husband's 1681 death and her own in 1686, Hannah appeared as printer or bookseller on over 50 books. We have identified five of them in our collection. None feature her full first name—each says "H. Sawbridge," illustrating how easy it would be to overlook her. Similar challenges exist for other printers, so we likely have overlooked women involved in the creation of other books in the collection.  

Samuel von Pufendorf, Of the Law of Nature and Nations. London: Printed for R. Sare, R. Bonwicke, T. Goodwin, 1717.

The "R. Bonwicke" listed on the imprint for this book is bookseller Rebecca Bonwicke, misidentified in one source as "Mr. R. Bonwicke, imminent bookseller in St. Paul's church-yard." Other sources describe Rebecca as an astute businessperson who formed a printer/bookseller collaboration (known as a "conger") with other women in the trade. This use of initials (along with the lack of named printers in books like this one) shows how hard it can be to identify the presence of women in the early book trade.

Gift of Daniel R. Coquillette

Giles Jacob, The Grand Precedent. London: Printed by Eliz. Nutt (Executrix of J. Nutt, Assignee of Edward Sayer, Esq.), 1716.

Elizabeth Nutt (c. 1666-1746) was a force within the London book and newspaper trades for decades in the 18th century. She was known for pushing for freedom of the press and frequently found herself in jail for printing items that displeased government officials. In a 1730 search warrant, Nutt and printers Ann Dodd and Ann Smith are accused of "publishing two false, scandalous and seditious libels" (Margaret Hunt, "Hawkers, Bawlers, and Mercuries"). Like many women printers, Elizabeth Nutt took over after her husband's death. John Nutt died the year this book was printed, leaving her as executrix of his estate.  

William Hawkins, An Abridgment of the First Part of My Lord Coke's Institutes. In the Savoy [London]: Printed by E. and R. Nutt and R. Gosling, 1725.


Printing and bookselling businesses were often family operations, with spouses, siblings, parents, and children working side by side. The R. Nutt on this imprint is Elizabeth Nutt's son Richard. He came onboard in 1722. Elizabeth also ran multiple newspaper and pamphlet outlets in London with her daughters, Alice, Catherine, and Sarah, who sometimes were arrested alongside their mother in various censorship disputes or had to mind the shops while she was in custody.

Gift of Daniel R. Coquillette 

A Treatise of Feme Coverts: Or, the Lady's Law. In the Savoy [London]: Printed by E. and R. Nutt, and R. Gosling, 1732.


Of the handful of books in our collection that specifically focus on women and the law, three feature Elizabeth Nutt on the imprint. This book examines the doctrine of coverture, under which a wife lost her legal identity at the time of marriage. The other two books are Sir Geoffrey Gilbert's Treatise of Dower (London, 1734) and Baron and Feme: A Treatise of Law and Equity, Concerning Husbands and Wives (London, 1738). Many of the legal concepts discussed in these books would have affected Elizabeth Nutt personally, first as a married woman and then as a widow administering her deceased husband's estate and running the family business.


Matthew Bacon, A New Abridgment of the Law. London: Printed by E. Richardson and C. Lintot, 1762.


This book is one of our favorites because it features two women on the imprint: Elizabeth (Leake) Richardson, who was born into a printing family herself and then inherited her printer husband's business after his 1761 death; and Catharine Lintot, with whom Elizabeth's husband Samuel had held the patent to print law books. Catharine had inherited a decades-old family business from her father, including the law patent worth £30,000. She printed about a dozen law books before marrying and retiring from the business by 1768.

Gift of James S. Rogers

[Sir Geoffrey Gilbert], The Law of Evidence. Dublin: Printed for Sarah Cotter under Dick's Coffee-House in Skinner Row, 1754.

Sarah Cotter began appearing on imprints in 1751 following the death of Joseph Cotter. Book trade directories state that she was a relative but not his widow. She probably was his daughter or sister and became a huge figure in the Dublin book trade, specializing in printing and sale of lawbooks. Sarah's advertisements regularly appeared in Dublin's newspapers. We love the descriptions of the physical locations of bookshops in old imprints. Long before a booklover could pop an address into a navigation app, they would be pointed to landmarks like Dick's Coffee-House, the sign of the George next to St. Dunstan's Church, or the Rose and Crown in St. Paul's Churchyard.

Blackstone's Law Tracts. Dublin: Printed for Elizabeth Watts, 1767.

Another prolific Dublin printer and bookseller was Elizabeth Watts, widow of Richard Watts. Soon after the publication of this book, she married bookseller Rev. Stewart Lynch. She printed and sold books as Elizabeth Lynch until her death in 1794, when she was succeeded by her son Henry and then his widow. Elizabeth is listed as a bookseller on a volume of chancery reports printed by Sarah Cotter in 1765; both women specialized in law books and operated on the same Dublin street. No printer is listed in this book, but it is possible that it was Sarah.  

Elie Vallette, Deputy Commissary's Guide within the Province of Maryland. Printed by Ann Catharine Green & Son, Annapolis, 1774.

Women were involved in the early American book trade as well. In fact, the first printing press in what is now the U.S. (Mexico had a printing press a century before) arrived in Cambridge, Massachusetts in 1639 under the care of Elizabeth Glover, whose husband had died en route from England. Ann Catharine Green was the official printer for the province of Maryland from 1767 until 1775. She printed the laws of Maryland, other official government publications, blank legal forms, and a newspaper. Ann's sons and grandson also worked in the print shop.

The Trial of Robert W. Houston. Philadelphia: Printed by Lydia R. Bailey, 1817.

Lydia Bailey was a Philadelphia printer for the majority of the 19th century. She took over the family printshop after her husband Robert's death in 1808. She served as the official City Printer for 20 years, printing ordinances and agency reports. She also printed novels, religious texts, and poetry, including a collection that she mailed to James Madison and Thomas Jefferson. Printing historian Leona Hudak states that "the high quality of her printing was universally recognized." Lydia worked with her son William until her retirement in 1861 at age 82. She died in 1869 at age 90.
Daniel R. Coquillette Rare Book Room
Visit
Come take a look at the latest exhibit.  The Rare Book Room is open Monday - Friday, 9am - 5pm