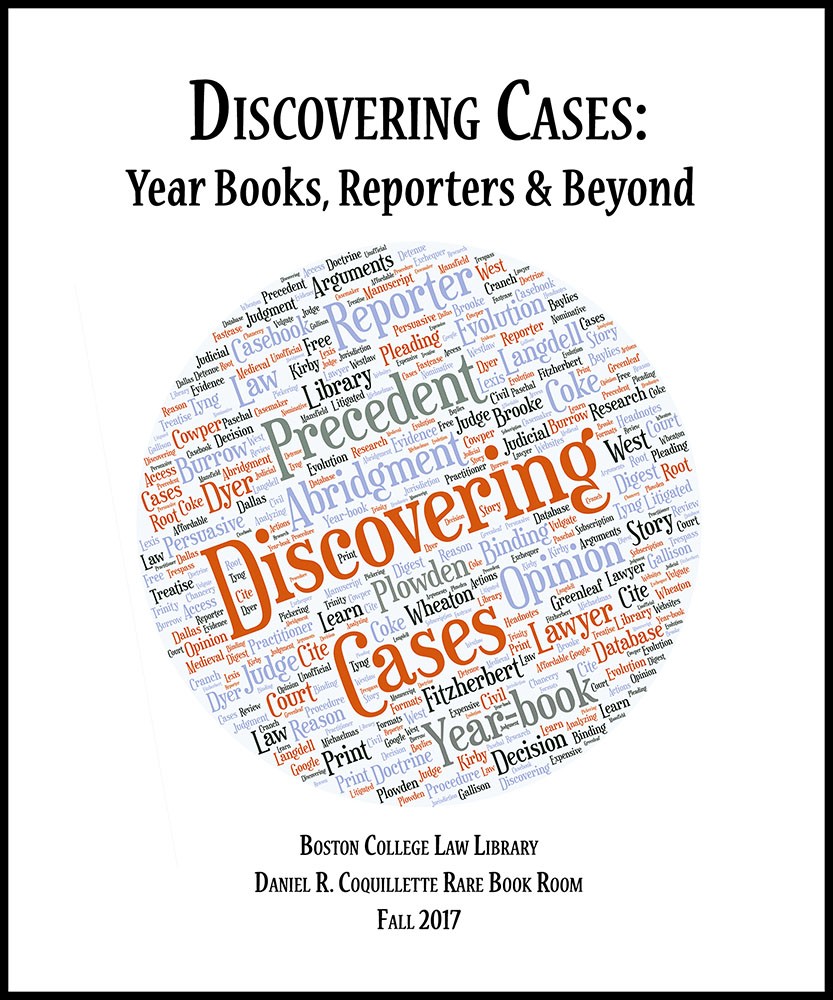 Case law is a crucially important component of a modern Anglo-American law student's education and lawyer's practice. Students learn legal doctrine by reading, parsing, and discussing important cases; lawyers build their briefs and oral arguments by researching, analyzing, and citing precedent from prior court decisions.
The exhibit examines the long history in Anglo-American legal literature of making cases accessible to lawyers and law students. It moves from the Year Books, early sources which compiled the cases heard in a given regnal year; to the early reports of James Dyer and Edward Plowden; to the more formal law reports of Edward Coke; to the first case reporters in early America. We also examine the role of treatises and casebooks.
The exhibit was curated by Laurel Davis, Curator of Rare Books.  It was inspired by two earlier exhibits by former curator Karen Beck, now Manager of Historical & Special Collections at the Harvard Law School Library. The exhibit will remain on view into early 2018. Please come in and take a look! The exhibit catalog is also available to download.
Year Book of Edward III. London, 1534.

Year Books are an ancestor of the modern case reporter. Spanning from 1272 through 1535, they were compiled anonymously, probably by law students. The "reports" of cases in the Year Books focus on the complex procedural exchange between lawyers and judges--not on the legal reasoning or the final decision, which often goes unreported. This Year Book contains cases from the Hilary term ("de termino Hillarii") of the 39th year of the reign of Edward III ("Anno xxxix E. Tercii"). This organization by regnal year is the source of the term "Year Book."

Gift of Daniel R. Coquillette

 

Sir Anthony Fitzherbert, La Secounde Part du Graund Abridgement…London, 1565.

After centuries of cases being reported in Year Books, it became difficult for apprentices and lawyers to sift through the many volumes and find helpful cases. With centuries between themselves and the age of full-text database searching, the best options were either to create their own commonplace books or to purchase abridgments created by other industrious lawyers. Fitzherbert (1470-1538) was a legal writer and judge, and this abridgment is one of his greatest works, digesting and making accessible over 14,000 cases.

Gift of Daniel R. Coquillette

Les Commentaries Ou Reportes de Edmund Plowden…London, 1599.

Edmund Plowden (1518-1585) is recognized as the first reporter of English law, even though James Dyer reported earlier cases. Plowden moved further from the Year Books than Dyer. Plowden recording the pleadings, the arguments of counsel, and the judgment. He also added very brief comments of his own but was careful to separate his observations from the opinion of the court. Both Dyer and Plowden included more citations to other cases as precedent than the Year Books.

Gift of Daniel R. Coquillette

La Huictme Part des Reports de Sr. Edw. Coke…London, 1611.

Known simply as "The Reports," the law reports compiled by Sir Edward Coke (1552-1634) are unparalleled in terms of use and citation. Coke wrote his Reports in thirteen "parts," covering years 1572 to 1616. Written in Law French, this beautiful first edition of the eighth part of the Reports contains many well-known cases. Here, you can see extensive annotations surrounding a passage from  Dr. Bonham's Case, often referenced as a source of authority for judicial review of legislative acts.

Abridgment des Touts les Cases Reportez Alarge per Monsieur Plowden…London, 1597.

In addition to abridgments of the Year Books, lawyers also desired abridgments or digests of reports. Our exhibit includes abridgments of Dyer, Plowden, and Coke. In this Plowden abridgment, cases that take up over 20 pages of text in his reports are summarized in a few short paragraphs. These smaller volumes made the law both more portable and more findable than the giant volumes of reports themselves would allow.

Sir James Burrow, Reports of Cases Argued and Adjudged in the Court of King's Bench, During the Time of Lord Mansfield's…London, 1790. 5 volumes.

Burrow (1701-1782) reported cases decided by the King's Bench from 1756-1772. The publication of the first volume of his reports in 1765 marks an important moment in the history of law reporting. Compiled with an eye toward publication, Burrow's Reports was accurate and well organized, with clear demarcation between facts, arguments of counsel, and judgment of the court. Burrow's Reports would be more familiar to the modern eye than any mentioned thus far.

Ephraim Kirby, Reports of Cases Adjudged in the Superior Court of the State of Connecticut, from the Year 1785, to May 1788. Litchfield, Conn., 1789.

Prior to the American Revolution, colonial lawyers relied on English reports and manuscript opinions from local courts. Toward the very end of the 18th century, American reporters began to report opinions, following in the footsteps of Dyer, Plowden, Coke, and Burrow. Kirby was probably the first American reporter of cases. He used to his advantage a Connecticut law requiring that judges provide written reasons for their opinions. This made it easier to summarize the judge's reasoning and judgment; he also concisely stated the pleadings and the arguments of counsel.

Gift of Kathryn Preyer

Reports of Cases Argued…in the Supreme Judicial Court…Newburyport, MA, 1811.

In 1804, Massachusetts became the first state to create a position for an official reporter. This is the second volume of what is now known as the Massachusetts Reports. When released, it was called Tyng's Reports for the reporter at the time—Dudley Atkins Tyng. For this reason, you may see parallel citations like this: Benson v. Swift, 2 Mass. (1 Tyng) 50 (1806). The first Massachusetts reporter, Ephraim Williams, took down oral opinions; by Tyng's tenure, the court had transitioned to written opinions.

Nicholas Baylies, A Digested Index to the Modern Reports…Montpelier, 1814.

Even as early as 1814, American lawyers needed help sifting through existing American and English case law. In this early digest, Baylies created an subject-based index (from Abatement to Writ of Right) to 77 volumes of English and American reports, including the Massachusetts Reports, Supreme Court decisions reported by Dallas and Cranch, and Burrow's and Cowper's reports. By the end of the 19th century, the amount of case law exploded with the arrival of West's National Reporter System; West then created digests for its regional reporters.

Gift of Daniel R. Coquillette

Simon Greenleaf, A Treatise on the Law of Evidence. Boston, 1842. 2 vols.

Much has changed since the era of the Year Books. The concept of precedent has evolved; cases are available online; the duties of reporters have changed dramatically. The sheer volume of opinions available would stun Plowden, Coke, or Kirby. One constant, however, has been the lawyer's ability discover important case law through the writings of experienced jurists. In fact, one of the first things we teach students is to find relevant cases through respected secondary sources. In our copy of Simon Greenleaf's famed evidence treatise--which belonged to Joseph Story and is inscribed to him by Greenleaf--the Harvard Law professor cites to a multitude of English and American cases as he lays out the law of evidence.

Boston College Bulletin: The Law School, Announcement of the First Session, 1929-1930. Boston, 1929.

Modern law students typically first encounter case law via their first year casebooks, only delving into case reporters when the time comes for their first research assignments. The exhibit features the first edition of Christopher Columbus Langdell's impactful A Selection of Cases on the Law of Contracts (Boston, 1871), the very first law school casebook. Langdell excerpted important contracts cases, expecting students to read them and make their own inductions about what the law is. The exhibit also includes the property and contracts casebooks assigned to the very first class of BC Law students.
Daniel R. Coquillette Rare Book Room
Visit
Come take a look at the latest exhibit.  The Rare Book Room is open Monday - Friday, 9am - 5pm