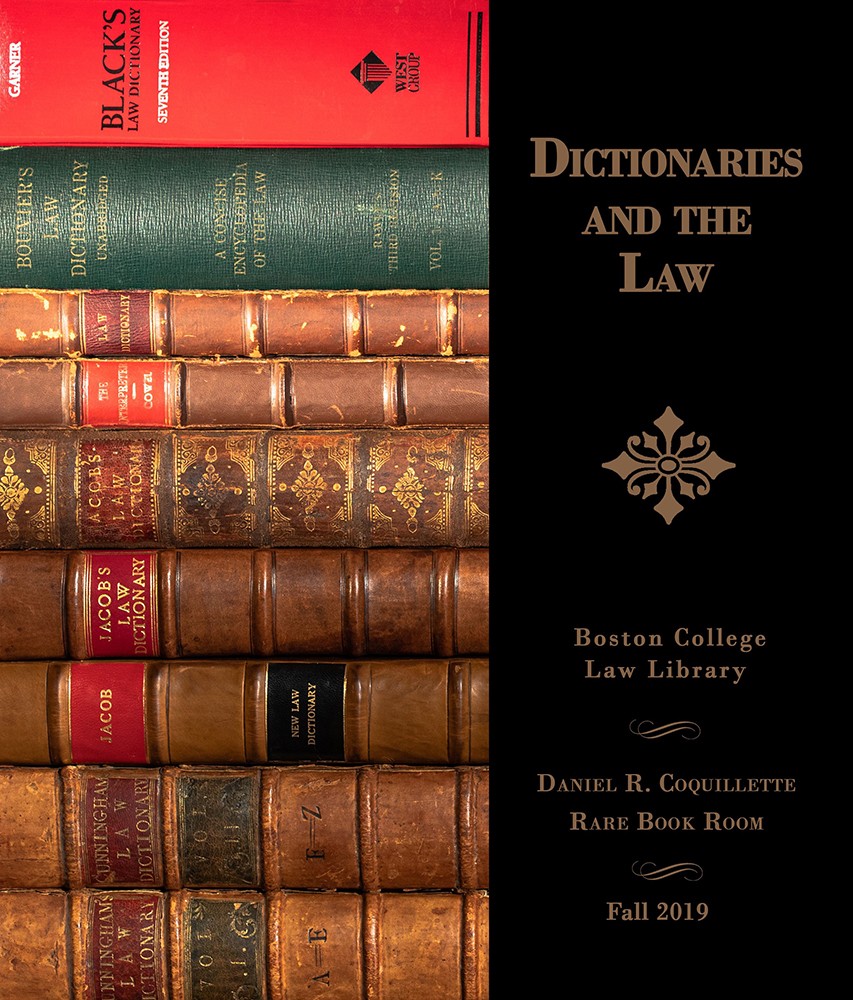 Dictionaries hold a crucial place in the world of legal literature. Judges, lawyers, law students, and laypeople grapple with the language of the law every day and have done so for centuries. The first dictionary in English was a law dictionary. King James I ordered the second English law dictionary to be suppressed and burned. Another early example was compiled by a writer focused on making the law accessible to the "everyman"—not just the elite.
The first American general language and law dictionaries came in the 1800s with Noah Webster's American Dictionary of the English Language (New York, 1828) and John Bouvier's Law Dictionary Adapted to the Constitution and Laws of the United States of America (Philadelphia, 1839). By the early to mid-20th century, Black's Law Dictionary became the standard. Today, it is the go-to dictionary for American law students, practitioners, and judges, whether in print or online. This exhibit explores that book's rich ancestry, reaching back centuries beyond its first printing in 1891. It is an important history too, as modern courts regularly cite old and new dictionaries in their opinions.
The exhibit was curated by Laurel Davis and made possible by the generosity of Daniel R. Coquillette, J. Donald Monan, SJ, University Professor, and Bryan A. Garner, editor in chief of Black's Law Dictionary. It will remain on view into January 2020; the Rare Book Room is open to visitors on weekdays from 9:00 a.m. - 5:00 p.m. The exhibit catalog is available to download.
John Rastell, Les Termes de la Ley. . . . London, 1659.

Rastell's law dictionary was the first English language dictionary of any type, with its alphabetical arrangement of terms and their definitions. First published in Anglo-Norman French around 1523 as Exposiciones Terminorum Legum Anglorum (the title page was in Latin), it became known as Les Termes de la Ley ("Terms of the Law"). In this 1659 edition, you can see signatures of early owners and the work's dual column layout, with the entries on the left in English and the right in Anglo-Norman French.  

Gift of Frank Williams Oliver

John Cowell, The Interpreter: Or Booke Containing the Signification of Words. . . . London, 1607.

Cowell (1554-1611) built on Rastell's work by adding entries and discussing historical sources. Cowell's dictionary quickly generated controversy with its criticism of common law hero Thomas Littleton and definitions suggesting the absolute power of the monarch. Edward Coke spearheaded the opposition, positioning Cowell as an enemy to the common law. In 1610, James I issued a royal proclamation suppressing the book and ordering all copies to be burned. Despite the order, a number of copies of the first edition survived, including this one. The exhibit also includes patriot lawyer James Otis Jr.'s personal copy of Cowell's dictionary.  

Gift of Daniel R. Coquillette


Giles Jacob, A New Law-Dictionary. . . . London, 1729.


Jacob (1686-1744) was a prolific English legal writer whose other major works include The Student's Companion, a guide to studying the law, and Every Man His Own Lawyer, a legal self-help manual aimed at providing ordinary people a working knowledge of the law. In that vein, his definitions tilt in a more Lockean "consent of the governed" direction than Cowell's. For example, Jacob's definition of king includes the reminder that the king takes an oath "to govern the People of this Kingdom, according to the Statutes in Parliament agreed on, and the Laws and Customs of the same." The exhibit includes this first London edition.  

Gift of Kathryn "Kitty" Preyer

 

Richard Burn and John Burn, A New Law Dictionary. . . . London, 1792.

Richard Burn (1709-1785) was an English justice of the peace and legal scholar best known for his Justice of the Peace and Parish Officer (London, 1775), which went through twenty editions. He died before finishing his dictionary, which his son John completed. In his preface, John Burn proudly writes that his father created this work himself, not merely copying and updating earlier dictionaries. He writes that his father prepared the work "for the use and information of those who wish to have a rational knowledge of matters relating to their lives, properties, and other essential interests." Justice Alito cited this dictionary in June 2019 for the definition of the word "offence."

John Bouvier and Francis Rawle (ed.), Bouvier's Law Dictionary and Concise Encylopedia. Kansas City and St. Paul, 1914. 


Though an American edition of Giles Jacob's law dictionary was published in 1811, and Noah Webster's general dictionary became available in 1828, we were without an American law dictionary until 1839 when Bouvier, a French immigrant and Philadelphia lawyer and judge, published this work. In the preface to the first edition, Bouvier explains that English law dictionaries like Cowell's and Jacob's "were written for another country possessing laws different from our own. . . . And there is a great portion which, though useful to an English lawyer, is almost useless to the American student."

On generous loan from Daniel R. Coquillette

Henry Campbell Black, A Law Dictionary. . . . St. Paul, 1910.

Black (1860-1927), a Pennsylvania lawyer and legal scholar, wrote this work with the aim of creating the first comprehensive law dictionary. When the first edition was printed in 1891, it was a direct competitor to Bouvier's law dictionary and eventually eclipsed it, becoming the standard. Black himself edited the first two editions but died before the publication of the 3rd edition. This copy of the 2nd edition belonged to Charles Hamilton Houston (1895-1950), the great NAACP attorney and dean of Howard Law School. The front pastedown includes his signature and address from his first year at Harvard Law School 99 years ago this fall.

On loan from the library of Karolyne and Bryan A. Garner, Dallas, Texas.

 

Henry Campbell Black, Black's Law Dictionary. . . . St. Paul, 1933.

This is West Publishing's in-house corrected copy of Black's 3rd edition for use in preparing the 4th edition. Here, you can see some revisions in the P section. Since the editors were working before the advent of Post-it Notes and other adhesive tabs, they indicated pages containing revisions by attaching slips of paper with small nails.  

On loan from the library of Karolyne and Bryan A. Garner, Dallas, Texas.

Bryan A. Garner, Black's Law Dictionary. St. Paul, MN, 2014.

Lexicographer and grammarian Bryan A. Garner has been at the helm of Black's Law Dictionary as editor in chief for the past 25 years. Garner rigorously applies principles of modern lexicography and systematically combs the world of legal literature for new terminology and previously overlooked historical sources. This is one of about fifteen copies of Black's Law Dictionary (10th edition) that Professor Garner marked for revisions to be incorporated into the massively revised 11th edition. The tabs indicate necessary changes ranging from substantive definitional edits to updated cross-references.

On loan from the library of Karolyne and Bryan A. Garner, Dallas, Texas.

Noah Webster, An American Dictionary of the English Language. New York, 1828.

In addition to law dictionaries, lawyers and judges consult and cite general English language dictionaries. This is the first edition of the iconic American dictionary, which the Supreme Court has cited hundreds of times. Webster (1758-1843) was a Connecticut teacher and lawyer who set out to write "the largest, most complete dictionary of the English language" and "supersede Samuel Johnson's but also provide the foundation for a 'federal language'" (George, Dictionary of Literary Biography). His 70,000-entry work became a classic. After his death in 1843, Webster's heirs sold the rights to George and Charles Merriam.

Gift of Frank Williams Oliver

B. Philippe Vicat, et al. Vocabularium Juris Utriusque. . . . Naples, 1760.

Roman law dictionaries define the terms used in the body of law that originated with the ancient Romans and ultimately was organized and compiled into the Corpus Juris Civilis ("body of civil law") by the Emperor Justinian in the 6th century. Roman law provides the foundation for the legal systems of many modern nations, including most countries in continental Europe. The Vocabularium Juris Utriusque was a medieval law dictionary that went through many editions over the centuries. The title roughly translates to "Dictionary of the Two Laws," referring to canon and civil (i.e., Roman) law. The frontispiece suggests this dual nature, with references to canon law on the left (e.g, the Decretals or papal decisions) and Roman law on the right (e.g., the codes of Justinian and Theodosius II).

Gift of Michael H. Hoeflich
Daniel R. Coquillette Rare Book Room
Visit
Come take a look at the latest exhibit.  The Rare Book Room is open Monday - Friday, 9am - 5pm