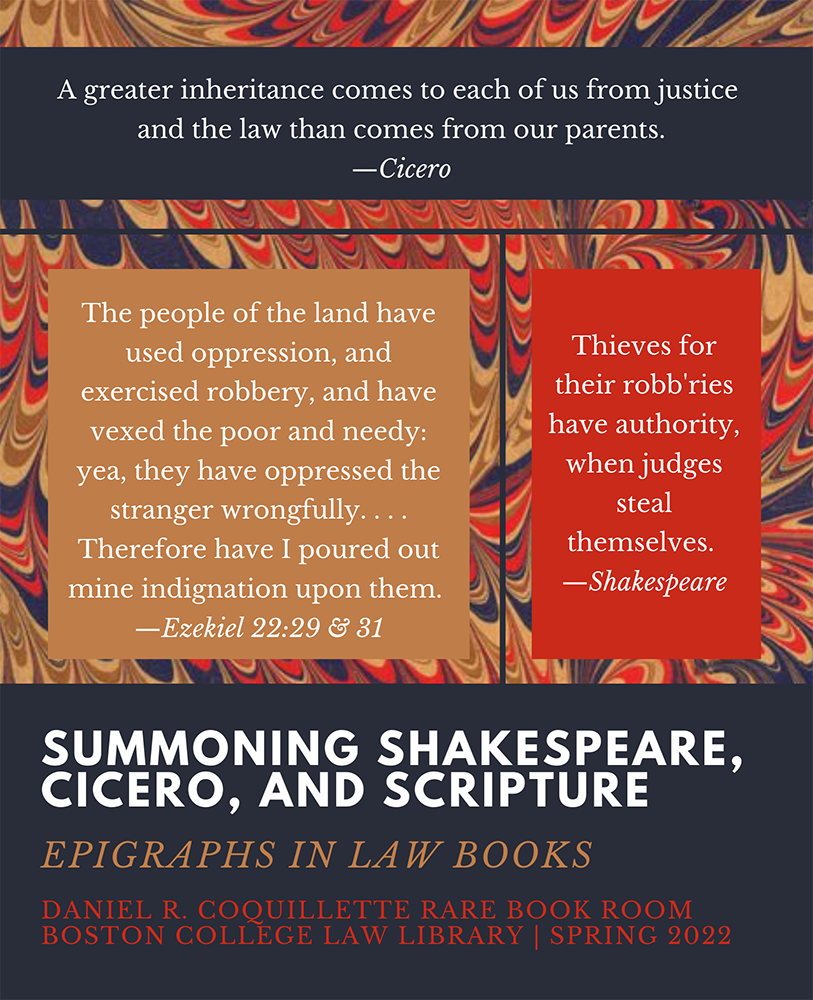 We noticed that many law books in our collection have quotations from well-known writers on the title pages. These short quotations, meant to suggest the theme of a work, are known as epigraphs. Epigraphs have been used on the entrances of buildings since before the current era. They started appearing on books at least by the 16th century, though likely there are earlier examples. The earliest epigraph in our collection is a passage from Deuteronomy on the title page of a 1556 treatise on French customary law.

These epigraphs typically were chosen by the author and appeared across subsequent editions of the work. They come from sources as varied as the Bible, Shakespeare, ancient Roman writers like Cicero, Horace, and Virgil, and legal scholars like Edward Coke and William Blackstone. Sometimes they directly relate to the content or goals of the book. Sometimes they're more mysterious. Regardless, by using quotations from these sources, authors could simultaneously advertise and preview the content of their work, summon the authority of revered thinkers, and signal their own erudition.

The exhibit was curated by Laurel Davis and Melissa Grasso. It will remain on view into August 2022. The Rare Book Room is open on weekdays from 9:00 a.m.–5:00 p.m. The exhibit catalog is available to download.
Enchiridion Iuris Scripti Galliae Moribus. London, 1556.

This "enchiridion" (small manual or handbook) on French customary law is the oldest book in our collection with an epigraph. In fact, it has two:

Quasi imber super herbam: et quasi stillae super gramina.
[Let my teaching fall] like the rain upon the grass and dew upon the plants. —Deuteronomy 32:2

Officio, non eventu facienda metire.
Judge what must be done according to duty, not outcome. —Unattributed

Gift of Michael H. Hoeflich


 

William Lambard, Eirenarcha. London, 1599.


Lambard harnessed the theme of peace in his justice of the peace manual with this passage from the Aenied, one of the most quoted in Latin literature. Lombard created the title term Eirenarcha himself from the Greek words "eirene" (peace) and "archos" (leader or chief).   

Hae tibi erunt artes, pacique imponere morem.
These will be your arts – to impose the ways of peace. —Virgil, Aeneid

Gift of Daniel R. Coquillette


Thomas Gordon, The Justice of Parliaments on Corrupt Ministers. London, 1725.

Gordon's work recounts instances in which government officials engaged in corrupt acts. One of the cases discussed is Francis Bacon's 1621 bribery scandal. Bacon was Lord Chancellor, the highest legal officer in England, when he pleaded guilty to accepting a bribe. 

Robbery is apparent, and hath the face of a Crime; but extortion puts on the visor of virtue for expedition of justice." —Coke on Littleton 

Thieves for their robb'ries have authority, when judges steal themselves. —Shakespeare (Measure for Measure, Angelo in Act 2, Scene 2)

Gift of Daniel R. Coquillette


Hugo Arnot, A Collection and Abridgment of Celebrated Criminal Trials in Scotland. Edinburgh, 1785.

Arnot advocated for the reform of the criminal statutes, including more humane punishments. This epigraph is Aeneas' horrified response from a scene in the Underworld after Sibyl shows him Tartarus, the hell where wicked souls are tortured. 

Quae scelerum facies, O virgo, effare, quibusue urgentur poenis? Quis tantus plangor ad auras?
What forms of crime are these? Say, O maiden! With what penalties are they scourged? What is this vast wailing on the wind?  —Virgil, Aeneid


The Public Laws of the State of Rhode Island and Providence Plantations. Providence, 1798.

With this epigraph, the publishers of this Rhode Island statutory compilation are essentially saying, "We printed the laws, and now you're on notice!" Similar iterations of this common maxim go as far back as Aristotle. It also makes an appearance in Roman law sources and in the book of Leviticus. 

Ignorantia legis neminem excuat.
Ignorance of the law does not excuse its violation.

Granville Sharp, The Law of Retribution . . . . London, 1776

Sharp (1735-1813) was a British abolitionist, biblical scholar, and supporter of the American colonists' revolution against the Crown. He published this antislavery work in 1776 and used this passage from Ezekiel as an epigraph, referencing God's retribution for acts of oppression:

The people of the land have used oppression, and exercised robbery, and have vexed the poor and needy: yea, they have oppressed the stranger wrongfully. . . . Therefore have I poured out mine indignation upon them. —Ezekiel 22:29 & 31

Gift of Daniel R. Coquillette


John Cowell, The Interpreter: Or a Book Containing the Signification of Words. Cambridge, 1607.

Cowell was an English civilian lawyer and law professor. When his law dictionary hit the market in 1607, Cowell immediately found himself in hot water and his book in flames. His definitions of terms like "King" and "King's Prerogative" put him in the middle of a power struggle between the King and the House of Commons that led to the book's suppression.

In legum obscuritate captio
There's deception in the obscurity of laws. —Unattributed, perhaps Cowell 

Gift of Daniel R. Coquillette


Les Huictme Part des Reports de Sir Edw. Coke. London, 1611.

Coke uses quotations from the Magna Carta and the 1275 Statute of Westminster (a codification of existing criminal and civil laws that was enacted during the reign of Edward I) to elevate the concept of equal justice under the law:

Rex praecipit ut pax Sacrosanctae Ecclesiae . . . .
The King commands that the peace of the Holy Church and the realm be firmly preserved and kept in all respects, and that justice be administered to all, both poor and rich. —The Statute of Westminster I (1275)

Nulli vendemus, nulli negabimus, aut differemus iusticiam aut rectum. 
To no one shall we sell, deny, or delay justice or what is right. —Magna Carta


Charles Edwards, The Juryman's Guide throughout the State of New York. New York, 1831.

The epigraph in this book comes from William Blackstone's Commentaries on the Laws of England. It emphasizes the idea that the law should apply to and restrain the rich and powerful as much as anyone else. The passage also extols the value of a jury, appropriate for this guide to jury service:


The most powerful individual in the state will be cautious of committing any flagrant invasion of another's right, when he knows that the fact of his oppression must be examined and decided by twelve indifferent men. —Blackstone

Gift of Kathryn "Kitty" Preyer

[William Pope,  Jr.], Precedents. 1806.

Creators of manuscripts—such as this book of form or model documents—also included epigraphs on their handmade title pages. The tradition of including such quotations was likely familiar to them from their own book collections.  

Lex est sanctio justa, jubens honesta, et prohibens contraria.
The law is a sacred sanction, commanding what is right and prohibiting the contrary. —Unattributed, but a common legal maxim

Equitas est perfecta quaedam ratio, quae jus scriptum interpretatur et emendat.
Equity is a certain perfect logic, which interprets and amends the written law. —Unattributed, but possibly from Coke
Daniel R. Coquillette Rare Book Room
Visit
Come take a look at the latest exhibit.  The Rare Book Room is open Monday - Friday, 9am - 5pm