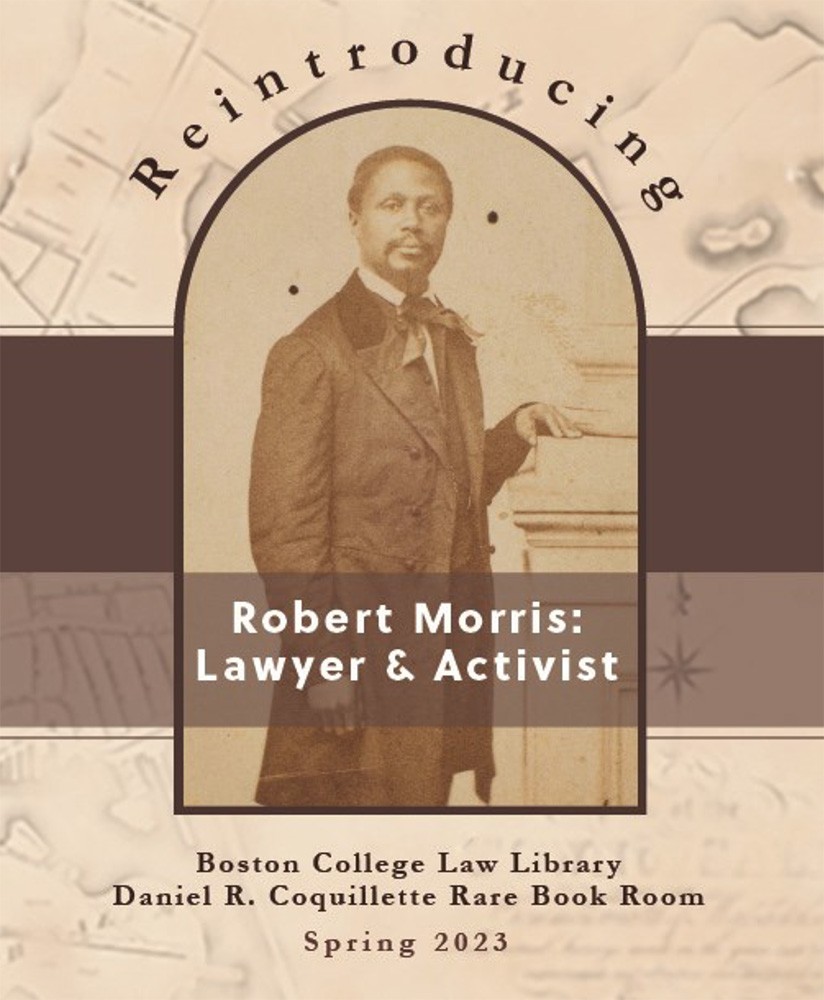 We are excited to reintroduce Morris and his remarkable library with this new exhibit. Robert Morris (1825–1882) has long been known as the second Black person to become a lawyer in the United States. He was admitted to the Massachusetts bar in 1847. Morris was deeply involved in the 19th-century U.S. civil rights movement and constantly agitated for full and equal rights for people of color. His legal career included filing the first major school desegregation case in the country (Roberts v. City of Boston), representing fugitives from slavery, and serving as the go-to lawyer for Irish immigrants. 
Since our Spring 2017 exhibit, Robert Morris: Lawyer & Activist, almost thirty more of Morris's books have been found in BC's collections. After following his wife Catharine to the Catholic Church, Morris forged strong relationships with the young institution and early leaders like Father Robert Fulton. He donated a huge portion of his book collection to BC around 1882. Most of the books featured in this exhibit are from that donation and are on generous loan from the John J. Burns Library, Boston College. We also are proud to display two items from the Morris collection at the Canton Historical Society in Canton, Massachusetts. 
The exhibit was curated by Laurel Davis and Mary Sarah Bilder, Founders Professor of Law. It will remain on view into August 2023. The Rare Book Room is open on weekdays from 9:00 a.m.–5:00 p.m. The exhibit catalog is available to download. For more about Morris, please see our website, Robert Morris: Civil Rights Lawyer & Antislavery Activist, at bc.edu/robert-morris. 

David Hoffman, A Course of Legal Study. Boston, 1836.


Most of Morris's law books have not been found, but we know he had them because 1) some are listed in an extant account book (including Wharton's American Criminal Law), and 2) he specifically bequeathed his law books to his son Robert Jr. in his will. This law title was discovered in the BC Law Library during the summer of 2021—Morris's signature and bookplate can be found on the front pastedown. Hoffman's popular textbook for law students included an extensive reading list and tips for studying and learning the law. Morris likely consulted it during his legal apprenticeship with Ellis Gray Loring.


 

William Goodell, The American Slave Code. New York, 1853.


Goodell was a leading abolitionist and advocate for equal rights. In this book, he meticulously works through state statutes and cases to show how the American slavery and caste systems were created by the law. Goodell saw the U.S. Constitution as an antislavery document and felt that the government had a moral and legal duty to immediately abolish slavery. Morris also owned a copy of Goodell's Slavery and Anti-Slavery (1852), featured in the 2017 exhibition. 

On generous loan from the John J. Burns Library, Boston College


Maria Weston Chapman, ed. The Liberty Bell. Boston, 1839-1857.


The Liberty Bell was a gift book series sold at the annual Boston Anti-Slavery Bazaar in Faneuil Hall to raise money for the abolitionist cause. The primary organizer, Maria Weston Chapman, solicited antislavery essays, poems, and stories for inclusion in the annual volume. Contributors included Lydia Maria Child, William Lloyd Garrison, Henry Wadsworth Longfellow, Harriet Martineau, and Ralph Waldo Emerson. Chapman and her sisters also contributed pieces. Fifteen volumes were published from 1839–1857. Six volumes belonging to Morris have been identified in the Burns collections, including one inscribed to him by editor Maria Weston Chapman. 

On generous loan from the John J. Burns Library, Boston College


J. R. Beard, The Life of Toussaint L'Ouverture: The Negro Patriot of Hayti. London, 1853.


Toussaint L'Ouverture was enslaved in the French colony of Saint-Domingue (now Haiti) before eventually leading a successful rebellion and independence movement. He was a hero to Morris, who copied Wordsworth's sonnet about the Haitian revolutionary into this book (given to him by wife Catharine on his 28th birthday).

Morris read broadly about slavery, and his library includes the narratives and stories of those who had been held in bondage. In addition to this biography and the Narrative of Frederick Douglass, we know from an extant letter that he also owned a copy of The Interesting Narrative of the Life of Olaudah Equiano, given to him by abolitionist and women's right activist Lydia Maria Child. 

On generous loan from the John J. Burns Library, Boston College


William Wells Brown, The Black Man, His Antecedents, His Genius, and His Achievements. New York, 1863.


Brown escaped from slavery in Kentucky and became a well-known abolitionist and writer. In this book, he balks at the notion of white supremacy and outlines the achievements of Black Americans including Douglass, Wheatley, and Morris himself. 

This recently identified book is one reason why we consider Morris one of the first self-conscious African American collectors of the African American experience. He had Wheatley, Douglass, books on Africa, and a wide range of works on abolition and the fight for equal rights. He also owned, is featured in, and supported the creation of William Cooper Nell's The Colored Patriots of the American Revolution (Boston, 1855), which we exhibited in 2017. 

On generous loan from the John J. Burns Library, Boston College


Warren Lee Goss, The Soldier's Story of His Captivity at Andersonville, Belle Isle, and Other Rebel Prisons. Boston, 1867.


Goss was a Union soldier from Massachusetts who was held captive two different times during the war. Professor Michael Vorenberg, Associate Professor of History at Brown University, wondered if there was some thematic resonance for Morris between the prison narratives written by captured White U.S. soldiers like Goss and pre-war slavery narratives written by Black Americans. Professor Vorenberg also noted that this book, combined with two other recently identified Morris books—James Parton's General Butler in New Orleans and Joel T. Headley's Grant and Sherman—made for "a quirky set of books to own on the Civil War." Morris likely owned other books on the topic, either lost to the ages or yet to be discovered. 

On generous loan from the John J. Burns Library, Boston College


Sylvester Judd, Margaret. Boston, 1845.


Judd's novel has been called the "first book of the American Renaissance" and "the closest thing we have to a transcendental novel." It includes an amusing note in Morris's hand expressing his displeasure at someone who borrowed his book and wrote in the margins.  

While most of Morris's extant books are nonfiction, with a healthy dose of poetry, he did buy fiction like Margaret. He also owned The Ways of the Hour, a criminal courtroom drama by James Fenimore Cooper; The Hour and the Man, Harriet Martineau's work of historical fiction inspired by Denmark Vesey and Nat Turner; and three novels by Harriet Beecher Stowe.

On generous loan from the John J. Burns Library, Boston College


Giovanni Battista Niccolini, History of the Jesuits. London, 1854.


Niccolini was an Italian poet and playwright. Morris bought his History of the Jesuits in 1854, roughly around the time he began attending the local Catholic parish at his wife Catharine's behest. Due to this move and his regular representation of Irish immigrant clients, he had strong connections to Boston College (founded in 1863) and early leaders like Father Robert Fulton. The Morrises financially supported BC as well, including their donation of his books to the young school.

On generous loan from the John J. Burns Library, Boston College


Account Book of Robert Morris. Boston, 1854-55.


Morris's account book includes records of his cases, including one handled for Lewis Hayden, the famous Boston "conductor" of the Underground Railroad. It also documents his book purchases for parts of 1854 and 1855. A handful, such as Niccolini's History of the Jesuits, Harriet Beecher Stowe's Sunny Memories of Foreign Lands, Ellen Louise Chandler's This, That or the Other, and Richard Hildreth's Despotism in America, have been found in BC's collections. Many others, such as Alexander Dumas' The Three Musketeers, have yet to surface. If one assumes this rate of collection over the course of, say, 30 years, it seems likely that Morris's library was over 1,000 books strong. 

On generous loan from the Canton Historical Society, Canton, Massachusetts


Morris's Scrapbook of the Fugitive Slave Rescue Trials. Boston, 1851


In February 1851, Shadrach Minkins was arrested in downtown Boston at his job and taken to the courthouse to begin the process of forcing him back to his enslaver in Kentucky. Morris ran to the courthouse to represent him. After the initial proceedings, the courtroom was cleared, chaos erupted, and Minkins was swept from the premises. He eventually made it safely to Canada. Soon, Morris and six others were indicted for aiding in the escape of a fugitive in violation of the Fugitive Slave Act. Morris was acquitted in November 1851. He kept this scrapbook of clippings and notes about his trial and the trials of the other accused rescuers.   

On generous loan from the Canton Historical Society, Canton, Massachusetts

From the Collection of Evan Shenkman, BC Law Class of 2001.


The exhibit takes a sneak peek into the personal collection of Evan Shenkman, BC Law 2001. Evan focuses on trailblazing lawyers and civil rights leaders. Items include: a probate document signed by Macon B. Allen, the first Black person to become a lawyer in the United States. Allen was admitted to the bar in 1845, two years before Robert Morris, and he also practiced in Boston before moving to Charleston; a writ signed by Wentworth Cheswell, the first Black judicial official in the U.S.; a calling card of Belva Lockwood (1830–1917), the first woman admitted to practice before the Supreme Court; and a letter from Annette Abbott Adams (1877–1956), the first woman to serve as a federal prosecutor and the first to sit on the California Court of Appeals. 

Daniel R. Coquillette Rare Book Room
Visit
Come take a look at the latest exhibit.  The Rare Book Room is open Monday - Friday, 9am - 5pm