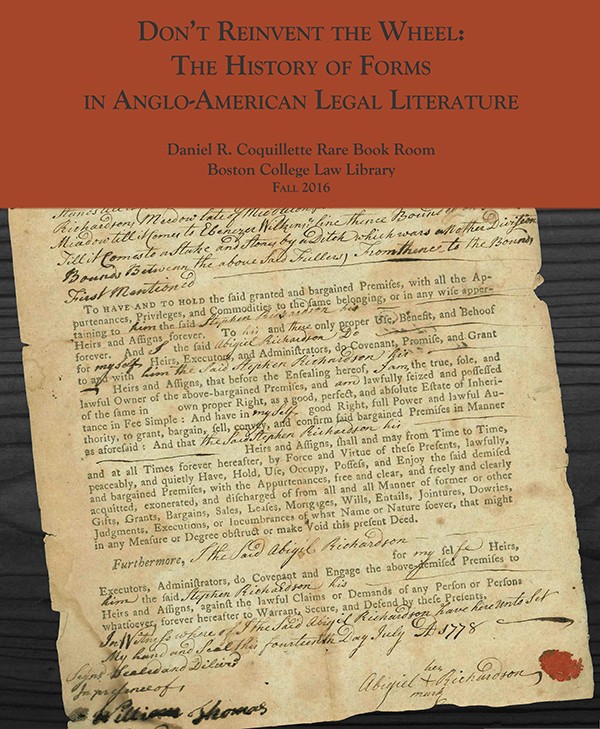 Form books have been a staple of Anglo-American legal literature since the 12th century. These books, often called books of precedents, offer form or sample documents that help lawyers prepare legal documents. The proliferation of this type of source makes sense. Lawyers spend a great deal of time drafting pleadings, motions, briefs, contracts, articles of incorporation, bylaws--the list goes on.
Today, many sources of forms are digital (think of Westlaw's FormFinder; annotated forms on Practical Law and Lexis Practice Advisor; and many others, both free and subscription), allowing for quick editing and customization. This exhibit looks at the forerunners of these in-demand electronic sources and examines the long tradition in our legal literature of providing forms for lawyers' drafting tasks.
The exhibit was curated by Laurel Davis, Curator of Rare Books/Legal Reference Librarian. It will remain on view until February 2017. Please come in and take a look!
The exhibit catalog is available to download.
Ranulph de Glanville, Tractatus de Legibus et Consuetudinibus regni Angliae. London, [1554?].

The earliest collections of forms were compilations of precedents of writs, the brief writings through which actions could be initiated in the royal courts. This is the first printed edition of the Treatise on the Laws and Customs of the Kingdom of England, attributed to Ranulph de Glanville, Chief Justice under Henry II.

The treatise essentially is a procedural manual and form book, with over eighty model writs and commentary to guide practitioners in the King's Courts. Click on the image to view at a higher resolution.

Gift of Daniel R. Coquillette

 

Registrum Omnium Brevium. London, 1634.

First printed in 1531 by William Rastell, the Registrum Omnium Brevium ("The Register of All Writs") is an early collection of writs; it had already been circulating in manuscript for centuries.

This beautiful 1634 edition contains hundreds of Chancery writs, which would have originated a lawsuit, and some judicial writs, which generally were issued by the courts of law during litigation and after judgment.

Gift of Daniel R. Coquillette

 

La Vieux Natura Brevium. London, 1584.

Natura Brevium was a selection of writs from the Registrum Omnium Brevium, supplied with commentary. This title, like so many in this exhibit, had been around in manuscript form long before it was first printed. This early printed edition has a limp vellum binding.

Gift of Daniel R. Coquillette

 

Anthony Fitzherbert, La Novel Natura Brevium. London, 1616.

When English judge and scholar Anthony Fitzherbert published his own Natura Brevium in 1534, his became known as the "new" or "nouvelle" natura brevium, and the original one became "old" or "vieux". Fitzherbert added notes on recent developments in the law.

We have the 1560 edition in the exhibit, along with this one from 1616. It is annotated throughout, often with manicules (little drawn hands with fingers pointing at the text that was of interest to the reader).

Gift of Daniel R. Coquillette

 

Sir Edward Coke, A Book of Entries. London, 1671.

Taken from entries on the rolls (the parchment rolls that became the official record of a suit), books such as this one provided precedents or forms of pleading that guided lawyers as they maneuvered through the treacherous process of pleading a client's case. Our copy of Coke's work belonged to Levi Lincoln, a Massachusetts revolutionary and Attorney General to Thomas Jefferson.

This work was the successor to William Rastell's earlier Collection of Entrees, also featured in this exhibit. Coke claims in his preface that none of the entries contained within had been previously published. The pleadings provided here can be viewed as a supplement to his Reports.

Gift of Daniel R. Coquillette

 

Thomas Phayer, A Book of Presidents. London, 1641.

Form books were not limited to the world of litigation. First published in 1543, Phayer's book of precedents (often spelled "presidents") was the first collection of modern conveyancing forms. It went through many editions before being supplanted in the late 17th century by Orlando Bridgman's Conveyances.

Our copy was owned by British judge and scholar Frederick Pollock. This image shows the first precedent, given first in Latin and then translated into English.

 

[Joseph Story], American Precedents of Declarations. Boston, 1802.

Before the Revolution, lawyers in the American colonies were reliant on forms from reprinted English books. Soon, the need arose for a domestic source, and this was the most important early compilation.

This collection of forms came from the collection of preeminent American lawyer and SJC Chief Justice, Theophilus Parsons. In the preface, the anonymous compiler and editor (generally thought to be Joseph Story) notes the insufficiency of English sources, in which "useful matter lies buried amid heaps of antiquated learning and superfluous detail."

 

[Unknown compiler, perhaps William Pope, Jr.], Precedents. 1806.

This personal book of precedents presumably was copied by a law apprentice using the forms from the office where he worked, a common practice. Most of the forms came from well-known New Jersey practitioners in the second half of the 18th century. The bulk of them seem to have originated with Richard Stockton, Sr., a signer of the Declaration of Independence and member of the Continental Congress.

A notation on the front flyleaf indicates that this book of precedents, marked "Rebel Trophy" on the cover, was found under the floorboards of a Hilton Head plantation by a Union soldier in 1861.

 

Brooker Collection #1290, Complaint for Theft. Bristol, Massachusetts Bay Colony, 1807.

Even with these books of precedents, lawyers and court officials (or their apprentices or scriveners) still had to spend onerous amounts of time copying the forms out by hand. The development of pre-printed legal forms (known as "law blanks") allowed for even greater time savings.

It appears that the Justice of the Peace who filled out this form complaint was very used to writing these out by hand—he forgot that the form included some of the language and had to cross out his writing.

Gift of Robert E. Brooker III

 

John Tremaine, Placita Coronae: Or Pleas of the Crown in Matters Criminal and Civil, Containing a Large Collection of Modern Precedents. London, 1723.

Form books were also compiled for the needs of criminal practitioners. This is one of the earliest collections of precedents of English criminal law. It begins with indictments for high treason and then covers murder, robbery, conspiracy and much more.

The forms are pulled from real pleadings taken down in the Yearbooks and other Reports. Tremaine includes references to where the case was reported and often how it was resolved (e.g., "This case is reported 3d Keble, 197...no Judgment; but the Court seemed inclined to give Judgment for the King").
Daniel R. Coquillette Rare Book Room
Visit
Come take a look at the latest exhibit.  The Rare Book Room is open Monday - Friday, 9am - 5pm