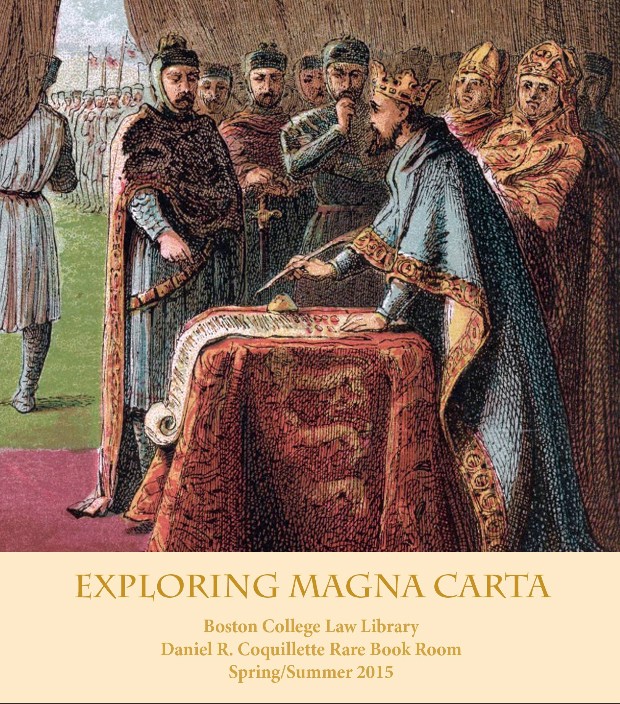 With all of the fanfare surrounding the 800th anniversary of Magna Carta, it seemed like a great opportunity to explore the presence and impact of that iconic document in our collection. Since our collection focuses on the books used by typical working lawyers, it was interesting and perhaps a bit surprising to see how present a grand document like Magna Carta was in Rare Book Room.
Soon after its birth in 1215, Magna Carta infiltrated legal literature, namely the great early legal treatise On the Laws and Customs of England (often referred to simply as Bracton, in reference to its compiler). Magna Carta commands the first slot in English statutory compilations. It was studied and venerated by great legal minds like Edward Coke and William Blackstone. It influenced colonial leaders charged with drafting the federal and state constitutions. Today, it remains a powerful source and symbol behind rallying cries for fundamental rights and liberties.
We hope you enjoy taking a look at Magna Carta's presence in our collection and perhaps learning a bit more about this fascinating document. The exhibit was curated by Laurel Davis, Curator of Rare Books/Legal Reference Librarian. It will remain on view until the beginning of the fall semester. Please come in and take a look!
Please take a look at our exhibit catalog!
Henry Bracton, De Legibus et Consuetudinibus Angliæ. London, 1569.

 

This is the first printed edition of Bracton, which had circulated in manuscript for centuries. This edition was printed by Richard Tottel, and this particular book was the personal copy of Roscoe Pound, Dean of Harvard Law School from 1916 to 1936.

Gift of Daniel R. Coquillette

 

Magna Carta. London, 1539.

The title page, which is reproduced on the first page of this online exhibit, incorrectly states the publication year as 1529. The colophon, reproduced here, features the correct year of 1539. The lovely little volume was printed by a well-known printer of English law books, Robert Redman. While manuscript copies had been in circulation since 1215, the first printed Magna Carta didn't appear until 1508. Thus, this Redman printing and the 1556 Richard Tottel printing also featured in the exhibit are quite early examples of printed Magna Cartas.

Gift of Daniel R. Coquillete

 

Ferdinando Pulton, compiler. A Collection of Sundrie Statutes, Frequent in Use... London, 1632.

When Edward I "confirmed" Magna Carta in 1297, it officially was added to the Statute Rolls of England. In chronological statutory compilations such as Pulton's, Magna Carta was printed first. It generally was followed by the Charter of the Forest (which was reissued hand-in-hand with Magna Carta by Henry III in 1225) and then the Statute of Merton. This large, folio volume features absolutely beautiful printing.

Gift of Daniel R. Coquillete

 

Sir Edward Coke, The Second Part of the Institutes of the Lawes of England. London, 1642.

In his Second Institutes, Coke dealt with Magna Carta "and many ancient and other Statutes." In his preface, Coke describes Magna Carta as "for the most part declaratory of the principall grounds of the fundamentall Laws of England, and for the residue it is additionall to supply some defects of the Common Law; and it was no new declaration." This posturing was important. If the Great Charter were viewed as an introductory document, with rights being granted by a king, then a king (such as Charles I) theoretically could revoke them. It was vital for Coke to argue that Magna Carta was simply a declaration of rights and liberties which had long existed under English law.

Gift of Daniel R. Coquillete

William Blackstone, The Great Charter and the Charter of the Forest. Oxford, 1759.

This Blackstone work, much less famous than his Commentaries on the Laws of England, represented the first modern, critical edition of Magna Carta, pulling together the various versions and reissues. The image above shows the first pages of the 1215 Charter. Note the right-hand side where Blackstone numbered the clauses, originating the convention still used today. The beautifully engraved initials depict various buildings at Oxford University, where Blackstone had been confirmed as the first Vinerian Professor of English Law in 1758.

On generous loan from Historical & Special Collections, Harvard Law School Library

Henry Care, English Liberties, or the Free-Born Subject's Inheritance. Containing Magna Charta... Providence, Rhode Island, 1774.

Henry Care's work was a popular layman's guide to the principles of English law, with a focus on Magna Carta and other early, important English statutes. It was originally published in England around 1680 and enjoyed two colonial printings, including the one in this exhibit. Thomas Jefferson owned two copies.
Daniel R. Coquillette Rare Book Room
Visit
Come take a look at the latest exhibit.  The Rare Book Room is open Monday - Friday, 9am - 5pm