Lodging Options
Blocks of rooms have been reserved in Boston College Residence Halls and the AC Hotel by Marriott Boston Cleveland Circle.  The deadline for reservations at Boston College is June 1, 2022.  The deadline for reservations at the AC Hotel by Marriott is July 2, 2022.  Note that these blocks of rooms may fill prior to these deadlines, so make your reservations as soon as possible.
Boston College Residence Halls - Ignacio Hall
A number of guest rooms will be available in Boston College Residence Halls.  Ignacio Hall is in walking distance to the symposium venue and in close proximity to several dining options and public transportation to Boston.  The prices of these rooms are as follows:
$90 per night, single occupancy
No additional room tax is charged
Air Conditioned Rooms with linens and towels
Note that these rooms are private rooms in shared suites.  Each suite will have 2 to 4 private rooms with 1 or 2 shared baths. Suites also have a common lounge area.  Residence halls have wireless internet access and are fully furnished with beds, dressers, desks, chairs and closets.  Daily housekeeping is provided in the hallways, common area restrooms, and lounge areas of residence halls.  Individuals are responsible for their own rooms or apartments.
The deadline for reservations in the Boston College Residence Hall was June 1, 2022.  
If you reserved a dorm room, you must check in at the Welcome Center in Stayer Hall to get your key before going to Ignacio. See the map on the Directions page.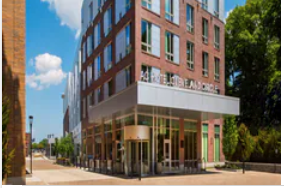 AC Hotel by Marriott Cleveland Circle
395 Chestnut Hill Avenue Boston, MA 02135
Phone: +1-617-730-3660
The AC Boston Hotel Cleveland Circle is a boutique hotel in Chestnut Hill.  It is the closest hotel to Boston College.  Walk to campus, take a shuttle bus or ride the Green Line.  Keep connected and comfortable at this hotel with European-inspired style and thoughtful amenities. Enjoy convenient access to all of Boston via the MBTA commuter rail and the Green Line, just a short walk from the hotel.
The group rate for this hotel is highly discounted as follows:

King Style Room: $169/night
Double Queen Room: $179/night 
Hotel rates are subject to applicable state and local taxes (currently
16.45%) in effect at the time of check-out.                                                         
Hotel Amenities:
Complimentary Wi-Fi throughout the hotel and guestrooms
Complimentary 24 hours fitness center
AC Kitchen-breakfast served daily (not included in guestroom rate)
AC Lounge-beverage and food service available in the evenings
Valet parking available at $20/day
Easy access to public transit and access into downtown Boston
The block of rooms at the group rate is full. You might still be able to get a room at the market rate by booking via the AC Hotel website.

Other accommodations may include the following.  Please contact these hotels directly to make a reservation.
Arcadian Hotel, 1200 Beacon Street, Brookline, MA 02446
Courtyard by Marriott, 40 Webster Street, Brookline, MA 02446