Research Support at ISR
Research at the ISR is supported by a staff expert in grant development and management, information technology, and workshop logistics.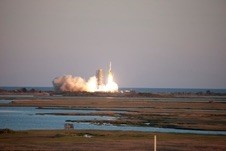 Scientific Information Management Group
The ISR Scientific Information Management group designs, delivers, and supports custom computing solutions for various ISR and client projects. Team expertise includes database design and utilization, web interface development, operating systems, hardware, network, and scientific computing applications.

A wide variety of commercial, government, and unique purpose-built scientific data processing, archiving, and analysis tools are developed and maintained on Linux®, UNIX®, and Windows® based platforms.
ISR/SIM provides scientists, engineers, and researchers with fast, reliable, cost effective, and easy to use computing systems that enable development of solutions to complex challenges of national and international interest.

Point of Contact for this project is Keith Groves.
Linux® is the registered trademark of Linus Torvalds in the U.S. and other countries. 
UNIX® is a registered trademark of The Open Group. 
Windows® is a registered trademark of Microsoft Corporation in the United States and other countries.
Administrative staff at the ISR support the researchers and their investigations from the initial proposal development, through the execution phases, and publicizing the results. The staff has expertise in grant and contract development and management, as well as in running local workshops and international conferences.