Passport/Visa Requirements for Visitors to the United States of America

Entry into the United States of America requires that a visitor show a valid Passport and Visa to US Customs and Immigration authorities at the Port of Entry. You may obtain more information and apply for a visa at the U.S. State Department visa website.
Information on up-to-date COVID-19 vaccine requirements for entry into the US may also be obtained from the U.S. State Department.
If you require a letter of invitation to attend the symposium, please contact the chair of the local organizing committee as soon as possible: Patricia.Doherty [at] bc.edu

Electric Power in the USA
Electric power is standardized in all states across the USA. It is set at 110 Volts and 60 cycles. 220 Volt power is used in homes only for large appliances like stoves, water heaters and clothes dryers. It is not normally available for personal appliances.
Standard electric plugs, as illustrated below, have two flat blades. The plugs on some newer appliances have a third round grounding pin. Almost all homes and commercial buildings are equipped with electrical receptacles that can accommodate either type of plug.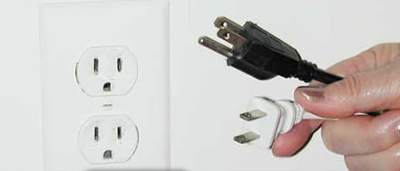 If you bring any electrical appliance to the USA, you may need an adaptor to fit the US electrical receptacles. You may also need a converter to change the voltage from the local 110 volts to your 220 volts.
Most common appliances will function with either 50 or 60 cycle current. Electrical frequency can affect electric clocks, audio equipment and some other electronic gear. You should check your electrical equipment for compatibility with 60-cycle current before you bring it to the USA.
Currency Considerations
The United States Dollar (US$) is used in all transactions. Foreign currencies may be exchanged for dollars at Logan Airport, some banks, and major hotels in downtown Boston.
Major credit cards (Visa, Mastercard, American Express, etc.) are widely accepted; charges will be in US$.
ATM machines generally use bank debit cards and dispense only US$20 bills. Denominations above US$20 may not be accepted by small merchants and are subject to scanning for counterfeits, so plan accordingly.
Purchases in Massachusetts are subject to a sales tax of 6.25% on tangible property, which is added to the marked price of items at checkout. Most clothing and groceries are tax-exempt, but restaurant/cafe food is subject to meals tax.