We are devastated to report that Patricia Doherty, Director of the Institute for Scientific Research, has passed away. Pat was more than an excellent scientist and mentor, she was our friend.
Pat joined the ISR in 1989, became Co-Director in 2005, and led the ISR as Director since 2008. Her research focused on space weather and ionospheric effects on Global Navigation Satellite Systems and their applications such as aviation and communications. One of her favorite activities was promoting research and education in the science of navigation in developing countries, organizing and sponsoring workshops and summer schools all over the world. Among her many roles, she was recently elected Vice President of the International Union of Radio Science (URSI), served as Scientific Secretary for the Scientific Committee on Solar-Terrestrial Physics (SCOSTEP), and was a member of the Board of Trustees for the Universities Space Research Association (USRA). Pat's numerous awards for her research and international outreach included the ION Burka Award, the ION Weems Award, the ION Distinguished Service Award, the 2017 GPS World Leadership Award, and the 2018 AGU Carrington Education and Outreach Award. She was a Fellow of the Institute of Navigation (ION) and of the African Geospace Society.

She touched so many lives and will be sorely missed by all of us.
Job Opening - Fiscal & Grant Administration
Formed in 1954, the Institute for Scientific Research (ISR) is the largest sponsored research center at Boston College. Our highly skilled team of scientists, engineers, mathematicians, and research associates uses its expertise for theoretical and experimental studies that include space physics, space chemistry, solar-terrestrial research, space weather, and astrophysical studies. Our current projects include heavenly explorations—for example, observing the celestial sky to interpret the changes in infrared emissions in space—and earthbound pursuits, such as defining the effects of solar storms on space-based communication and navigation systems. The ISR is currently the host site for the Secretariat Office of SCOSTEP, the Scientific Committee on Solar-Terrestrial Physics.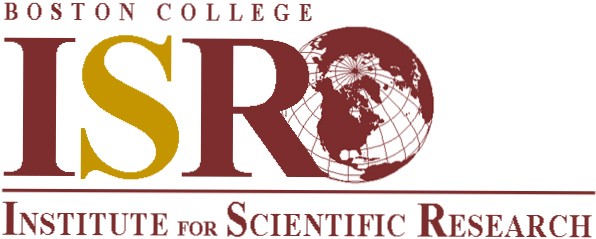 The 2022 Beacon Satellite Symposium was held at Boston College on August 1 through 5, 2022 in honor of our late Director, Patricia Doherty.  More details on the Symposium available here.