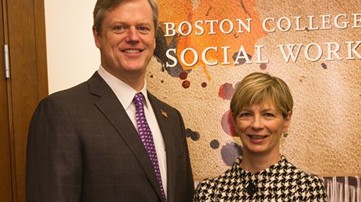 Massachusetts Governor-elect Charlie Baker has named one of BC Social Work's own to his Cabinet, appointing Professor Marylou Sudders to head the Executive Office of Health and Human Services.
"Leaving teaching is one of the few regrets I have," Sudders said. "I love teaching at the Boston College School of Social Work, I love the students, I love the opportunity to engage them in both public policy and a commitment to public service, but the honor to serve the commonwealth is too great an honor to refuse. You don't apply to be a Secretary of Health and Human Services, a governor asks you to serve.
"In many ways my entire professional career has been the training ground for me to become Secretary of Health and Human Services. I think my social work background — understanding individuals in the context of their community, understanding the impact of poverty, of what it's like to be disenfranchised, our social work social justice mission — in many ways I think this background prepares me for this vast, and a little daunting, responsibility."
Various leaders in the field praised Baker's choice in a report from the Boston Globe.
Attorney General Martha Coakley: "I have the utmost respect for Marylou Sudders, particularly her work to protect children and improve mental health care for all. I commend Governor-elect Baker for appointing Marylou."
Maria Z. Mossaides, executive director of the Cambridge Family and Children's Service and the chairwoman of the Children's League of Massachusetts, told the Globe that Sudders has "very broad public policy experience," while describing her as a "fabulous, fabulous choice."
Sudders was commissioner of the Massachusetts Department of Mental Health from 1996 to 2003, and she has also served as New Hampshire's Deputy Director and Acting Director of the Division of Mental Health and Developmental Services.
Since joining BC Social Work full-time in 2012, Sudders has worked tirelessly to build the Health and Mental Health concentration at the school. This fall, she was awarded a Health Resources and Services Administration (HRSA) grant for critical on-the-ground training for 53 second-year master's level students. Last year, she invited Charlie Baker to speak at the school's Health Care Forum.
"During her three years at the Boston College School of Social Work, Marylou made a major impact in reshaping our health and mental health program," said Alberto Godenzi, the school's dean. "Her experience in executive leadership, and in particular as Massachusetts Commissioner of Mental Health, encouraged us to refocus this program toward integrative care, and her grant from the Health Resources and Services Administration (HRSA) will provide critical training for the next generation of social workers who will be hard at work implementing the Affordable Care Act in agencies and hospitals across the country. Governor-elect Baker has made a wise decision — Marylou is without a doubt the perfect choice to address the major challenges of her new office. We will do everything we can at Boston College to support her work moving forward."