The Council on Social Work Education (CSWE) has named five Boston College School of Social Work students recipients of CSWE Minority Fellowships. They are doctoral candidate Manuel Cano and second-year MSW students Lisbeth Acosta, Valeria Lazo, Magdalena Lopez, and Olga Paz. All five are in the Latinx Leadership Initiative. 
The CSWE Minority Fellowship Program aims to enhance the training of direct practice-focused social work students in their final year of study. Students must have a focus on mental health and/or substance use disorder service delivery to racial/ethnic minority populations and be committed to employment in this field after graduation.
Here, we share more about these students.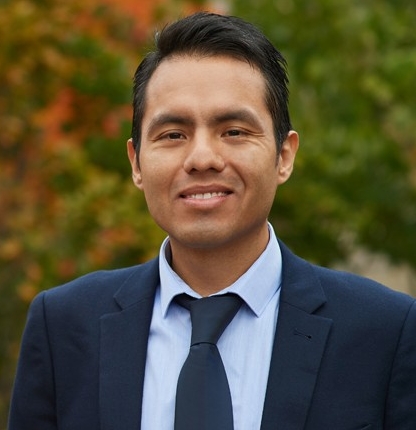 Manuel Cano
The third time was indeed the charm for Manuel Cano and the CSWE Fellowship. "Each year, Dr. Rocío Calvo encouraged me to apply for this program and offered her support," he says, "I was tempted to give up but kept applying. I hope other students will be encouraged by my experience; it's an important lesson in persistence."
Raised in Mexico, Cano received an MSW from Arizona State University, and spent the following eight years in Phoenix as a substance abuse clinician for parents and caregivers involved in the child welfare system. "I saw the many challenges that my clients faced, and was motivated to go back to school to study more, learn more, and hopefully develop the skills to conduct research about effective interventions for alcohol and drug abuse," says Cano.
Cano's mentors at BC have been central to his doctoral student experience. "Dr. Tom O'Hare helps me put things into perspective—and models a rigorous approach to measurement and theory testing—it's made me a better student," he explains. "And Dr. David Takeuchi challenges me to go beyond the current state of affairs in my area of study." His collaboration with Dr. Marcie Pitt-Catsouphes was, he says, "perhaps the most influential opportunity—she has a steadfast commitment to inclusion in schools, which is essential for students to thrive." Cano hastens to acknowledge BCSSW's administrative and library staff, who have been vital to his navigation of the school and academic resources.
Cano is now applying for assistant professorships with the goal of continuing research on alcohol and drug abuse in the Latino community. "I am convinced that research in this area is crucial to producing the effective culturally-adapted prevention efforts and interventions that Hispanics in our country need," he says. Cano is also committed to implementing the lessons learned from his time with Pitt-Catsouphes. "There is work to do to help students feel welcomed and valued in the academic community as they present their unique identities," he explains.
As to where those priorities might lead him, Cano says, "Boston is a wonderful city and offers a world of opportunities. However, my wife and I are very excited to settle in a new location, ideally in a place that is warmer, but mainly closer to family!"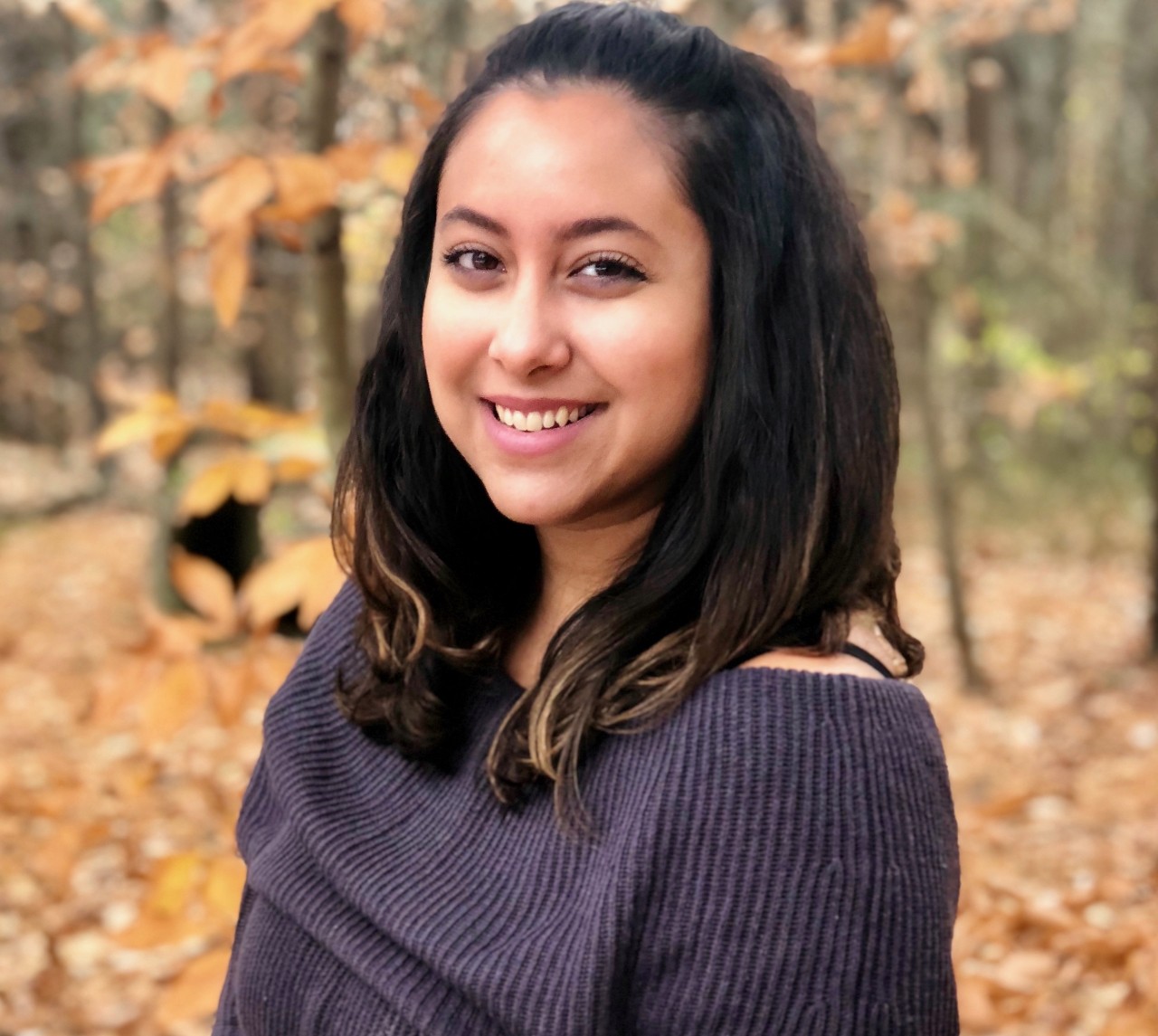 Lisbeth Acosta
For Lisbeth Acosta, social work is a family affair. "My father and sister are social workers, and my father always spoke highly of the field. It's just in my blood," she says with a laugh.
At the University of Massachusetts, Amherst, Acosta majored in public health and felt drawn to learning about inequity and achieving social justice for disenfranchised populations. As a special education paraprofessional at a Boston-area middle school, she began thinking about next steps. "I spoke with guidance counselors, school psychologists, and school adjustment counselors to really get a sense of where I wanted to go," says Acosta. Recognizing that she wanted the flexibility of working in different settings, she decided to pursue social work. "My father encouraged me to go for it, and I did, and I love it," she says.
At BCSSW, Acosta's clinical focus is on children, youth, and family. Her first year placement at Clean and Sober Teens Living Empowered (CASTLE) in her home town of Brockton, MA, opened her eyes to the pervasiveness of substance use in younger populations as well as to an apparent lack of diversity among those seeking care. The CSWE Fellowship, she hopes, will give her the tools to address those issues. "I was intrigued that there weren't more people of color," explains Acosta, "I'm hoping that I'll learn more about how substance use impacts communities of color and better understand why there might be some hesitation in seeking counseling."
Acosta considers the Latinx Leadership Initiative instrumental to her training as a Spanish-speaking clinician. "Techniques need to be tailored, and LLI has helped me realize how I can best deliver my concrete and clinical skills to the Latinx population. It has also helped to develop my linguistic skills, my clinical language, in Spanish," says Acosta.
At the moment, Acosta is back in a familiar environment: a Brockton middle school. "As a school adjustment intern it's great to share my perspective with the other counselors, teachers, and the principal—I just love the structure of the school environment," she says. She is also working at CASTLE several times a month, facilitating group counseling and small group therapy, providing individual counseling, and conducting psychosocial assessments. "There's always something to learn, something to be better at. I'm just getting awesome clinical experience," says Acosta.
From her family to her placement supervisors to her professors, Acosta thrives with inspiring mentors. "Having professors who work in the field has been the most influential aspect of being at BCSSW," she explains, "they've just been so honest about their journey in social work and that's been really inspiring and helpful."
As for Acosta's journey, she plans to work in the field in North Carolina while her fiancé finishes his degree, then they'll move back to Massachusetts, where she hopes to get her LICSW. "There are so many opportunities here. For me it's about the population. I want to work in communities of color, especially with youth, and continue to improve my clinical skills," says Acosta, "in social work, you just keep learning."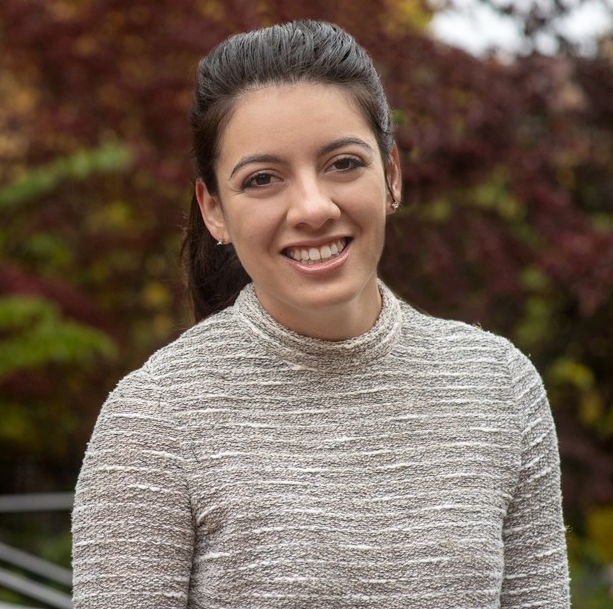 Valeria Lazo
For Valeria Lazo, the CSWE fellowship represents the perfect combination of her interests and identity, "I'm really excited because it's substance abuse, it's mental health, it's minorities—all the things that I am passionate about."
Lazo was raised in Miami, but spent every summer with her mother's extended family in Colombia. That experience, of seeing how others lived in a less privileged society and of speaking only Spanish, has become integral to how Lazo sees herself and the world. It's a world she's determined to make a difference in, and she aims to do so by bridging gaps in mental health and substance abuse services in the Latinx community.
Lazo majored in psychology as an undergraduate at Loyola University Chicago, with minors in gender studies and Spanish. Two college internships, at a teen runaway hotline and an immigrant and refugee career service organization, followed by two years as an employee assistance program researcher, affirmed her desire to work in the service field. Realizing she would need further education, she sought advice from former professors and, with their encouragement, settled on social work and headed to Boston to visit schools. "Speaking with the professors here at BCSSW, and hearing how much they loved what they did, I was sold," she recalls.
Lazo considers the Latinx Leadership Initiative integral to her success and happiness as a student. Switching between English and Spanish in her classes allowed for both greater expression and comprehension, she says, "I felt understood for the first time in many of those classes—it is a very fruitful environment."
In her first year placement at Rosie's Place, Lazo drew upon her bilingual and bicultural skills to address the immediate, pressing needs of the poor and homeless women at the shelter, from figuring out transportation to restarting their electricity service. "I just fell in love with it—having the facility of connecting with these women and having them share their stories was just such a beautiful experience," says Lazo.
Currently, Lazo is at New Health Charlestown, which provides an integrated model of behavioral health care. "If someone comes in for a physical and has a behavioral health concern, we can connect with them," she explains, "or if they want help for substance use we can reach out to a recovery coach or physician. It's really great to have that level of communication and a team working for the patient."
Lazo now aims to connect classroom and placement learnings with the fellowship experience, and to effect change at a higher, possibly political, level back in Chicago. "There are so many policies in place that obstruct and erect barriers to people, especially minorities, receiving mental health and substance use services," she says. "I'm hoping that by making connections and being in that environment, I can use my privilege and education to be a voice for the population at a macro level."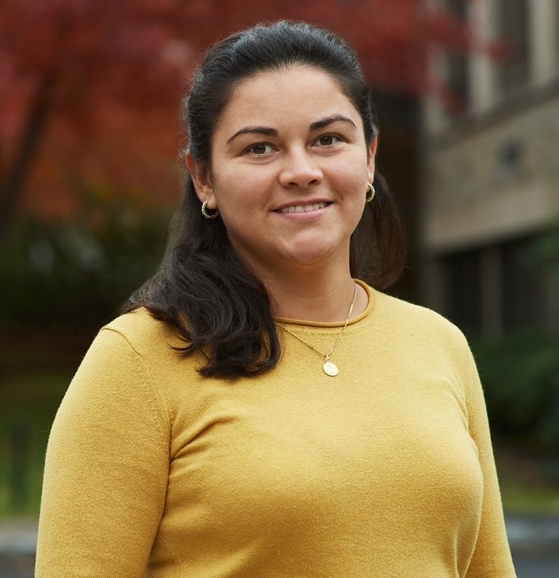 Magdalena Lopez
Magdalena (Magda) Lopez was a psychologist and mentor for high-risk youth in El Salvador, and came to Boston continue her education and to better provide for her family. She enrolled in English classes at the YMCA, got a job at Dunkin' Donuts, and began to acclimate to life in the United States. "I was shocked that the Latinos in my language classes were having such a hard time finding resources and getting the help that they needed. In my country, we thought that if you lived in the United States, you had a good life and money," says Lopez. Recognizing a lack of English fluency as being a tremendous barrier to receiving services, she became motivated to help the Latino community.
The Latinx Leadership Initiative has been crucial for Lopez's experience at BCSSW. "It was like a bridge between my previous language classes and the University," she says. "It made the transition to a new environment easier; made me more comfortable and confident in my abilities." The program has also provided Lopez with a community, one that she can rely upon for support and perspective.
During her time in the MSW program, Lopez worked as a high school substitute teacher in the greater Boston area. Seeing the abundance of resources at one school in a wealthy neighborhood versus the scarcity in a less privileged area was "very eye-opening," says Lopez. As a research assistant to Professor Rocío Calvo, she was also struck by the difficulties faced by the elderly Latino population in accessing social services, and their overall quality of life in the U.S. In El Salvador, explains Lopez, the common perception is, "if you don't have an opportunity in the U.S., it's because you don't want it."
When Lopez learned about the CSWE Minority Fellowship, she was an intern at Boston Medical Center, working with the Latino population and supporting substance abuse care cases. She was elated at the possibility of receiving even further training on the precise issues she was passionate about.
Eventually Lopez would like to return to El Salvador, but for now she's excited to learn more and apply her education. "I believe in mental health care—if someone is unstable, their life is going to be difficult—we should work with them so that they can live in a better way, in a more stable way," she says. "In my country we believe that you can be poor, but if you're happy and do your best you will have enough to live your life." Lopez is determined to make that the case in her new country, as well.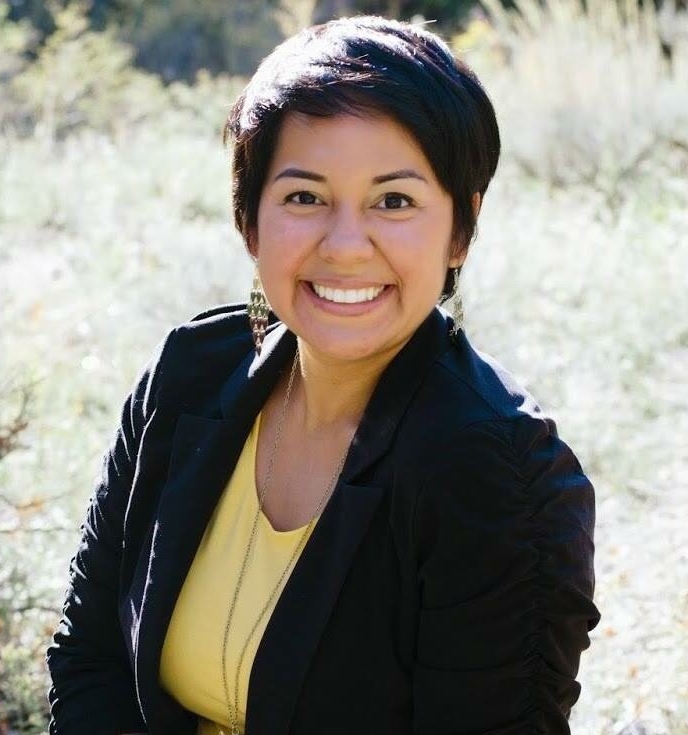 Olga Paz
Olga Paz pauses while describing the moment she learned she had won the CSWE Minority Fellowship. "I'm sorry, I get very emotional," she says. "When I saw the words 'congratulations' I just felt an overwhelming sense of gratitude." For Paz, this fellowship is an acknowledgement of both her ability and her determination—of finding her niche and securing the training she needed. "I was like ... alright, here we go!"
As a senior at Brigham Young University, Paz interned as a mentor to single mothers. "Growing up, I witnessed the struggles that my mom and my sister had as single mothers," she explains. "Those experiences allowed me to really connect with the women." But she wanted to do more for underserved populations, and after talking with fellow church members who had attended BCSSW, she glimpsed an educational opportunity that would allow her to make a real difference.
Paz's first year in the MSW program was a bit rocky, but with the guidance of her advisor, Ximena Soto, assistant director of field eduation, she found clarity on her educational path. "I was so afraid that I wasn't going to be a good social worker, but Ximena helped me see how I had, in fact, flourished as a student and as a professional," says Paz. "This growth came from gaining confidence in my classrooms and knowing that I matter and that I'm speaking for those who haven't been given the opportunity of a higher education."
Paz is now focused on obtaining yet more experience and training. As an events writer for the Immigrant Integration Lab, she finds and publishes resources for social workers supporting the immigrant community. At the East Boston Neighborhood Health Center, she works as a behavioral health counselor supporting Latinx families with mental health and/or substance abuse challenges. She is also a college-bound career counselor to Boston-area ninth graders, guiding them towards available resources and educational paths, and sharing her own experiences as a first-generation student.
Now, Paz says, "My mind has just been opened—these are the therapeutic tools that are out there, now how do these work in the context of a Latinx family?"
With the goal of joining family in Texas, Paz is deciding between focusing her work—and her passion—for the Latinx community in a healthcare or an educational setting. "I just want to make sure that my legacy is that I made the world a better place for somebody," she says. "If I was able to help one person feel understood, feel loved, feel important, and of value, then I feel that I will be OK. That is my main goal in life."