Graduate Student Teaching Recognition Ceremony
The CTE has hosted the Graduate Student Teaching Recognition Ceremony at the close of the spring semester since 2016. This event highlights and honors the important work that graduate student teachers perform in advancing the practice of teaching at BC. The ceremony combines the Donald J. White Teaching Excellence Awards for Graduate Student Teachers with the recognition of graduates from the CTE's Apprenticeship in College Teaching (ACT) program. Both White Award recipients and those who have completed the ACT program are presented with their certificates by the Vice Provost for Faculties before an audience of family, friends, and faculty mentors. The ceremony is followed by a reception. The most recent Graduate Student Teaching Recognition Ceremony was held on Friday, April 29, 2022 at 4:00 pm in the Heights Room in Corcoran Commons.

Accommodation Requests
The Center for Teaching Excellence is committed to providing equal access to its events and programs. Individuals with disabilities who anticipate needing accommodations or who have questions about physical access may contact centerforteaching@bc.edu.
Carroll School of Management
Hamza Khan
Kimberly Rocheville
Connell School of Nursing
Courtney Hoblock
Heena Nissaraly
Katlyn Noonan
Law School
Lynch School
Alex Corbitt
Ryan Creps
Amie Kang
Linxi Lu
Clara Shim
Kyunghoon Son
Morrissey College of Arts and Sciences
Biology
Maira Ahmed
Derek Lee
Jorel R. Padilla
Chemistry
Brooke Elander
Kun Yong Jeoung
Stephanie Johnson
Elton T. Kativhu
Paul S. Lee

Tarah Yared
Earth & Environmental Sciences
Economics
Carter Bryson
Ilaria D'Angelis
Cristian Figueroa
Aastha Malhotra
Ngoc Nguyen
Arnab Palit
Ryan Westphal
English
Mali Barker
Katherine Gwydir
Noël Ingram
Julia Woodward
History
Meghan M. McCoy
Kevin March
Nicholas Quadrini
Math
Zachary I. Gardner
Eric Moss
Braeden Reinoso
Philosophy
David C. Abergel
Anna Dorothea Boessenkool
Jared Highlen
Austin M. Williams
Physics
Wilber Alfaro Castro
Thomas Graham
Political Science
Psychology and Neuroscience
Sandry M. Garcia
Rosalie Samide
Emily Lauren Schwartz
Romance Languages & Literatures
Ethan K. Hill
Hannah Vinande
Giulia Maria Gliozzi Wilkins
Sociology
Jessica Bolin
Annika Rieger
Theology
Robert G. Elliot
Jamie E. Myrose
Chanelle Olivia Anne Robinson
Nathan D. Wood-House
Andrew Gertner Belfield (Theology)
Divya Bhagia (Economics)
Michael Di Bianca (LSEHD)
Timothy Chapman (STM)
Eric Benjamin Grube (History)
Xiaorui Huang (Sociology)
Spencer Kyle Johnson (Theology)
Chrisopher McLaughlin (Theology)
Stephen Mendelsohn (Philosophy)
Xavier Montecel (Theology)
Susan Anne Paisley (STM)
Evangelia Panagakou (LSEHD)
Elyse Raby (Theology)
Annika Rieger (Sociology)
Bryn Spielvogel (LSEHD)
Nathan D. Wood-House (Theology)
Hung-Yu Yang (Physics)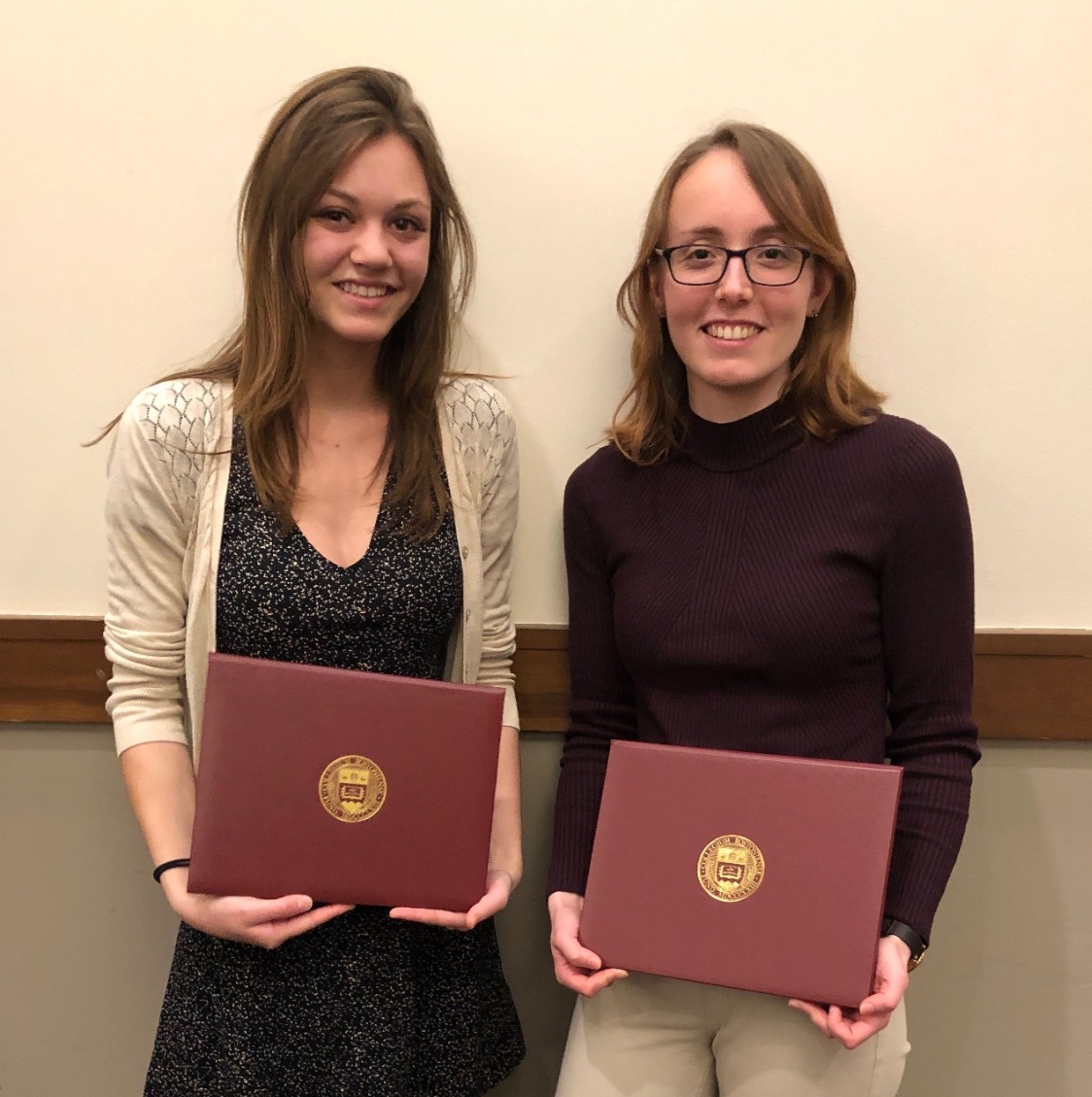 The Donald J. White Teaching Excellence Awards
The Donald J. White Teaching Excellence Awards program was established to underscore and reinforce the pursuit of teaching excellence among graduate Teaching Fellows and Teaching Assistants at Boston College. They are named in honor of former Dean of the Morrissey Graduate School of Arts and Sciences, Donald J. White, who served from 1971 to 1994, and displayed a deep commitment both to graduate students and to teaching excellence across the School.
Every fall, the Office of the Provost determines each department or school's award allotment, based on the number of TAs and TFs in each department or school. The Center for Teaching Excellence reaches out to graduate program directors with their allotments, and each department or school determines their own process of selecting awardees. In the spring, the names of awardees are communicated to the Center for Teaching Excellence and those graduate students are invited to participate in the Graduate Student Teaching Recognition Ceremony later that semester.
When will my department learn our allotment?
Allotments are typically e-mailed to graduate program directors late in the fall semester.
How are departmental award allotments decided?
The Office of the Provost determines each year how many awards will be allotted to each department based on the number of TAs and TFs they employed over the last four years.
Do White Award winners receive a monetary award?
Yes, each awardee receives a check that they can pick up from Accounts Payable at 129 Lake Street (on BC's Brighton campus) after the ceremony. The standard amounts are $350 for each TA award and $600 for each TF award. Please note: international students may have taxes withheld from their award. In addition, students need to be enrolled at BC during the spring semester in order to receive an award.

Can my department award more than its allotment?
If a department decides to go over its allotment, the amount of each award will be proportionally reduced based on the increase in the number of awards. In the interest of fairness to recipients, departments are encouraged to stay within their allotted number of awards.
How does my department decide who will receive an award?
Once your department receives its allotment for that year, it is then up to the graduate program director and departmental colleagues to determine how their awardees are selected.
What happens at the Graduate Student Teaching Recognition Ceremony?
The Graduate Student Teaching Recognition Ceremony is held in the latter part of each spring semester on the BC campus. White Award recipients are invited to attend the ceremony, during which they will be individually recognized with a certificate and the opportunity to be congratulated by faculty in their department. (Graduate students who have completed the Apprenticeship in College Teaching program are also recognized during the ceremony.) Hors d'oeuvres and wine/beer are provided.
Who do I contact if I have further questions?
If you have questions about your department's TA and TF allotment, please contact Billy Soo, Vice Provost for Faculties. For questions regarding the nomination process or the Graduate Student Teaching Recognition Ceremony, please contact centerforteaching@bc.edu.
The Apprenticeship In College Teaching Program
The ACT program prepares students for professional careers in the Academy by combining a series of teaching seminars with independent work conducting class observations and developing teaching materials. ACT seminars bring graduate students together across disciplines to engage important pedagogical questions, and classroom observations allow for discipline-specific discussion with faculty mentors in the student's department. For further information about the program please visit the ACT web page.
Due to the coronavirus pandemic, we were unable to hold the ceremony in 2020. However, the recipients are listed below.
Carroll School of Management
Connell School of Nursing
Katelyn McNair
Katlyn Noonan
Law School
Lynch School
Lindsay J. Clements
Meghan Coughlan
Josephine M. Cuda
Lori Ann C. Dunn
Katherine Ann Reynolds
Lisa Unangst
Morrissey College of Arts and Sciences
Biology
Samantha Dyckman
Rachel Huang
Natalie L. Sandlin
Chemistry
Sarah Canarelli
Ryan Conger 
Elise Ficaretta
Connor Gallacher 
Meagan E. Hackey 
Qiwen Su
Earth & Environmental Sciences
Economics
Anatoly Arlashin
Carter Bryson
Andrew G. Copland
Laura Gáti
Kritika Goel
Priyanka Sarda
Paul Sarkis
English
Alexandra Budd
Hannah L. Clay
Megan Lease
History
Eric Grube
Mia Michael
Rachael Young
Math
Stella Sue Gastineau
Iulia Gheorghita
Eric Moss
Braeden Reinoso
Philosophy
Martin Maira Sotomayor
Michael Pope
Lydia Winn
Physics
Faranak Bahrami
Michael Geiwitz
Political Science
Psychology
Mahsa Ershadi
Haley Fritch
Romance Languages & Literatures
Rania Ben Amor
Marta Mirete Hernandez
Victoria McCormick
Sociology
Jaclyn Carroll
Samantha Michele Kingsland Eddy
Elise Largesse
Theology
Sara Bernard-Hoverstad
Peter K. Fay
John Gregory Mileski II
Rev. Marcel Uwineza, SJ
Annesley Anderson (English)
Tiffany Bradford (STM)
Shannon Callahan (English)
Fr Carlo Calleja (STM)
Milena Claudius (Lynch School)
Peter K. Fay (Theology)
Christopher J. Grillo (Lynch School)
Hans A. Harmakaputra (Theology)

Megan Heeder (STM)
Siddhi Krishna (Math)
Léocadie Lushombo (Theology)
Jeremiah Morelock (Sociology)
Ariadne Nelson (Lynch School)
Megha Pancholi (English)
Sajala Pandey (Economics)
Caleb Pennington (History)
Chandler D. Rogers (Philosophy)
Christine T. Rojcewicz (Philosophy)
Ligita Ryliskyte (Theology)
Joanna Schiffman (Lynch School)
Sadie Sunderland-Rhoads (History)
Lisa Unangst (Lynch School)
Rev. Marcel Uwineza, SJ (Theology)
Michael Wahl (Theology)