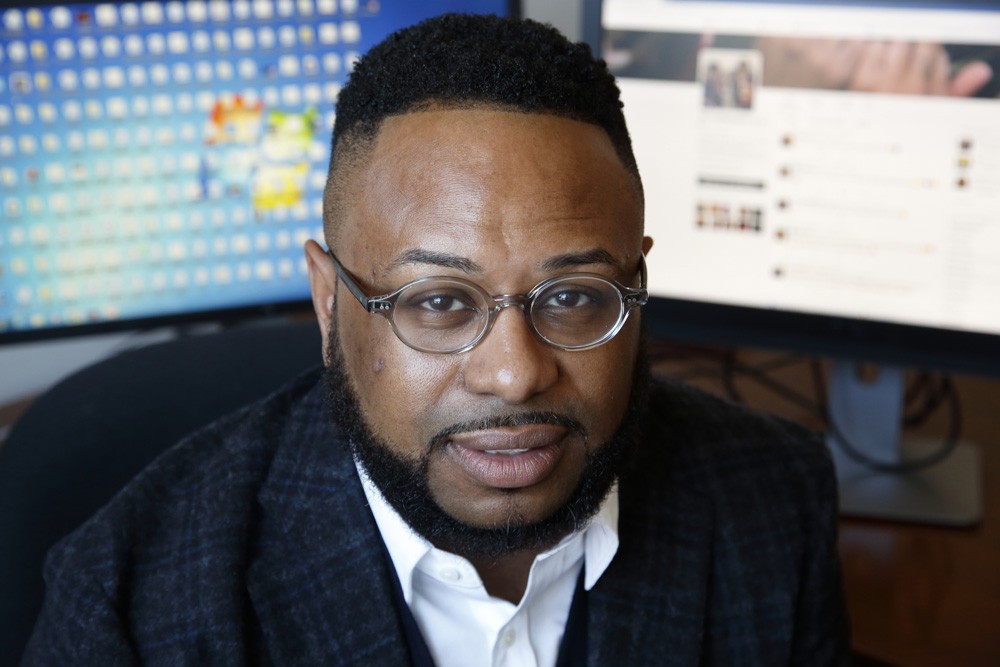 Young people use social media platforms to share their most intimate thoughts, says Desmond Upton Patton, a visiting scholar at the Boston College School of Social Work. They post messages on Twitter, Facebook, and Instagram to express love, vent their frustrations, and seek help to overcome traumatic events that have upended their lives, he says. 
"They talk about anything and everything," says Patton, who studies the relationship between youth, gang violence, and social media. "When they live in an environment where there is violence every day, they'll often talk about how violence impacts them." 
Patton, who will deliver the keynote address at the diploma ceremony for the School of Social Work in May, is on a quest to harness the power of artificial intelligence and social media to help prevent online conflicts from spilling over into real life. 
He's teamed up with data scientists, social workers, and youth from communities in Chicago to create algorithms that can analyze tweets and extract meaning from text and digital images. The researchers use computer vision and natural-language processing techniques to identify posts that communicate loss, aggression, and substance use, all of which could portend violence.  
Patton says that social workers and mental health practitioners could use the data the algorithms collect to help young people whose tweets suggest that they are dealing with loss or preparing to commit murder, kill themselves, or perpetrate other acts of violence. He wants to collaborate with the Institute for Nonviolence Chicago, which works to build strong relationships with people coping with community-based violence in order to defuse conflicts.
"What we've missed as social workers is that people are expressing deep needs that may not come up in a clinical interview or an emergency room," says Patton, an associate professor of social work, sociology, and data science at Columbia University who has applied for a grant from the National Science Foundation to support his collaboration with the Institute. "These algorithms could potentially prevent an aggressive post that may lead to gun violence or prevent a suicide that might be indicated through a social media post."
Patton says that social workers could have used an algorithm to help prevent the murder of Gakirah Barnes, a teenaged member of a gang in Chicago who tweeted "the pain is unbearable" after her friend was killed in April 2014. About a week later, Barnes was shot and killed. 
"How can we intervene in that vulnerability and talk to her, do something to help her in that moment?" Patton told Vice. "That's where an algorithm could have been helpful."
Patton, who is writing a book about how Barnes has influenced his research, says that social workers need to find more ways to incorporate the use of technology into their work with clients and communities. He says that he has begun to collaborate with Gautam N. Yadama, dean of the Boston College School of Social Work, to determine how social workers could use artificial intelligence, chatbots, and virtual reality to improve the health and wellness of people around the world. 
"Technology is here to stay, and it's only going to advance," says Patton, who describes Yadama as one of the most innovative leaders in the field of social work. "If we don't get involved, we're going to be on the back end trying to fix the problem."