CARE Week
A week to raise awareness about sexual assault, rape, and intimate partner violence
Though matters of rape and sexual assault are issues that college students face throughout the year, the WC holds CARE Week during the spring semester of every year. Programming for the week focuses on raising awareness about sexual assault and intimate partner violence on and off campus.

Programs aim to educate students and provide resources about the following:
The prevalence of sexual assault and rape on college campuses
The definition of consent
Ways to recognize and navigate unhealthy relationships
How to support a friend who is a survivor of sexual assault
Deconstructing the stigma associated with survivors of sexual assault
How to be a proactive bystander
Throughout the week, students are informed about the on-campus resources available to them from SANet (Sexual Assault Network), Boston College Police Department, University Counseling Services, University Health Services, and the Women's Center.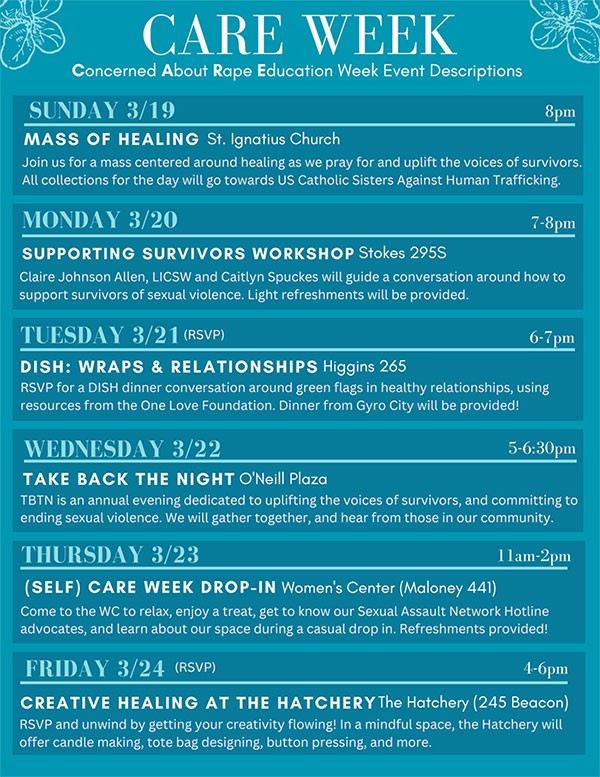 After attending one or more CARE Week activities students will be better able to:
Create a community of support for sexual assault survivors, which fosters empathy, encourages advocacy, and is conscious of individual potential to positively impact the community.
Interpret cultural messages and systems that condone and perpetuate sexual violence.
Know and apply BC resources in a given situation for oneself and peers.
Indicate increased awareness of how sexual violence operates among different racial and ethnic communities.
Recognize and intervene in different forms of sexual assault.
Educate peers regarding sexual violence.