The mission of the Boston College Women's Center is to cultivate a campus culture that fosters the advancement of women and inspires all students to discover and embrace their full potential.
The Women's Center (WC) was founded in 1973 to support, educate, and empower students of all genders in an inclusive and welcoming space. Valuing personal agency and strong community, our staff works to engage Boston College students through mentoring programs, events, and conversations that cultivate leadership, authentic relationships, and awareness of intersectional social justice issues.
The passionate staff of the WC consists of a full-time director, an associate director, three graduate assistants, and eight undergraduates who are committed to assisting students in their journey at Boston College.
The Women's Center is open to all students, faculty, and staff and offers a comfortable atmosphere to seek information, to participate in programming, and to find peer support. It is located in Maloney 441 and is open from 9:00 a.m. to 5:00 p.m. weekdays throughout the academic year.
For more information, call 617–552–3489 or e-mail women@bc.edu.
To be a highly accessible place for members of the BC community of all genders, races, ethnicities, and beliefs, which is constantly changing to respond to the campus culture.
To build a network of faculty, staff, and alumni mentors who will connect with, support, and challenge women students to enhance their development.
To empower women students to recognize their gifts and talents, value who they are, and embody their personal and leadership potential.
To create a campus free of sexual violence by educating the community and inspiring members to prevent it, as well as to provide a consistent and caring response for those who experience it.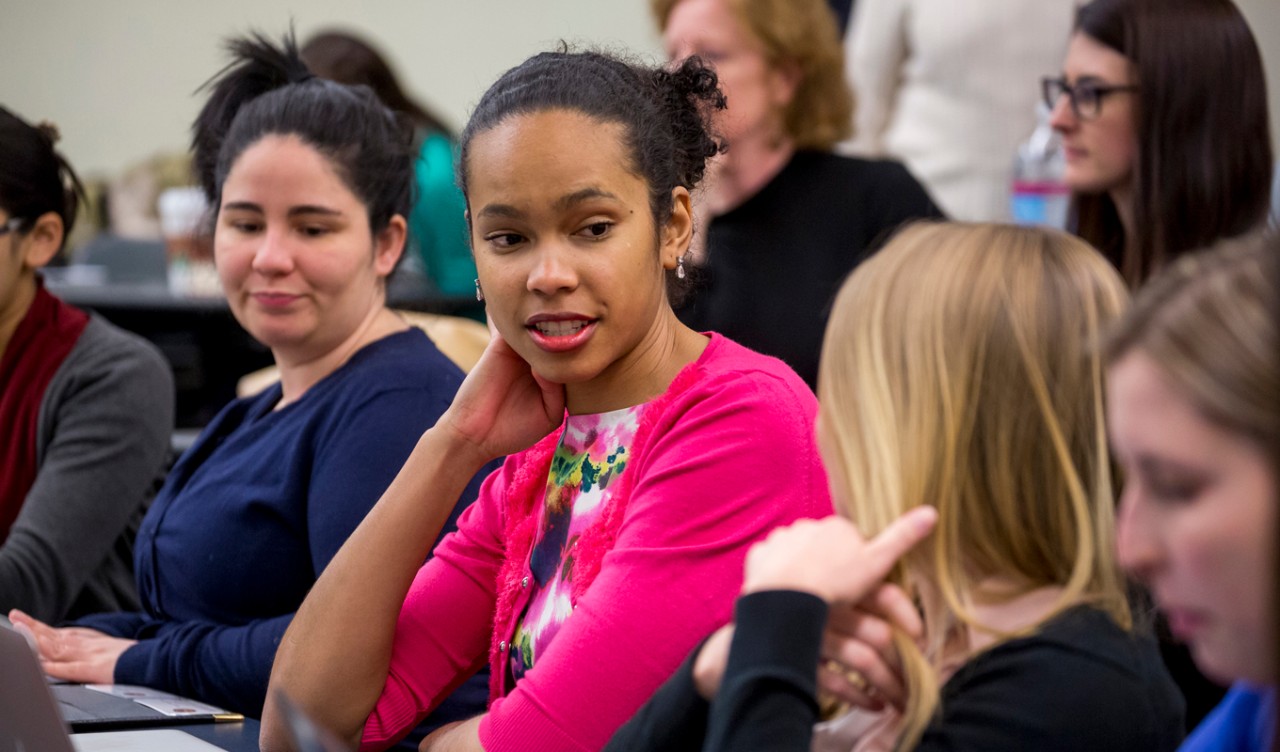 The Women's Center Through the Years
1973

The Center opens its doors on March 8 through the advocacy of student volunteers by inviting students and faculty to McElroy women's bathroom to emphasize the need for a women's center.

1975

The Center receives its first operating budget for events and programming.

1979

The Center collaborates with the Department of Philosophy to offer the course "Introduction to Feminisms."

1982

The Center holds its first Concerned About Rape Education (C.A.R.E.) Week campaign.

1993

The Center collaborates with the Dean's Office to institute the Sexual Assault Network (SANet).

1996

The Center helps bring the Clothesline Project to campus and integrates it as part of C.A.R.E. Week.

2001

The Center holds its first Love Your Body Week, previously known as Eating Disorder Awareness Week.

The Vagina Monologues is brought to campus sponsored by the Center and the Women's and Gender Studies Program.

2002

Jen Tilgham-Havens is hired as the first full-time director of the Center.

2005

Big Sister Little Sister program starts with 280 women. It is later renamed DUO Mentorship Program.

2009

The Bystander Intervention Education Program rolls out its first presentations.

2014

The Center expands its staff and hires its first assistant director.

The Center is elevated as its own department under the Division of Student Affairs.

2015

The Women's Center continues to grow, moving from McElroy 141 to Maloney 441.

Bystander Intervention Education is required for all first-year students.

2019

The Assistant Director level position is elevated to an Associate Director level position and the first Associate Director is hired.