Charitable Remainder Trusts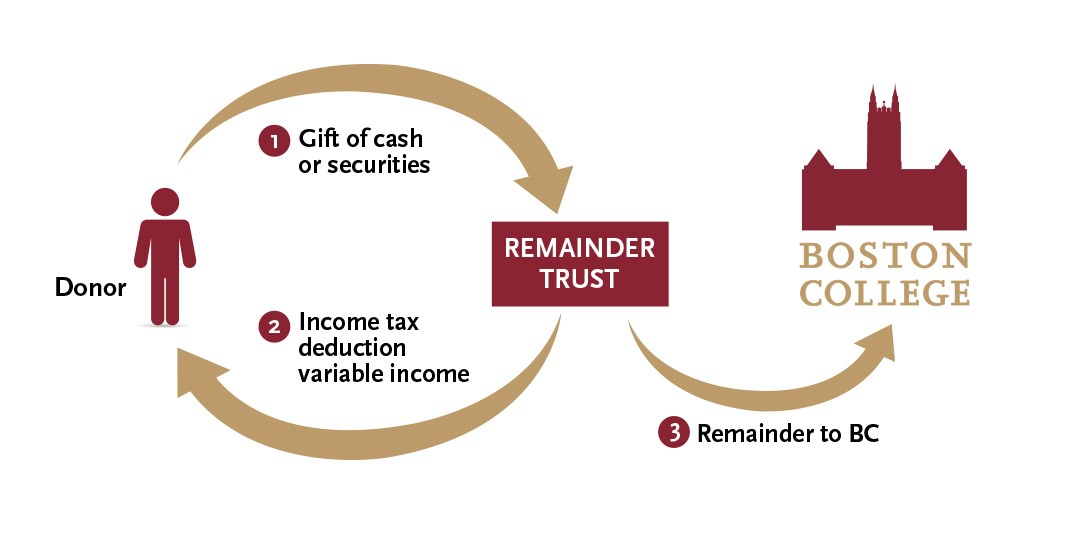 How It Works
In exchange for cash, securities, real estate, or tangible assets you and/or your beneficiaries will receive an income stream for life or a fixed term of years. At the passing of the named beneficiaries, BC will receive the remainder of the gift.
With a minimum of $100,000, you can establish two types of remainder trusts at BC:
Charitable Remainder Unitrust (CRUT): pays a variable stream of income, which is equal to a fixed percentage of the fair market value of the trust during that year
Charitable Remainder Annuity Trust (CRAT): pays a fixed stream of income, which is equal to a fixed percentage of the funding value of the trust.
Alternatively, you can fund a Charitable Remainder Trust through your estate to provide income to your named beneficiaries after your passing. In addition to providing income to your heirs, a testamentary CRUT can reduce your estate taxes.
BC's legal name, address and tax ID:
The Trustees of Boston College
140 Commonwealth Avenue
Chestnut Hill, MA 02467
Tax ID 04-2103545
AT A GLANCE
WHO
Age 50+ (or younger for a term of years)
---
WHAT
Cash
Securities
Real estate
Personal property
Business interest
---
WHY
Receive payments for life
Potential for growth of income over time
Supplement retirement income
Receive a charitable deduction
Avoid capital gains tax
Save on gift and estate taxes
Support the future of BC at a level you didn't think was possible
Become a member of the Shaw Society
We're here to partner with you if you have any questions. Feel free to reach out to us directly or fill out the form.