The Center for Teaching Excellence manages several innovative classroom spaces, including a teaching innovation lab, an active learning classroom, and two technology classrooms. During a typical semester, most of these rooms can be booked by faculty members on a semester-long basis, but given social distancing requirements we are currently trying to minimize use of these spaces. Please email centerforteaching@bc.edu with any questions.
The Center for Teaching Excellence is home to a Teaching Innovation Lab (O'Neill 246A) that showcases current trends in active learning classroom design and teaching technologies. The furniture can be easily reconfigured to accommodate work in groups, and the room is equipped with dual-camera lecture capture, a Promethean smart projector, in-room conference calling, and a host of other features. During the Fall 2020 semester, the Innovation Lab is being used as a 'landing space' for BC students taking remote courses.
Faculty have been impressed with the Innovation Lab's capabilities. One instructor who used the space to facilitate opportunities for international graduate students to practice conference presentations and job talks shared that "in course evaluations, students mentioned the experience as a highlight of the semester." Another faculty member described the room as "invaluable" to students in her marketing course, in which students completed a semester-long research project. The students use the Innovation Lab to conduct focus groups to gather data for their projects, where the flexibility of its various space configurations "is perfect for what the students need to accomplish, and over the years it has enabled the students to collect high-quality research data."
Faculty members are invited to utilize this space on a limited basis to try out new pedagogical ideas. Unlike the other technology-enabled classrooms that the CTE manages, however, this room is not available for semester-long booking. To inquire about booking the Teaching Innovation Lab, please contact centerforteaching@bc.edu.
O'Neill 246, the CTE's Active Learning Classroom (ALC), provides faculty and students with an innovative space to explore engaging and inclusive approaches to learning. Equipped with flexible seating, collaborative technologies, and extensive whiteboard space, the ALC invites faculty to experiment with learning-centered pedagogies and invites students to be active participants in their own learning. Faculty who teach in the ALC also play a key role in contributing to the CTE's research into the effective use of classroom space and active learning pedagogies. During the Fall 2020 semester, O'Neill 246 is being used as a 'landing space' for BC students taking remote courses.
Please contact centerforteaching@bc.edu with any questions.
Technology
Mersive Solstice wireless projection: Wirelessly project video and audio from most Windows, iOS, or Android devices using the Solstice app
HDMI projection: Plug in any HDMI-compatible device for video and audio projection
Panopto Lecture Capture: Request to have classes recorded through Lecture Capture, which can be viewed through Canvas.
Classroom Features
Wheeled tables and chairs for easy assembly in a variety of layouts
4 power outlets and 4 USB chargers at each of the 5 pods
1 glass board at each of the 5 pods
2 power outlets and 2 USB at the front of room
1 sliding whiteboard & 1 large glass board at front of room
1 large glass board at the back of the room
The classroom can be configured in many ways: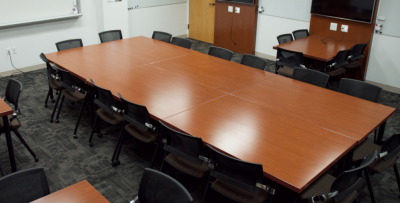 Standard Boardroom
Total capacity: 16 seats

The Active Learning Classroom may be configured in several different arrangements. The standard layout is the standard boardroom layout, which provides opportunity for group discussion and interactive learning. The faculty member may stand at the board, lecture at the podium, or sit with students at the table. Students may also break out into pods to work in groups between larger class discussions at the boardroom table.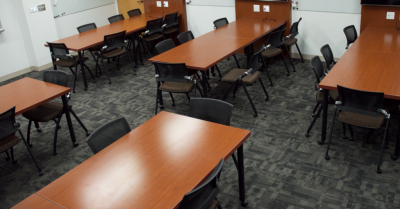 Pods
Total capacity: 30 seats (6 seats per pod)

The pod setup allows for students to engage in group work and larger class discussions simultaneously. Each of the five pods is equipped with an individual monitor for HDMI or wireless projection and a glass board for group writing. Faculty may instruct from the podium, lecture at the board, or join discussions with each pod with a seat at the end.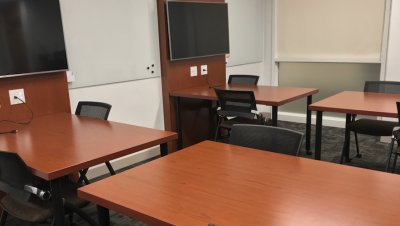 Exam
Total capacity: 24

The exam configuration discourages student interaction. Students sit diagonally from one another, with the faculty member at a separate station at either the front or back of the room. For limited distraction, monitors and projection can be turned off on all screens.
The CTE manages two computer classrooms that are available for semester-long courses as well as for ad-hoc bookings.
Faculty or staff members can request ad-hoc bookings of classrooms, with the understanding that the requester will be responsible for overseeing the use of the computer classroom. All requests for O'Neill 245 or 254 should be for use of the computers in the room (PC laptops in O'Neill 245, and Mac laptops in O'Neill 254). If you would like to reserve a room, please contact us at centerforteaching@bc.edu.
Courses requiring specialized software will be given first priority when scheduling these computer labs for an entire semester. Once all specialized software users have been placed, we will attempt to accommodate the remaining requests or suggest possible alternatives. To allow time to research the licensing for software requests, please submit them by July 1 for installation for Fall Semester, by November 1 for installation for Spring Semester, and by March 1 for installation for Summer term. It will not be possible to accommodate software requests once these dates have passed.
Specialized software falls into one of the following three categories:
Statistical/Modeling (e.g. SPSS, HLM, Stata, Arc GIS)
Video Editing (e.g. Adobe Premiere)
Graphic/Web Design & Programming (e.g. Adobe Creative Suite)
Anything that does not fall into one of the above categories is considered non-specialized software.