UPDATED: April 18, 2023
Often having to pause for applause, former Republican congresswoman Liz Cheney engaged a packed Heights Room last week as part of the Clough Colloquium series hosted by the Winston Center for Leadership and Ethics. Filling the chairs and lining the walls, attendees listened intently as she detailed her thoughts in the days following the January 6 attack on the U.S. Capitol and later, her role as vice chair of the January 6 committee.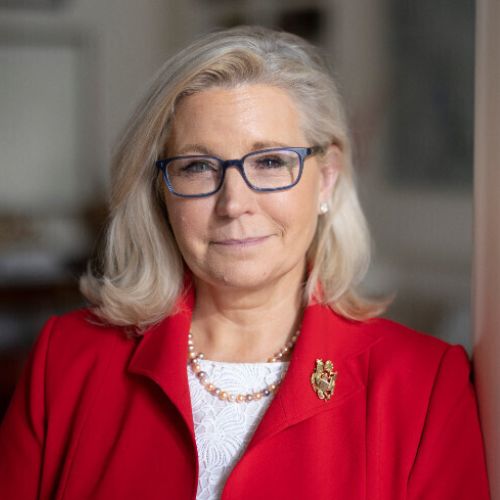 It was "as we were being evacuated," she shared, that she believed Congress needed to move articles of impeachment against former President Donald Trump. Cheney didn't shy away from her strong feelings about the former president, calling him "the single most dangerous individual" threatening American democracy. 
Moderated by political science professor Kay Lehman Schlozman, the conversation and subsequent Q&A were wide-ranging. Cheney, who was the U.S. representative for Wyoming's at-large congressional district from 2017-2023, offered her thoughts on the current lack of bipartisanship in Congress, America's invasion of Iraq, the responsibility of voters, and the war in Ukraine. Most importantly, she stressed that engaged and enthusiastic young people need to be getting involved in politics at any level. "Not only do you have an opportunity to make a difference," she addressed to the students in the room in particular, "but you have an obligation."
When asked if she was considering a run for the presidency in 2024, Cheney quipped that she had never been asked that before, adding "I'll make that decision and I'll call you."
The Winston Center's speaking series continued with Vincent Stanley of Patagonia, who presented a Chambers Lecture on March 30. One of Patagonia's original employees, Stanley currently serves as the company's in-house philosopher and is informally known as chief storyteller.
On April 12, the annual Brennan Symposium brought together undergraduate student leaders to hear from Carri Twigg, former special assistant to President Obama and director of public engagement for Vice President Biden, and founder of Culture.House, a film and TV production company doing work at the intersection of pop culture and politics.