On a Thursday evening in mid-February, the lobby of 245 Beacon Street was crowded with representatives from 14 tech startups, eager to recruit a new batch of summer interns and employees. Students in their best suits munched on pizza and brownies in the window-clad Shea Center room on the first floor of The Schiller Institute for Integrated Science and Society before venturing into the hall to shake hands and distribute resumes sheathed in black padfolios. For the first time in two years, the Tech and Entrepreneurship Fair was entirely in-person, with no hybrid or remote element.
"This year's fair is atypical," says Luke Calhoun '25, the lead coordinator of the fair, which was hosted by Start@Shea, the student executive board of the Edmund H. Shea Jr. Center for Entrepreneurship. "Usually, we have a lot of Big Tech recruiters. For example, last year, we had people from Snapchat and Oracle." 
Yet in the wake of the Big Tech crash and stalling economy, huge firms including Meta, Google, and Amazon have been laying off in droves. The tech sector has already cut nearly 100,000 jobs in 2023, according to Business Insider. Amid the chaos, Calhoun and other members of Start@Shea saw an opportunity to center this year's networking event on startups, local Boston businesses, and alumni-founded companies, rather than the "big" names.
Each spring semester, the Tech and Entrepreneurship Fair provides an opportunity for students to chat with successful alumni entrepreneurs, expand their professional networks, and find a job or summer internship. This year, representatives came from several Boston College alumni-founded companies like real estate software firm Aryeo, learning platform Frenalytics, and foodie app SpotDrop.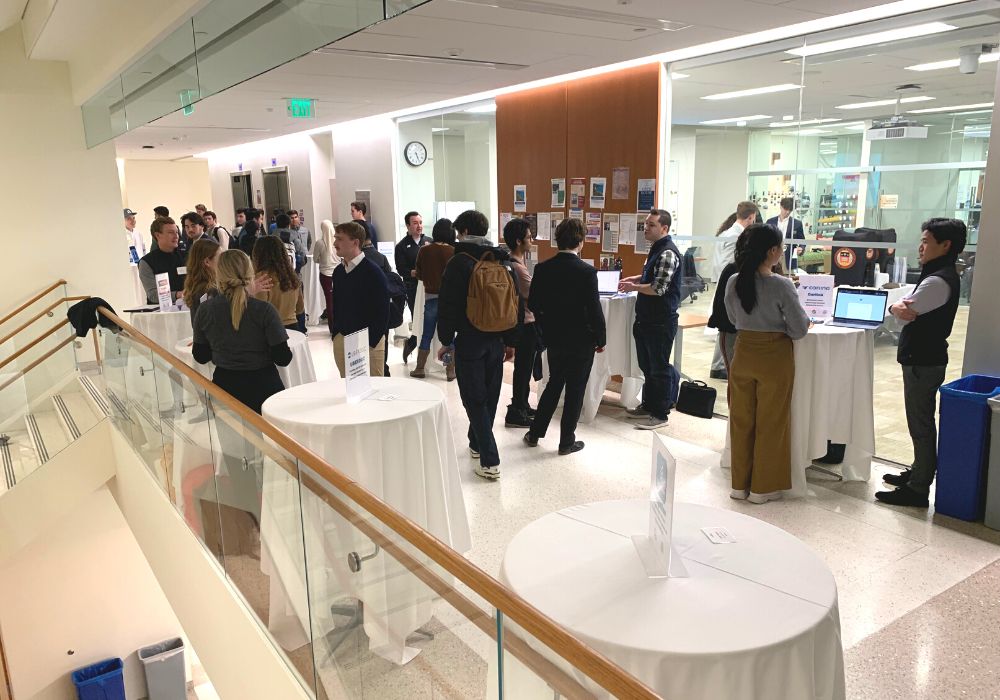 The environment was informal, with students leading conversations and asking questions as they stood around cloth-draped cocktail tables adorned with branded pens and stickers. Company recruiters offered nuggets of advice to over 75 attendees, emphasizing the skills they're looking for in new hires: passion, creativity, and drive. 
Alumni showed up in full force, eager to pay it forward to the next generation of leaders. Several notable representatives present at the event included Daniela Manzur '21 from Cariina, Zach Somers '20 from Suffolk Technologies, and Jayson Barros '22 from WHOOP.
The Tech Fair precedes Demo Day, the capstone event of the Shea Center's Accelerator program, which will take place on March 27. The final event of the year is the Strakosch Venture Competition, where student entrepreneurs have the chance to pitch their startup ideas to a panel of judges with the possibility of winning up to $10,000 in equity-free funding to pursue their business plan.