Brennan Symposium
Established in 2007, the Brennan Symposium brings select student leaders into contact with individuals from various industries who provide them with the skills that are necessary for leadership.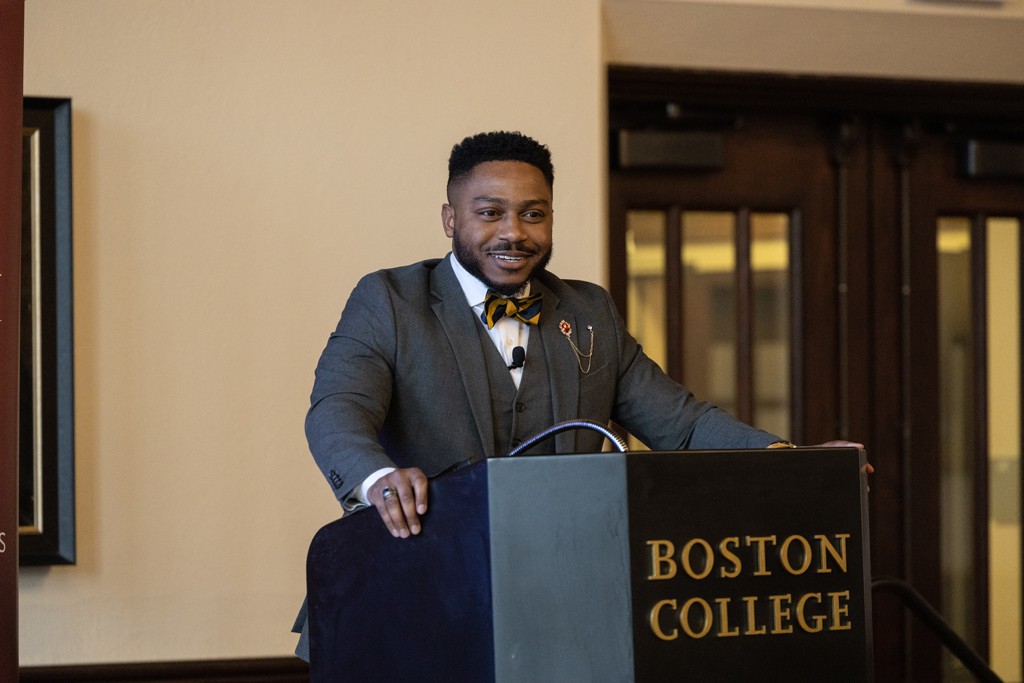 Spring 2022: Brandon P. Fleming
Miseducated: A Memoir: Brandon's story of struggle, success, and service has inspired millions around the world. An at-risk youth and college dropout turned award-winning educator, Brandon is the Assistant Debate Coach at Harvard University and Founder/CEO of the Harvard Diversity Project. Brandon was recruited to join the Harvard debate faculty at the age of 27. Harvard later approved Fleming's proposal to establish a new department within the university system called the Harvard Diversity Project – an unprecedented pipeline program of the Harvard Debate Council. For four consecutive years, since the program's inception in 2017, every cohort trained by Fleming has won international competition. Brandon has established a groundbreaking organization that is pipelining Black youth into Ivy League and elite colleges & universities. His students have now matriculated to Harvard, Yale, Stanford, and others alike on full scholarship. Brandon's story, erudition, and achievements have enabled him to use his voice to inspire and impact lives in places ranging from federal prisons to global platforms such as the United Nations General Assembly. At the age of 29, Forbes Magazine named him to the Forbes 30 under 30 list. In 2020, The Root Magazine named Brandon one of the top 100 most influential African-Americans in the United States. In May 2021, North Carolina Wesleyan College bestowed upon Brandon the honorary Doctor of Humanities degree.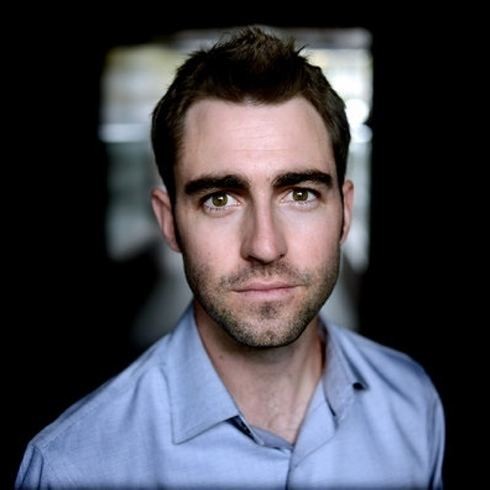 Spring 2021: Ben Rattray
Mobilizing Youth to Change the World: Ben is the founder and CEO of Change.org, the world's largest plat­form for social change with more than 250 million users. Named one of Time's 100 most influential people in the world, Fortune's 40 Under 40 rising young business leaders, and Fast Company's most creative people in business, Ben is a prominent thought leader on the inter­section of technology, innovation, and social change. He has received the Commonwealth Club's 21st Century Visionary Award, keynoted South by Southwest and Web Summit, and been profiled in dozens of news outlets including the New York Times, NPR, Washington Post, and CNN. Ben is a graduate of Stanford University and the London School of Economics, and Change.org is backed by investors such as Bill Gates, Richard Branson, Arianna Huffington, and the founders of Linkedin, eBay, Twitter, and Yahoo!
TEDxManila: How Micro-Movements Will Change the World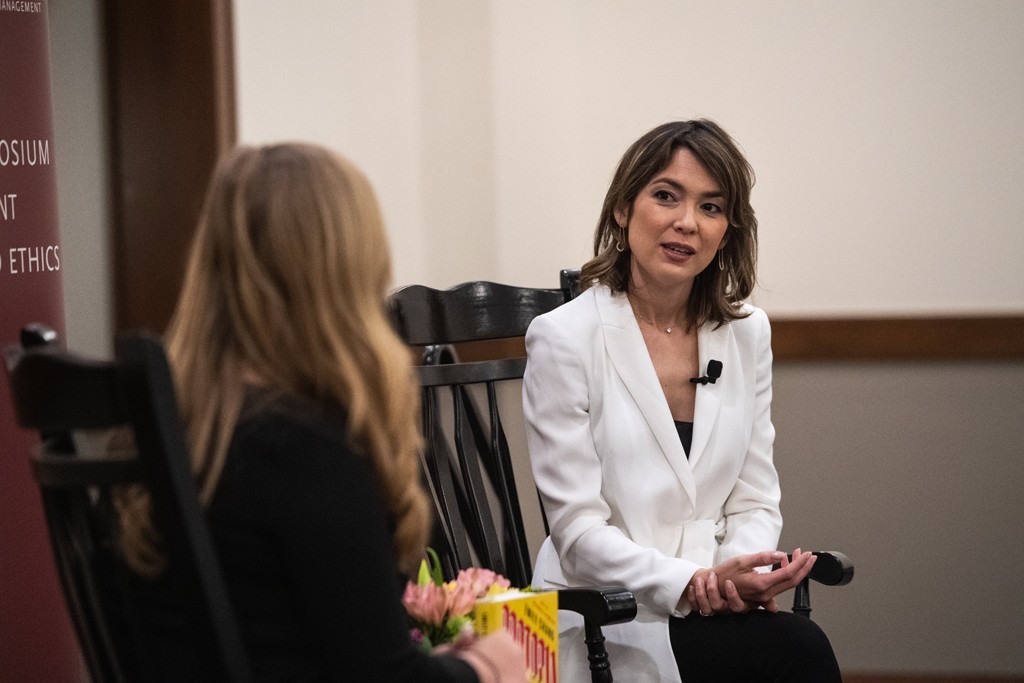 Spring 2019: Emily Chang
Anchor and Executive Producer at Bloomberg TV, Emily Chang, is an Emmy Award-winning journalist who reports on global technology and media, startups, and the future of business. Her first book, Brotopia: Breaking Up the Boys' Club of Silicon Valley, was an instant national bestseller that reveals how Silicon Valley's sexist culture has shut women out of the greatest wealth creation in the history of the world. The Financial Times called it "an important examination of why the technology industry is so dominated by men—and how women are pushing back."Business Insider called her "the star Bloomberg anchor that everyone in tech needs to know." She ranks among the top journalists, followed by major CEOs on Twitter. Previously, she was a CNN correspondent based in Beijing and London. She has played herself in several cameos on HBO's hit show, "Silicon Valley."
The session was moderated by Kristen Nervo, the Carroll School's assistant director of employer outreach & program development.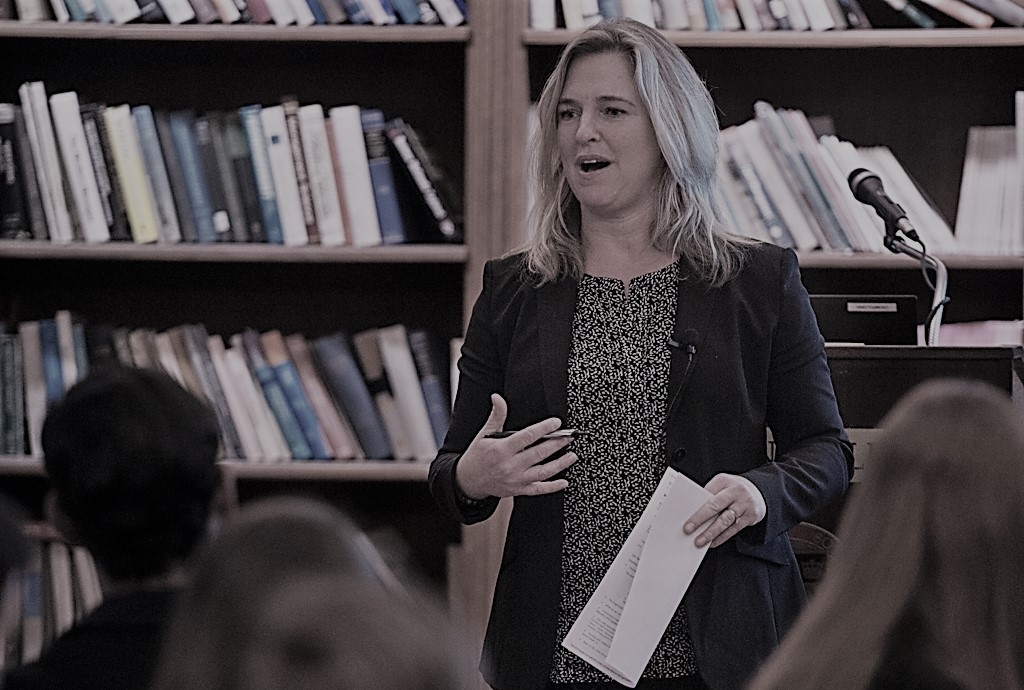 Spring 2018: Kristin Groos Richmond '97
Kristin co-founded Revolution Foods in 2006 and has served as its CEO since inception. Her career has spanned from corporate finance at Citibank to education. She was formerly the Vice President of Resources for Indispensable Schools and Educators and co-founded the Kenya Community Center for Learning in Nairobi. Kristin is an Aspen Institute Pahara Fellow, an Ashoka Fellow and an Education Pioneers Fellow. She served on the White House Council for Community Solutions and is a Young Global Leader of the World Economic Forum. Kristin is a 1997 graduate of the Carroll School of Management at Boston College, and received an MBA from University of California at Berkeley, Haas School of Business.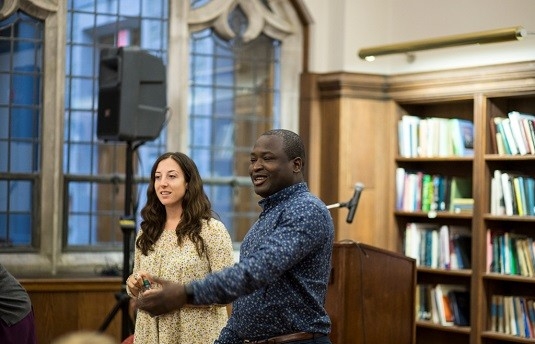 Spring 2017: Kennedy Odede and Jessica Posner Odede
Kennedy Odede was an active community organizer in Kibera, one of Kenya's most impoverished and troubled slums. He was known throughout Kibera unofficially for his tireless work there as "Mayor." Jessica Posner was a privileged 20-year-old Wesleyan University student on a semester abroad project who reached out to Kennedy in hopes of helping with a theater group he was running. During her semester abroad, Jessica wanted an authentic experience, so she moved to the slum of Kibera with Kennedy. Together, Kennedy and Jessica worked to build a school for girls (many of whom had been abused), and they founded the nonprofit community organization Shining Hope for Communities (SHOFCO). Kennedy and Jessica's first book, Find Me Unafraid, is based on their story and the work they've done to help improve the lives of girls in Kibera and similar communities worldwide. Senator Cory Booker called Find Me Unafraid "A powerful reminder of an individual's capacity to make a meaningful difference in the world around them. Kennedy and Jessica's inspiring words are a soaring call to action for anyone who has confronted seemingly insurmountable odds -- and found hope."
TEDx Talk: Building Community
Spring 2016: Dr. Annie McKee
Founder and Chairman of Teleos Leadership Institute, director of the University of Pennsylvania's executive doctoral program, and author Annie McKee has been called "the high priestess of executive coaching" by Business Week. An emotional intelligence expert on the cutting edge of leadership and organizational culture, she is dedicated to making good leaders better and world-class corporations even more successful. Her book, Becoming a Resonant Leader, a follow-up to Resonant Leadership, is a hands-on guide to developing emotional intelligence, renewing relationships, and sustaining effectiveness. McKee believes that "the best leaders create resonance — a reservoir of positivity that inspires passion and motivates people to perform at their best." She believes that resonant leaders do more than simply chart a strategy or manage resources — they create an environment where people can be at their best — in a climate that is characterized by hope and a shared belief in a compelling vision.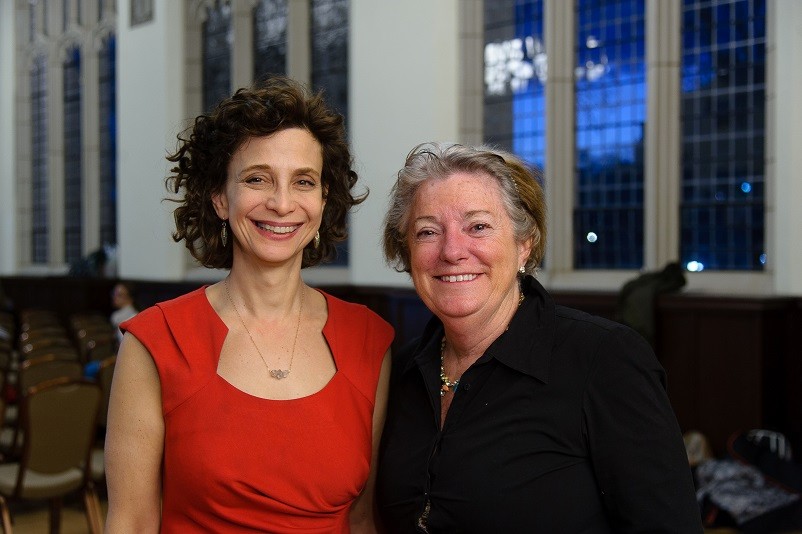 Spring 2015: Tina Rosenberg
According to award-winning author and journalist Tina Rosenberg, we could all benefit from a little peer pressure. A journalist for more than 25 years, Rosenberg has spent her career covering some of the world's greatest problems. One of the founders of the Solutions Journalism Network, Rosenberg now wants journalists to do more than just point our society's failings – she wants them to cover how people are responding. Her popular New York Times column, "Fixes," focused on exploring solutions to major social problems, including the healthcare crisis and widespread poverty, and examines different strategies across a range of communities and organizations. A winner of the National Book Award and the Pulitzer Prize, Rosenberg's most recent book, Join the Club: How Peer Pressure can Transform the World, takes readers around the globe to show them the power of positive peer pressure.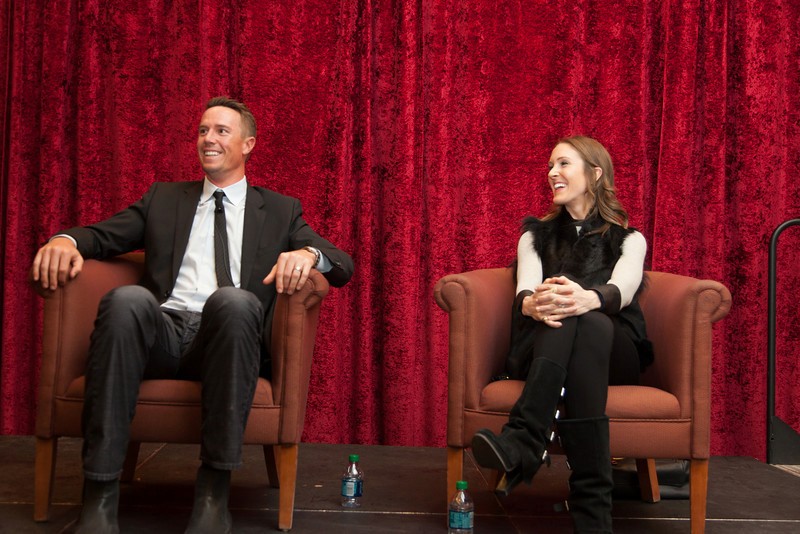 Spring 2014: Matt '07 & Sarah Ryan '07
Matt Ryan is the current quarterback of the NFL's Atlanta Falcons. He was drafted in the first round as the third overall pick in the 2008 NFL Draft after playing college football at Boston College where he led the team as the school's starting quarterback from 2005 to 2007.  Sarah Ryan was the starting point guard for three seasons as a member of Boston College's women's basketball team.  She ended her career second on the school's all-time assists list, and was a part of two teams that made the Sweet Sixteen. Sarah is currently working for the WNBA's Atlanta Dream as a sponsorship sales consultant.
Session was moderated by Andy Boynton, the Carroll School's dean.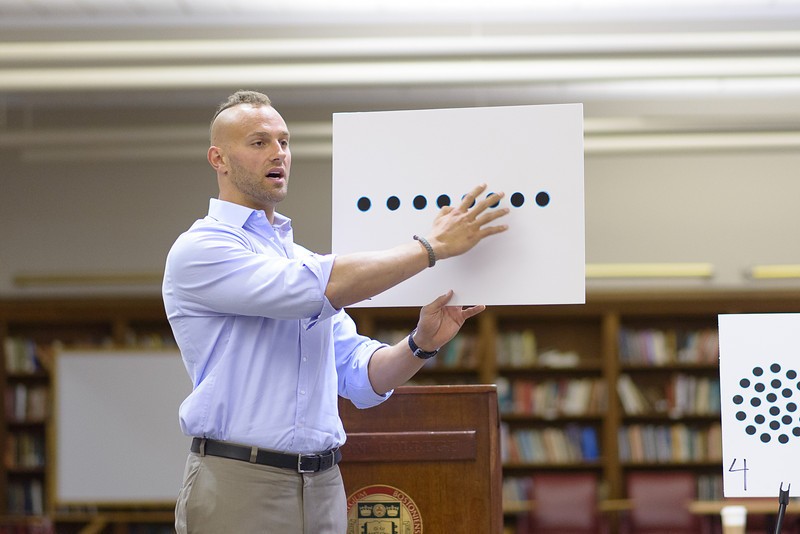 Spring 2013: Mark Herzlich '10
Mark Herzlich missed the entire 2009 BC Football season due to Ewing's Sarcoma, a rare form of bone cancer, which he overcame. In 2010 he returned to the football field and won the Rudy Award and the ACC's Brian Piccolo Award after starting all 13 games and finishing third on the team with 65 tackles and 50 solo stops. He received the Disney's Wide World of Sports Spirit Award for overcoming cancer, as well as the Nils V. "Swede" Nelson Award for sportsmanship. In January 2011, he received the "Most Courageous Athlete" award from the Philadelphia Sports Writers Association.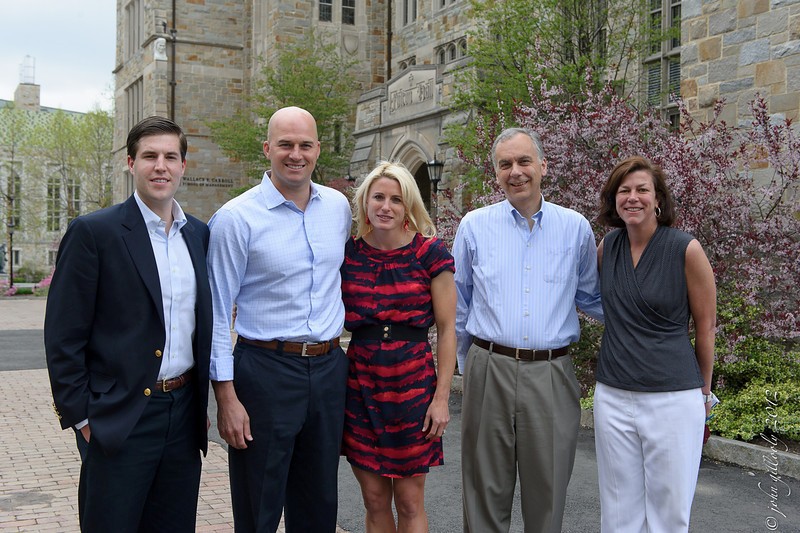 Spring 2012: Matt '97 and Sarah Hasselbeck '97
Matt Hasselbeck joined the National Football League and has played for the Green Bay Packers, the Seattle Seahawks and the Tennessee Titans. He led the Seahawks to six playoff appearances and a Super Bowl, while being selected to three Pro Bowls. Sarah Hasselbeckwas inducted into the Boston College Athletic Hall of Fame in 2002 (field hockey). Matt and Sarah have three children: Annabelle, Mallorie, and Henry. 
The Brennan Symposium for Inclusive Leadership is the major initiative of the Francis P. Brennan Fund.  Named in honor of Frank Brennan '39, this annual event is designed to equip the rising set of student leaders with new leadership skills and to foster dialogue among student leaders from different domains. Participants are drawn from the ranks of a variety of student clubs and organizations. 
A native of Somerville, son of Irish immigrants, and decorated World War II veteran, Brennan was a longtime leader in the Massachusetts banking and financial communities, and chairman of the board of the Massachusetts Business Development Corporation.  Mr. Brennan credited much of his success to being educated by Jesuits at Boston College.