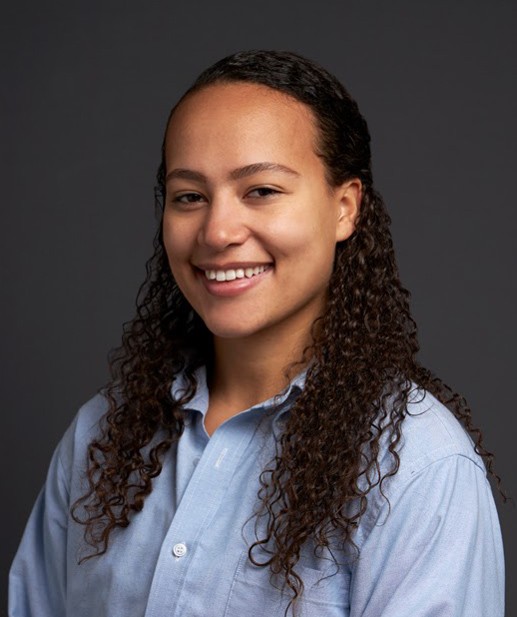 Over the past few months, Sianay Chase-Clifford has helped United States congresswoman Ayanna Pressley write policy speeches, distill complex reports, and conduct research on topics ranging from the economic impact of the coronavirus pandemic to the maternal health of Black women. 
"It's been pretty cool to hear the congresswoman say things that I've written," says Chase-Clifford, who received her master's degree from the Boston College School of Social Work in May. "It's amazing to have a little bit of a footprint in her work."
Her role on Pressley's team is supported by a yearlong fellowship from the Congressional Black Caucus Foundation, a nonprofit public policy, research, and educational institute that seeks to advance the Black community. Chase-Clifford was one of 12 Black or African-American professionals selected to participate in the program, which equips fellows with the skills and experiences to become public service leaders. And she was one of three participants named John Lewis Social Justice Fellows, who will strive to honor the legacy of the civil rights leader, who urged people "to speak up, to speak out, to get into what I call 'good trouble.'"
"It feels really important to carry on his legacy," says Chase-Clifford. "We have a mandate, in a sense, to keep making good trouble and to keep that spirit present."
"

When we're thinking about policy, we need to consider people's lives and not just look at policy like a bunch of problems we need to solve. We need to think about the spaces and the environments where people thrive and how we can get to that spot.

"
Her fellowship builds on her experience in politics as a constituent services aid for former Gov. Deval Patrick in 2014. At the time, she was studying to earn her bachelor's degree in political science and sociology at BC.
Now she says her classes and internships in the School of Social Work have prepared her to work for Pressley, who represents the seventh district of Massachusetts. Before drafting one set of talking points for Pressley, she re-read a peer-reviewed article assigned to her class in adult trauma. She wanted to verify that pregnant women who use opioids risk giving birth to children who will experience a disproportionate level of trauma in their early years.
"I wanted to make sure that what I was writing was grounded in facts," says Chase-Clifford, who works on Capitol Hill. "I wanted to clarify my thoughts and make sure I wasn't saying anything that wasn't true."
She notes that her internship at the Roxbury Center for Financial Empowerment taught her how to distill complex concepts into lay terms for Pressley. As a financial adviser, she translated the Massachusetts Medicaid program into primers and helped her colleagues develop strategies to explain the program to their clients. 
"That experience taught me how to translate non-nintuitive policy into something that's helpful," says Chase-Clifford. "It also gave me a much better understanding of how benefits work in the congresswoman's district as well."
Chase-Clifford hopes that her fellowship will set her up for a career in politics. She says she wants to continue to work behind the scenes, supporting elected officials who listen to their constituents and create legislation that addresses their needs.
"When we're thinking about policy, we need to consider people's lives and not just look at policy like a bunch of problems we need to solve," says Chase-Clifford. "We need to think about the spaces and the environments where people thrive and how we can get to that spot."