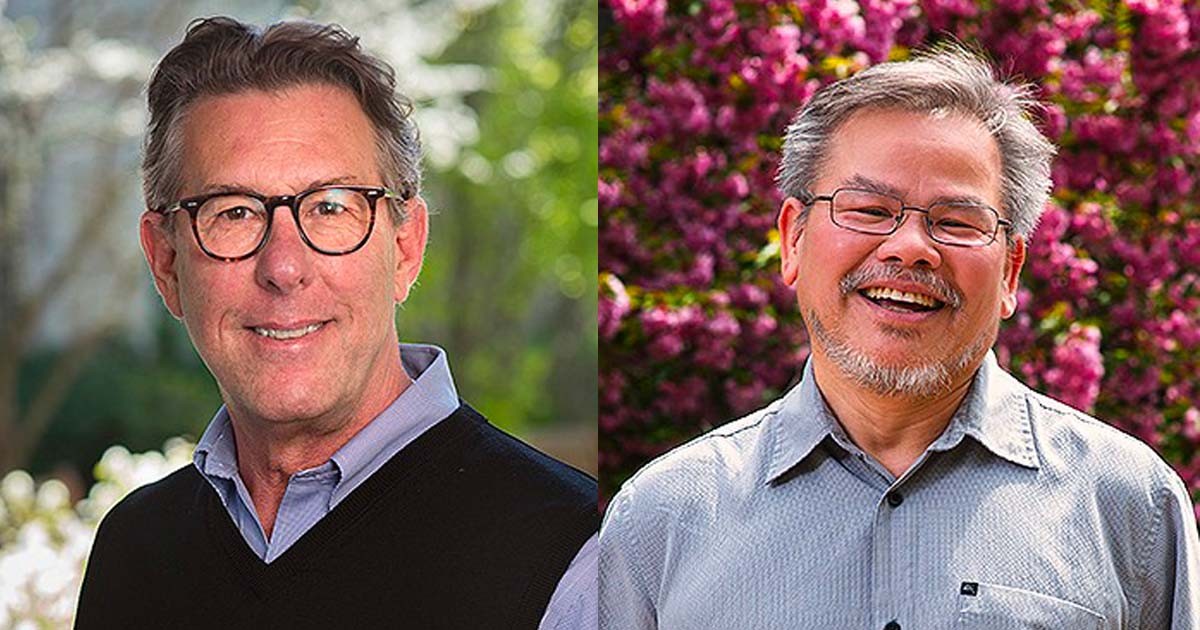 Kerry Mitchell and Thanh Tran have played leading roles in the evolution of social work since the 1980s, embracing the integration of research and practice to meet the needs of an increasingly diverse population.
Now the two stalwarts of the Boston College School of Social Work are planning to retire at the end May after having served BC for a combined total of 56 years. 
Mitchell, an associate professor of clinical practice, has taught thousands of students how to incorporate family systems theory, psychodynamic theory, and cognitive behavioral theory into their assessments of clients.
Professor Tran has conducted research on mental health issues in minority populations; taught scores of MSW and doctoral students; and written several books that teach social workers how to analyze cross-cultural data.
And both said that the field of social work looks nothing like it did when they were carving out their careers in the discipline. 
When Mitchell opened a private practice in 1985, cognitive behavioral therapy had just begun to take off, and he didn't develop expertise in the popular form of talk therapy until he was writing his dissertation on the topic at BC in the '90s.
"When I first started, everybody got the same treatment," he said. "But the field has evolved, research has evolved, and now we can offer best practices for our clients for each of the disorders."
Tran said that social work has changed quite a bit since he received his doctorate from the University of Texas at Arlington in 1985, shifting from a discipline focused on service to a field that combines service and research. "It changed completely," he said. "It turned upside down."
Both professors developed interest in social work long before they joined the faculty at BC. As an undergraduate at Providence College, Mitchell took classes with a pair of professors who doubled as social workers and encouraged him to look into the profession. 
"They talked about the importance of relationships and being emotionally available to my patients," he recalled, "and I found that appealing."
Tran was born in Vietnam and came to the United States in 1975 after the war in his home country had ended. He was just 19 years old and on his own. After a brief stint in a refugee camp in Arkansas, he was taken in by a young American couple in Mississippi and then moved to a trailer home in the Magnolia State, where a social worker would routinely show up to check in to see how he was doing.

"They got my information through Catholic Charities USA," he recalled, "and became my contact person to reach out to other people in the community."
Tran was immediately drawn to the idea of social work—to helping people in need—and graduated from UT Arlington in 1979 with a minor in the field. A year later, he started working for the Southeast Asian Foster Care Program in Jackson, Mississippi, where he served as a social worker for unaccompanied children from Cambodia, Laos, and Vietnam.

"

When I first started, everybody got the same treatment. But the field has evolved, research has evolved, and now we can offer best practices for our clients for each of the disorders.

"
Tran came to BC in 1988 and rose through the ranks from assistant professor to tenured professor by 1998. He left BC in 2001 for five years to direct the School of Social Work at California State University, Los Angeles, and then returned to BC in 2006 for good. 
Tran directed the doctoral program at BCSSW from 1998 to 2001 and served as its research chair from 2006 to 2011. In 1995, he received funding from the National Institute of Mental Health to study depression in the Vietnamese community. And in 2016, he was named to the Massachusetts Governor's Advisory Council for Refugees and Immigrants to advise Gov. Charlie Baker on policy, planning, and priorities for refugees and immigrants living in the state. 
His biggest honor from BC came in 2018, when he received the Community Service Award for his commitment to the Vietnamese and Vietnamese American community. According to BC News, Tran established a "literacy and cultural program at St. Bernadette's parish in Randolph, Massachusetts, that helps Vietnamese American children and others learn the Vietnamese language and culture."
"Community service gives me an opportunity to say thank you to all who have helped me, a refugee, to build my life in this wonderful country," Tran said when he accepted his award from University President William P. Leahy, S.J. "I am who I am today because of the generosity and kindness of numerous Americans whom I encountered in the refugee camp and communities."
Scott Easton, an associate professor who chairs the health and mental health fields of practice, praised Tran for advancing our knowledge of the health of minority communities.
"He has repeatedly pointed out that contemporary efforts at diversity, equity, and inclusion are vital but not new. These same issues have been faced by waves of immigrants and ethnic groups over the last century, including his own Vietnamese community from the 1970s," said Easton, who has known Tran since he came to BC in 2011. "Thanh's work is a testament to the historic arc of social work in terms of empowering minority groups."
Easton described Tran as "genuine," "reliable," and "caring," adding that he will miss his smile, witty banter, and warm greeting of "Hey man, how are you doing?" He said he can't count the number of times he's bumped into Tran at the Connell Recreation Center, where the two work out, and confided that he often thinks of his longtime colleague as "Coach Thanh."
"He is dedicated to exercise and fitness, challenging me to get into the gym more often and leading by example," he said.
"

Be not afraid to ask for help. In my book, we are a product of people around us. And in order to succeed, you need a lot of helping hands around you.

"
Mitchell joined the faculty in 1995 and became one of the most popular professors in the School. Thomas Walsh, associate dean and director of the MSW program, said that many students took all three of his courses—"Basic Skills in Clinical Practice," "Clinical Practice with Adults," and "Cognitive Behavioral Therapy."
"Kerry is an outstanding clinician and he has been one of the pillars of our clinical social work program," said Walsh, who met Mitchell in the '90s, when they were taking doctoral classes together at BC. "He is a highly regarded teacher and developed a strong following by students who made it a point to take two or three of his courses."
Walsh described Mitchell as an "outstanding team player" who once agreed to teach a class of 70 students who, because of a computer glitch, were registered for a course that was designed for just 20 of them.
"It serves as a good example of how he has always put students' needs first, and was the consummate teacher in instilling high ethical standards and strong clinical skills," he said.
Both Mitchell and Tran said that they will miss their students dearly and imparted nuggets of wisdom to newly minted social workers. Mitchell, who taught attachment theory and served as a member of the Academic Standards Review Committee, advised practitioners to form strong relationships with their clients. 
"Relationships are the basis for trust for patients to invest in the treatment process," he said. "They have been shown to be the No. 1 predictor of success in therapy."
After reflecting for a moment, Mitchell shared the teaching accomplishment that makes him most proud. "I'm most proud of my students learning theory and appreciating it," he said. "Many of them have kept in touch with me over the years, and I've seen them progress to the point where several of my students themselves are now part-time faculty here at BC."
Tran, who taught courses in statistics, program evaluation, and research methods, urged new social workers to ask for help when they need it. "Be not afraid to ask for help," he said. " In my book, we are a product of people around us. And in order to succeed, you need a lot of helping hands around you."
Tran received help from a social worker when he was a young man, a refugee living alone in an unfamiliar country. As he prepares to retire, he is planning to pay it forward by assisting refugees from Afghanistan and Ukraine who are living in Texas, where he and his wife now reside. He's already contacted a refugee and immigrant service program to see if he can teach refugees how to speak English or help set up their new living arrangements.
"The least that I can do is to pay back the society and the community who helped me throughout my 47 years in the U.S.," he said.
Mitchell, for his part, will continue to work as a consultant for BC alumni who run their own private practices. "I think I'll be available for consulting and training and that part of my professional practice may grow," he said.
Although he has taught his last class at BC, he hopes to remain connected to the University. "As a devotee of attachment theory, I would say I'm very attached to Boston College. And as my students know, it's not easy to detach," he said. "So, after a little bit of a break, I hope to remain present in some capacity in the School of Social Work."