Originally published in the inaugural edition of Carroll Capital, the print publication of the Carroll School of Management at Boston College. Read the full issue here.
---
On a rare warm Friday afternoon in mid-April, life was in full bloom across campus. On the lawn outside Gasson Hall, students sprawled out on blankets, enjoying picnics and catching up on classwork. The scene inside 245 Beacon Street was equally lively. It was Demo Day, the culmination of the semester-long Accelerate@Shea startup incubator program organized by the Edmund H. Shea Jr. Center for Entrepreneurship and the Start@Shea student executive board. In the ground-floor auditorium, anxious participants lined the walls, getting in a few last moments of preparation before giving their two-minute business pitches. It was a highly anticipated moment for these 12 groups, who had been working on their startups since January.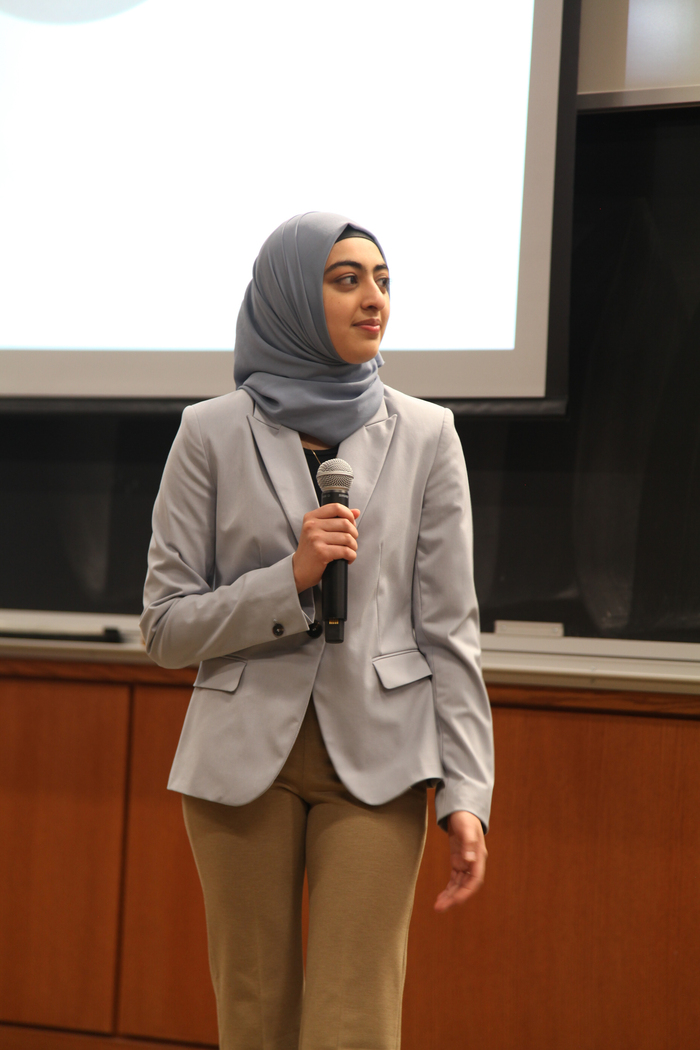 The Bee Gees song "Stayin' Alive" played from surround sound speakers as Zarah Lakhani, LSEHD '24, cofounder of Vitaliti, took the stage alongside Andrea Crewe, LSEHD '22. The pair looked out on the packed room, filled with students waving around inflatable cheering sticks in support. "When we tell people about our product, the typical response we get is: 'Wait, this doesn't already exist?'" says Lakhani. "The answer is no. There's currently nothing on the market that automatically tests for mold." Vitaliti's product, Spore, is an at-home mold detector that works like a carbon monoxide one, continuously monitoring for mold spores in the environment and alerting homeowners with LED lights if spores appear.
After finishing third at the international Stanford Center on Longevity Design Challenge in spring 2022, Vitaliti took their idea to the Shea Center's Elevator Pitch Competition, winning first place. Kelsey Kinton, senior associate director of the Shea Center, calls the Elevator Pitch Competition the "entry point" for the entrepreneurship programs throughout the year. Winning it earned Vitaliti a spot in Accelerate@Shea and access to funding, alumni mentorship, and workshops to bring their business plan to life.
"

When we tell people about our product, the typical response we get is: 'Wait, this doesn't already exist?'

"
"When we started [Spore], we realized that everyone has a mold story," says Lakhani, who met Crewe at Design for ImpACCt, an interdisciplinary program connecting students from select East Coast schools to practice design thinking. They were paired with Lindsay Dotson, then a North Carolina State University student. "The idea stemmed from Lindsay's roommate growing up with toxic black mold," Lakhani added. "She developed an autoimmune disease."
Another accelerator business concept, Campi, was born out ofa familiar college stressor: fear of missing out. As team members Michael Faris '23, Madelyn Divino, MCAS '23, and Bobby Wittman '25 traded stories about their time on the Heights, they realized they had all missed out on events, clubs, and programs that they never heard about. They created Campi, an app that congregates all the campus events happening on any given day, so students don't have to rely on word of mouth or flyers pinned to cork boards.
To help the accelerator teams develop their ideas, they're paired with at least three professional mentors, most of whom are alumni. "We encourage students to talk to as many people and get asmuch feedback as possible," says Kinton. Some of that mentor feedback helped Campi streamline their business concept. The app was originally a one-stop-shop for all things campus life. It included an events calendar, a virtual marketplace, and an online community forum, all designed by Faris, who picked up a computer science minor and learned how to code for this project. After running the idea by their mentor, Tom Coburn, MCAS '13, CEO and cofounder of online marketing platform Jebbit, the team realized they were trying to do too much. Coburn's advice helped transform Campi into the campus event app (including listings for every student club) that has garnered over 2,000 downloads since launching in the fall.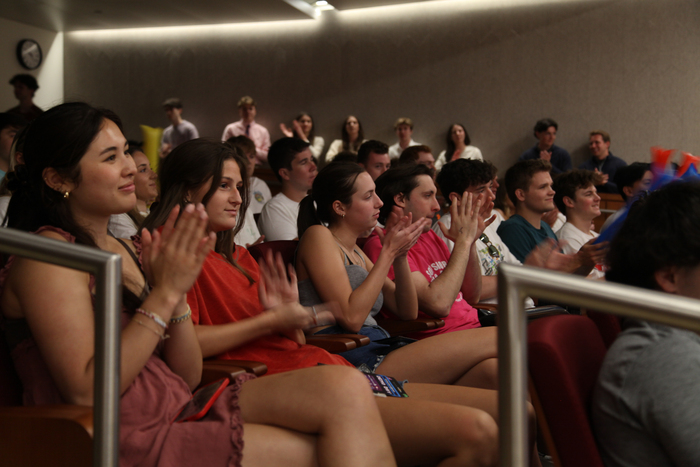 "It's amazing being in the same room as other like-minded student entrepreneurs," says Lakhani. Weekly Tuesday night meetings began with bonding time, where 12 teams mingled over pizza, sharing ideas and discussing upcoming weekend plans. Then, the gatherings turned over to the alumni experts, who spoke on entrepreneurial topics like branding, market segmentation, and the important legal elements to consider when building a startup. Lakhani adds that all of the cohort members weighed in on each other's ideas and offered encouragement on expanding their businesses after the program's end.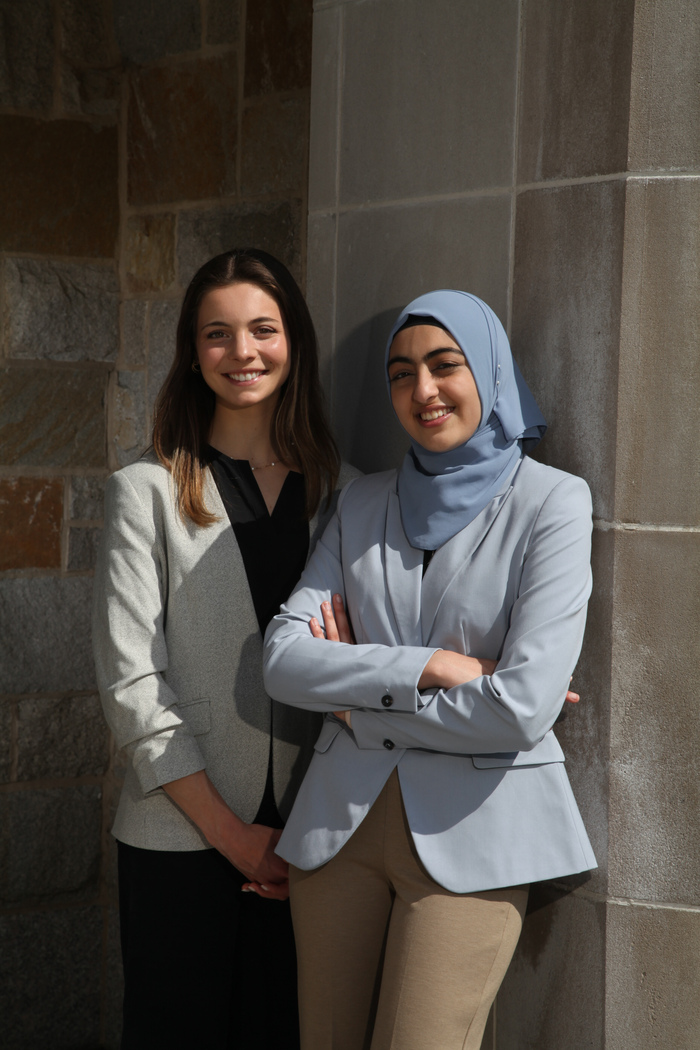 Within each cohort, Kinton estimates that one to three teams work on their startups full-time after graduation, while others keep it going part-time. Wittman will serve as the CEO of Campi next year, while Faris plans to stay involved as an alum by improving the code from afar. "We absolutely love to see when teams continue pursuing their companies [after the program], and that happens," says Aly Steichen '24, one of five students organizing the accelerator for class credit. "But our goal is providing an entrepreneurship education."
As Demo Day wrapped up with a boisterous round of applause, the teams were already thinking about the Strakosch Venture Competition, the Shea Center's final entrepreneurship event of the year. This year, it was Vitaliti that walked away with the first place win, earning the grand prize of $10,000—but they're not stopping there.
"Our primary market is homeowners right now. In the future, we hope to expand to dorms, hospitals, and clinics," says Lakhani, adding that a lab at Kansas State University is currently working on developing a prototype of Spore. "I would love to work on this full-time after graduation [in 2024]. I think we have a lot of traction and validation, thanks to Shea."