Saturday mornings on campus can often feel sleepy in comparison to the hustling, frenetic pace of any given weekday. September 17 felt no different, unless you happened to be in the front lobby of the new Integrated Sciences Building at 245 Beacon Street. There, a group of eager students clad in red t-shirts—members of the Start@Shea student executive board for the Edmund H. Shea Jr. Center for Entrepreneurship—were ready to offer directions, instructions, and advice to nearly 100 guests. Solstice, the inaugural Boston College Entrepreneurship Conference, was underway.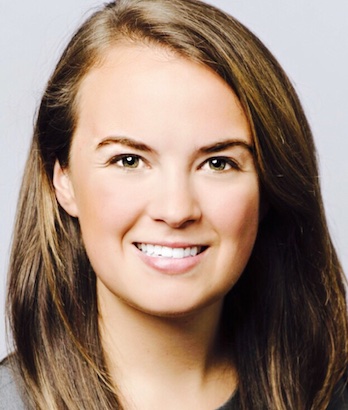 Solstice aims to "provide a hub for collegiate entrepreneurship, sowing the seeds for student startups and the next generation of leaders," both inside and outside Boston College, says Kelsey Renda, senior associate director of the center. The conference's attendees included current students, Boston College alumni, and students from seven universities across the northeast, among them Harvard, MIT, New York University, and Rutgers.
After checking in and receiving Start@Shea tote bags and the day's agenda, attendees headed to the fifth floor for a networking breakfast. Over yogurt, granola, fruit, and oatmeal, student participants chatted excitedly about their experiences from the previous night at Ideathon, the conference's kickoff event where participants had the opportunity to take an idea from definition to execution in small teams over the course of a tense three hours. One student mentioned to a friend, "I met Meagan last night," with a wide grin.
Meagan—as in, Meagan Loyst '19—was also all smiles later that morning as she entered the large first-floor auditorium of 245 Beacon to give her keynote speech. The speech, which turned out to be more of an "intimate fireside chat," according to moderator and Start@Shea's "Entrepreneur in Residence" Maggie Yan '22, spanned topics from the professional—how Loyst got into venture capital and the origins of her startup, Gen Z VCs—to the personal, like the fact that she always likes to wear a little glitter on her face, even in important meetings with entrepreneurs.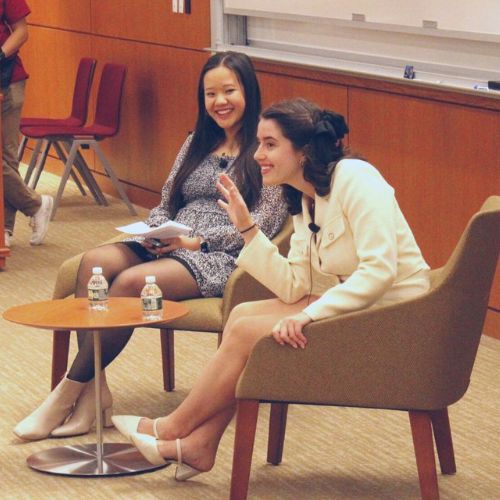 A self-proclaimed introvert, Loyst is anything but shy when it comes to sharing the lessons she has gleaned in her three years post-grad. Her entry into the world of venture capital was slightly atypical, and she was quick to change course when she wasn't connecting to her work as much as she would have liked. "I started my career as an analyst at General Atlantic out of college, but quickly realized that early stage investing was much more up my alley," she shared. "I didn't give in to the peer pressure or conventional advice that you have to go for the big name firms to 'make it.' Be honest about what you like to do instead of chasing after a name brand."

The creation of her own startup, Gen Z VCs, happened later. "The best ideas come to me at two a.m.," she said with a sly smile. As one of the only members of Generation Z (also known as Gen Z) at her firm at the time, Loyst turned to Twitter to find community. She posted a tweet to ask if anyone on the platform was part of Gen Z or investing in Gen Z companies. Responses flooded in, and from there, she interviewed more than 70 individuals who had replied and discovered that there was a real market for investment firms willing to take a chance on the young folks.  
Loyst created a Slack channel with all of her newly found Gen Z investors and it exploded practically overnight, growing from 30 members to more than 1,000 in just four days. Business Insider picked up the story and Loyst became an internet sensation. "We were almost instantly viral," she added.
Despite the seeming ease with which Loyst was able to grow her startup's online presence, it wasn't accidental. The pandemic played a role in the viability of starting a popular virtual chatroom. "The online community was made possible because of—not in spite of—the pandemic," she clarified. "We talk about market timing and this couldn't have happened at a more perfect time." 
As the conversation shifted to an audience Q&A, hands around the auditorium shot up enthusiastically. Jackson McClelland '22 asked what's on Loyst's bookshelf these days. 
"This is my least favorite question in interviews," she laughed, sharing an anecdote about a job interview in which she begrudgingly confessed that her most recent read was Twilight. "Honestly, when I have time to read, I'm totally unplugging. All I read are romantic period dramas like Bridgerton."
Joseph Roberts, a junior at the University of Connecticut, asked what it's like to be part of a minority group in venture capital. In the world of VC, all women are considered part of the minority, making up only 12 percent of decision makers in VC firms, according to Forbes. 
"Do you have any advice for how we can break into the industry?" Roberts inquired.
Loyst quickly acknowledged the industry's lack of diversity. "Less than two percent of VC money goes to women, and it's up to us to change that." But, she asserted, "you don't need to have the investor title to start doing the job. Anyone can create content, write about interesting themes going on in the industry, and prove your worth to an organization through action. There are always ways to ingrain yourself in the ecosystems if you're willing to work hard."
A hub for innovation
As the audience filed out of the auditorium and into an afternoon of workshops, the buzz of energy generated by Loyst remained as students split off into small groups for their chosen sessions. These spanned a variety of topics, including "Pitching to Business Publications as an Entrepreneur," hosted by Business Insider editors Dorothy Cucci '21 and Jenna Gyimesi, and "Design Your Tailgate," where students ready for a hands-on opportunity gained access to "The Hatchery." In this workshop—hosted by Madison Dunaway, the design and prototyping manager at Boston College's Design and Innovation Center—students made their own tote bags, t-shirts, and other gear in preparation for the evening's tailgate at the first home football game of the season. Participants were taught to use 3D printing and laser printing machines, woodcutting technology, sewing and embroidery machines, and more in the state-of-the-art facility.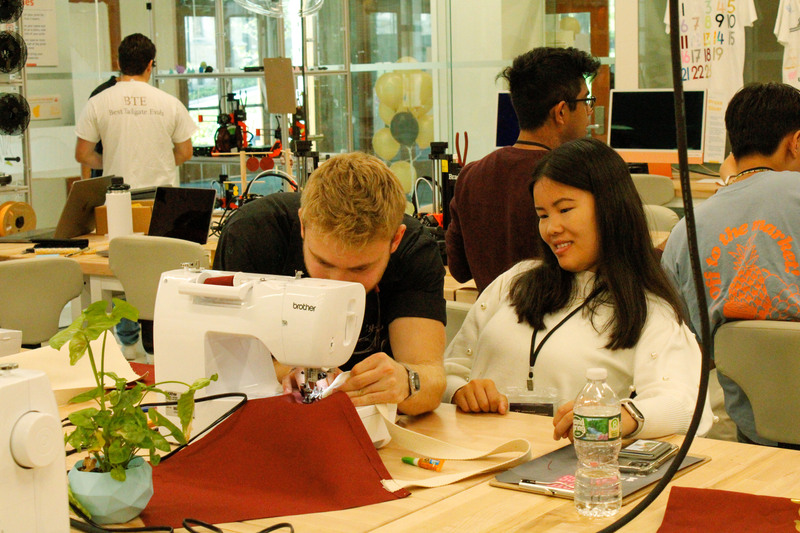 Saturday concluded with an afternoon VC Panel, where attendees heard from investors at top firms, including TechStars and Summit Partners. On Sunday, the conference continued with a Founders Panel featuring startup founders from Alinea Invest, Voltpost, and Scroobious, followed by another set of breakout workshops, and the event wrapped up with closing remarks from Marissa Cohen '19, a senior associate of startup banking at Silicon Valley Bank. In total, 12 alums returned to campus as conference speakers, and an additional dozen alumni and young professionals joined as attendees.
"[Solstice] was a way to celebrate the community of young entrepreneurs that the Shea Center has built and fostered over the last eight years," says Renda about the success of the new event. "We covered a wide range of topics so it felt like there was really something for everyone—whether you are a founder, someone generally interested in tech, or someone looking to break into venture capital—you could find value attending the conference sessions." 
The Solstice conference took the place of what the center previously called Entrepreneurship Week. Typically held as one-off events over the course of a week each September, Entrepreneurship Week was organized to allow students to trickle in and out for talks and workshops amid their busy academic schedules. Solstice, instead, aims to offer a gathering place for students who want to take a deep dive into entrepreneurship, share ideas and innovate over the course of an entire weekend. By holding the event in a conference format, the Shea Center is also able to expand their reach to students and young professionals outside the Boston College community.
Alex Park '24, co-chair of the Start@Shea executive board, predicted that the new conference will help Boston College students "propel to the forefront of collegiate entrepreneurship." He added, "I truly believe this is only the beginning for Boston College's entrepreneurship ecosystem, and I am excited for many more Solstice Conferences going forward as we look to encourage students to take bold risks and execute on their ideas."