"When we tell people about this idea, the response we usually get is: 'Wait, this doesn't already exist?'" said Zarah Lakhani, a junior in the Lynch School of Education and Human Development, during her 60-second pitch for Spore, an at-home mold monitor that detects mold in a building before it becomes an infestation.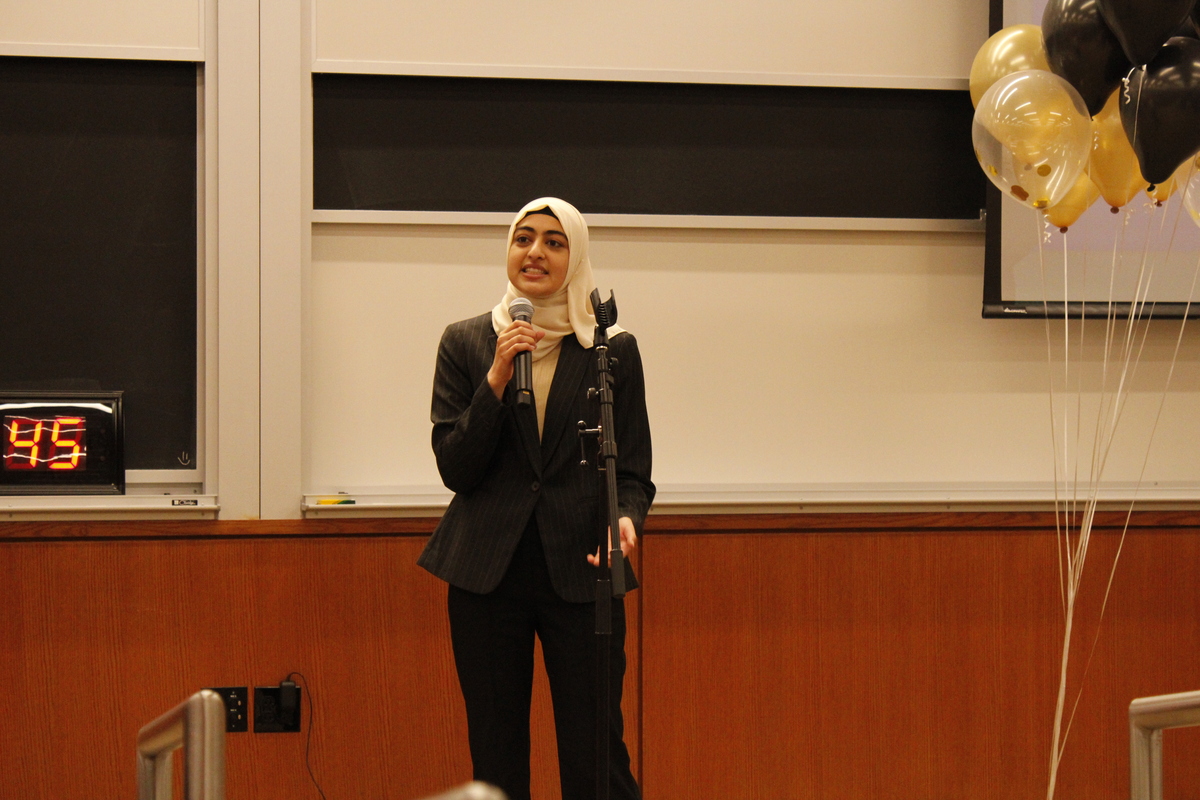 The originality of Lakhani's product won her company, Vitaliti, the first place prize of $600 at this year's Elevator Pitch Competition hosted by Start@Shea, the student executive board of the Edmund H. Shea Jr. Center of Entrepreneurship. 
Vitaliti was one of the ten finalists who presented their original business pitches at the final round of the competition. Hosted in the auditorium in the integrated sciences building at 245 Beacon Street, the event drew over 150 attendees armed with food, drinks, and plenty of inflatable cheering sticks. 
"The Elevator Pitch Competition is our first competition of the year. The name comes from the notion that if you were a founder that stepped into an elevator with a big investor, how would you pitch your company on the short 60-second ride it takes to get to the next floor?" explained Kelsey Renda, senior associate director of the Shea Center.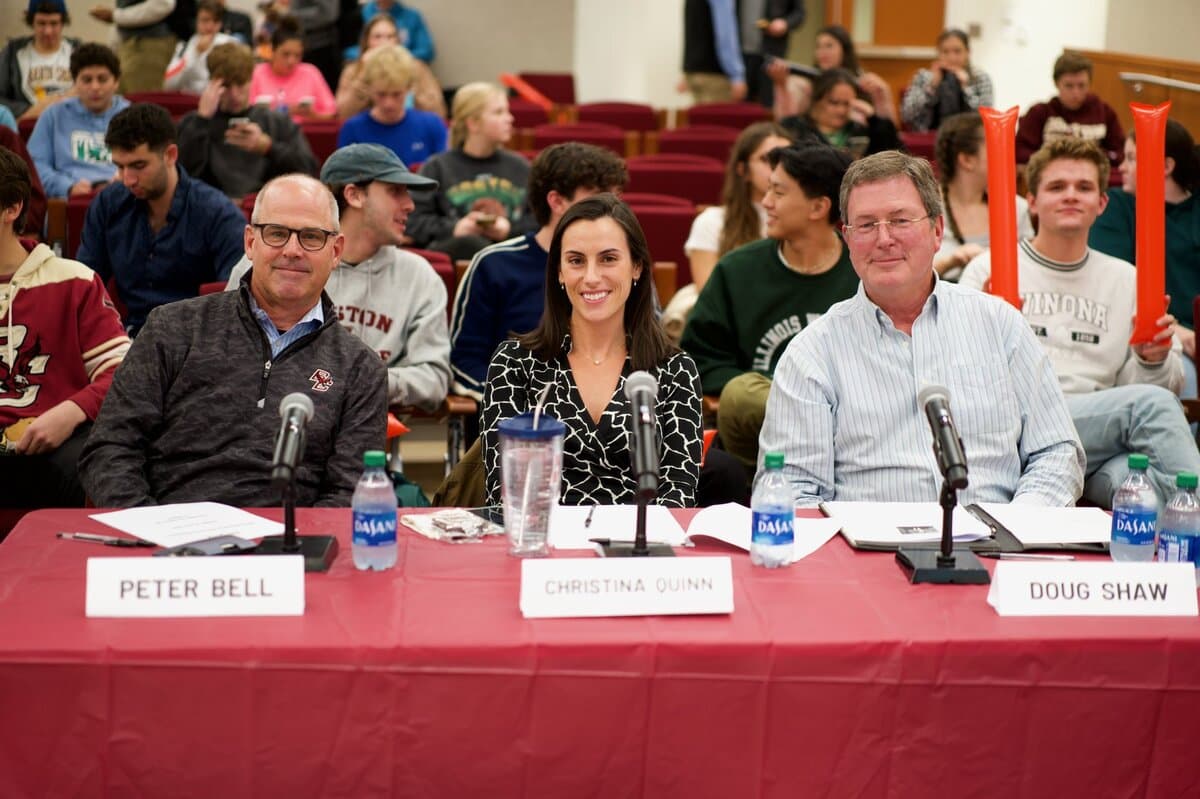 Each pitch was followed by a two-minute Q&A session from a panel of three Boston College alumni judges: Doug Shaw '78, Christina Quinn '13, and Peter Bell '86. The experts probed the startups' potential competitors, monetization plans, and go-to-market strategies. The audience waited with bated breath during the rapid question-and-answer segment, eager to hear the announcement of the winners.
From a live local trivia app to an authentic gourmet churro store, the competition brought in a range of unique business ideas. Cate Cheevers, a Morrissey College senior, won the second place prize of $400 for her mobile app, Health-Me. Inspired by her own struggle with cystic fibrosis, Cheevers pitched a one-stop shop for chronic illness patients to store all their important medical information. 
Isabel Wibowo (MCAS '23) placed third and took home a $300 prize for her company, Chinatown E-commerce. On the virtual platform, Wibowo hopes to give small mom and pop shops in Chinatown a marketing boost, especially since many were hit hard by COVID-19. She emphasized the importance of community and trust-building to support the local businesses in Boston's Chinatown.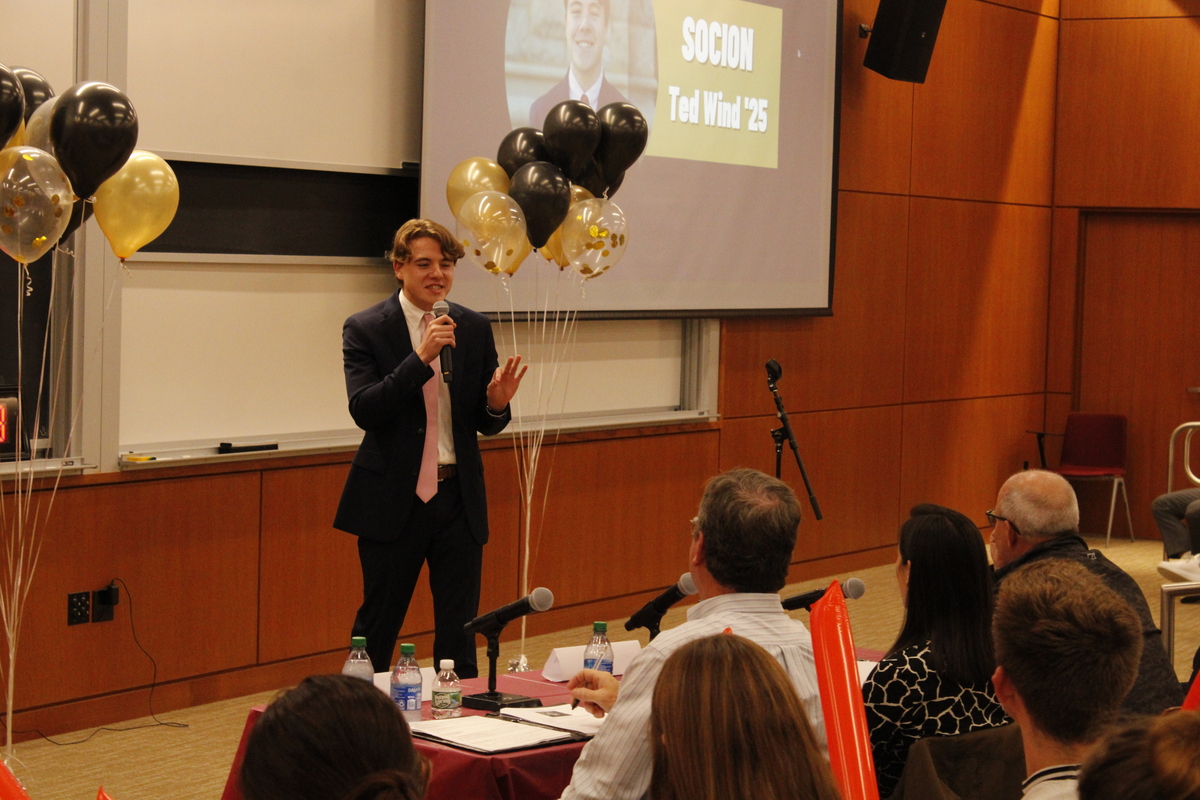 With many front-row supporters cheering him on, Ted Wind, a Carroll School sophomore, earned the "crowd favorite" title. Inspired by a recent conversation with Meagan Loyst '19 at Solstice—Boston College's Entrepreneurship Conference—Wind spoke about the importance of influencer marketing. His platform, Socion, aims to connect businesses with influencers who are interested in marketing their products under fair contracts. Wind left the competition with the audience's favor and a $200 prize. 
The Elevator Pitch Competition is one of the two major competitions hosted by the Shea Center. "Students do not have to have a full blown business plan, but just need to apply with an idea. The pitch itself is a student's chance to see if they can be engaging with the audience and get others excited about that idea," said Renda.
After the Elevator Pitch Competition, she added, "we then encourage students to apply to our accelerator program, which is a 10-week bootcamp to help them progress from that idea phase to the actual launch phase, leaving them in a great position to apply to the Strakosch Venture Competition and compete for larger prizes to fund their business." At the end of the year, the students with the top ten business plans will present their company to a panel of judges at Strakosch, competing for cash prizes of up to $10,000.