Updated: December 6, 2023 
Originally published in the inaugural edition of Carroll Capital, the print publication of the Carroll School of Management at Boston College. Read the full issue here.
Luke Kuechly '15 has racked up plenty of accolades for his sportsmanship. In fact, he's the most decorated defensive football player in Boston College history—a distinction that has landed him a spot in the College Football Hall of Fame. Kuechly is the eighth Eagle player to grace the Hall of Fame after being inducted on December 5.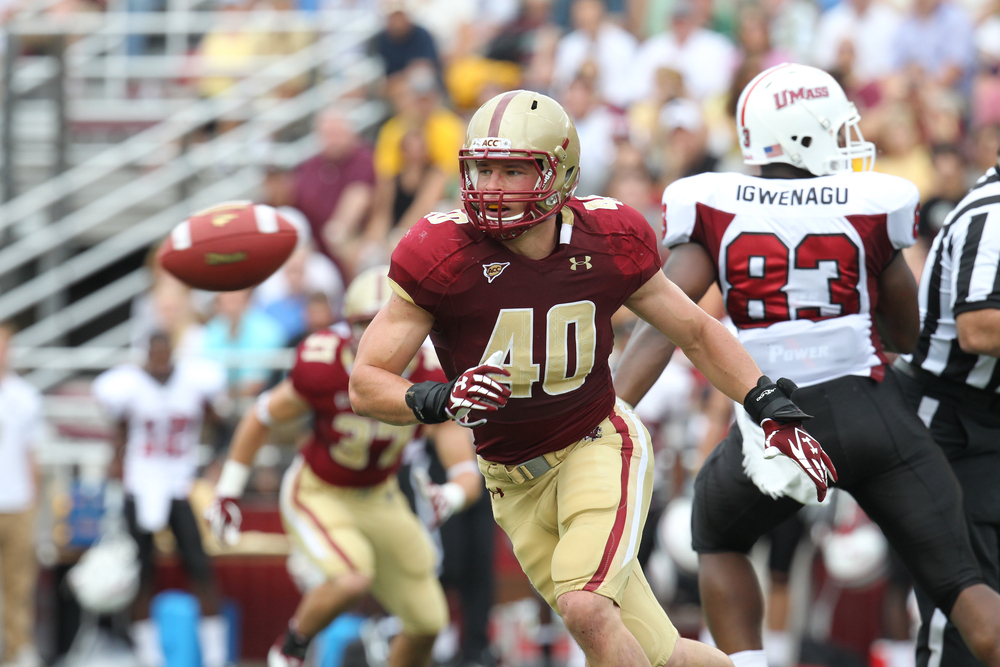 During his collegiate career, Kuechly amassed the second-most tackles in National Collegiate Athletic Association record books—he's also Boston College's all-time leader in career, solo, and single-season tackles. He was the ninth pick in the 2012 NFL draft, leaving Boston College early to join the Carolina Panthers. Yet earning his degree remained important to Kuechly. In the off-seasons, he advanced toward the baccalaureate end zone, completing his final classes before graduating in 2015 with a marketing concentration.
He spent eight seasons with the Panthers before retiring in 2020. In that time, Kuechly was named Defensive Rookie of the Year and Defensive Player of the Year, and played in five Pro Bowl games. He is still with the Panthers organization as a scout and radio broadcaster.
"I loved my time up at Boston College," says Kuechly. "It's a special place and this recognition wouldn't have been possible without those people."
The Boston College players previously inducted into the College Football Hall of Fame include Mike Ruth '85, Doug Flutie '84, Mike Holovak '42, George Kerr '40, Gene Goodreault '40, Chester S. Gladchuck Sr. '40, and Charlie O'Rourke '40.