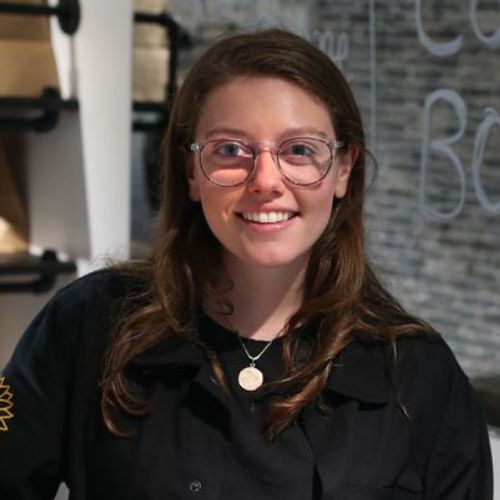 It all started with some delicious Spanish ham. As Gilli Rozynek '20 journeyed across Spain during her semester abroad during junior year, she made sure to sample plenty of the regional variations of meat and cheese. Inspired by all the delicious things she was eating, the marketing major and applied psychology minor started snapping photos of her snacks and sharing them on her Instagram—or as she calls it, her "Insta-ham" account—so her friends and family back home could see.
What she didn't realize then was how this enthusiasm for snacking would turn into a thriving—and delicious—business when she co-founded Kured, a quick-service charcuterie store focusing on high-quality, locally sourced products.
When Rozynek returned to Massachusetts, she kept up the Instagram account, photographing the meat and cheese plates she would make at home. She emphasizes that the process was primarily for fun—she had a full-time marketing analyst job lined up for after graduation. But when she and her classmates were sent home from campus in March of her senior year due to COVID-19, Rozynek started wondering if she was following the right professional path.
One day that spring, while scrolling through LinkedIn, a post advertising SSC Venture Partners' summer accelerator program caught her eye. Founded by Boston College alumni, SSC Venture Partners is a venture fund and mentor network specifically for startups by Boston College students, alumni, and employees. The group's summer accelerator program offers workshops, one-on-one coaching, and $10,000 in seed funding to help early-career entrepreneurs get their business ideas off the ground. Rozynek knew she wanted to do something creative and she started pondering if there was a way to develop her charcuterie hobby into a business concept. 
To apply for SSC's accelerator, she needed to write a business plan so she started brainstorming. "Kured started as being the Edible Arrangements for charcuterie," Rozynek says, laughing. That pitch was enough to get her accepted into the program, where participants are expected to be working on their business concepts full-time. "I definitely wouldn't be where I am today without SSC. I spent the summer of 2020 slinging meat bouquets in my parents' kitchen," she says, all while learning the pain points of e-commerce and delivery services.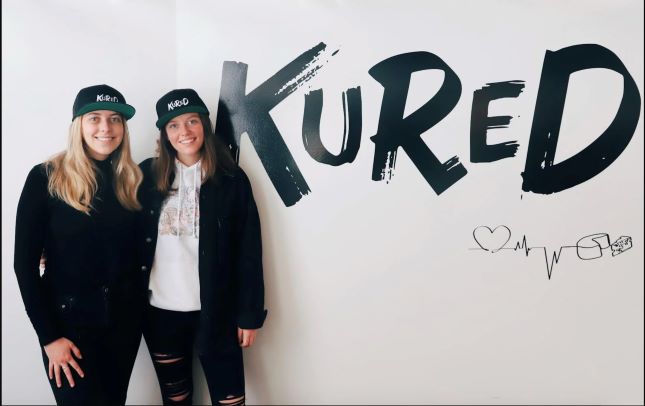 "What I came to realize is that to be a truly scalable food business, people need to trust your product," she says. "To me, trust in food means freshness. That might mean going into a place and seeing a chef cook and having that transparency." That's when her business idea started to change shape and she began to instead envision a brick-and-mortar shop where customers could get on-demand charcuterie boards in a similar fashion to ordering at Chipotle or Sweetgreen. 
Eager to immerse herself in the industry she was so interested in, she even spent time as a cashier in a local butcher shop. By late spring of 2021, Rozynek had joined forces with Morgan Biles (MCAS '21), who serves as Kured's co-founder and heads up the company's marketing, social media, and partnership efforts. Together, they opened the doors of Kured's first shop in Beacon Hill that June. 
Much of Kured's business is driven through organic marketing tactics, like the company's Instagram and TikTok accounts where the team is quick to hop on social media trends. The playfulness of their marketing pairs well with the personalized flair that infuses the store. "I'm super passionate about working with local artists and farmers," Rozynek says. Seasonal installations from local artists can be found adorning the walls of the Beacon Hill shop and customers have their pick of any number of regional products, including everything bagel-seasoned goat cheese from Westfield Farm in Central Massachusetts and Sidehill Farms jams, made in Brattleboro, Vermont.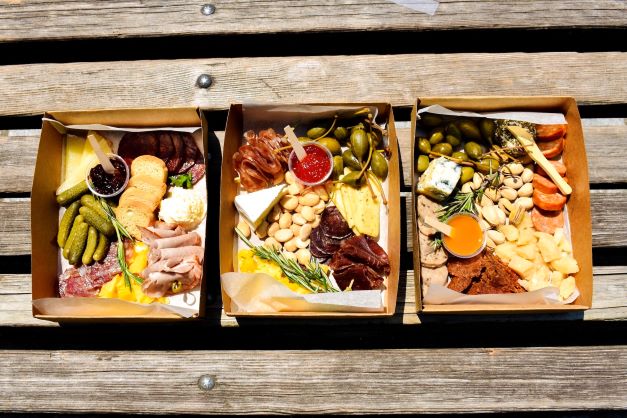 Kured's robust catering business is a big part of the reason Rozynek feels the business is outgrowing its Beacon Hill shop. On top of this, Kured also routinely does pop-up shops around the city. They have been a featured vendor at Time Out Market, the Ombrello pop-up at The Superette in the Seaport, and the SoWa Winter Festival.
Meanwhile, Kured's second brick-and-mortar location opened in New York City's Greenwich Village in early December. "We have such a good read on the Boston market now and New York has such a diverse culture and foodie scene," she says. "We think the concept for Kured will fit in really well there."

To help with this new chapter of her business, Rozynek is trading her Boston address for a Brooklyn one and will act as the main point person for the new shop—all part of Kured's commitment to really engaging with the local market. "It feels a bit daunting," Rozynek says of expanding the business to a new city. "It's a completely new market so in some ways I have no idea what to expect, but that's also the exciting part. It's an adventure!"