Caroline Shannon, MCAS '24, didn't know what to expect when she applied to the Joseph E. Corcoran Center for Real Estate and Urban Action's summer internship program, but she hoped it was a chance to combine her interest in housing issues with a commitment to doing good for others. By the end of the summer, she got her wish: Shannon co-authored a new policy proposal that could drastically improve the lives of homeless Bostonians and the quality of life for other city dwellers.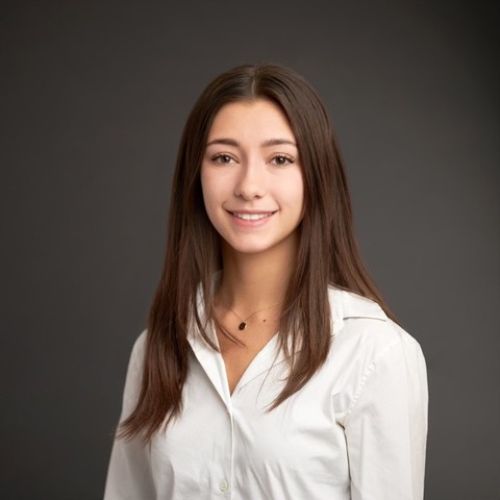 After being accepted into the Corcoran Center's annual internship program, Shannon and 24 other students from across Boston College were matched with high-impact government, nonprofit, or mission-driven organizations around Boston for a 10-week, paid placement. The students also received real estate and urban development training, while going on field visits to affordable housing sites. Shannon, a political science major who hopes to go to law school after graduation, told the Corcoran staff she wanted to immerse herself in a significant project. She was assigned to the Newmarket Business Improvement District (BID).
"When I got my placement, I honestly didn't know what [Newmarket] was," Shannon admits, but the more she learned about Newmarket, the more eager she was to get involved.
A business improvement district is a defined area where local businesses pay additional taxes and fees to fund important projects within that neighborhood—Newmarket's location near Route 93, the Mass Turnpike, and Logan Airport puts the group at the heart of a once-vibrant industrial corridor. Now the neighborhood is challenged by the human toll of the opioid crisis and homelessness, with many residents living on the streets around the intersection of Massachusetts Avenue and Melnea Cass Boulevard, better known as Mass and Cass.
Diving into work, Shannon found a mentor in her boss, Susan Sullivan, executive director of Newmarket Community Partners, Inc. and the Newmarket Business Association, which manages the business improvement district. "On my first day Sue gave me a tour around the neighborhood," Shannon says. "That first week was when I really got excited about the work and started to think about how I could make a unique contribution in my 10 weeks." After working in the area for more than two decades, Sullivan was more motivated than ever to find ways to support community members in great need, and Shannon was ready for the challenge.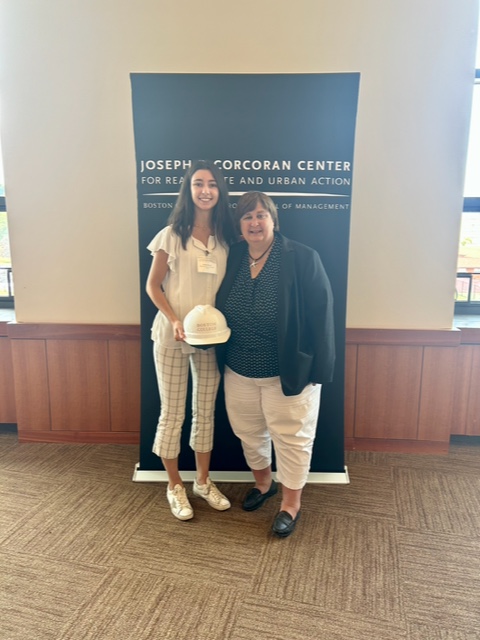 "What our office wanted to do was find a solution that will have everyone who's living down there in a safer, more humanitarian and habitable area, rather than just living in tents on the street," Shannon says, adding that part of the challenge included meeting the needs of local business owners who wanted the neighborhood to look and feel nicer. "People from our office are on those streets every day helping clean up the trash or helping get people jobs, so I think we were really some of the best people to kind of look at the problem and say, this is how we can find a solution for it."
As the summer progressed, the Newmarket BID team began to develop a thorough and ambitious initiative they called "Recover Boston." To kick things off, Shannon and her colleagues dug into research on other urban centers around the world that had grappled with the consequences of addiction and homelessness. Portugal's efforts—aimed at accommodating individuals at various stages of addiction recovery, offering services, housing, and a pathway to stability—stood out in particular.
"With a lot of the affordable housing options downtown [in Boston], you have to be sober," Shannon says. "It's really hard to get yourself off heroin when you don't have somewhere to sleep at night." She explains that the guarantee of housing, regardless of sobriety, is part of what made Portugal's plan so successful, and became a key feature of Newmarket's plan. Other elements of the plan revolved around creating a recovery campus near Mass and Cass but away from the current crisis zone. The self-contained facility would support individuals throughout their journey to recovery, from detox to reintegration into society, and would provide housing, services, mental health resources, job training, and more.
"What sets this plan apart is its emphasis on incentives rather than coercion," says Shannon. "Instead of forcing individuals into recovery, the recovery campus aimed to make recovery an attractive choice."
At the end of the summer, Newmarket BID unveiled the Recover Boston plan at a press conference, just weeks after Mayor Wu sounded what she termed a "new level of public safety alarm" over Mass and Cass. After receiving feedback from the mayor's office, city councilors, and others—including  State Representative John Moran, whose district includes Mass and Cass—Newmarket hopes to win over key stakeholders and move the proposal forward. Even after her internship, Shannon is keeping a close eye on Newmarket's next steps. It's no surprise that she earned one of two Corcoran Summer Intern Awards in recognition of her dedication to the project, which drew media coverage in The Boston Globe and other outlets.
Shannon remains upbeat. "It's something that could actually make such a huge difference, not only for the people who live down there, but everyone in Boston," she says. "It was really an incredible feeling to know that I had worked on this thing that is so important to me and that it's something that could be implemented and save so many lives."