"We created this app a year ago when we realized that there was one main problem when we wanted to go out to eat: no one wanted to put their card down," shared Jay Wadhwa '24, when pitching to an auditorium full of Boston College students, alumni, and community members eager to support student entrepreneurs.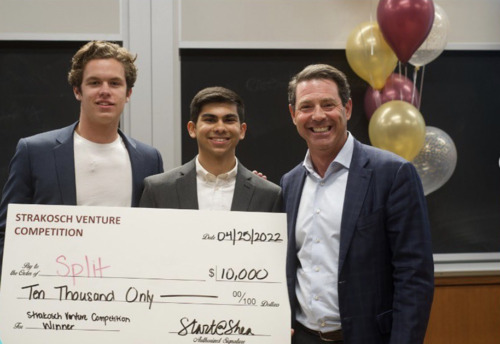 After chuckles from the audience and judges, Wadhwa and his fellow co-founder Jorge Dickens '24 continued their high-energy presentation on Split—a mobile app that pays for a group's bill and gives each member 24 hours to pay their portion. Initially used within their friend group, Split grew exponentially in its first two months to the point where an influx of 2,000 active users crashed the app. Now, with 6,000 members on the registration waitlist and $15,000 in seed funding, Wadhwa and Dickens are looking forward to launching Split 2.0 in June.
The team's plan and presentation won them the first place prize of $10,000 at the 2022 Strakosch Venture Competition, hosted last month by Start@Shea, the student executive team of the Edmund H. Shea Jr. Center for Entrepreneurship.
Split was one of the seven teams that presented their business plans to a panel of judges, who assessed them on their teamwork, identification of an industry problem, their proposed solution, go-to market strategy, and the feasibility of their plan. Each team had four minutes to present their business, followed immediately by six-minutes of probing Q&A by three Boston College alumni judges: Joe Popolo '89, Jason Krantz '95, and Katie Diasti '19.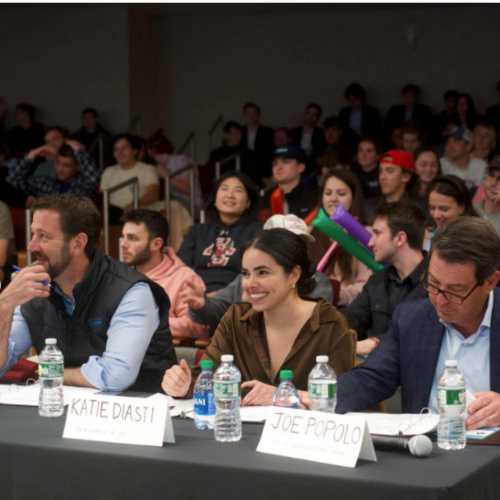 The competition moved fast and started with a presentation by Arthur Brenninkmeijer '22 of SpotDrop, a social media platform for foodies. SpotDrop grants users a platform to discover new restaurants and eateries through friend recommendations. After forming a partnership with the restaurant reservation app OpenTable, SpotDrop is currently working on building their user base. The app already has over 300 active users, without any money spent on marketing. 
Following this, Matthew Klein '25, Matthew Gordon '25, and Ryan Repka '25 presented Grapher—a platform where users can buy and sell authentic autographs. During questioning by the judges, the trio noted that their platform emphasizes building loyalty and trust with their customers to ensure that they are not paying more than the item is worth. 
Gianna Jarmain '23, Jack Russell '23, and Rhett Somers '23 followed with their collaborative music platform MCEE, which aims to "get rid of the DJ" and allow users at a party to request a song to be played. Those with the app then upvote and downvote on the list of songs, and the most upvoted song in the queue automatically plays. This app allows users to "crowdsource" their music, grants partiers greater control in the music process, and alleviates pressures on the host.
 Inspired by a change in NCAA policy that allows athletes to monetize their name, image, and likeness, Kevin Harrington '24 and Blake Kiefer '24 launched Athlete Pass. On this website, users can pay for exclusive content from their favorite athletes, such as workout videos, diet plans, and recipes. When asked what makes their product competitive in the subscription-based content industry, Harrington and Kiefer emphasized that brand identity is central to Athlete Pass, unlike in other platforms. Athletes have to apply to access the site, and the process is "highly selective," accepting only elite, professional, and other athletes with large followings.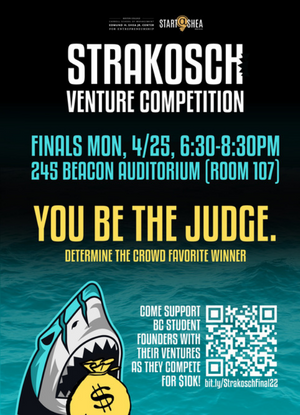 Charles Swift '25 and Charles Gambuzza '25 presented the next stage in festival safety through their company Adrenoline. Adrenoline offers state-of-the-art drones equipped with "optical zoom camera and thermal vision" to livestream festival footage to police and security. These drones will help increase awareness and visibility if any safety issues arise in a crowd, and will alert police quickly to help create a safer environment.
"You guys are much smarter than me when I was in college," joked judge Popolo, after hearing Hailey Wilcox '23 and Jack Moffatt '23 pitch their company DeFi-Able.DeFi-Able is a venture in the web3 space, a term that refers to the new internet service based around the use of decentralized blockchains. The app seeks to solve for the lack of data analytics or market trends in the industry.
DeFi-Able uses their software to gather and analyze data on NFT portfolios and provides traders with real-time, accurate data to inform trading decisions. What makes their platform unique, Wilcox said, is that their algorithm does not determine an NFT's value simply based on the last price that it was sold for. Their evaluation tracks factors like trading volume, price, and momentum to catch volatile scams and rug pulling schemes—a particular type of fraud in the cryptocurrency industry that involves unethical trading practices, leaving buyers with worthless tokens.
Following the seven presentations, the judges deliberated while the rest of the audience voted by QR code on the crowd favorite business of the night. Popolo announced the top four pitches, with Split winning the first-place prize of $10,000, DeFi-Able taking home $5,000 for second place, SpotDrop coming in third place with a $3,000 award, and MCEE walking away with the title of "crowd favorite" and a $2,000 check.
The event, which brought out close to 200 students and others on the evening of April 25, took place in Boston College's new integrated sciences building, which now houses the Shea Center.