Students brought their big ideas to the table at this year's Elevator Pitch Competition
"When can I buy one?" Jeremy Gall '96, CEO at Breezeway, inquired after Jack McConnell '24 gave his 60-second pitch for Katch, an innovative package lockbox.
With a chuckle, McConnell began to outline his product's introduction to the market. His confident and professional pitch won him first prize and $600 at the annual Elevator Pitch Competition hosted by Start @ Shea, the student executive board of the Edmund H. Shea Jr. Center of Entrepreneurship. 
McConnell was one of 10 students selected out of 26 total participants to advance to the final in-person presentations. After going virtual last year, the competition returned in full force with a lively and responsive audience, plenty of refreshments, and even an intermission performance from Boston College a cappella group The Heightsmen. 
The finalists were each given 60 seconds to pitch an original product idea, followed by a 60-second question and answer session from a panel of five judges composed of Boston College alumni (see photo below). They offered up knowledgeable questions to each presenter, asking things like "how do you plan to monetize this?" and "who are your competitors?" The fast-paced nature had everyone in the Heights Room on the edge of their seats and at the end of the evening, cash prizes were awarded to the top three finishers and the crowd-favorite awardee, voted on by the audience via QR code.
1st Place:
Katch
McConnell, a Carroll School student with concentrations in management and leadership and entrepreneurship, as well as a chemistry major, presented his idea and digital prototypes for Katch, a package lockbox for every consumers' doorstep. Katch would ensure trouble-free deliveries from services like Amazon, FedEx and Instacart. With a one-way crab-trap door design and a side door only accessible by the owner, the lockbox has no direct competitors on the market and would come in two different sizes, depending on regular delivery needs. The Katch box is both insulated and secure, protecting packages from harsh conditions and doorstep thieves.
2nd Place:
Clipd
Second place award-winner Dominic Severo '24, a Carroll School student with finance and entrepreneurship concentrations, received $400 for pitching Clipd. Similar to Hudl, a performance analysis platform for sports, Clipd is specifically geared towards video gaming, offering one-on-one mentoring with professional gamers, a platform to share and receive feedback on personal game recordings, and a social network to connect with other gamers. Clipd targets a high-demand market: gaming continues to grow as both a recreational and professional activity.
3rd Place:
Critech
Ashmini Weerakoon '22, a computer science and biology double major from the Morrissey College of Arts and Sciences, claimed third place. Praised for her presentation skills and recognition of a clear demand in the market, Weerakoon presented Critech, a social media learning platform that teaches adolescents about privacy policies and the risks of the internet to prepare them for the future. The platform would feel and look like a social media platform, but it can be monitored by adults to help eliminate the threat of online predators. She received $300 for her win.
Crowd Favorite:
SchoolWork
Successfully charming the audience with his relatable anecdote about having his card declined while trying to buy a slice of pizza, J.P. Milbury '23 took home the crowd favorite award. His pitch for SchoolWork laid out a plan for a job platform targeting college students looking for low-stakes, part-time work to make extra cash during the semester. The Morrissey College of Arts and Sciences political science major was able to garner enough votes from his peers to claim victory and a $200 prize.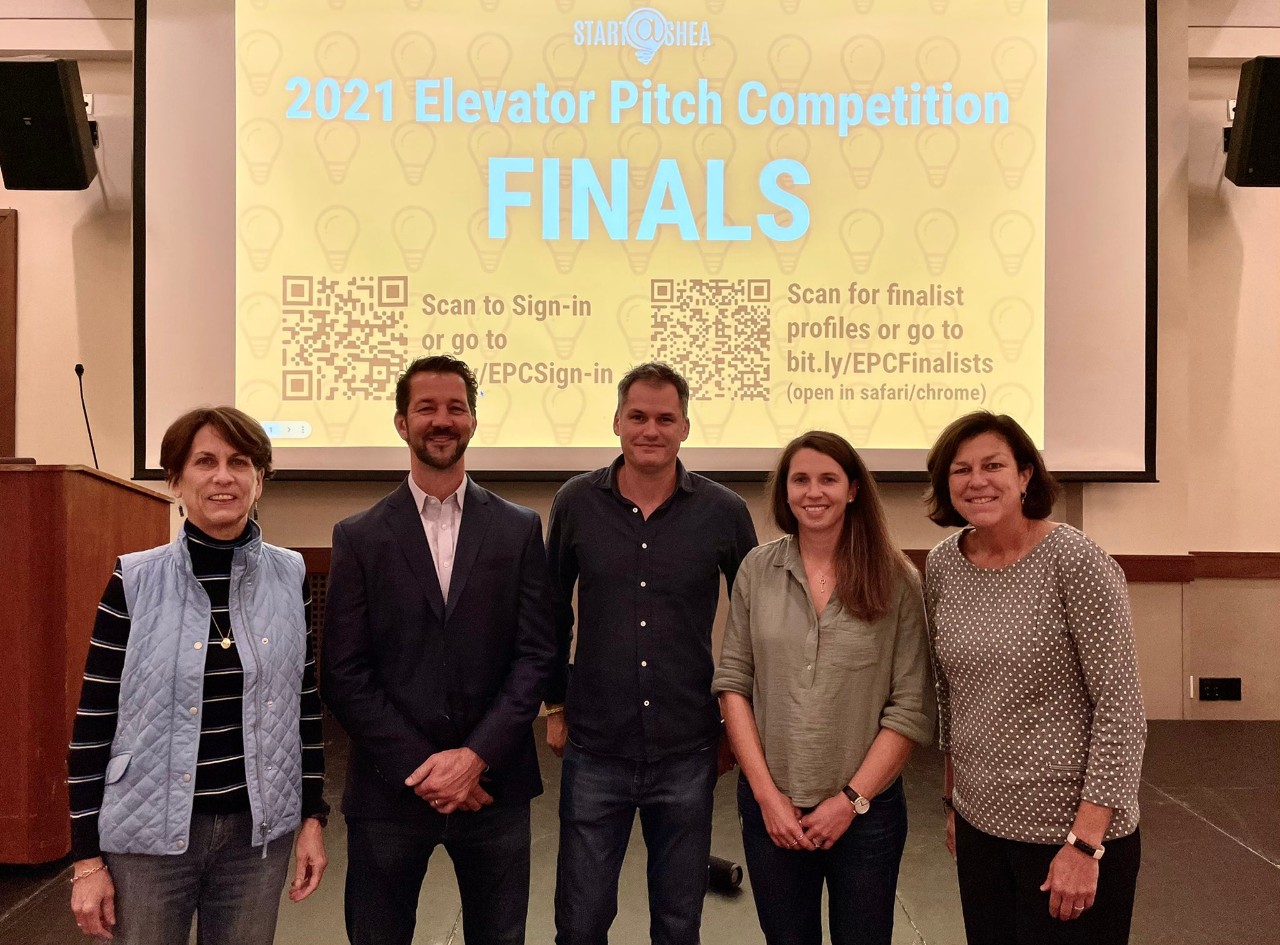 From left to right: Karen Walker Beecher '87; Jason Krantz '95, P'23; Jeremy Gall '96; Cory Munchbach '09; and Dean Amy LaCombe '90, M.B.A. '00, Ph. D. '08.
---
Ada Anderson '23 is a publications assistant in the Carroll School's communications office.
All photos via Start at Shea.