Dear Carroll School Community,
As we close out a calendar year for the ages, I want to wish all of you a joyful season, and a happy, hopeful 2021! I also want to share these photos that tell a story of 2020—a year of disruption, yes, but also amazing resilience.
I'm in awe of how our extended community—from students and faculty to alumni and parents—persevered and even thrived in the most unforeseen circumstances. It gives me reason to hope that our school, our University, and our communities will emerge stronger than ever.
All the best,
Andy
Andrew C. Boynton
John and Linda Powers Family Dean, Carroll School of Management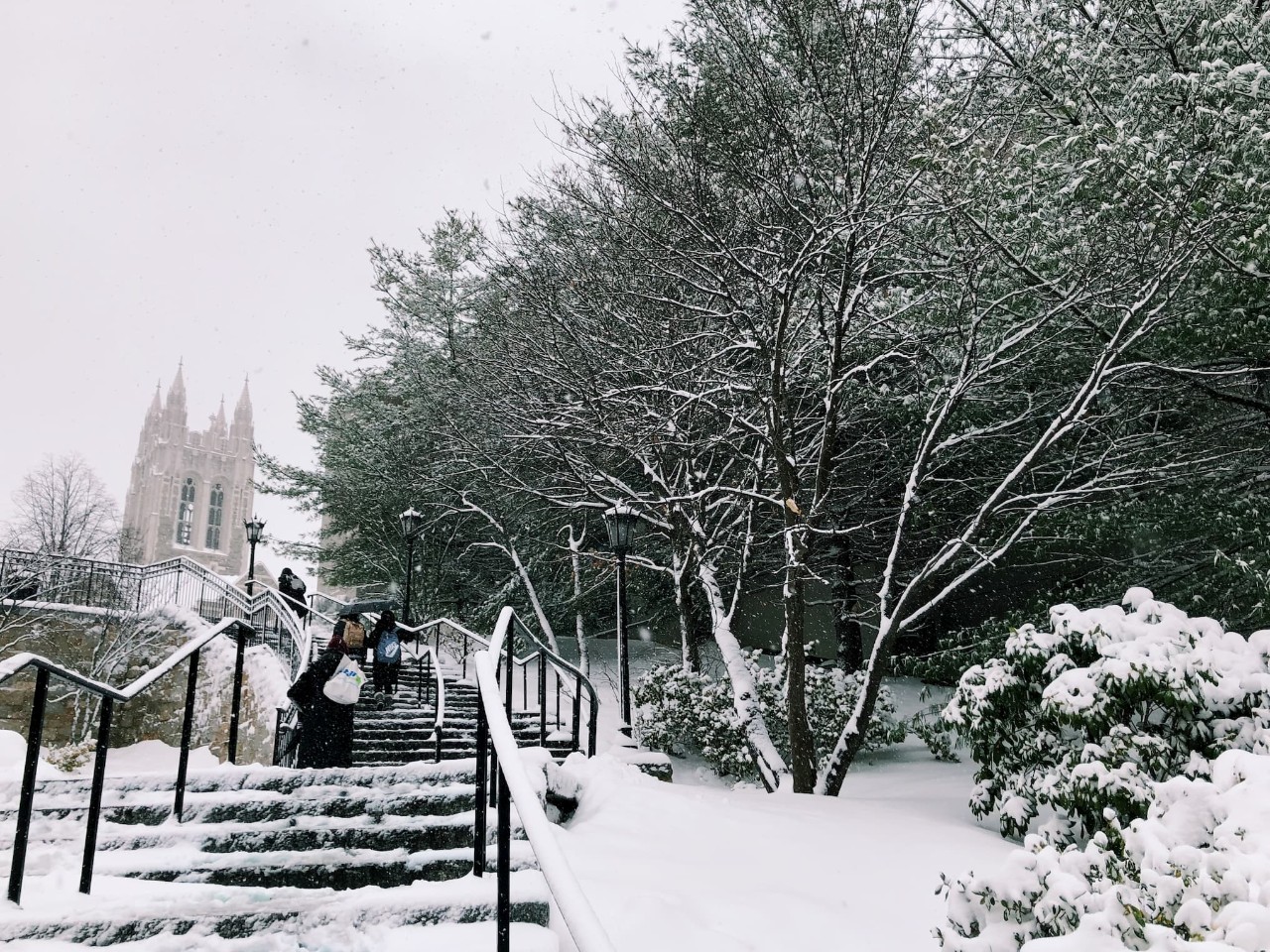 In the early weeks of 2020, prior to the onset of a life-altering global pandemic, our greatest preoccupation may have been navigating the ice on Higgins stairs. 
---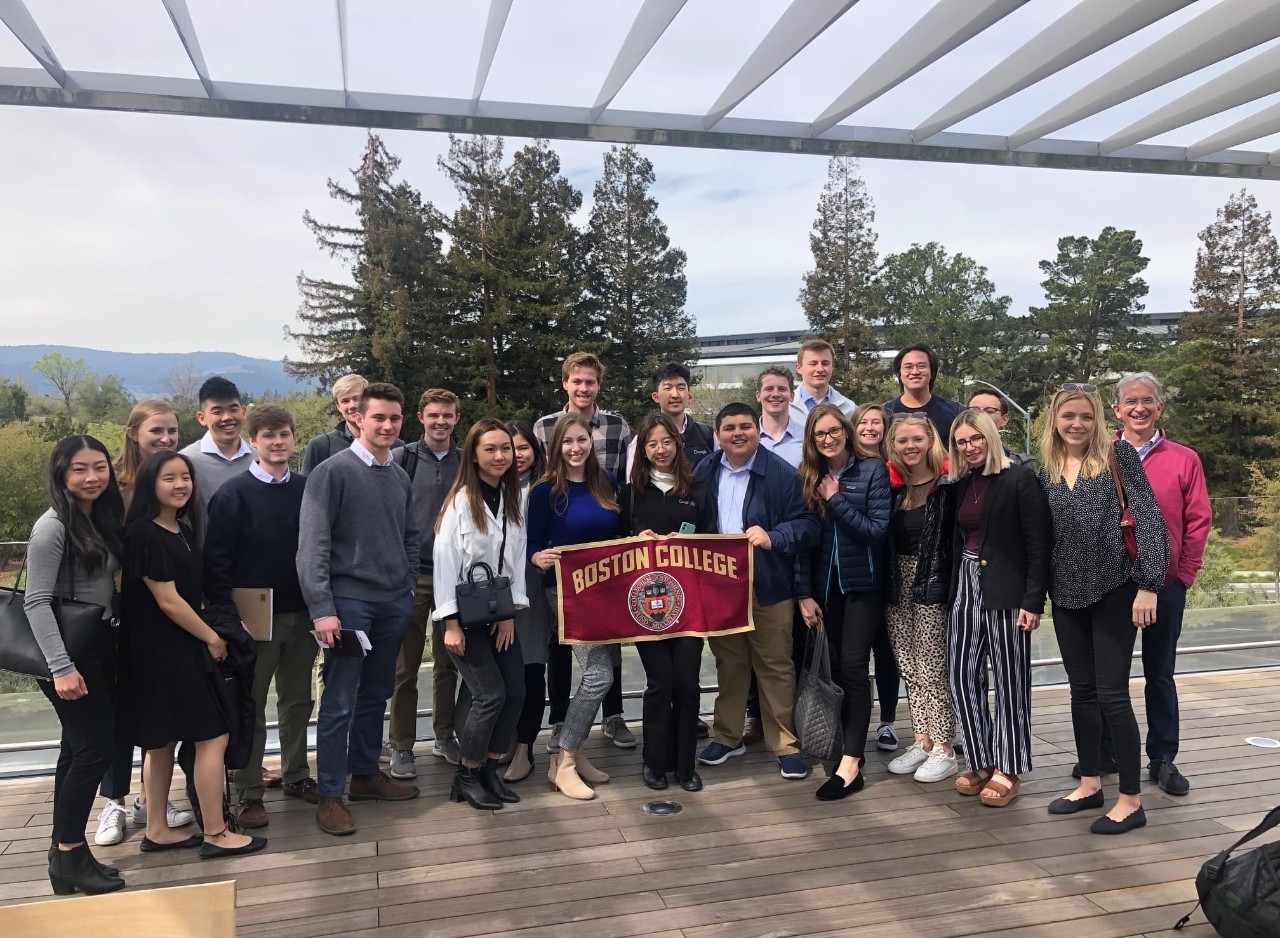 Undergraduates in the Edmund H. Shea Jr. Center for Entrepreneurship's TechTrek West course showed their school pride as they were photographed at the Apple headquarters in Cupertino, California. The group spent Spring Break in Silicon Valley, touring big-name tech companies including Apple, Google, and Salesforce, among others. But their final stop—at Facebook—was cancelled as COVID concerns surfaced on the West Coast in early March.
---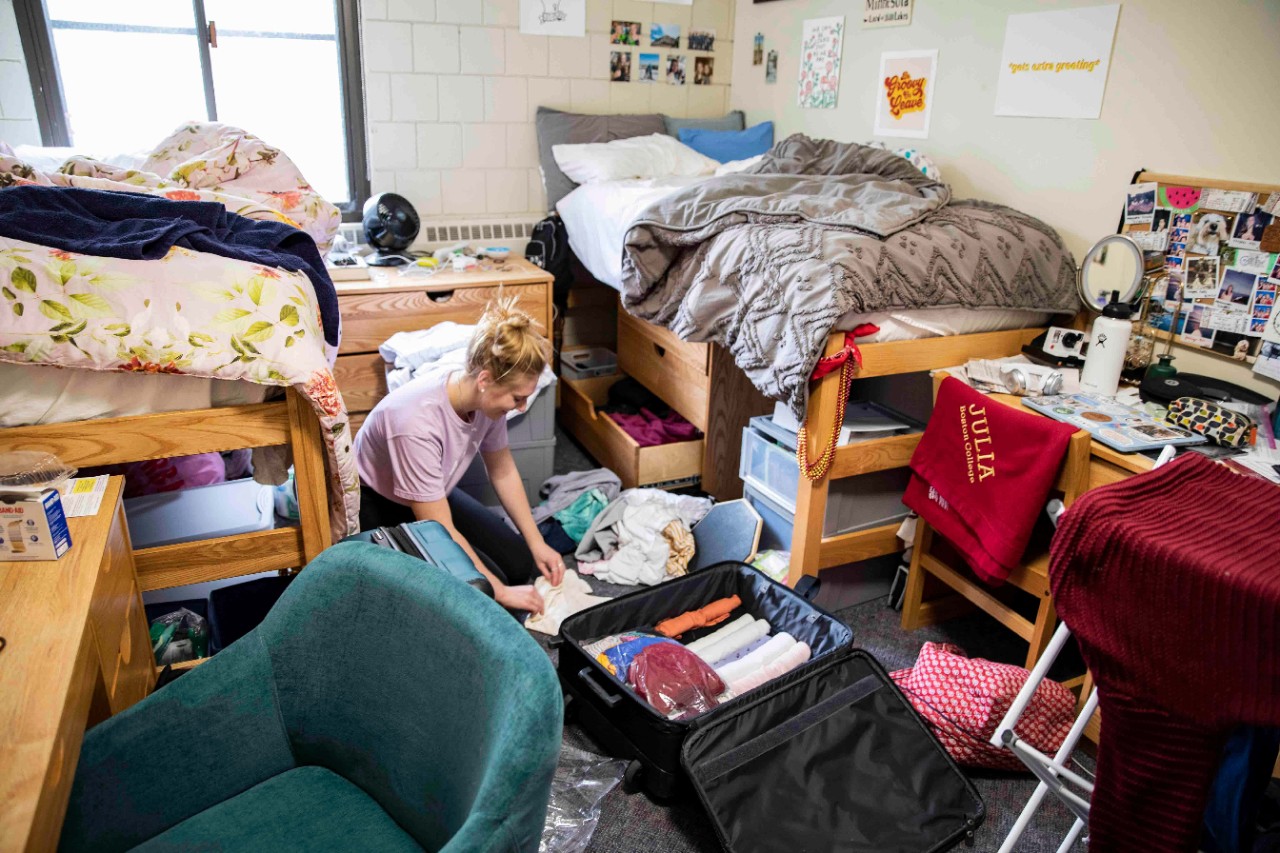 Thousands of Boston College students packed up and moved out of their dorm rooms in a matter of days, following the March 11 announcement by University President William P. Leahy, S.J., that all classes would transition online for the remainder of the spring semester. The decision came shortly after Governor Charlie Baker declared a state of emergency due to rising cases of COVID-19 in the state, calling on individuals and organizations to take whatever steps they could to limit the spread of the virus.
Image credit: Maggie DiPatri, editor of BC's independent student newspaper, The Heights
---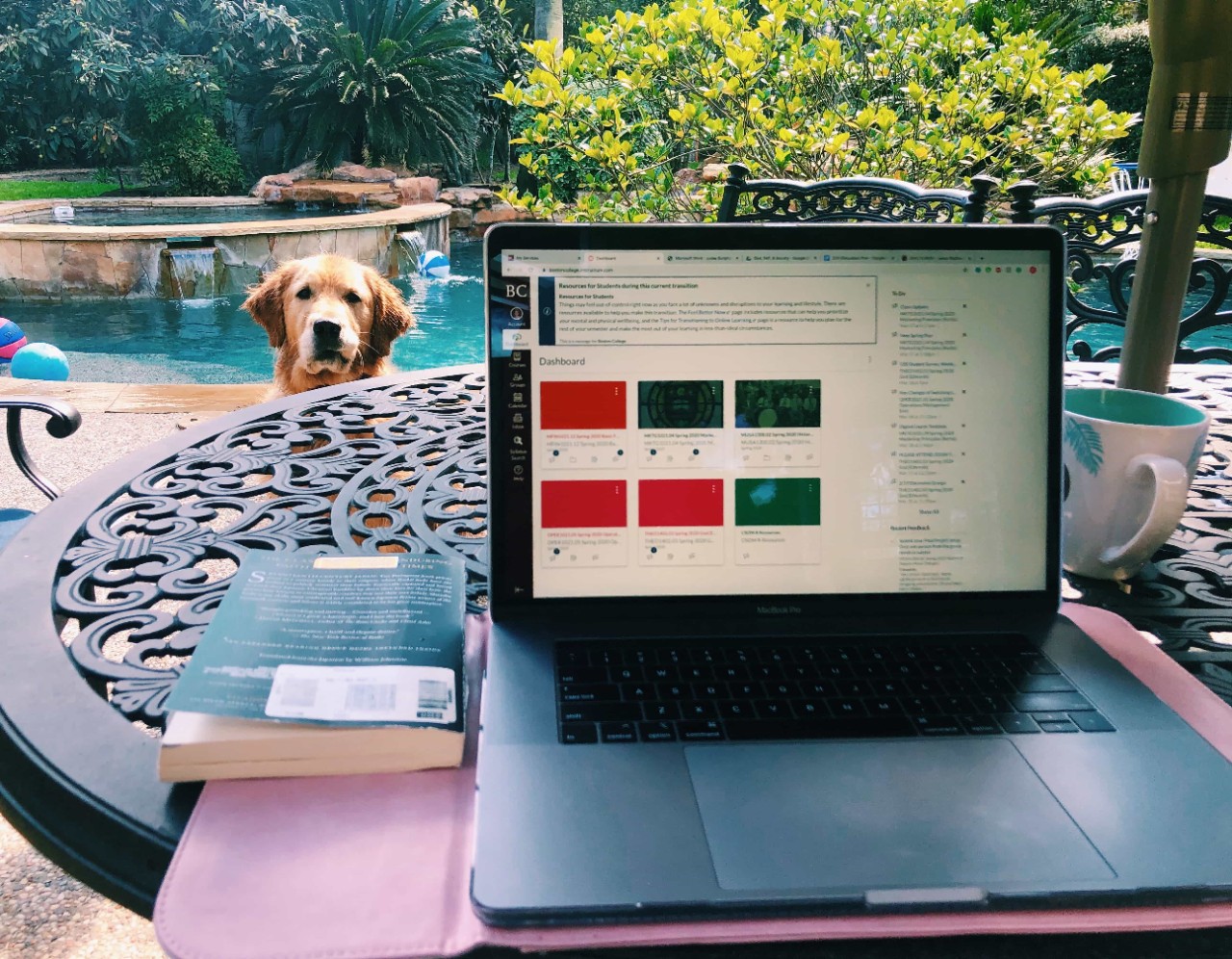 After spring classes resumed remotely, we invited students to send photos of their remote learning setups for our #EaglesAtHome Instagram series. Among the many submissions we received: Accounting student Ellie Daigle '22, who set up poolside at her parents' home in The Woodlands, Texas, where the weather was warm enough to swim in April. "I do take swim breaks between online classes," the sophomore confirmed. Joining her in her outdoor classroom was Millie, the Daigles' golden retriever.
---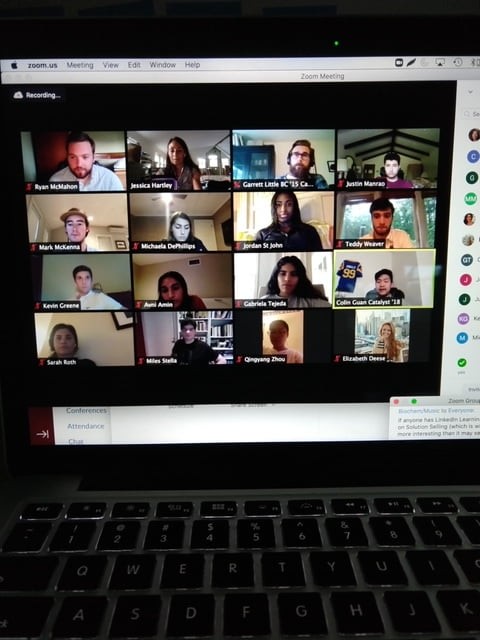 The online pivot continued past spring, as the Summer Management Catalyst Program welcomed its largest cohort ever—90 students, mostly from the Morrissey College of Arts and Sciences. Liberal arts students valued the opportunity to learn about management during quarantine (and said so, in course evaluations as glowing as ever). The Zoom image here is from a Career Networking Night hosted by Catalyst. This summer, students will be able to take the course either remotely or in person; applications open January 6.
---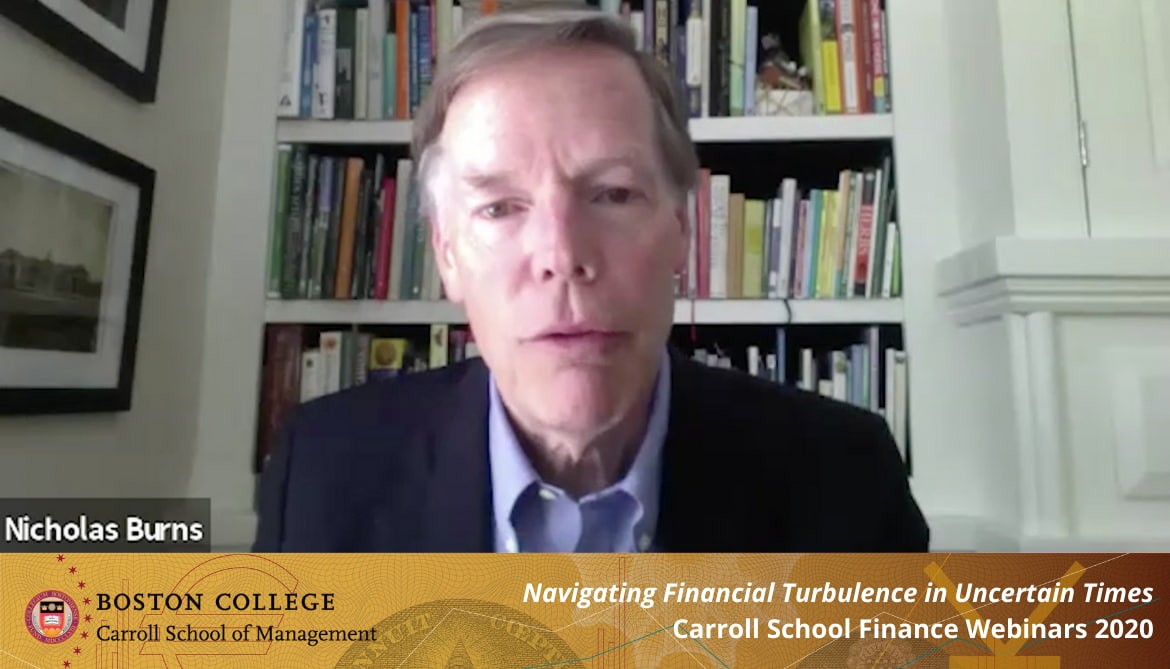 The killing of George Floyd "had an extraordinarily negative impact" on the world's opinion of the U.S., said former NATO Ambassador Nicholas Burns '78 at the first of three live webinars hosted by the Carroll School in June. Burns joined moderator Dan Holland '79 to discuss geopolitical risks and glimmers of hope in 2020. The two tackled a range of topics including climate change, foreign meddling in U.S. elections, and President Trump's response to the global pandemic. 
The webinar series, called "Navigating Financial Turbulence in Uncertain Times," was held in lieu of the school's annual Finance Conference and drew approximately 1,000 participants.
---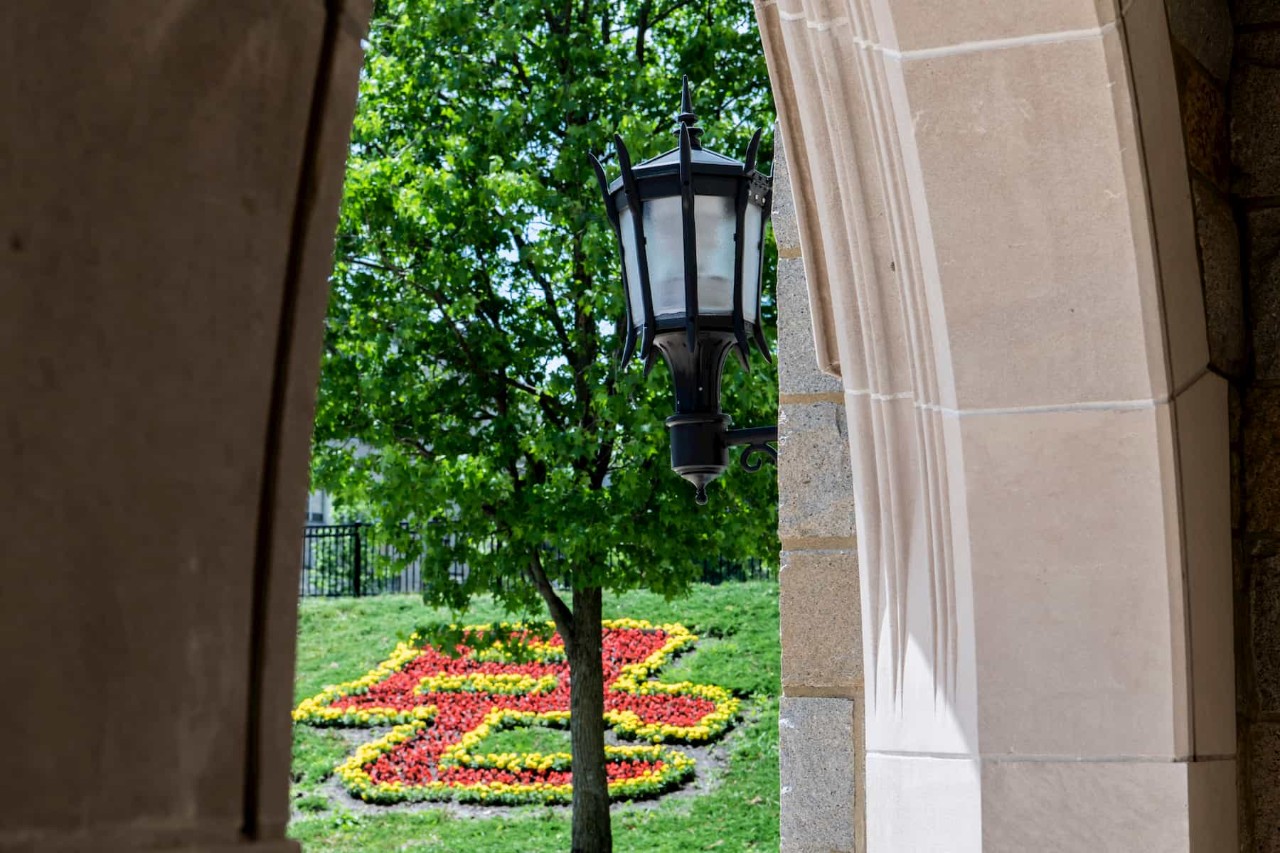 Campus in mid-summer looked as well-kempt as ever, but it wasn't quite the same without prospective students and their families touring the impeccable grounds.
---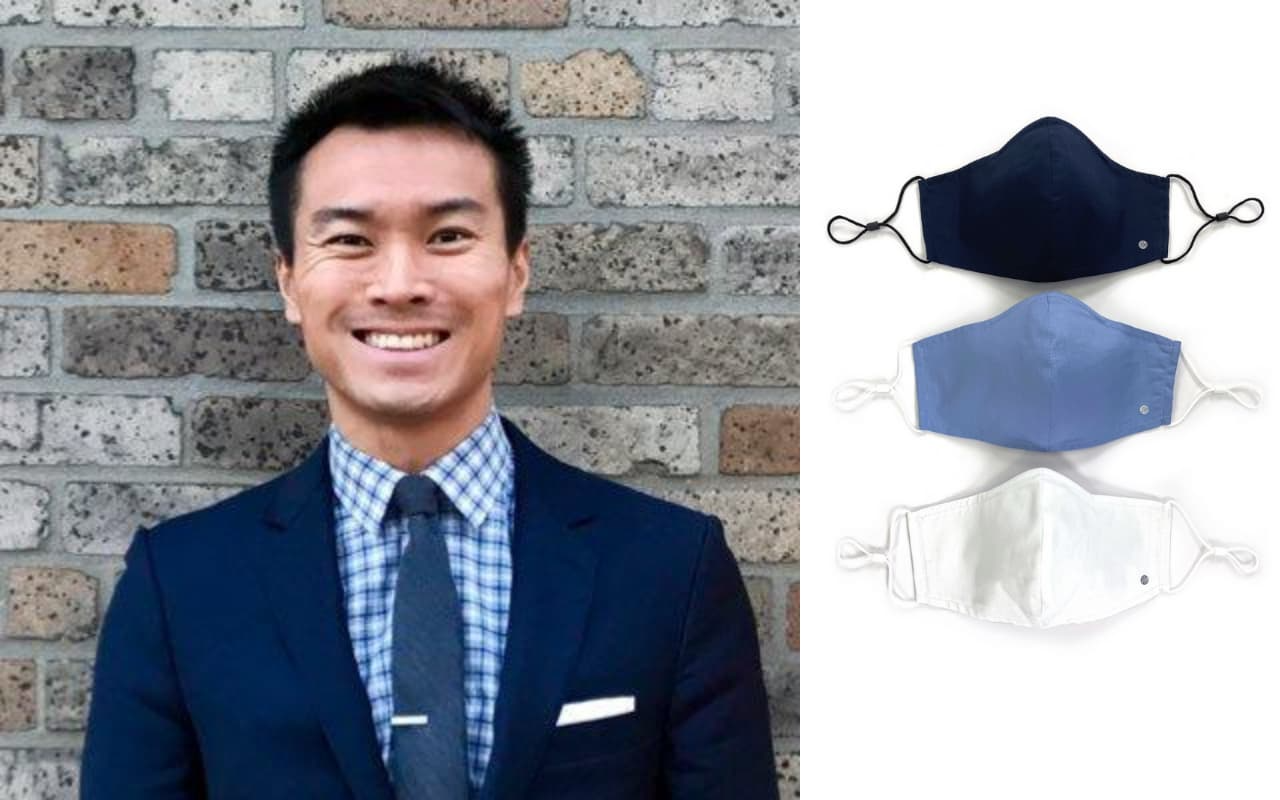 This summer, Terence To '09 helped his menswear company do well—and good—by pivoting their production to high-quality face masks in the pandemic (for both sale and donations to several schools and charities). To has continued to expand his project, and is actively prototyping custom masks for his alma mater, to be sold at BC's campus bookstore. 
---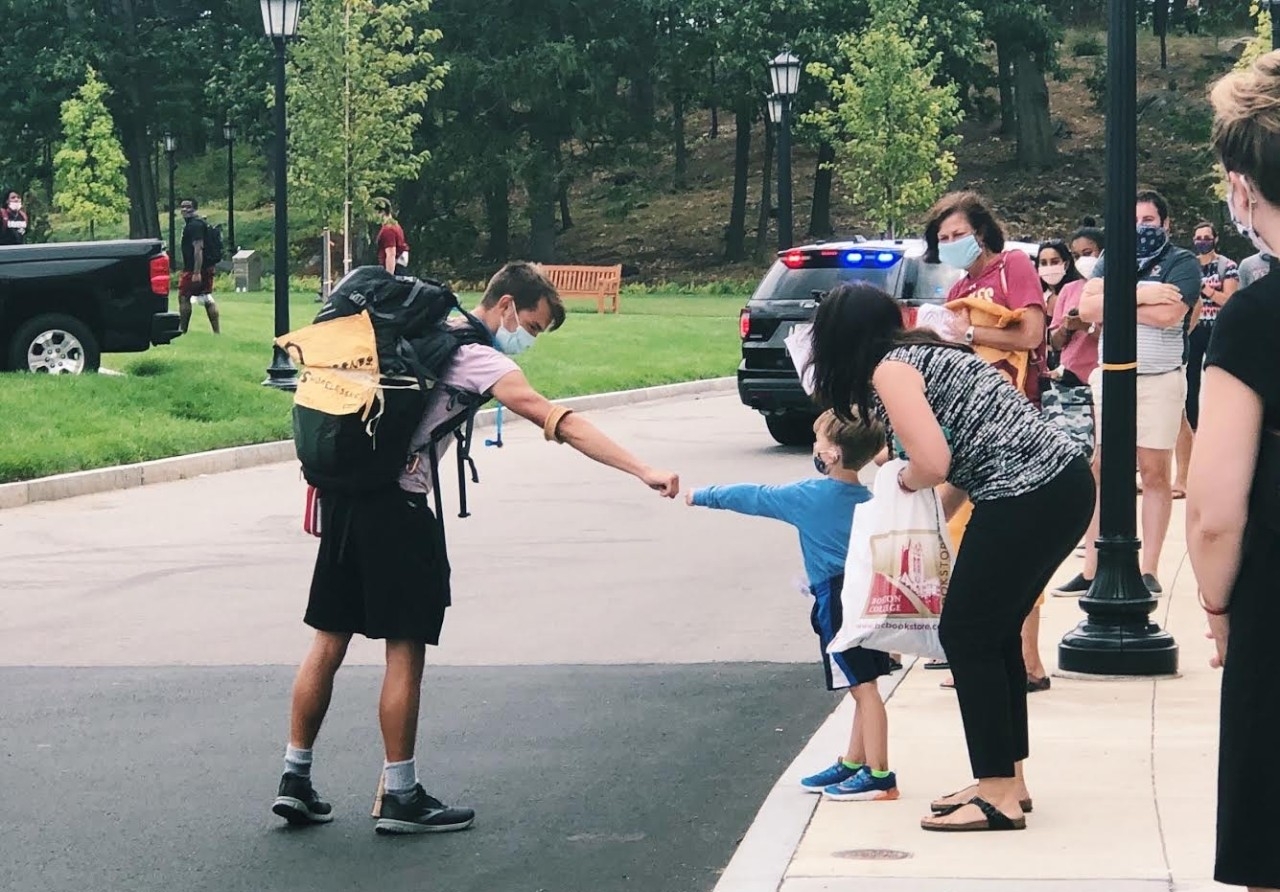 Gordon Wayne '23 attracted an audience of media reporters and Instagram fans when he arrived on campus for the start of school on August 28. Formerly homeless, Wayne walked over 500 miles to Boston College from his home in Virginia in an effort to raise awareness and funds to combat homelessness. The sophomore's trek was featured on ABC World News Tonight with David Muir, and has raised nearly $170,000 for the National Alliance to End Homelessness.
---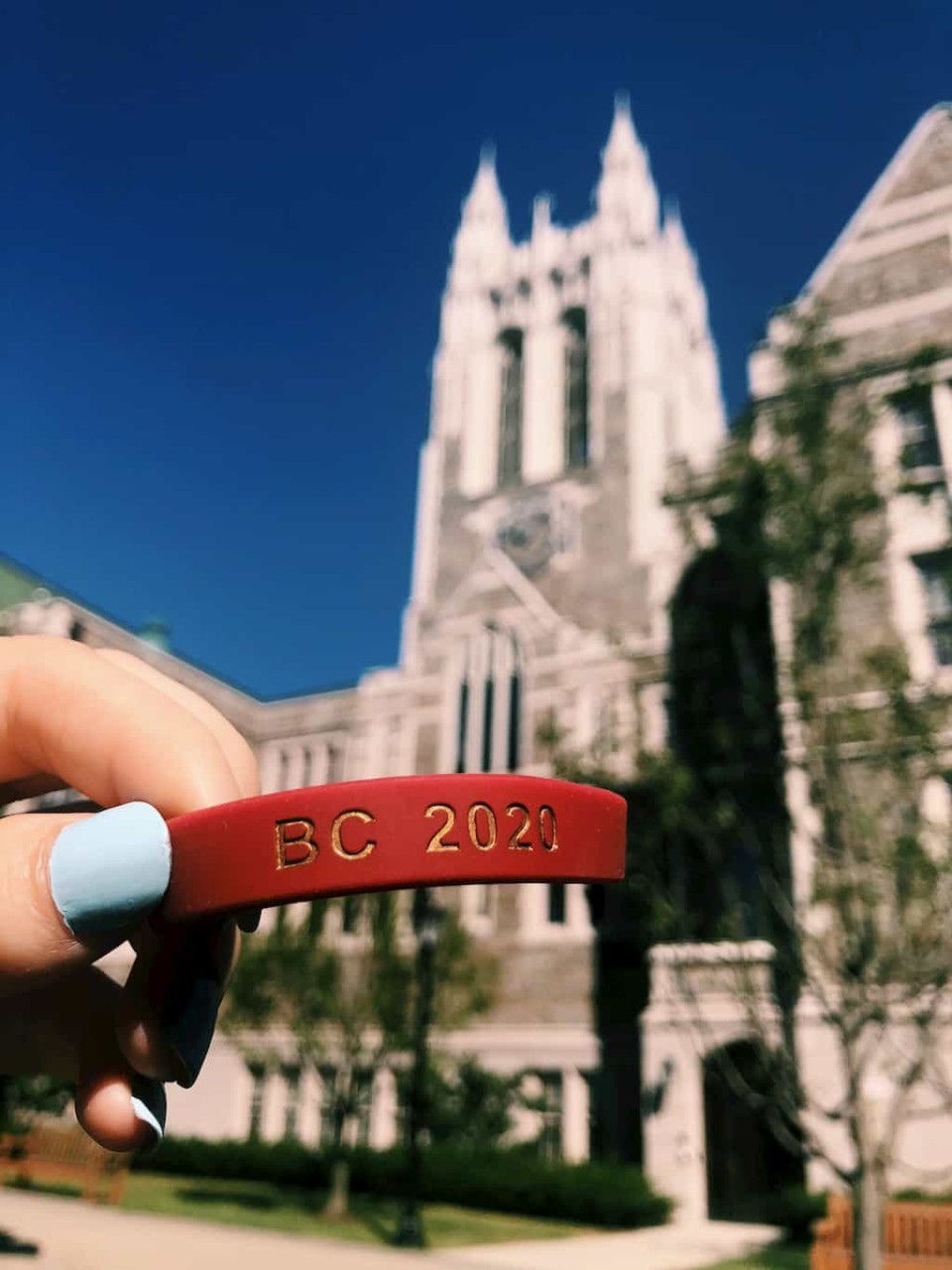 These bracelets were distributed to Boston College faculty, staff, and students who received tests for COVID-19 upon their arrival on campus for the start of school. For a two-week period, the bracelets were a required accessory.
---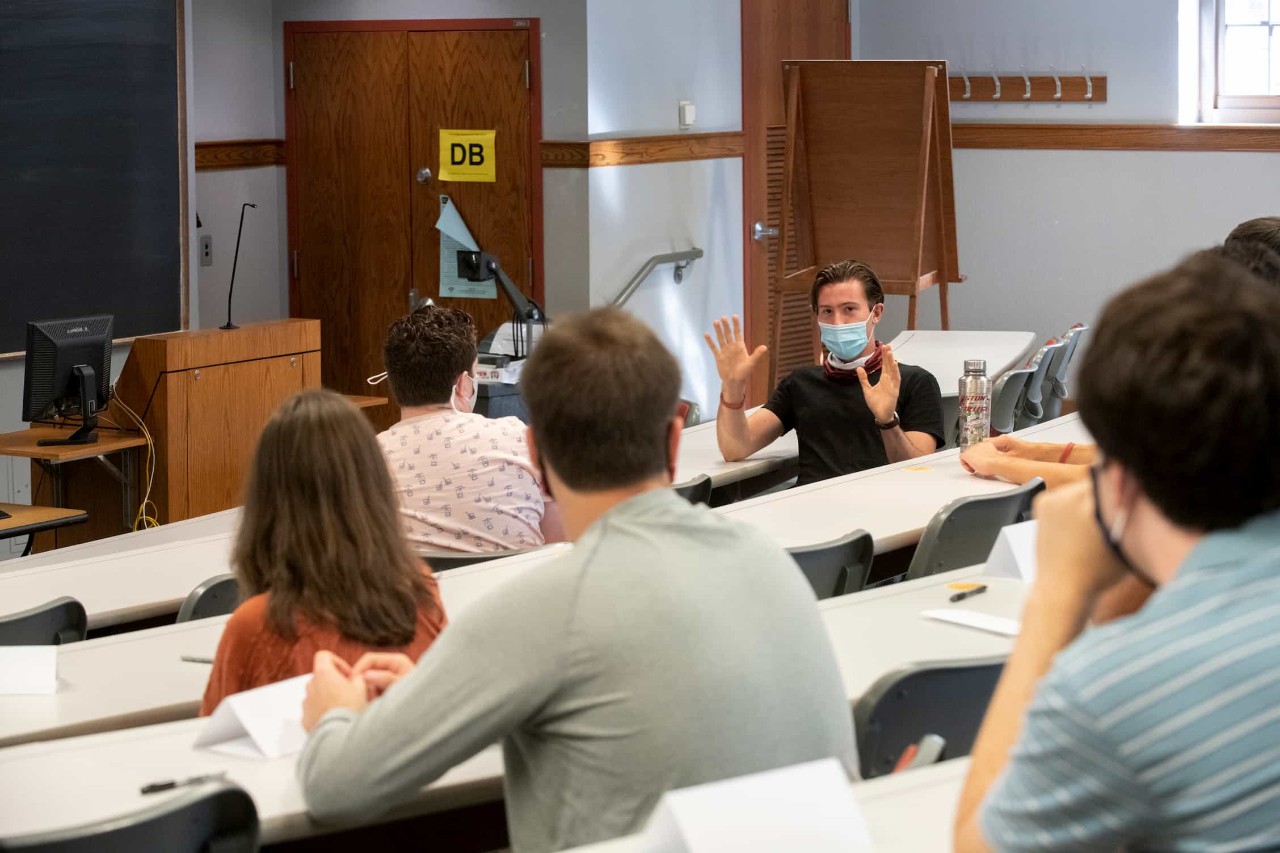 Thanks to small class sizes, 40 percent of the Carroll School's undergraduate courses have been held fully in-person this fall—albeit with strict seating charts and mask mandates. Another third adopted a hybrid "hopscotching" approach, alternating between in-person and virtual class meetings to reduce classroom occupancies.
Faculty continued meeting regularly (and virtually) throughout the fall to exchange tech tips and share best practices for this new mode of teaching. On these Zoom calls, the complexities of hybrid teaching emerged, as professors problem-solved everything from splitting their monitor screens to supporting stressed-out students from afar. The lessons from these meetings have since been translated into online trainings for faculty teaching remotely for the first time next spring.
---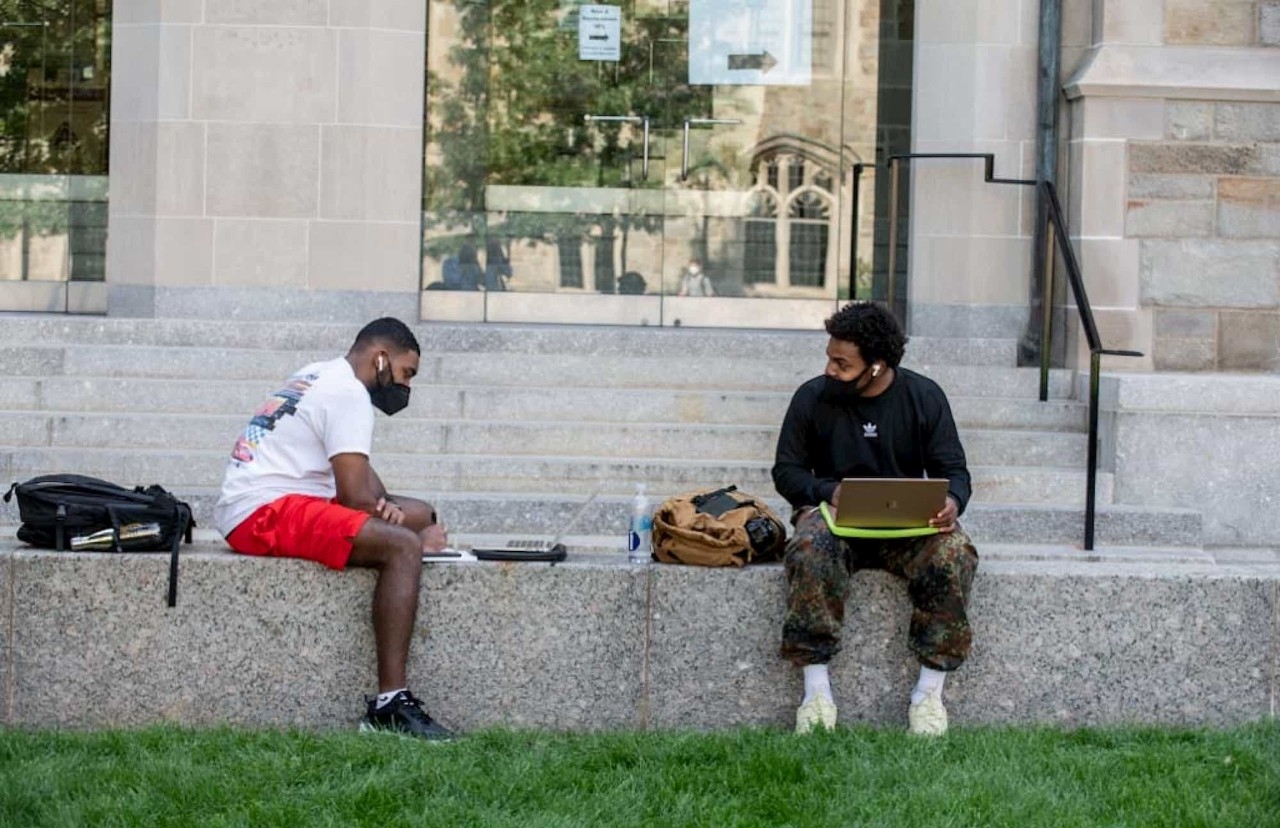 Students took advantage of autumn's pleasant weather for studying, socializing, and even meeting with their advisors outdoors.
Thanks to a diligent testing strategy and the community's commitment to #KeeptheHeightsHome, Boston College students were able to spend their entire fall semester on campus.
---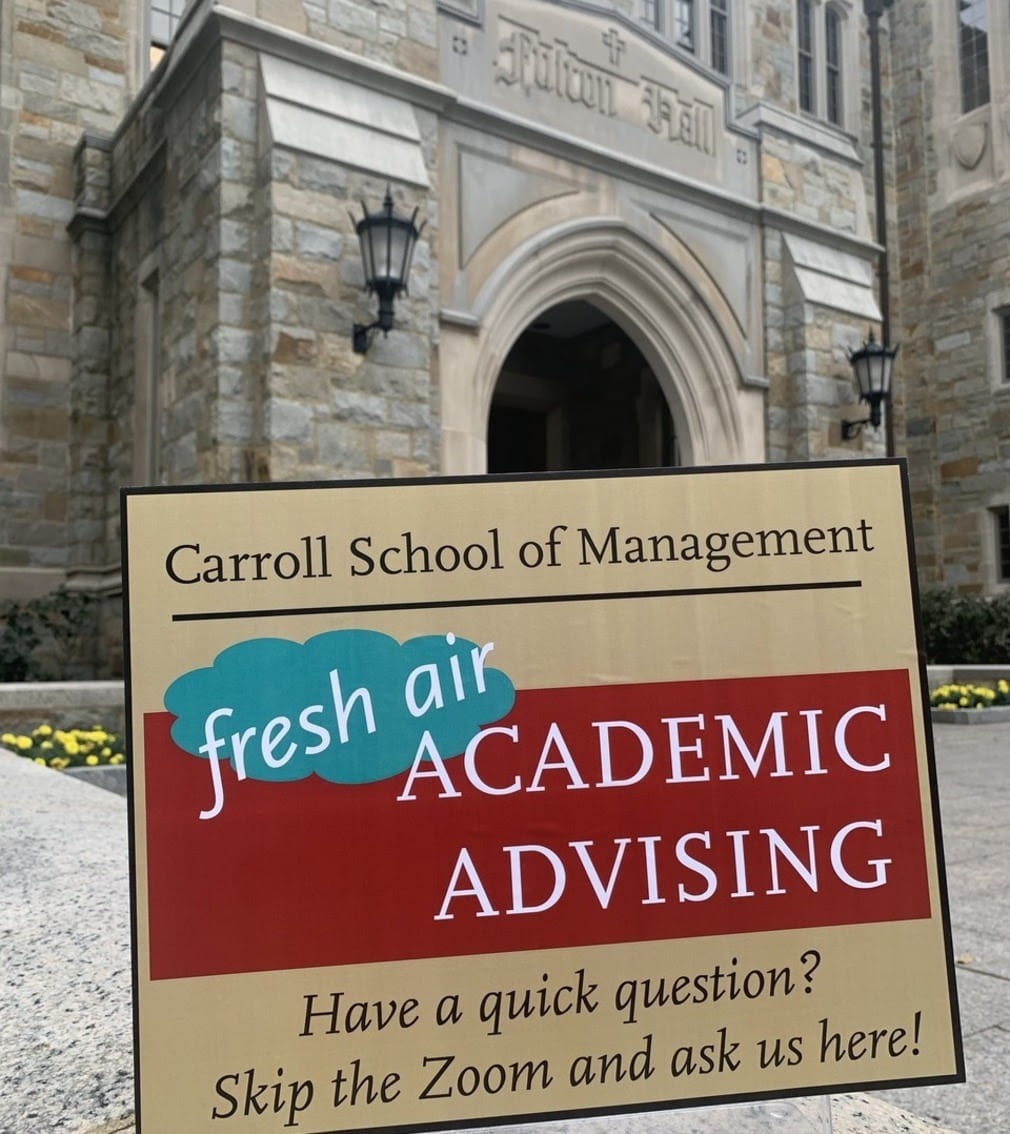 In one of the more creative workarounds to COVID restrictions, Carroll School Advising set up at a table in front of Fulton Hall for "Fresh Air Advising." On the more temperate afternoons in fall, students were invited to stop by and say hi, ask questions, and make face-to-face connections with their advisors—no appointment needed!
---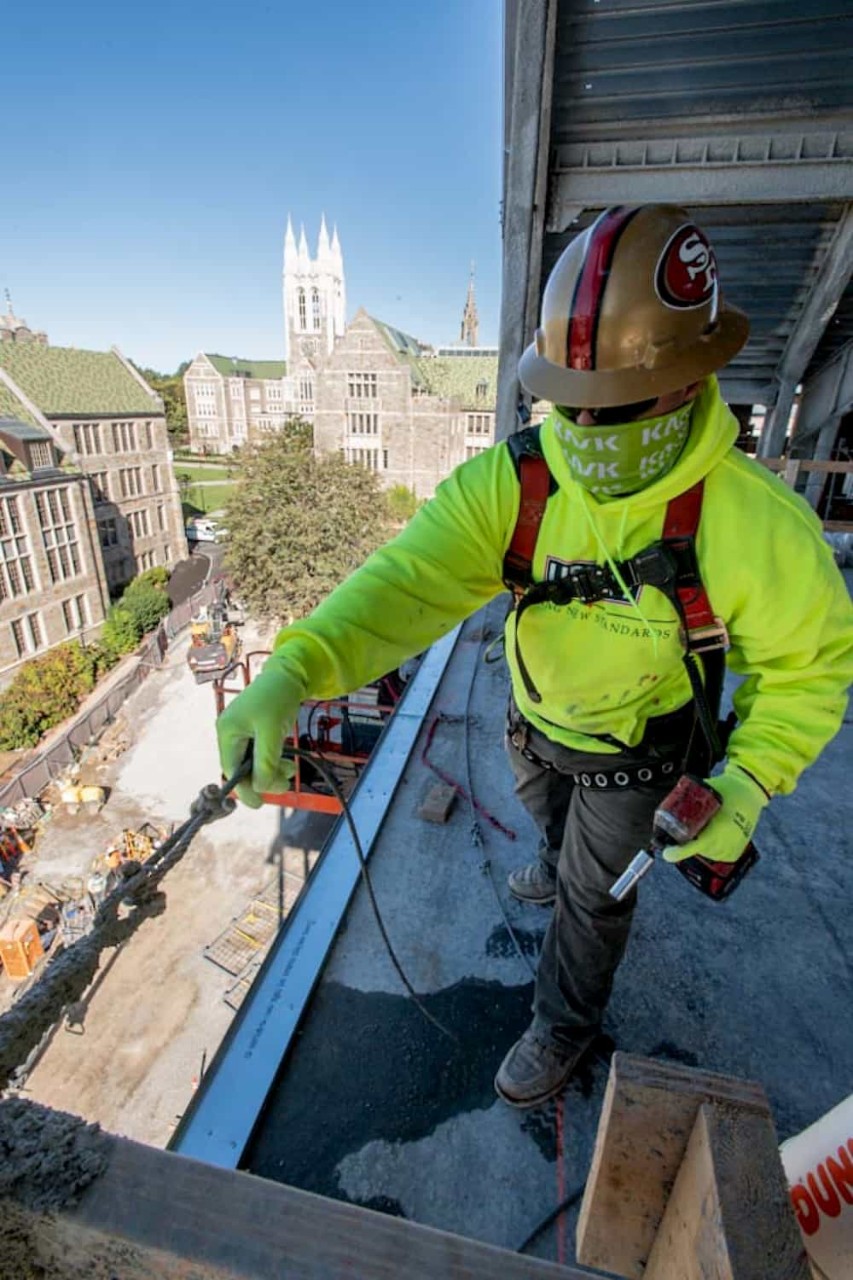 An Eagle-eye view of campus! Construction crews were hard at work throughout the summer and fall on a 150,000-square-foot science facility adjacent to Fulton Hall. Scheduled for completion in fall 2021, the building will house the University's Schiller Institute for Integrated Science and Society, as well as the Carroll School's Edmund H. Shea Jr. Center for Entrepreneurship.
---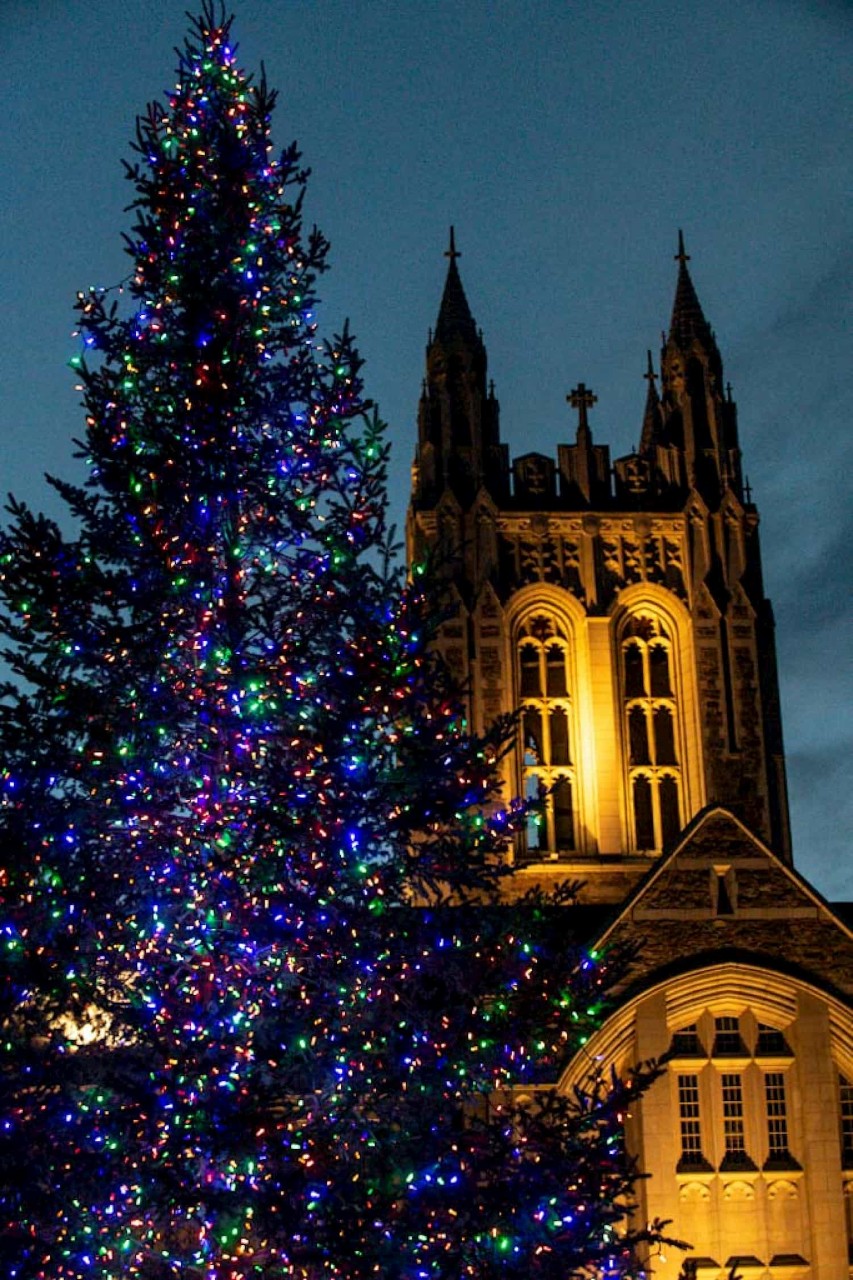 As we come to the end of a year like no other, we extend our deepest sympathies to those in our community who have suffered loss in 2020. We also find joy in the familiar glow of the campus Christmas tree, alight on the Heights as in years past—a reminder of the hope that a new year holds. 
---
Photos of campus in the summer, Fulton classroom, masked students studying outside, construction of the new science facility, and Christmas tree with Gasson Hall by Lee Pellegrini, Office of University Communications. Photos of snowy Higgins stairs, Gordon Wayne, and BC 2020 bracelet by Rachel Bird, Carroll School News.