Updated: October 27, 2020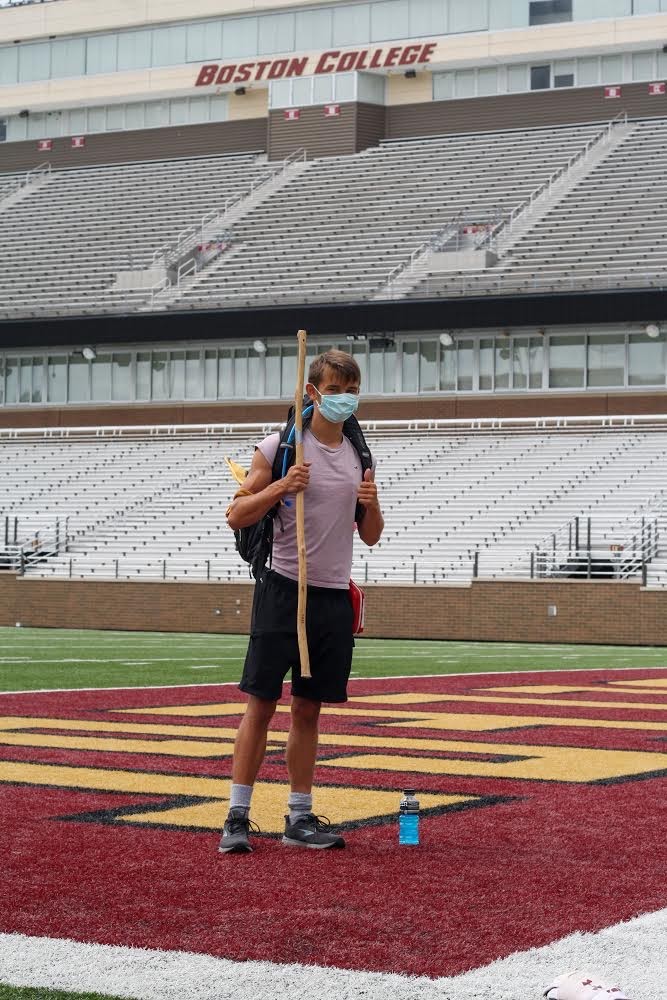 As masked undergraduates exited Conte Forum on Friday, fresh from their COVID tests and dragging suitcases to their new dorms, the arrival of one Carroll School undergraduate drew unusual attention. Local news reporters and spectators lined Campanella Way as a BC Police escort accompanied Gordon Wayne '23 in the final strides of his extraordinary journey to the Heights. You wouldn't know it from his easy gait, but the incoming transfer student had just walked roughly 550 miles from his hometown in Central Virginia to his new school in Chestnut Hill in an effort to raise awareness and funds for homelessness.
Wayne recorded his two-week trek on Instagram with the hashtag #BCvshomelessness, gathering thousands of followers—and donations for his cause. His GoFundMe page has raised over $27,000 for the National Alliance to End Homelessness as of Monday afternoon. 
"Homelessness isn't something you can escape easily," Wayne said in a phone interview with the Carroll School in the final days of his walk. Wayne, who himself was homeless for much of the last 14 months, managed to earn his associates degree at a local community college in one year while living out of his car. "I got so lucky to get into BC," he said. "I just want to bring attention to it. That's all I'm trying to do by doing this. It's not about my story or about me, it's about trying to help people out. And give people a chance at life."
The management major hasn't decided on a concentration yet—perhaps marketing or finance. But one thing's for sure. "I'm gonna work as hard as I can," Wayne said. He also plans to volunteer while at BC. As for future fundraising endeavors, "I know I'm not gonna do this specifically again. This is a one-time thing." He paused for a beat, then added, "But I come up with some crazy ideas, so who knows. I could come up with something." 
Several local news outlets in Boston and Virginia reported on the CSOM student's inspiring journey to campus, as did ABC World News Tonight with David Muir. Check out their coverage below.