Dan Holland '79, P'07, '08, managing director for private wealth management at Goldman Sachs, moderated the June 8 webinar, Navigating the Global Landscape. He opened by tackling the recent death of George Floyd at the hands of Minneapolis police, and the growing outcry in support of racial equality. "We have serious social issues to address," said Holland, who co-chaired the webinar series and serves as chair of the Carroll School Board of Advisors. "How does this impact our reputation around the world?"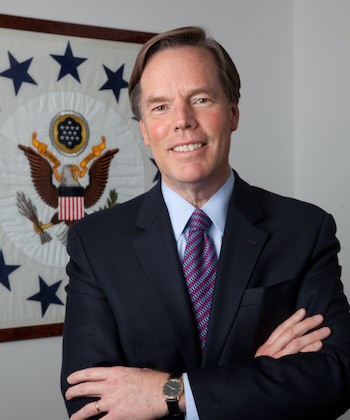 In making his point that the killing "had an extraordinarily negative impact" on world opinion, former NATO Ambassador Nicholas Burns '78, H'02, P'09, '12, added: "What people admire about America is not our military might. . . . It's our First Amendment, our Bill of Rights. Our national DNA allows us to admit our mistakes and do something about them." Now is a time to admit and correct mistakes, he added. "We have to recommit ourselves to do the right thing."
Among other roles in the US State Department, Burns served as Under Secretary of State for Political Affairs under President George W. Bush. He is now a professor at Harvard's Kennedy School of Government and founder of the Future of Diplomacy Project. At the June 8 webinar, he delivered the Dorothy Margaret Rose Knight Discussion, an annual presentation at the in-person Finance Conference.
According to Burns, it is critical that business and government leaders also recognize where they have failed during the coronavirus crisis, to avoid repeating the same mistakes in the coming weeks and months.
He called it "a grave tactical and, I'd say, ethical error" for the U.S. to pull out of the World Health Organization during the COVID-19 crisis. "That's like trying to defund the fire department in the middle of a major fire," Burns said. "You might want to reform the fire department, but not while the fire's still raging."
To be sure, Burns noted, "the WHO didn't perform admirably in the critical weeks in January. They didn't ask the tough questions of China; they went along with China's failure to be transparent with the world, and that set us back."
Indeed, Burns identified the rise of authoritarian China as the 21st century's defining challenge for Western-style democracies. Even in polarized Washington, he said, the need to counter China—and at times work with China—is an issue that Democrats and Republicans can and do agree on.
As for Burns, he believes that transnational diplomacy—especially shoring up our alliances in Europe and East Asia—will be key to meeting that challenge. Not to mention other pressing challenges, such as climate change.
"We've got to rejoin the Paris Agreement," Burns said. "We're the only country not in it, and we're the second-largest carbon emitter."
But Burns is not pessimistic about these challenges—not while he gets to hear the ambition and optimism of his students. "They say, 'we can create a carbon-free world and yet have a growing global economy by 2050,'" said Burns. "So there is hope. As long as men and women are combining forces to try to improve the human condition and be successful, there's hope in the world."
A full recording of this webinar is available on the Carroll School's YouTube channel.