Liturgy at Boston College is an experience of true community. Our Masses are opportunities to come together as one and recognize the God that is with us and within us. The liturgies are enhanced by the talents and gifts of many people—including the students who welcome us, who lead us in song, and who join us in prayer.
We invite all students to participate and hope you will find a home here with us. Contact Billy Kavula for more information about how to get involved.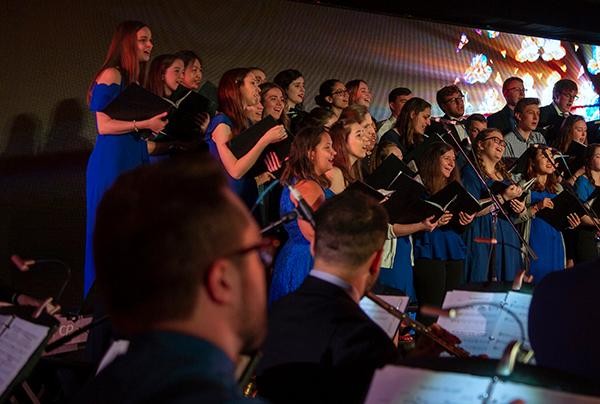 The Liturgy Arts Group serves the Boston College community by sharing its gift of music at Sunday liturgies and special events on campus. With song and instruments, LAG is committed to enlivening and enriching the University's worship experience.  
LAG welcomes all students with a love for creating music. If you are a singer, instrumentalist, handbell ringer, or visual artist, we invite you to share your special gift with the community.
The Liturgy Arts Group meets weekly for prayer and to practice its music for the upcoming Sunday liturgy and for special celebrations. Contact Meyer Chambers with questions.
Rehearsals
Practices are generally Wednesdays from 4-6 p.m. and Sundays at 7 p.m. (for 8 p.m. liturgies).
Weekly Campus Ministry Masses
Special Masses
University Memorial Mass
Veteran's Day Mass
Midyear Baccalaureate Mass
Alumni Laetare Sunday Mass
University Advent/Christmas Mass at St. Ignatius
University/St. Ignatius Parish Confirmation
RCIA Mass
Spring Baccalaureate Mass in Conte Forum
Healing Masses
Service Trip Commissioning Masses (Arrupe, Appa)
Prayer Services
Thanksgiving Interfaith Service
Dr. Martin Luther King Worship Service
Service of Remembrance
Group Events
Holiday Progressive Dinner
Christmas Caroling
Italian Home for Children Christmas Gift Drive
LAG Dinner in the City
Visit to MCI Framingham
Boston College Arts Festival: Mass and Concert
LAG Banquet
LAG Kickball
The Winter Trip
Freshmen E-Board Dinner
Local Parish Visit
Weekly student liturgies at Boston College are celebrated in chapels and worship spaces in each of the three residential areas of campus: Trinity Chapel on Newton Campus, St. Joe's Chapel on upper campus, and St. Ignatius Church and the Heights Room on the lower campus. Our student liturgies are enhanced by the talents and gifts of many people, and we encourage you to share your gifts with our worshipping communities in any of the following ways: