Originally published in the inaugural edition of Carroll Capital, the print publication of the Carroll School of Management at Boston College. Read the full issue here.
If you're a graduate or friend of Boston College, you know the University strives to educate "men and women for others." Being such a person often entails giving back with volunteering. But volunteer work can be hard to balance with the demands of a career, especially when being hailed by bosses, colleagues, and clients via omnipresent electronic devices.
Strategic volunteering offers away of balancing the demands of a 24/7 world. It's an approach to giving back that entails considering how your career and your volunteering can reinforce each other, and how you can use your skills to maximize the impact of your charitable efforts.

Admittedly, that's an easy idea to put into words—implementing it is harder.
Katherine Smith, executive director of Boston College's Center for Corporate Citizenship, says one starting point might be Fr. Michael Himes's three questions for determining a person's vocation (as presented in The Idea Hunter, coauthored by Powers Family Dean Andy Boynton). Fr. Himes taught theology at Boston College from 1993 to 2021 and died in 2022.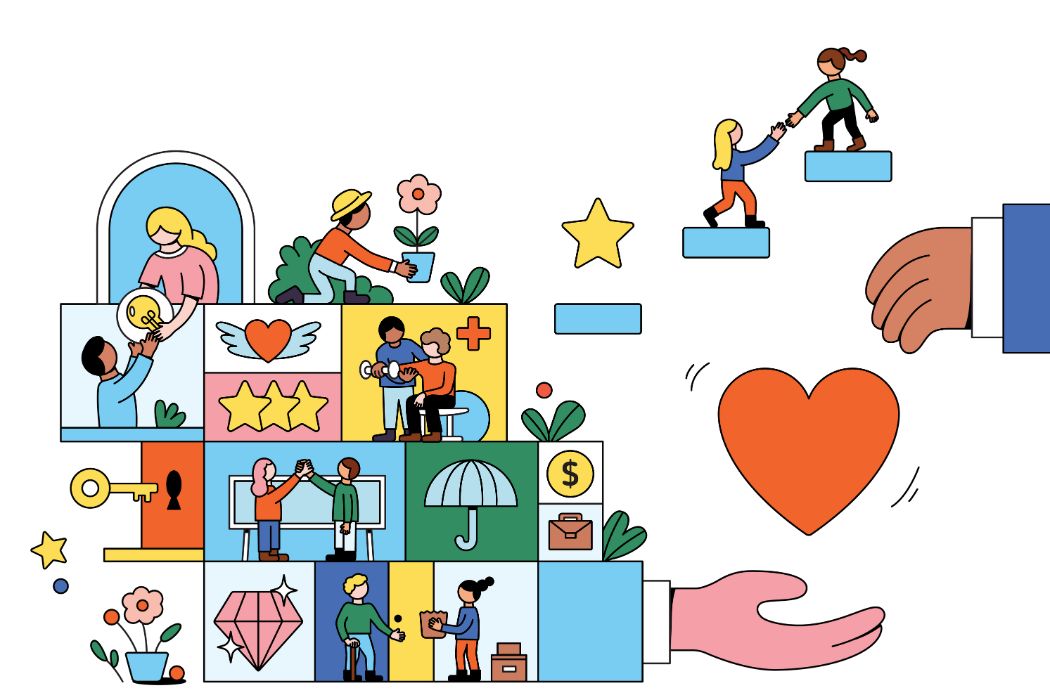 He suggested, as students searched for their callings, they should ask themselves: 1) What brings me joy? 2) What am I good at? 3) What role does society need me to serve? "It's the intersection of those three things that creates a sense of vocation and purpose," Smith says. When you find that sense of purpose, you've likely found a volunteer opportunity where you can excel and stand out.
Daniel Pink, author of Drive, offers a similar framework but one that sidesteps the daunting question of determining society's needs. Pink, who's writing about motivation in a corporate context, proposes a three-part test for identifying worthwhile undertakings. He says you should ask yourself where you can exercise autonomy, achieve mastery, and feel a sense of purpose.
"Pink is talking about tapping into intrinsic motivations" in your job, Smith says. But those same intrinsic motivators can apply to charitable work. Find a volunteer activity that meets his trifold test, and you've likely identified a way to increase your skills and broaden your professional network.
Njoke Thomas, a Carroll School professor of management and organization, tosses another word into the mix: authenticity. Her research has explored something different from but relevant to volunteering—how YouTube content creators transition from posting videos as a hobby to creating careers as online influencers. "The people who have been posting the longest, their authenticity appeal is, 'You guys, you know me from way back when, and you know I've been doing this for love,'" she says of those who make the transition.
Extending that idea to volunteering, Thomas says people might consider whether a volunteer opportunity is authentic for them. Does it express their values? You'll likely find more meaning and better represent a nonprofit if you feel authentic and are perceived that way. That can lead to better opportunities to increase your skills and network, she says.
"

1. What brings me joy? 2. What am I good at? 3. What role does society need me to serve?

"
Joan Christel, president of the State Street Foundation, the charitable arm of Boston's State Street Bank, likewise counsels that people seek out volunteer work that speaks to their values, not charities they think will impress their boss. "If you do something just because you think it matters to your company, it's going to be hard to fake your way through it," she says.
Christel, MBA/MSW '00, says her team helps the bank's employees identify charities that need their skills and fit their interests. "It's a way to learn and grow," she says, pointing to the value of learning new skills such as presenting to a nonprofit's board. "We hear from our employees that they see it as a safe space to stretch themselves."
A bit of logistical advice she offers is to consider the size of a nonprofit you're considering working with. As in business, size brings trade-offs. Big nonprofits will have well-established procedures for handling volunteers but may not provide the same breadth of opportunities to learn and distinguish oneself. Small ones may be more chaotic but may also offer a greater chance of taking on high-profile roles.
Christel knows firsthand how powerful volunteering can be in advancing one's career. A lifelong dancer, she has volunteered with the Boston Ballet for years because of her love of the art form. She led a special project aimed at refreshing and diversifying the board ofadvisors. She worked at a different company then, and, through this project, met an executive who ended up counseling her on her career. "That's what led me to State Street," she says. "I wouldn't be here were it not for my own skills-based volunteering."