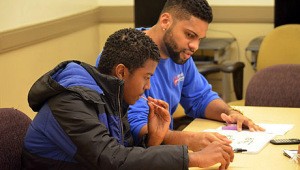 Over the course of the past year, a team of researchers led by Boston College Social Work Professors Margaret Lombe and Samantha Teixeira compiled a comprehensive report assessing outcomes for youth who have participated in the Catholic Charities Teen Center at Saint Peter's in Dorchester, the largest and most diverse neighborhood of Boston.
The study centered on data collected by Teen Center staff between 2012 and 2015, which BCSSW's team transferred to an electronic database prior to analysis, and it portrayed a broad overview of the center and the services it provides to young people. The data analysis mapped the neighborhood the center serves (low-income communities of color with large immigrant populations, in particular, Cape Verdean) and the ages of the students and their preferred activities. Most impressively, the study found that the center maintained a remarkably high retention rate of its students when compared to other organizations like it.
"Catholic Charities came to us with a specific need – to understand the demographics of the Center, its programmatic offerings, and its successes," explains Teixeira. "To this end, we were able to help them to appreciate where they are now, and help them to begin to think about where they would like to go moving forward. We found, to their credit, that there is already much to be energized about."
"BCSSW is an invaluable partner, and we have learned a great deal from their Teen Center program analysis," said Deborah Rambo, President and CEO of Catholic Charities of the Archdiocese of Boston (CCAB). "We look forward to continuing to work together as we work to refine and enrich our work with young people and their families in the Dorchester community."
Back in 2010, BCSSW established a Memorandum of Understanding with CCAB, creating a partnership to build high quality evaluation of new programs and pilots, mine existing data to inform practice and policy, and develop and test new interventions. Since then, BCSSW faculty have been involved in a number of joint activities with CCAB, such as this project. Donahue and DiFelice Professor of Social Work Ruth McRoy currently serves on the CCAB Board and co-chairs the Program Committee.
Lombe and Teixeira both say that they are hopeful that they can move ahead with further, larger-scale projects with the center, in order to better understand if, and how, participation in the center's programming might have a direct association with increased positive youth behaviors. To do this, more data will need to be collected. Lombe and Teixeira are excited to engage with Catholic Charities on this kind of project, and others like it, moving forward.
"This relationship has been an opportunity to engage with the community and play a minor role in bringing healing to a broken and at times wounded world – by highlighting community strengths," says Lombe.  "There is so much beauty, so much resiliency in communities – we just have to look deeper, perhaps, through the lenses of the community itself."
Current and former BCSSW PhD and MSW students contributed to the Teen Center report, including: Victor Figuereo, Robert Rosales, Yoosun Chu, Kaipeng Wang, Kaitlin Jones, and Sarah Ingerman.