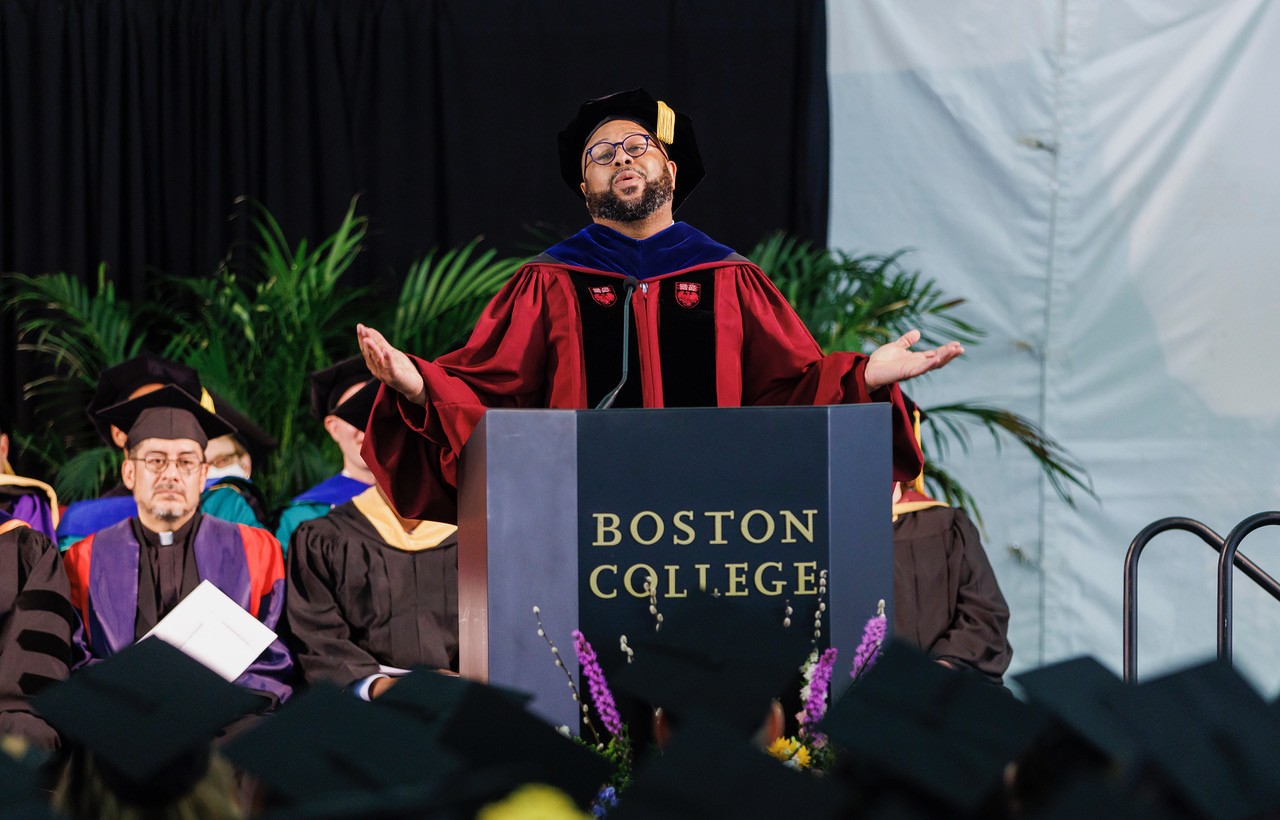 Listen. Embrace vulnerability. Make every life meaningful and worth living. 
Speakers urged graduates to heed these pieces of advice on Monday in the diploma ceremony for the Boston College School of Social Work, telling them to use their training to serve the common good.
"We need you now more than ever," said Desmond Upton Patton, a professor, researcher, and public interest technologist at Columbia University who delivered the keynote address. "You're entering the social work profession in a time of great anguish. The attacks on our collective human experience are numerous and endless, and I'm reminded that the time for justice is always right now."
Because of restrictions imposed by the COVID-19 pandemic, the ceremony marked the first time in three years that the School has honored its graduates at such a large scale. More than 1,400 guests filed a big tent on the Lower Campus Lawn, offering up whoops and cheers to recognize their loved ones as they received diplomas wrapped in gold and maroon bows.
Over 1,000 people who did not attend the ceremony have already streamed the event on YouTube, where they heard Patton urge the graduates to "innovate, collaborate, advocate, inspire, listen, and disrupt." Standing at a podium festooned by a bouquet of flowers, he told them that, in a world filled with hate, they are the "light that peaks through the cumulus clouds to remind us that this, too, shall pass."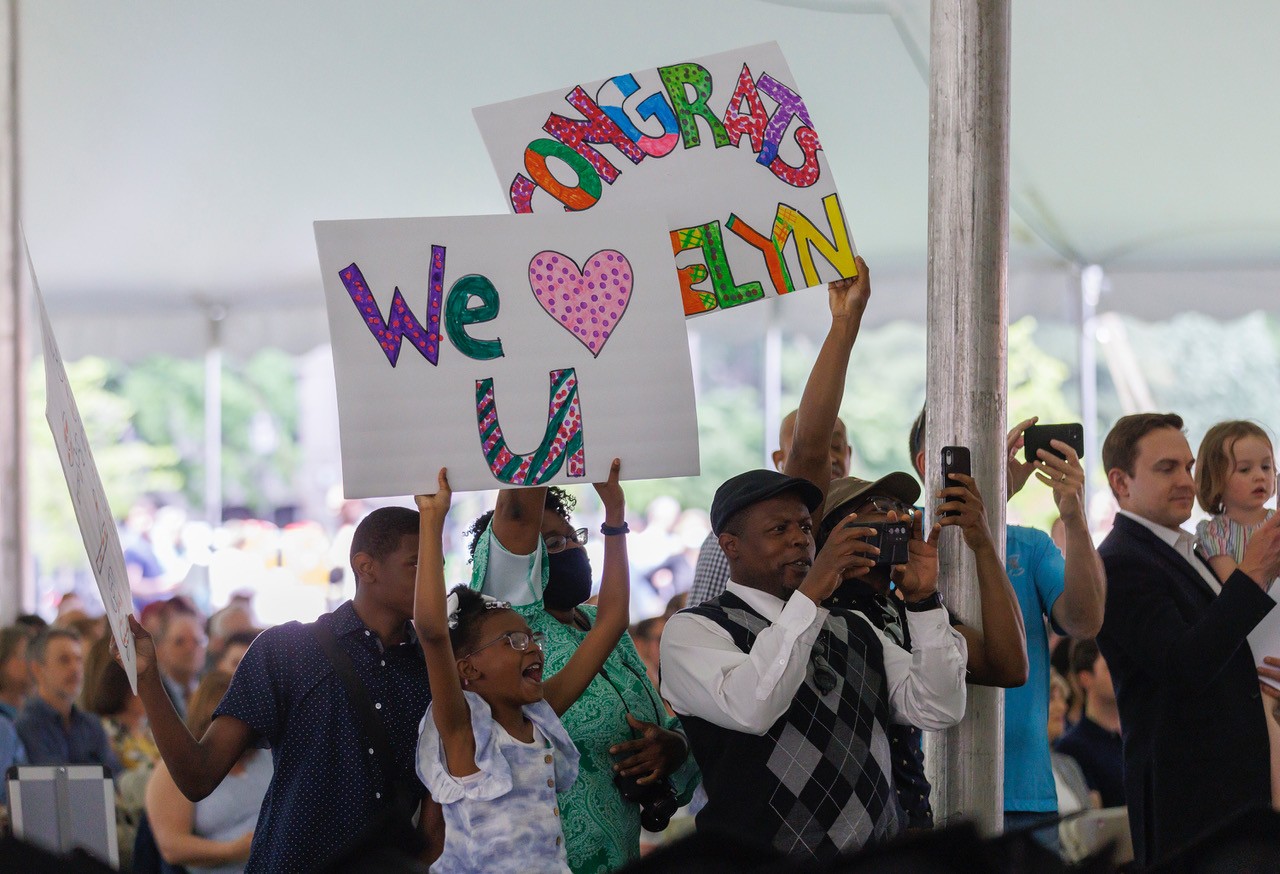 As a researcher who studies the link between youth, gang violence, and social media, Patton shared several nuggets of wisdom that he picked up while poring over tweets from a 17-year-old girl named Gakirah Barnes. Barnes, described in one news article as "Chicago's Gun-Toting Gang Girl," tweeted "the pain is unbearable" after her friend was killed in April 2014. About a week later, she was killed just a few blocks from her home on the South Side. 
First and foremost, Patton told the graduates that Barnes' story taught him to be careful not to let assumptions cloud his thinking. Reading her tweets, he said, made him shift his understanding of her from a "gun-toting gang girl" to a daughter who "felt deep pain, loved hard, and wanted to protect her family in death."  
"Be careful not to be trapped by the single narrative," said Patton, who has teamed up with youth, data scientists, and social workers to create algorithms that can analyze tweets and extract meaning from text and digital images. "Human beings are complex, adaptable, historical, and contextual. There is always more to know, to understand, to hear, to see."
His address was peppered with lighthearted moments and jokes in which he poked fun at himself. He said that New York University got pop star Taylor Swift to give its commencement address, while BCSSW was stuck with him. But, he added, "just shake it off, and I promise we won't have any bad blood," referring to the names of two hit tracks from the singer-songwriter. 
At another moment, he directed the newly minted social workers to bask in the joy of their shared accomplishment. "I want you to turn to your neighbor," he said, "look them in the eyes, and say 'you did that.'"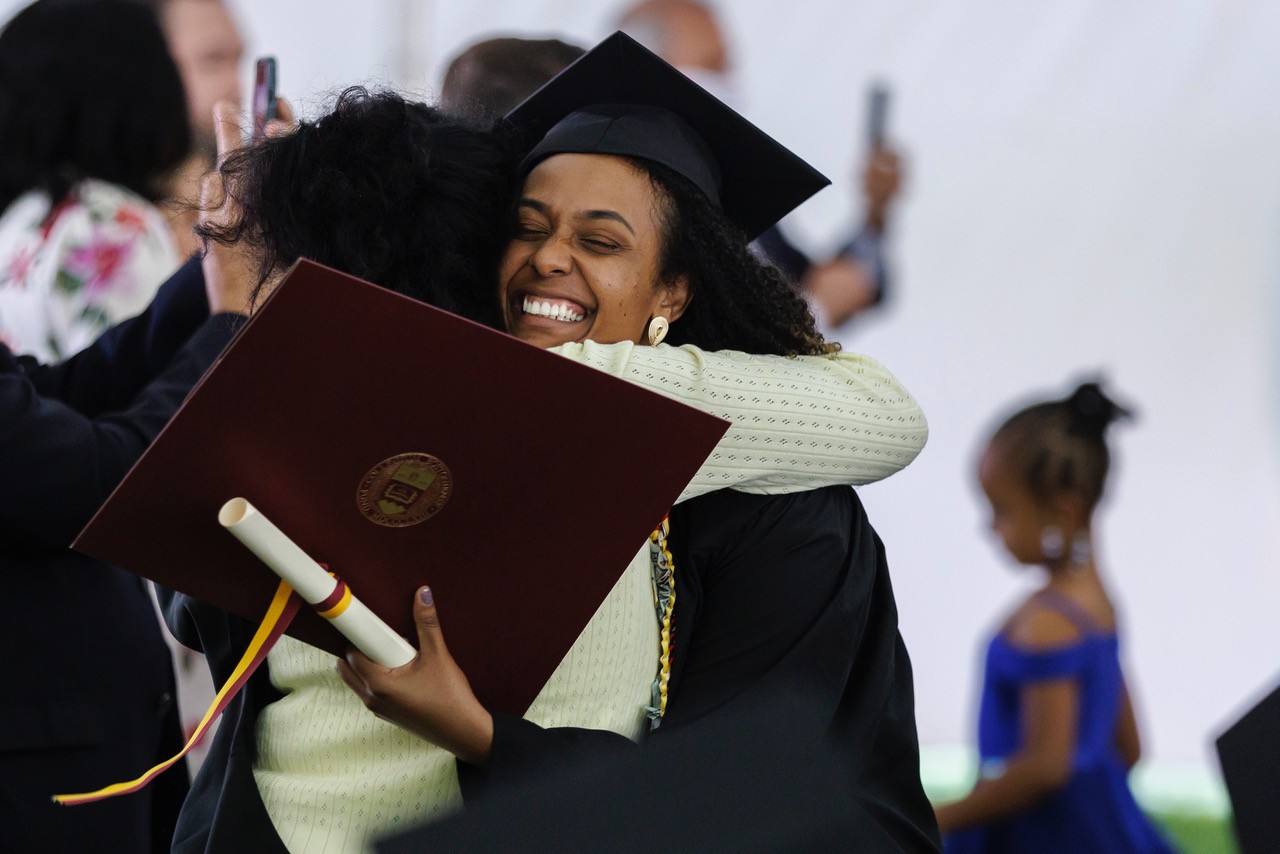 Patton described BCSSW graduates as "innovative disruptors" and praised them for knowing when to step back to listen. He called their professors "giants" and pointed in particular to three faculty members—Samuel Bradley, Jr.,Rocío Calvo, and Tyrone M. Parchment—who have prepared them to improve the lives of people in Black and Latinx communities. 
"Class of 2022, you are ready," he said. "You stand on the shoulders of giants who transformed those small boxes on Zoom and those treacherous, mask-bound classes to share the very heart of social work practice."
Dean Gautam N. Yadama commended the "grit" and "resolve" of the graduates and told them that the COVID-19 pandemic has reaffirmed the need for social workers. He said that many graduates have worked to improve the lives of people hit hardest by the health crisis, securing food, money, shelter, and mental health services for some of the most vulnerable people in Boston and beyond.
"Loss of jobs and livelihoods. Lack of food. Homelessness. Rising mental illness—these are the challenges on the front line," he said. "And this frontline work has reaffirmed the vital role of the social work profession and the decision of all of you to become professional social workers."
Yadama placed the accomplishments of the graduates in context, recounting how their achievements have aligned with the School's achievements. He said that BCSSW, in the midst of the pandemic, doubled down on its curricular innovations in social work with Black and Latinx communities; expanded its equity, justice, and inclusion initiatives; and strengthened its global practice in Sub-Saharan Africa, South Asia, and Latin America. 
"As a school, we are channeling our efforts to secure human dignity with imagination, courage, and grit and make every life meaningful and worth living," he said. "All of you graduating today are vital to that mission of improving people's lives here in Boston and around the globe."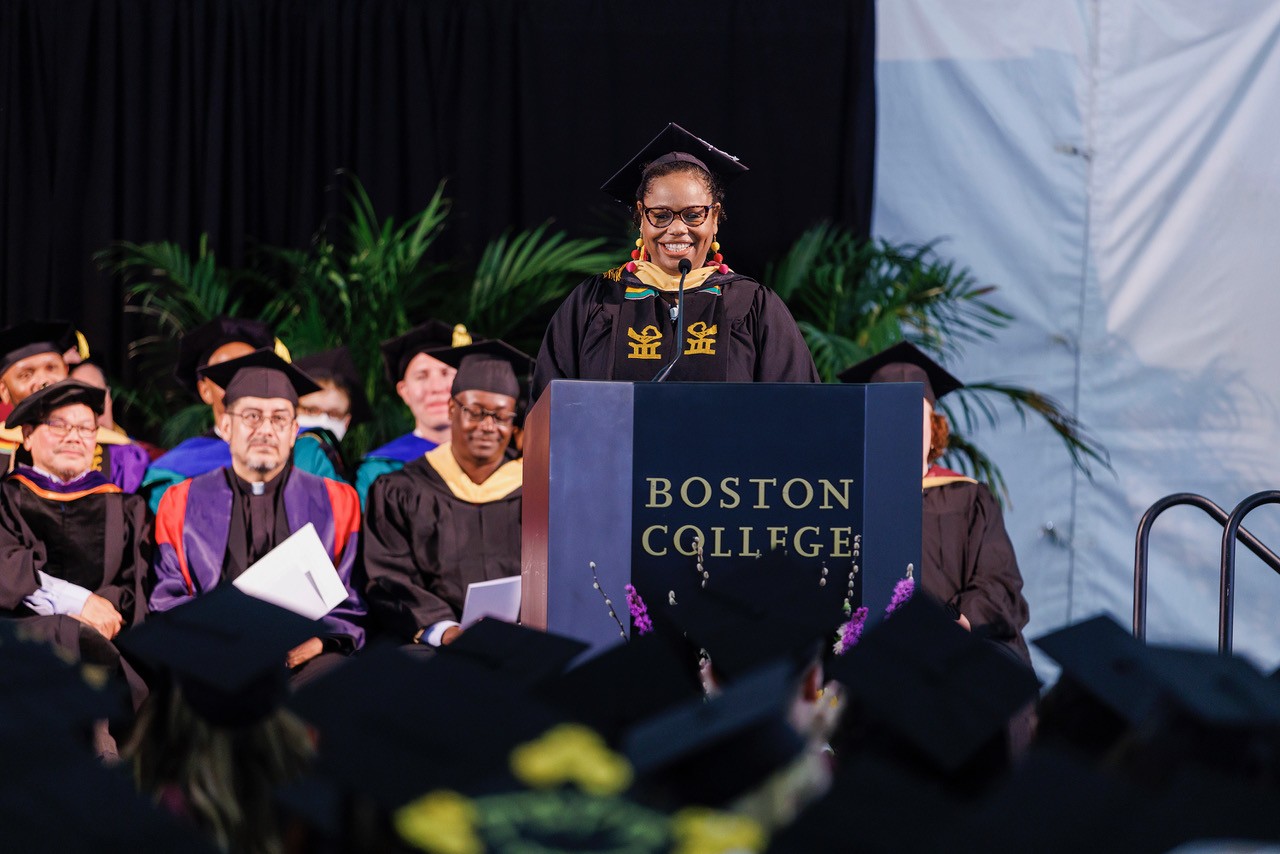 Samira Al-Ghuiyy, MSW'22, recognized her peers for adapting to life in the pandemic and giving their all. "During a time when there were empty grocery shelves and fights over toilet paper and paper towels, we showed up," said Al-Ghuiyy, who gave the class greeting. "Whether it was over Zoom, in an inpatient setting, in a hospital, a courthouse, or a shelter for the unhoused, we showed up."
Throughout her remarks, Al-Ghuiyy encouraged graduates to embrace vulnerability. At one point, she shared a personal anecdote that highlighted the value of the character trait. In her first course, "Human Behavior and the Social Environment," her professor asked everyone to share their name and their gender pronouns. Al-Ghuiyy didn't know what the faculty member meant by gender pronouns, and she was too afraid to ask, so she copied what someone else said when it was her turn to speak. A few weeks later, Al-Ghuiyy mustered up the courage to ask a classmate about gender pronouns. The classmate told Al-Ghuiyy what they are and why it's important to use the right ones, and Al-Ghuiyy learned something new. 
"We don't want to be thought of as ignorant, or we may be queer and we don't want to stand out. Or like me, we're older and we don't want to seem like a relic," said Al-Ghuiyy. "Whatever the reason is, staying silent keeps us from being vulnerable. And not being vulnerable keeps us from learning."
She urged the graduates to get comfortable saying "I don't know," pointing out that most of them will be working with clients who come from racial, ethnic, and cultural backgrounds with which they are unfamiliar. While a recent survey from the National Association of Social Workers found that 68 percent of social workers are white, demographic data suggests that a large percentage of their clients likely identify as Black, Latinx, or Asian.
"To be of service to them, we must maintain a level of not knowing and being OK with not knowing," said Al-Ghuiyy. "We must embrace being vulnerable and acknowledge that what we have read in our textbooks may not, in fact, be the experiences of the people we serve."
Al-Ghuiyy received a 22-second standing ovation for her speech, which caused her peers to erupt in fits of laughter and rowdy rounds of applause. Yadama said her words of wisdom should be remembered and acted on "every day," while Patton described her as "inspiring." 
Weeks before his talk, he asked Twitter what he should say to the graduates, crowdsourcing his parting remarks on the social media platform that he knows best. On Monday, he closed his address by sharing replies from a handful of social workers, psychologists, and CEOs. 
"Social Workers are the consciousness of society," organizational psychologist Vinita Puri tweeted to Patton. "We NEED you more than ever to support vulnerable and oppressed individuals and communities through positive social change."
The School awarded diplomas to 244 students who hope to become the "consciousness of society," including 243 who earned master's degrees and one who earned a doctoral degree. Twelve students who graduated from the master's program received named awards for their outstanding contributions in the classroom, the community, and their field of practice.
After the newly minted social workers received their diplomas, Alejandro Olayo-Méndez, a Jesuit priest and an assistant professor, offered a blessing to the graduates in Spanish and English.
"May the creator of this vast universe keep you safe as you go forth from this place that has nourished your mind and your spirit," he said in part. "May the god of all bless you this day and forever."