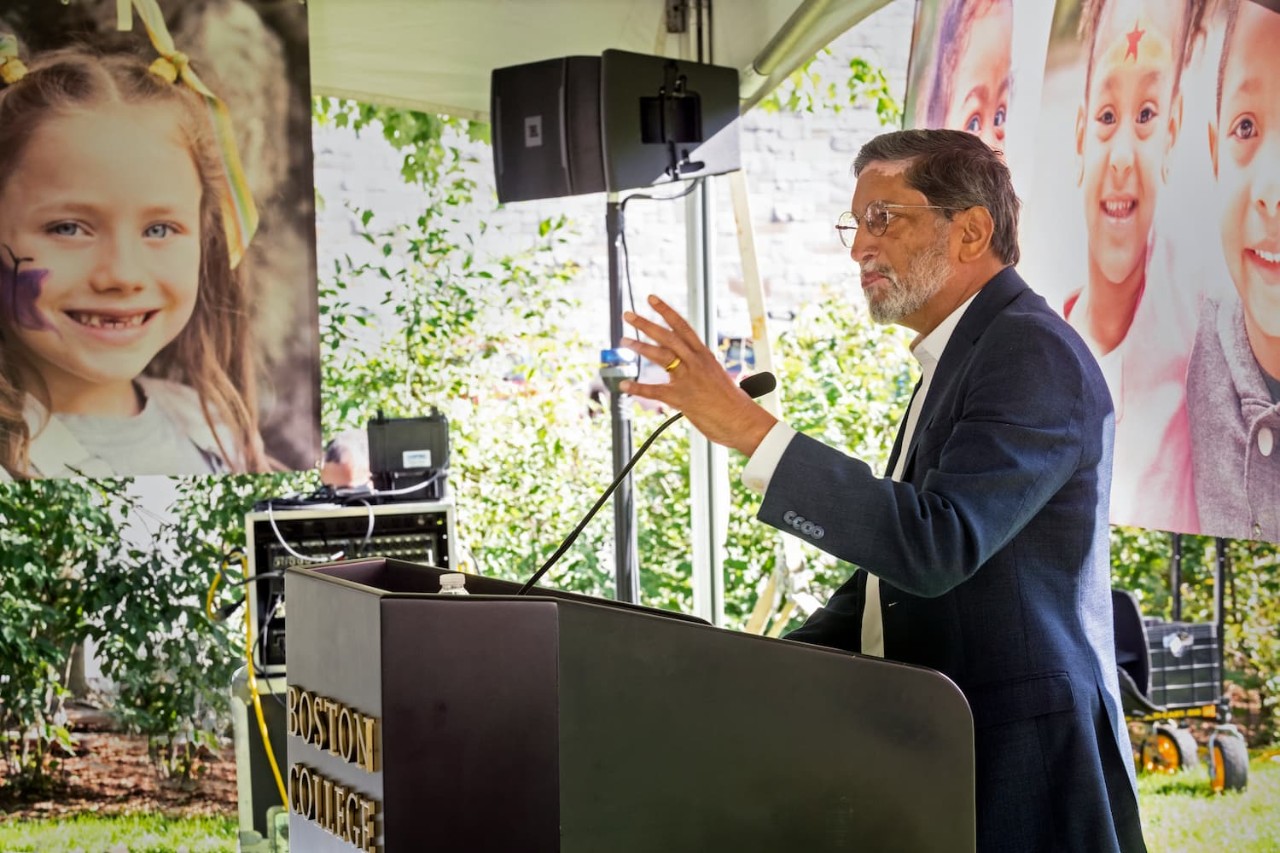 The Boston College School of Social Work is expanding its decades-long partnership with FamilyAid Boston to help improve services for children facing homelessness in the city.
The project aligns with the University's 10-year strategic plan to respond to the needs of the day, with a particular focus on increasing BC's impact in Boston.
FamilyAid, a nonprofit that aims to end child and family homelessness, recently received a four-year, $800,000 grant from the Dana-Farber Cancer Institute to map existing services for homeless children and develop a plan to improve the support they need to become successful adults.
BCSSW Dean Gautam N. Yadama will advise the project, which is being spearheaded by FamilyAid in conjunction with a consortium of partners including the United Way of Massachusetts Bay and Merrimack Valley, Boston Public Schools, and Boston Children's Hospital. MSW student Mary Ryan will do her internship with FamilyAid during the 2022-2023 school year, organizing, implementing, and evaluating three, two-day meetings of more than 100 state, city and community leaders to map and plan services for homeless children in areas like health, housing, and K-12 education.
"It is our pleasure to be a part of this launch of a very important collective undertaking to map child homelessness so we have a sharper view of the contours of services and systems that support our children at risk of being homeless," Yadama said on Wednesday at the kick-off event for the Child Homelessness Intercept and Mapping Engagement project. 
Flanked by large portraits of homeless children on the Stokes Amphitheater Lawn at BC, he told about 100 city officials, community providers, and families who have experienced homelessness that "we hope to support and ensure that our homeless children flourish in their education and their social, emotional, and economic well-being."
BCSSW's participation in the project builds on a longstanding partnership with FamilyAid that goes back more than 20 years, when the school started placing graduate students at the nonprofit to do internships. More recently, BCSSW and the United Way of Massachusetts Bay and Merrimack Valley received $650,000 from the William T. Grant Foundation to evaluate the effectiveness of FamilyAid's early intervention and prevention program for homeless BPS students in grades K-8.
As many as 5,000 children go to school each day in Boston not knowing where they will spend the night, according to FamilyAid, and studies show that homeless children are more likely to develop anxiety, chronic diseases, and learning disabilities than those who have homes.
Massachusetts First Lady Lauren Baker, who has worked for years to improve the lives of children in the Commonwealth, described homelessness as a "traumatic experience" during her remarks on Wednesday. But she also said that the CHIME project, run by FamilyAid in partnership with civic leaders, practitioners, and people with lived experience, presents an opportunity to bring positivity into the lives of children facing homelessness in Boston. 
"It does take a village, and this is the start of a coalition of the willing," said Baker, who serves as the vice chair of The Wonderfund, a nonprofit that helps disadvantaged children under the care of social services in Massachusetts. "Those new partnerships, those new collaborations, those new connections are what is going to help us take this service to children to the next level."
Heiry Romero told attendees how a period of homelessness about 10 years ago has continued to impact the mental health of the youngest of her two sons, who is now 20. 
After her family lost its 2,400-square-foot-home, her son started suffering from depression and anxiety that, she said, was rooted in the trauma of being homeless. She recalled that her son has showed signs of suicidal behavior and recently took a leave of absence from college in the midst of the pandemic. 
"He's still struggling, like he's still trying to figure out what's going on with his life," said Romero, who has received support from FamilyAid. She routinely asks him if he needs help, he says no, that he's OK, but she still worries. "I have to keep an eye on him. And I'm afraid of some stuff. We have our medication locked up."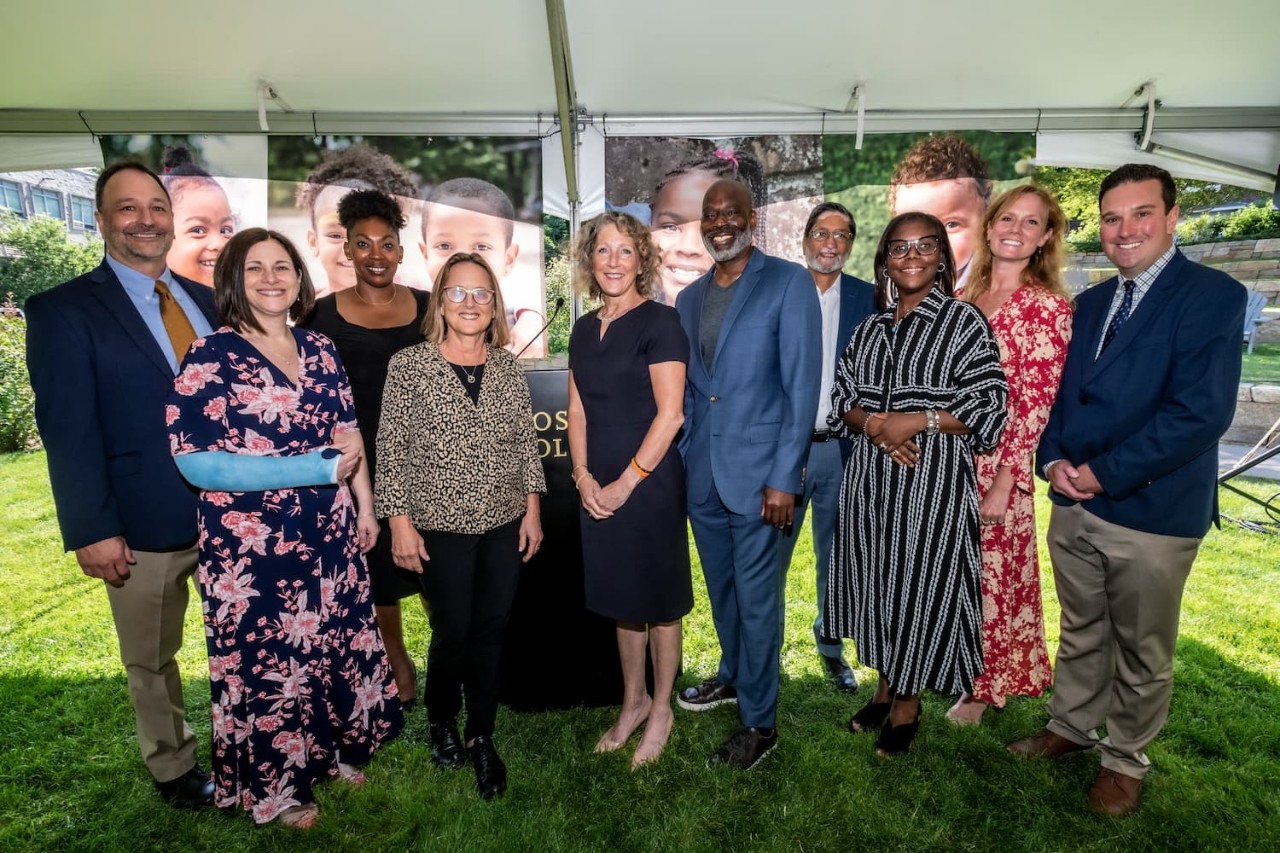 At another point in her remarks, Romero urged the project leaders to make it easier for people without housing to access services that could help get their lives back on track. "In my experience, the most difficult part was trying to navigate the system and to get information and services from many agencies," said Romero, who is now the childcare partnership coordinator for Action for Boston Community Development, a large anti-poverty organization in the city. "We have to streamline those services. We cannot send a family to seven different places. Many of them don't speak the language. Many of them are ashamed. For many of them, it is too much for them on top of whatever they are suffering. Not to mention that they have their children."
Larry Seamans, the president of FamilyAid, echoed Romero as he described the origins of the mapping project. He said FamilyAid teamed up with the United Way, Heading Home, and Horizons for Homeless Children to survey case managers to find out more about the services that Boston provides to children and families in the city's shelters. What they discovered, he said, is that while Boston offers a wide array of services, they are often difficult to access. 
"We are the pride of America in terms of the number of services. We are service-rich for children," said Seamans. "However, what our case managers and staff told us is that the system is incredibly complicated and it's incredibly difficult for a parent suffering and challenged with employment and housing to find services for their kids." 
Armed with this knowledge, FamilyAid applied for funding from Dana-Farber to develop coordinated systems of support for children and families facing homelessness and received one of 12 Access to Services awards from the institution in November 2021.
Magnolia Contreras, the vice president for community health at Dana-Farber, described FamilyAid's plan as "thoughtful," "research-focused," and "root caused-focused."
"One of our core values at Dana-Farber is that notion of discovery. And for us, it's fostering the spirit of inquiry, promoting collaboration and innovation across non-traditional boundaries. And this project, we believe, does that," said Contreras, who received her bachelor's degree in psychology from BC in 1990. "Never mind the notion around equity, inclusion, and focusing on our most vulnerable. And we support the approach that you are putting forward today for us."
From September 2022 to September 2023, project leaders will convene a total of six, two-day working groups to map services for homeless children in six different areas—housing and economic assets; early childhood education; K-12 education; health and well-being; social capital; and postsecondary and employment pathways. Each mapping session will result in a report and an action plan that will aim to make measurable improvements in the coordination of services for homeless children. Every participant in the mapping meetings will get to vote on the most important priorities and have a say in the plan.
Yadama noted that the project's focus on working with people who have experienced homelessess aligns with the school's mission to partner with those who are directly affected by social problems.

"I'd like to underscore here this idea of giving people who are embedded in the social dilemmas the first say," he said, "because that will provide us the guidance and the roadmap to building that map of systems."