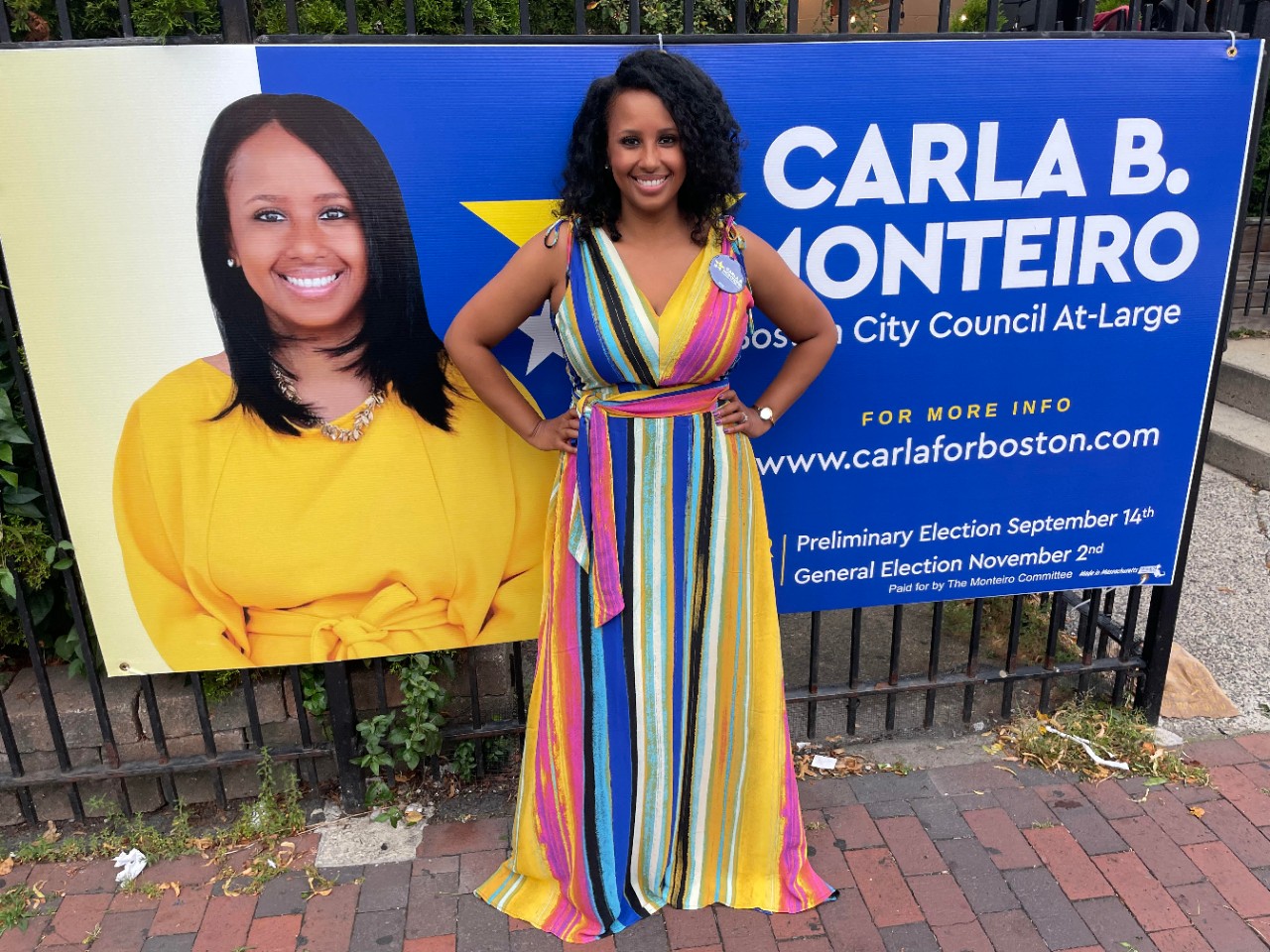 Carla B. Monteiro was doing social work long before she earned her MSW from Boston College in 2019 and joined the staff at two of the best hospitals in the world. 
As a kid growing up in Dorchester, she distributed food to hungry friends, served as a translator for neighbors who spoke Cape Verdean Creole, and helped peers cope with parents who were addicted to drugs.
"I would say that I've always been a social worker," says Monteiro, whose mom and dad emigrated from Cape Verde to Boston in 1979. "I've always been behind the scenes, doing whatever I could to help."
Now she is vying for public office, running for one of four at-large seats on the Boston City Council to represent the needs of all Bostonians as an elected official.
Monteiro, who is among four BC graduates who will appear on the ballot on Sept. 14, says the traits that make her a good social worker—listening to clients, identifying their needs, and connecting them to vital services—will make her a successful city councilor. 
"Social work teaches us how to be advocates," says Monteiro, who was recently endorsed by the Boston chapter of the Sunrise Movement, a nonprofit that is building an army of young people to stop climate change. "We look at things through a holistic lens. We understand how policies are created, how policies affect individuals and communities, and I think that's why we're more than capable of holding office."
As a clinical transition specialist at Brigham and Women's Hospital, Monteiro connects patients with substance use disorders to social services and provides emotional support to their loved ones. She says she embraces a public health strategy known as harm reduction, which aims to decrease the negative effects of drug and alcohol use for patients in all stages of recovery. 
Monteiro has found that many of her clients experience homelessness and frequently have their IDs stolen, which makes it impossible for them to pick up the meds they need at their local pharmacies. On many occasions, she has accompanied her clients to drug stores to help them get their prescriptions. 
"We can't expect people to focus on their sobriety if they don't have the life-saving medication that they need to continue to work on their recovery," she says. "Providing support can make a big difference in their lives."
In her "downtime," Monteiro supports youth at Boston Children's Hospital who are in the throes of mental health crises. Her duties include assessing the mental health of her clients, designing treatment plans, and providing written lists of coping strategies that patients can use before or during a crisis. 
"The pandemic brought on an unprecedented mental health crisis," says Monteiro, who delivered masks, hand sanitizer, and hot food to some of the most vulnerable people in Boston when COVID-19 hit in March 2020. "There's been an influx of kids coming into the emergency department daily."
Alejandro Olayo-Méndez, an assistant professor in the School of Social Work, says Monteiro puts people at the center of her practice. "Carla is caring, conscious, resourceful, and knows how to get her work done," says Olayo-Méndez, who invited Monteiro to speak to one of his classes in the fall of 2020. "She is outspoken and articulate, not afraid of putting a thoughtful argument forward."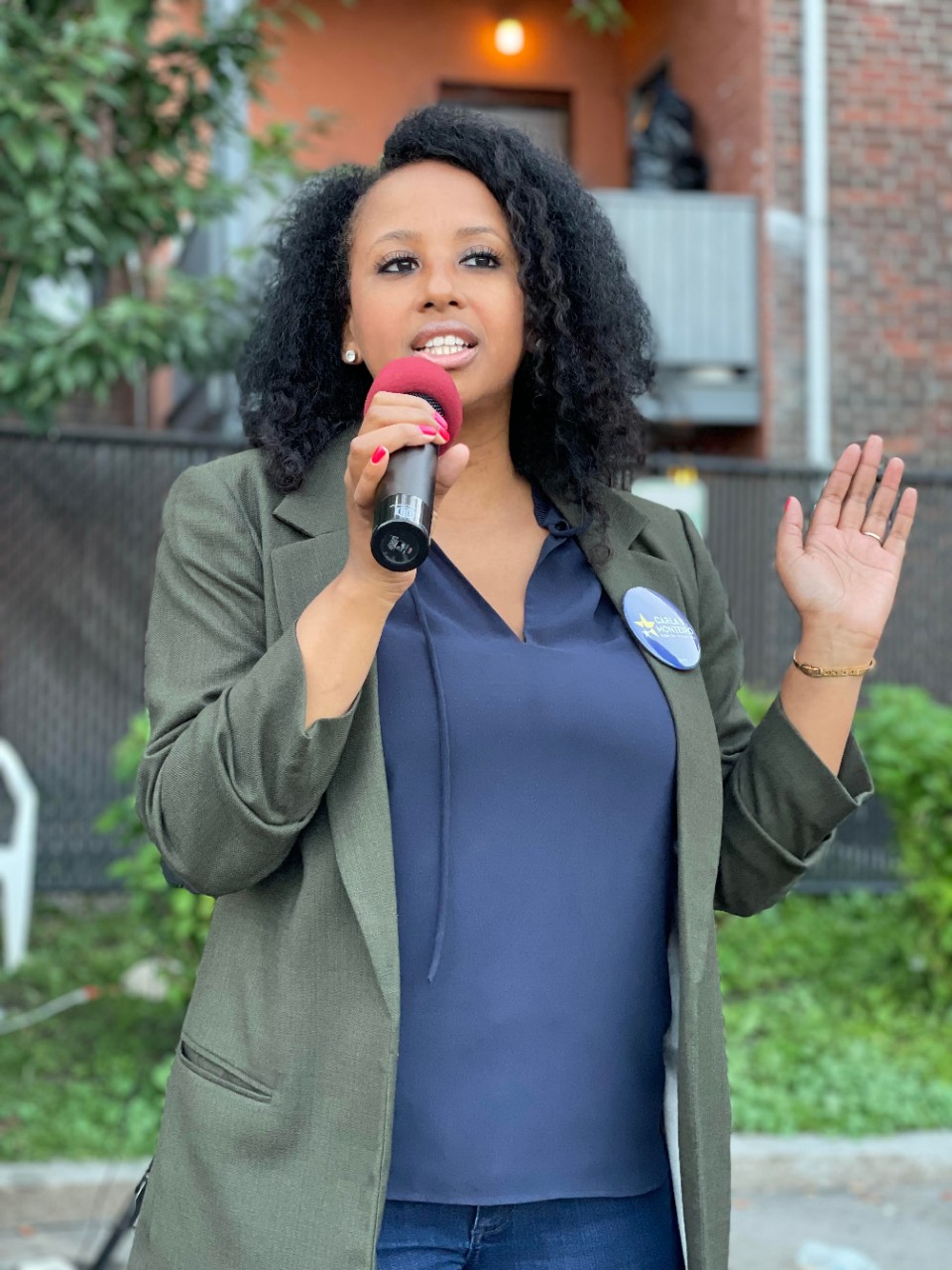 If she is elected, Monteiro plans to work to destigmatize mental illness, fight for a publicly-funded pre-K program, and advocate for a 24/7 crisis center that's run by the city. 
But her top priority, she says, will be to ensure that everyone can afford to meet their housing goals whether they want to rent or buy. "People need housing in order to do other things," she says. "We can't expect people to go to work if they don't have a place to sleep at night."
Her political agenda was shaped by her personal and professional experiences. At 4, she and her family were evicted from their apartment in Dorchester. As a single mom in her early 20s, she was living on welfare and working at a salon for $9 an hour. One time, she picked up a gallon of milk at a corner store and didn't have an extra 25 cents to buy her boy a bag of chips. 
"When I would work, my food stamps would decrease and my daycare fees would go up," she says. "And so it was really challenging to keep my head above water during that time."
Monteiro worked at Verizon from 2004 to 2013, rising through the ranks to become a manager at a local store. Along the way, she bought a car, purchased a triple-decker in Dorchester, and moved her entire family into the house. But she worried that she would run out of money to support her son and find herself on the verge of homelessness again.  
Her fear morphed into agoraphobia at the end of 2013, leaving her bedridden for two months. Although she had been accepted into the Boston Police Academy, she had to resign because she was too scared to leave her house. She survived, she says, on a diet of water and Activia yogurt. "The anxiety had begun to affect me physically," she recalls. "I was really ill. I couldn't eat. I didn't have an appetite."
Monteiro eventually returned to school, earning an associate's degree in 2015 and a bachelor's degree in 2017. She says she chose to study social work at BC to develop a better understanding of mental health, a topic that is often seen as taboo in the Cape Verdean and Black communities. As a kid, she never discussed mental health with her family and likely lived with an undiagnosed case of anxiety for many years. 
"We never understood that there was help for mental illness," says Monteiro, who founded the Cape Verdean Social Workers Association in 2018 to raise awareness of mental illness and substance use in the community. "We never knew that there were therapists and medications."
Over the past few years, Monteiro has received high honors for her accomplishments in social work and community service. She was selected to Boston Business Journal's 40 Under 40 list in 2020 and named one of Boston's Most Impactful Black Women in Philanthrophy in 2021 by Get Konnected!, a local business networking organization.
Her family is rooting for her to add "city councilor" to her growing résumé. Her mom, Alice L. Barros, who speaks Cape Verdean Creole, describes her daughter as a compassionate, hardworking advocate for those in need. 
"She has been through a lot but continues to inspire us and surprise us with new endeavors," Barros says through a translator. "I am most proud of her desire to help others. No matter where her life takes her, she never forgets to give back."
Monteiro says her long-term career plans are up in the air, but that's just fine with her. For now, she's focused on making her case to voters who will go to the ballot box in less than two weeks from now. "I think my story is a story that many Bostonians share," she says. "It's one of struggle and one of rising above it. I think I have been able to give people hope."