In high school, sisters Eva and Catherine (CeeCee) Van Pelt spent their free time volunteering in a home for Alzheimer's patients, creating connections with residents and discovering the lasting benefits of service. Little did they know that their experience socializing with older adults would later help them and their team win $5,000 in a national affordable housing case competition at Boston College.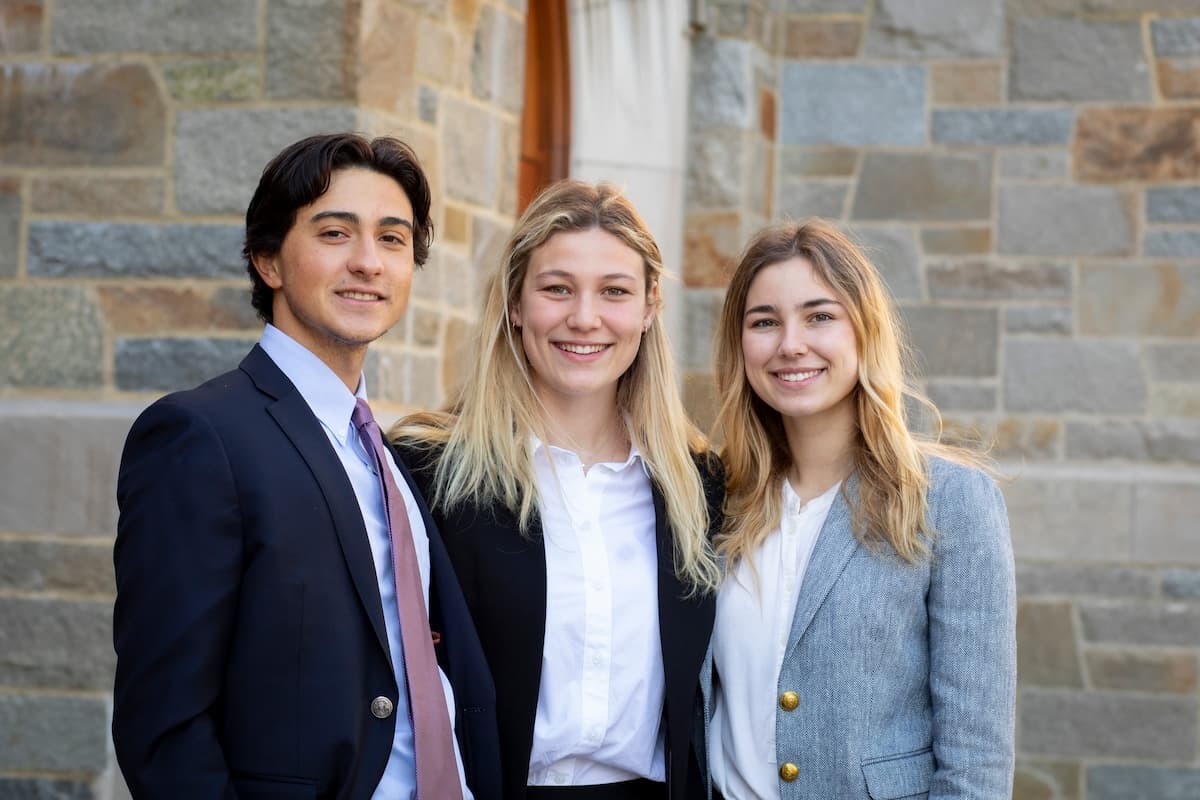 The team differentiated themselves by focusing on the human elements of business. "I looked at it from a very real-life perspective and applied my own experiences," says Eva, referring to what they learned about socialization and the elderly. "We didn't just see it as a business case, but also as trying to do good in the world."
Hailing from Houston, the Van Pelt sisters credit their father, William Henry Van Pelt IV '87, for their business savvy and interests. Like their dad when he attended the Carroll School, both Eva and CeeCee concentrate in finance and accounting (Eva also majors in French at MCAS). The sisters say they were exposed to the business environment at a very young age. "I have been sitting in his business meetings since I was five, so business has always been a big part of my life," says CeeCee. "Our dad has always told us that if you start with business, you can go anywhere from there." 
In Texas, the sisters attended Duchesne Academy of the Sacred Heart, a Catholic all-girls high school that, like BC, incorporates community service into its curriculum. Throughout high school, Eva and CeeCee volunteered at an Alzheimer's residence where they spent time with senior citizens and observed first-hand the positive effects that human interaction can have on an aging individual.
"Socialization is super important for elderly populations, and a lot of the research we were doing showed that social isolation was just as big a contributor to health problems as obesity or smoking," says Eva. "From that perspective, we were hoping to add value to their lives not only by making them happier but also healthier, and that would save money in the long run for our residents and for the building too in having to coordinate health needs."
And that they did.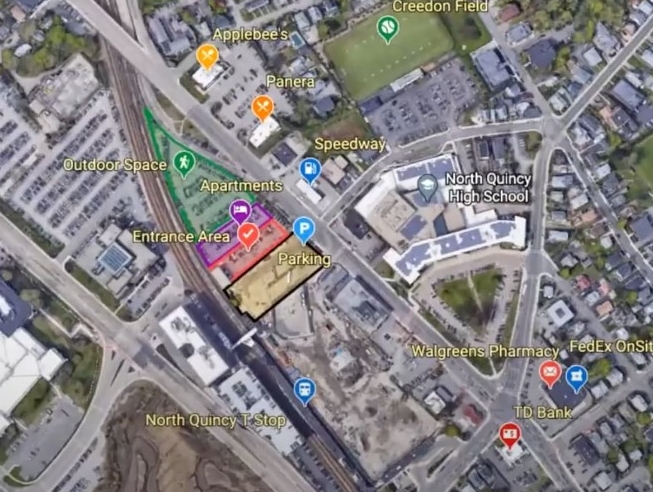 The case study involved a three-acre plot of land, cleared and leveled, in Quincy. Their team and all the others took on the challenge of proposing an affordable, transit-oriented complex for senior citizens. Calling themselves ACE Real Estate, the trio created the hypothetical "Quincy Terrace Apartments," with 56 single-bedroom units for senior citizens. The four-story building includes 100,000 square feet of outdoor green space to promote healthy living among the residents.
What set the team apart, most of all, was the focus on the seniors' integration into the community, in keeping with guidance in the case challenge including an imagined letter from city leaders. The challenge was based on details from a real-world affordable housing development for seniors, constructed elsewhere in Massachusetts and relocated (for the purposes of the case) to a site in Quincy. The chosen site was a surface parking lot steps from a train station. 
The Van Pelt sisters and Felitto designed the complex to prioritize the health and other needs of their residents. The proposed first floor includes a service coordinator office that assists residents in finding wellness providers, a gym space for exercise, and a dining room for socialization. Other floors have lounges to garner a close-knit community and office spaces for residents to become familiarized with technology. The top floor of the complex would have a convenience store with food that is primarily donated from local churches and schools. 
The team incorporated a buddy system into the project by pairing volunteers with residents to socialize with. Through a partnership with North Quincy High School and Quincy College, ACE Real Estate also presented a management plan for running various facilities. These include technology classes and gym classes with student volunteers to foster community integration and hold down operating expenses, along with the convenience store.
"One thing that was really great about winning was that I think we won because we didn't only consider the financial aspect of our development but we also considered the way we were integrating the building into the community and having a positive impact on the community and our residents," says Eva.
Apart from the $5,000 in prize money, the team took home some valuable lessons for the future. Eva, who will be working in investment banking this summer at Goldman Sachs, says the competition has encouraged her to consider the human element in her business career choices. CeeCee will be interning with her father at Mid-Continent Companies in Texas, and she says that after this competition, her interest in real estate has heightened. Felitto credits the case competition with his decision to switch his concentration from marketing to finance and entrepreneurship. 
The sisters also had the pleasure of announcing their triumphs to their family—a victory their parents were proud to see them achieve together. "I think in general it is a lot of fun to achieve something in a team, and it just makes it even more special when it's with family," Eva notes.
Having grown up attending BC football games, the sisters were originally attracted to the University because of its accent on values and community. Eva says that Carroll School professors emphasize the human element in all of the business courses, and the team wanted to translate "Men and Women for Others" into the "Quincy Terrace Apartments." Their ideas and experiences ultimately paid off, leading them to win the first Corcoran Center Case Competition extended to colleges and universities nationwide.
---
Ada Anderson, MCAS '23, is a psychology major and a publications assistant for Carroll School Communications.