In its first 10 years, STM has established itself among the world's leaders in theology, divinity, and religious studies.
Built on the strong foundation created by former deans Richard J. Clifford, S.J., and Mark S. Massa, S.J., STM has developed into an internationally respected center of Catholic theological and ministerial education. "STM is now mentioned in the same conversation as schools that have been around for hundreds of years, like Harvard and Yale," said STM Dean Thomas D. Stegman, S.J. "Being in that company—within such a relatively short amount of time—speaks volumes about the quality of the education and the people at STM."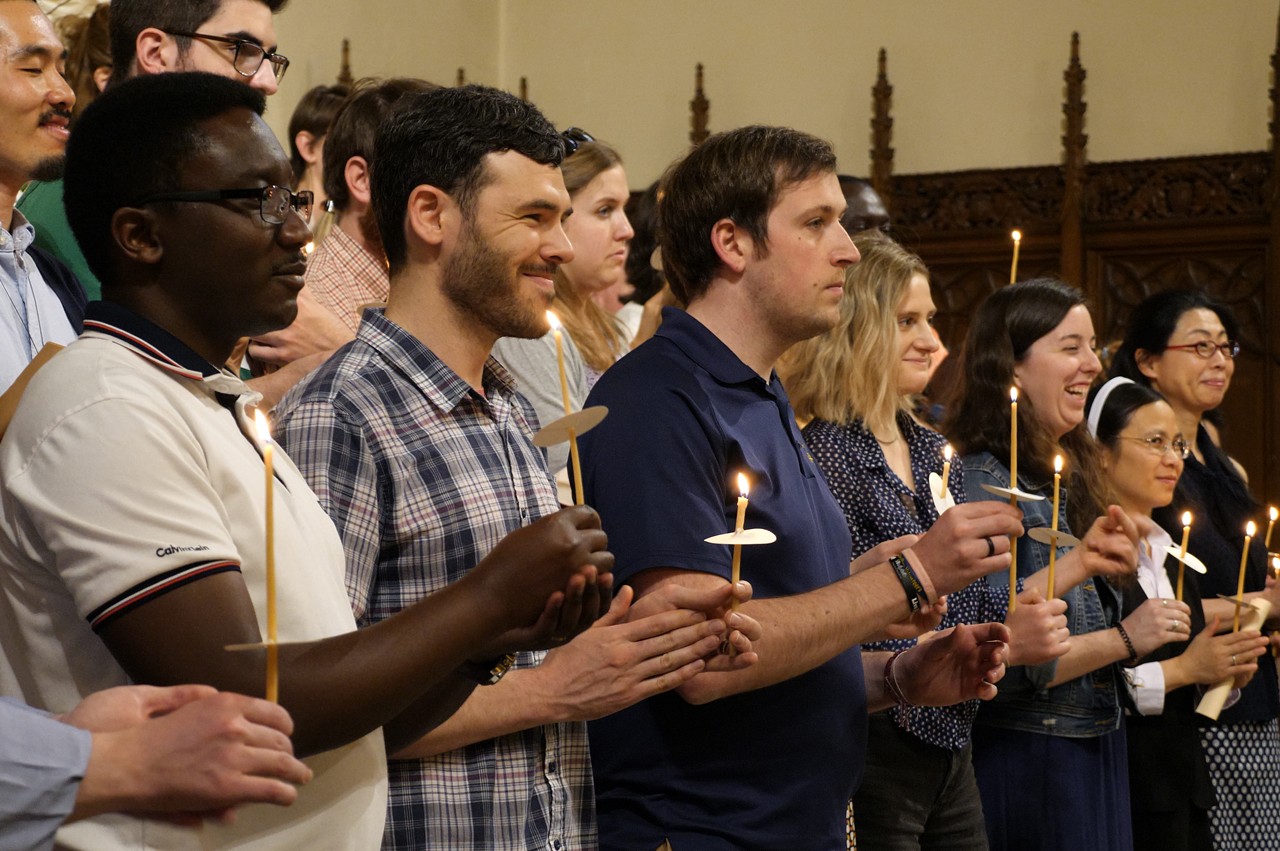 STM has been a key element in advancing Boston College toward its goal of becoming the world's leading Catholic university and theological center. The 2018 QS World University Rankings placed Boston College sixth among the world's top universities in theology, divinity, and religious studies. It is the highest-ranked Catholic institution.
The rapid ascension of STM into the ranks of top-tier theological schools is due in large part to its distinguished faculty. The eminence of the faculty is evident not only in their individual scholarship in fields such as Biblical studies, Church history, systematics, moral theology, religious education, and pastoral studies, but also in the two all-faculty book projects, Hope: Promise, Possibility, and Fulfillment and The Holy Spirit: Setting the World on Fire. STM remains dedicated to advancing the next generation of theological scholarship. More than a dozen new faculty members have joined STM's ranks since 2008.
STM's student body has also grown in quantity, quality, and diversity over the past decade. Since its first class in 2008, enrollment has nearly doubled to 400 students. Applications to STM have risen dramatically, up 35 percent in 2017–18 to 750 applications for an incoming class of 150.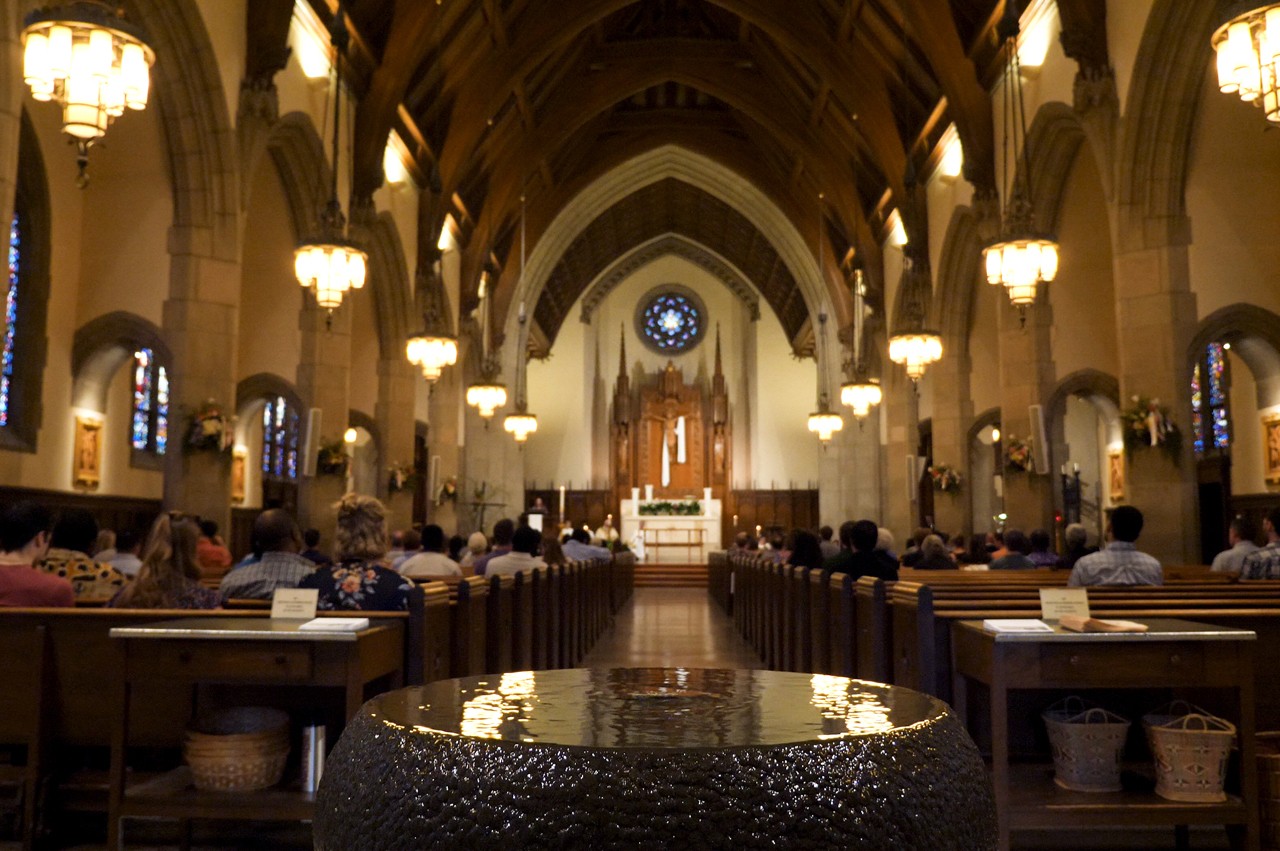 STM community gathered for Mass at St. Ignatius.
Community is a distinctive characteristic of STM. Students work together to engage theological and pastoral questions in the classroom and beyond. The entire STM community gathers together every Thursday for liturgy and a shared lunch. These opportunities help create a welcoming, close-knit community that celebrates its diversity and its shared commitment to faith and service.
The Center for Applied Research in the Apostolate at Georgetown University has consistently ranked STM one of the highest producers of lay ecclesial ministers. Each year, close to 100 percent (98% in 2017–2018) of STM graduates are employed or pursuing further studies within six months of graduation.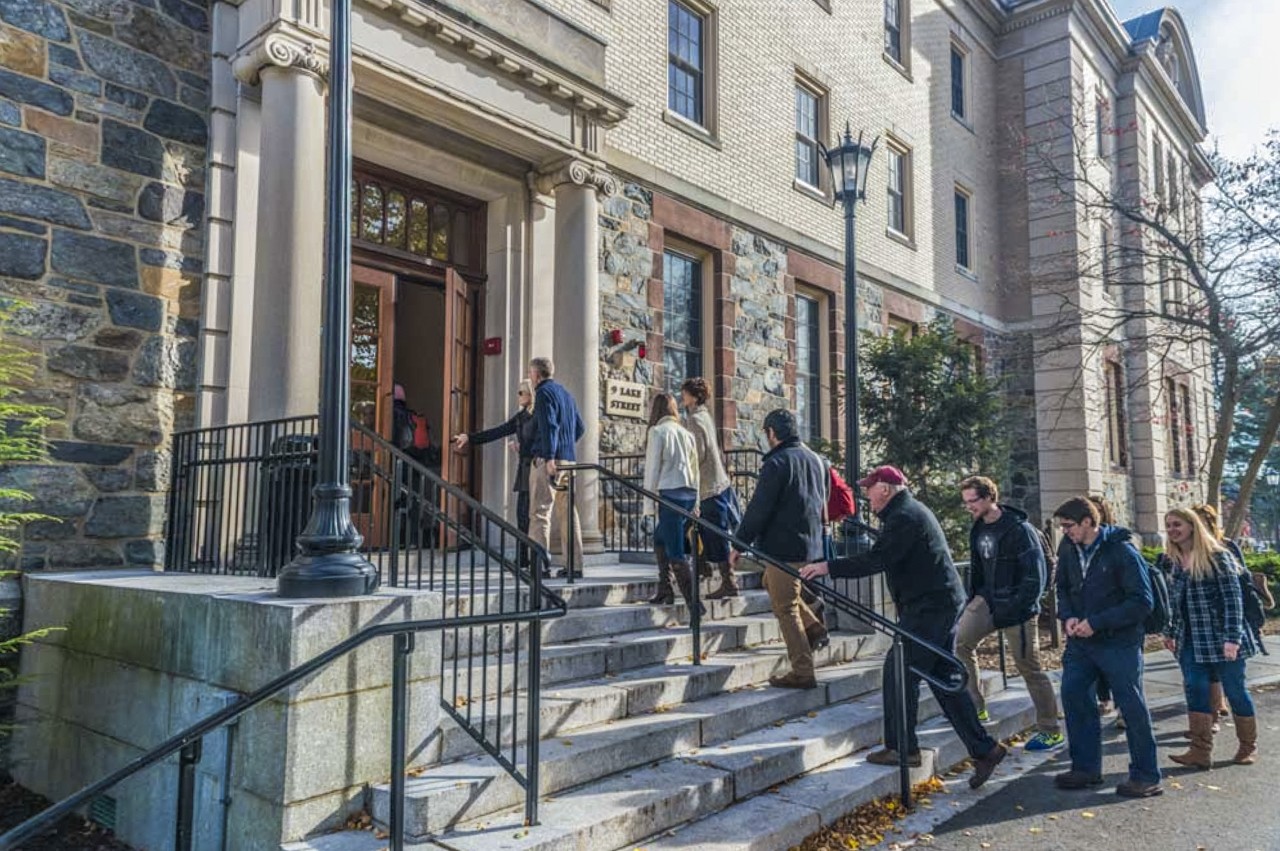 "We want our graduates to be leaders and agents of transformation in the Church and in the world," noted Fr. Stegman. "Therefore, we are very intentional about all aspects of our students' formation, including intellectual, pastoral, spiritual, and personal." STM's dedicated, holistic approach to formation, which is rooted in the Jesuit ideal of cura personalis (care for the whole person), was recognized as a model program by the Association of Theological Schools (ATS) during STM's first accreditation in 2010. STM is already preparing for its reaccreditation by ATS in 2020.
STM's Continuing Education division offers online courses and sponsors events and lectures throughout the year that bring participants together into community for theological discussion and spiritual renewal. Some 2,000 people per year enroll in STM Online: Crossroads, which offers approximately 30 non-credit online courses designed for adult faith formation and enrichment. Formación Continua (STM's continuing education program in Spanish) has expanded the school's global offerings, with a recent course on Pope Francis's encyclical, Amoris Laetitia, drawing thousands of online participants from around the world. Over this past year, STM has begun programs to serve the local Portuguese-speaking community.
Essential in supporting STM's mission is an array of academic and financial resources. New Testament Abstracts, housed at STM, is the definitive source on current literature devoted to research of the New Testament, and an invaluable resource for scholars, librarians, clergy, and students around the world. The Theology and Ministry Library has the largest collection of Catholic literature outside of the Vatican. STM has strong partnerships across BC's campus, including with the Institute for Advanced Jesuit Studies, the Theology Department, and the Church in the 21st Century Center, and beyond campus through its membership in the Boston Theological Institute, a consortium of Boston-area theological schools.  Benefactors have played a significant role in supporting the growth of STM, notably Anthony C. "Tony" Simboli '50, M.A. '50, and his wife, Gloria, namesakes for STM's home, Simboli Hall.
Anthony C. "Tony" Simboli '50, M.A. '50, and his wife, Gloria, namesakes for STM's home, Simboli Hall, with their family and Boston College President William P. Leahy, S.J.
Fr. Stegman's vision for STM over its next 10 years is to build on the success of its first decade and "to become even more intentional in engaging with the global Church and responding to current and future challenges." To this end, and in preparation for the school's reaccreditation, the dean has led efforts to formulate a strategic plan that will guide STM's next steps. New strategic directions will recommit the school to providing student formation for leadership and to engaging the diversity and realities of the Church.There are also plans to create a formal focus on spirituality studies, an area in which STM is already rich with resources.
STM will mark its 10th anniversary throughout the 2018–19 academic year, highlighted by a major event on September 20, featuring a Mass with University President William P. Leahy, S.J., presiding, and President of the Jesuit Conference of Canada and the United States Timothy Kesicki, S.J., serving as homilist. That evening, best-selling author and America editor-at-large James Martin, S.J., an STM alumnus, will deliver the first annual Daniel J. Harrington, S.J., Alumni Lecture.
Another event will take place on October 25–26 when Fr. Stegman hosts his first Dean's Colloquium. It will feature the launch of the Paulist Biblical Commentary, a new volume whose co-editors include Fr. Stegman and Fr. Clifford. Prominent New Testament scholar Luke Timothy Johnson of Emory University will deliver the keynote address.
"This year will be an exciting one for the School of Theology and Ministry," added Fr. Stegman. "As we celebrate the accomplishments of our first 10 years, we also look forward to creating new ways to live out Boston College's strategic directions—especially in the areas of formation and of service to the Church locally, nationally, and globally."
 
For more information, visit bc.edu/stm.

—Kathleen Sullivan | University Communications